It is often challenging to create vegetable side dishes that are easy, low carb and delicious. This recipe hits all three by mixing low carb cruciferous vegetables (broccoli, cauliflower and brussels) with a robust caper and garlic butter. Definitely not a bland vegetable dish!
Jump to: Recipe | Low Carb Diets | Low Carb Vegetables | Fresh vs Frozen | Easy Vegetables
The Different Types of Low Carb Diets
After being on a low carb diet since 2013 (alternating through the years between slow carb, low carb, keto and Pesco Mediterranean), I am definitely a fan of a low(er) carb lifestyle in terms of energy, health and clothing size.
The knowledge base for all of these diets is what counts and it really becomes a matter of lifestyle preference and what can become sustainable for you over the years as to which one you choose.
For me, the best way to lose the weight was Tim Ferriss's slow cab diet, and the best way for me to maintain the weight loss has been the Pesco Mediterranean diet.
Vegetables Place on a Low Carb Diet
There is only one aspect of a low carb diet that remains challenging to me, and that is coming up with creative vegetable dishes on the spot. I got in the habit on slow carb to reach for the frozen vegetables and add butter and salt.
While there is nothing wrong with the simple frozen spinach with lots of butter, it does get tiring after a while, especially if you are making vegetables that the rest of the family will enjoy also.
If you don't include vegetables in a low carb lifestyle however, It is difficult to get the fiber and micronutrients that you need for health from just protein and the good fats.
Vegetables (especially the leafy greens and the cruciferous veggies like Brussels sprouts) are the best nutritional supplements you can find for just about any diet, so it pays to get some easy, tasty vegetables dishes in your go-to recipe collection.
Make Cooking Vegetable Dishes Easy
As industrialization took over in the US and processed food became popular, many home cooks moved away from chopping and cooking fresh vegetables.
Many home cooks today avoid vegetables because it isn't a habit that comes naturally when getting dinner on the table. If you are in a hurry, there is certainly nothing wrong with frozen vegetables in a bag.
Most of them are flash frozen when fresh and the nutrients can actually be better than if you bought them from a grocery store produce shelf.
If you want to get more creative with vegetables however, the best way is to pick out a recipe and make it 3 times. Three times seems to be the goldilocks number to ensure a dish becomes easy and reliable.
Using Fresh Vegetables vs Frozen
There's really nothing wrong "nutritionally" with frozen vegetables heated up in a microwave. It's just that they can become boring. So I've recently been on a kick to cook a new creative vegetable dish every Sunday until it becomes a habit that I don't have to think of anymore.
It's already happened with the skillet saute of some leafy greens (see this post for a great bok choy recipe). Now onto some cruciferous veggies.
One other thing….most of the high-protein-low-carb diets out there right now also herald the inclusion of fat. Olive oil and coconut oil are the fats of choice, but butter has lost its maligned status and is now also considered a "good fat" on most low carb diets.
A saying I found interesting from a scientist that works with the high fat aspects of the ketogenic diet relative to cancer research is: "vegetables are a fat delivery system".
Well, that is definitely a plus for butter, but my hope is to enhance the vegetable itself with the golden low carb fat of butter.
Try this Brussel Sprout Caesar Salad for another creative, tasty side dish!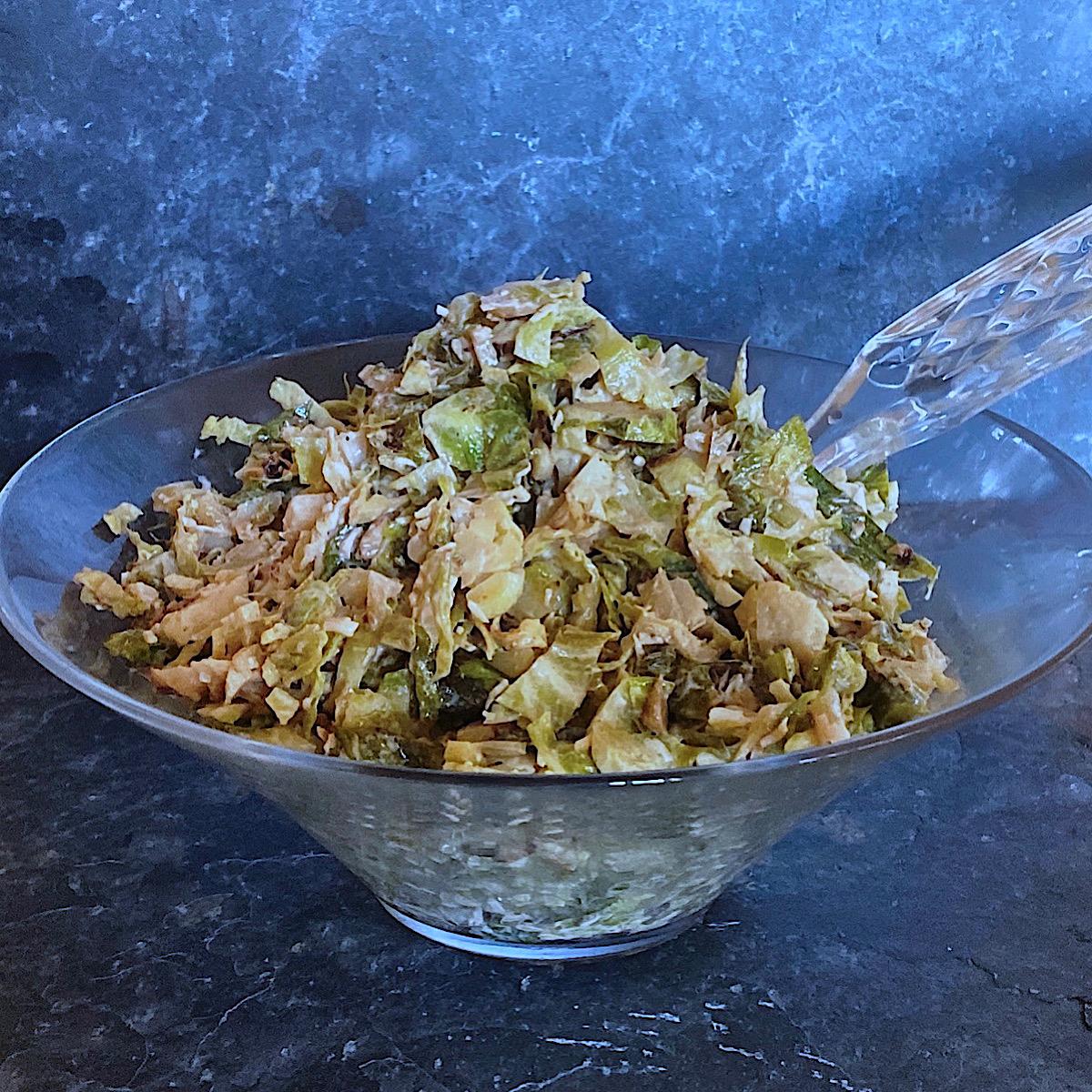 This post may contain affiliate links, and you can read our disclosure information here–
Recipe for Broccoli, Cauliflower, Brussel Medley with Caper Butter
Vegetable Medley with Caper Butter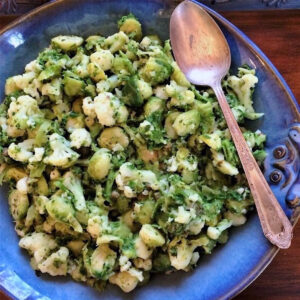 A quick and easy way to use fresh vegetables on a low carb diet
Ingredients
2-3

garlic cloves

peeled

½

tsp

sea salt

6

Tbsp

unsalted butter

room temp.

1

lemon

zested

2

tsp

Dijon mustard

¼

cup

drained small capers

3

Tbsp

fresh oregano

chopped

1

lb

Brussels sprouts

1

head cauliflower

can be a small head

1

lb

broccoli

salt & pepper
Instructions
Make a garlic-herb butter (can make this ahead of time): Place the garlic cloves and salt on a cutting board and pound it with heavy object until it is a paste.

In a bowl, mix the garlic paste with the room temperature butter. Using a microplane, zest the lemon over the bowl of garlic butter. Add mustard, capers, lemon zest and oregano and stir together thoroughly.

2-3 garlic cloves,

1/2 tsp sea salt,

6 Tbsp unsalted butter,

1 lemon,

2 tsp Dijon mustard,

1/4 cup drained small capers,

3 Tbsp fresh oregano

Trim the bottom off of the Brussels sprouts and then slice them in half and place in large pot of water. Bring the pot of water to a boil and cook the sprouts for about 3 minutes.

While the sprouts are cooking, cut the cauliflower and broccoli into bite-sized pieces.

1 lb Brussels sprouts,

1 head cauliflower,

1 lb broccoli

Add the cauliflower and broccoli to the pot of sprouts and boil for another 5 minutes. While the veggies are cooking bring the garlic-herb butter to room temperature if you have refrigerated it ahead of time.

Using a colander, drain the vegetables, place into a bowl and use a spatula to gently mix the caper butter into the hot vegetables. Salt and pepper mixture to taste and toss again lightly.
Notes
**Note: The recipe below was inspired by Deborah Madison, who has several excellent cookbooks on delicious vegetables.
Nutrition
Calories:
92
kcal
Carbohydrates:
19
g
Protein:
7
g
Fat:
1
g
Saturated Fat:
0.3
g
Polyunsaturated Fat:
0.3
g
Monounsaturated Fat:
0.1
g
Sodium:
488
mg
Potassium:
854
mg
Fiber:
8
g
Sugar:
5
g
Vitamin A:
1056
IU
Vitamin C:
188
mg
Calcium:
99
mg
Iron:
2
mg
Did you make this recipe?
If you tried this recipe, please give it a 5-star rating! To do this, just click on the stars above.
Online Diet/Health Coaching:
Although I am not currently taking clients for diet & health coaching, I have been a coach for many years with the online service called coach.me. It is a great platform for all kinds of coaching – anything from specific diets, writing a blog, getting up early, or getting rid of that pesky procrastination.
There are some wonderful coaches and the testimonials will tell you what you need to know. Contact me at [email protected] to get a referral to some of the tested, experienced online coaches on Coach.me
If you'd like to start with a plan for a low carb or keto lifestyle, check out this detailed guide in ebook form. It may be all you need to lose weight on this lifestyle. Or it may be used as a supplement to one-to-one coaching.