The standard breakfast fare on the Slow Carb Diet is eggs, beans and spinach. On keto diets it tends to be either eggs and bacon (no beans). This low carb zucchini frittata is a fun, and fairly easy, breakfast to change up your routine a bit. It makes a great, portable lunch snack also!
Jump to Recipe
Add Some Interest to Your Low Carb Routine
There is a lot to be said for the ease of repeating meals over and over, which is what Ferriss recommends in the slow carb diet. Eventually however, you may get bored with the same meals. I have found success and enjoyment from eating the same thing for weekday breakfasts (a protein shake for me) and then mixing it up with an egg dish on weekends.
The nice thing about a frittata is that it can be very portable. Put a few slices in a container and heat up for a few seconds in the microwave and you have a great lunch (or snack)
Easy Way to Get Your Vegetables in for the Day
The idea of folding vegetables into a frittata egg dish was always appealing to me, but because it was new for me it met with resistance. Last Sunday I decided to give it a go, and really, as is so often the case, the resistance was unwarranted. This low carb zucchini frittata was pretty darn easy. Why do we do this to ourselves? Or am I the only one who delays trying the unknown?
Here is the recipe I used (from "Cooking with Bon Appetit). I modified it slightly and added some bacon to it for flavor and protein, but other than that it is the same recipe. Now that I've done it once, it will be easy to add different veggies to it, depending on what is in season (right now I have a boatload of peppers to do something with!)
This dish is one of those easy bake-ahead dishes that can make entertaining so much more enjoyable. It's easy to add to a brunch platter or group breakfast table.
Many low carb or keto people are always looking for portable lunches to bring to work. This one holds together really well in a container and can be microwaved at work for warmth.
By the way, I know the edge got a little burned. I didn't have time for another photography session however, so it will have to do.
More Low Carb Breakfast Ideas:
Low Carb Zucchini and Bacon Frittata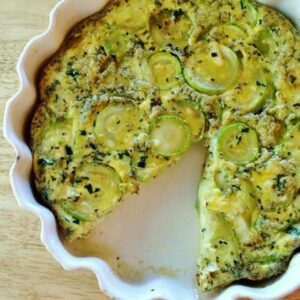 Great low carb meal that works for breakfast, brunch, lunch or snacks
Ingredients
4-5

strips bacon

3

cups

thinly sliced zucchini

about 2 small zucchini

4

green onions

scallions, minced

3

Tbsp

minced fresh parsley

8

eggs

⅔

cup

freshly grated Romano cheese

Parmesan or another hard aged cheese is fine

1

tsp

dried oregano

¼

tsp

salt

dash of freshly ground black pepper

1

tsp

smoked paprika

optional
Instructions
Preheat oven to 350°Lightly grease 9-inch baking pan. Fry the bacon in a skillet and remove to plate covered with paper towels to drain. Drain some of the bacon grease from the skillet, leaving a thin coating of bacon grease in the skillet for cooking the frittata in.

Heat bacon grease in large skillet over medium heat. If you used a cast iron skillet for the bacon, it should still be hot as cast iron retains heat for quite a while. Add zucchini, onion and parsley and saute until softened, about 4-5 minutes. Remove vegetables from skillet and set aside.

In large bowl, use a whisk or fork to beat eggs with cheese and seasonings. Crumble the bacon and add to the bowl (amount of bacon depends on your taste). Add the zucchini/onion mixture to the bowl. Blend everything together in the bowl with a fork or slotted spoon or whisk

Pour egg mixture into previously greased baking pan and bake until just firm in center, about 20-25 minutes. Serve hot or cold.
Nutrition
Calories:
213
kcal
Carbohydrates:
6
g
Protein:
14
g
Fat:
15
g
Saturated Fat:
6
g
Cholesterol:
239
mg
Sodium:
423
mg
Potassium:
469
mg
Fiber:
2
g
Sugar:
4
g
Vitamin A:
1012
IU
Vitamin C:
25
mg
Calcium:
184
mg
Iron:
2
mg
Did you make this recipe?
If you tried this recipe, please give it a star rating! To do this, just click on the stars above. Comments are always helpful also and I respond to all of them (except rude ones)