I've been playing around with high protein smoothies in an attempt to get a mix of low carb, low sugar ingredients that will allow the smoothie to do three things: taste good, be compliant with a low carb diet, and keep energy levels high until lunch. The recipe below does all three!
Jump to Recipe
What "NOT" to include in a low carb smoothie
It took me a while to buy in to the smoothie trend, but I'm fully on-board now, as long as you leave out the bananas and high fructose fruit and the high lactose dairy.
Berries or avocados are really the only fruit that works in a low carb smoothie. While berries do have carbs, they are minimal compared with other fruit and they have a lot of fiber per volume. They also are rich in many micronutrients.
Coconut milk or almond milk is a low carb way to get a dairy-like flavor. You could forgo the milk entirely and just add water if you want to lower the fat. Fat will help you stay satiated however, so don't look at fat as a diet enemy.
Smoothies can be a great way of getting leafy greens and protein into our diets, both of which have a high correlation with weight loss success.
If berries are the thing that tips you over to protein smoothies, use them! If you track your carbs, the thing to watch is to stay under your total daily goal for carbs.
Low Carb Substitutions or Add-ins for Basic Protein Smoothies:
I never get tired of protein smoothies for breakfast and look forward to the basic one above one each morning. If you do get bored with the same thing every day however, here are a range of low-carb compliant ingredients that you can substitute in to the above standard (or simply add in):
avocados
romaine lettuce instead of spinach
undistilled apple cider vinegar (if you have digestion issues or flatulence)
peanut butter (not much, it's dense in calories)
cottage cheese (high protein)
MCT oil, or coconut oil
cacao nibs
More Low Carb Breakfast Ideas:
Template for Basic Protein Smoothies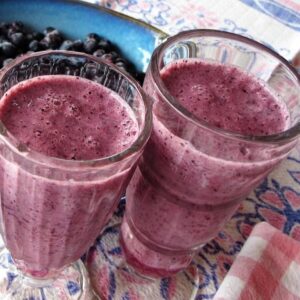 This is a high protein, low carb smoothie for starting your day off with energy
Ingredients
½

cup

unsweetened coconut milk

½

cup

frozen berries

can use blackberries, blueberries or strawberries for best taste

⅓

cup

Whey protein powder

should be a whey isolate- Isopure, Premier, or MuscleTech are good brands

1

tbsp

chia seeds

optional

1

cup

fresh spinach

I use 1-2 handfuls

1

cup

water

can use more or less depending on desired thickness

½

cup

ice cubes

can use more or less depending on desired thickness
Instructions
Blend it all up together, pour in a glass and enjoy! Remember to run hot water in your blender right after making the smoothie so that cleanup is easy (it's hard to clean if you let it sit without water).
Nutrition
Calories:
200
kcal
Carbohydrates:
23.3
g
Protein:
21.3
g
Fat:
4.1
g
Sugar:
12
g
Did you make this recipe?
If you tried this recipe, please give it a 5-star rating! To do this, just click on the stars above. And don't forget to tag me at @dorothy_stainbrook_heathglen, if you share a picture on Instagram! You can also tag me at #heathglen!