Traditional Sopa de fideo (aka Mexican noodle soup) is a soup made with noodles, onion, a tomato-based sauce and chicken broth. Finding a substitute for the noodles was the main key to modifying fideo to be low carb fideo. In the recipe below we used shirataki noodles for the fideo and no one blinked at a loss of flavor.
Jump to: What is Fideo? | Traditional vs Low Carb Versions | Substitution Ideas | Tips for Best Flavor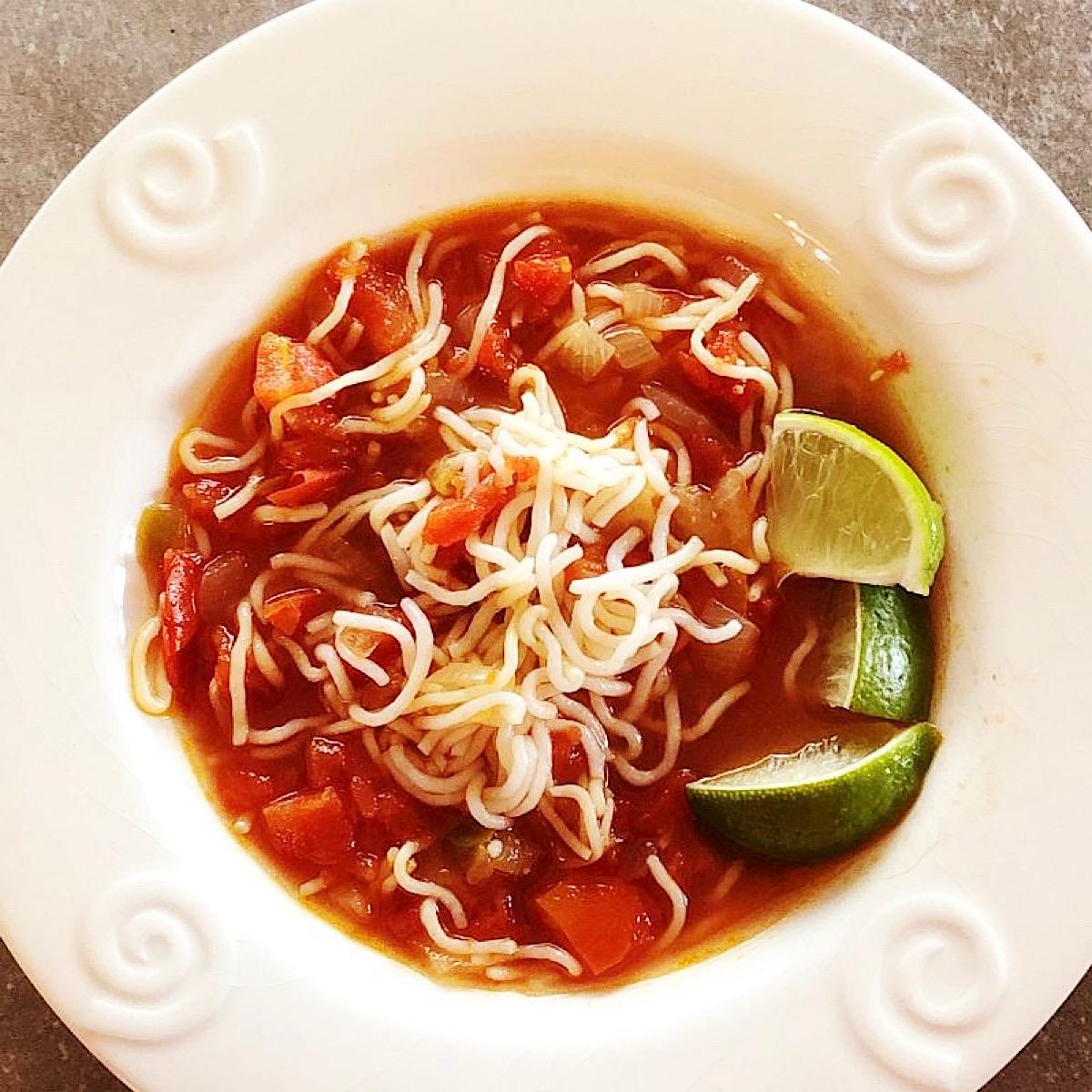 This post may contain affiliate links, and you can read our disclosure information here–
** Note: This is a guest post from my daughter Tesla**
What is Fideo?
The word fideo refers to the noodles used in the soup. Typically they are a shorter, skinnier version of spaghetti.
Fideo is often referred to as "Mexican baby food" or as the original Mexican ramen. However, my first experience with fideo was in Spain while I was volunteering at a school for 1-4 year olds. Guess what they served the babies?! Fideo, por su puesto. (Fideo, of course).
Traditional Fideo vs. Low Carb Fideo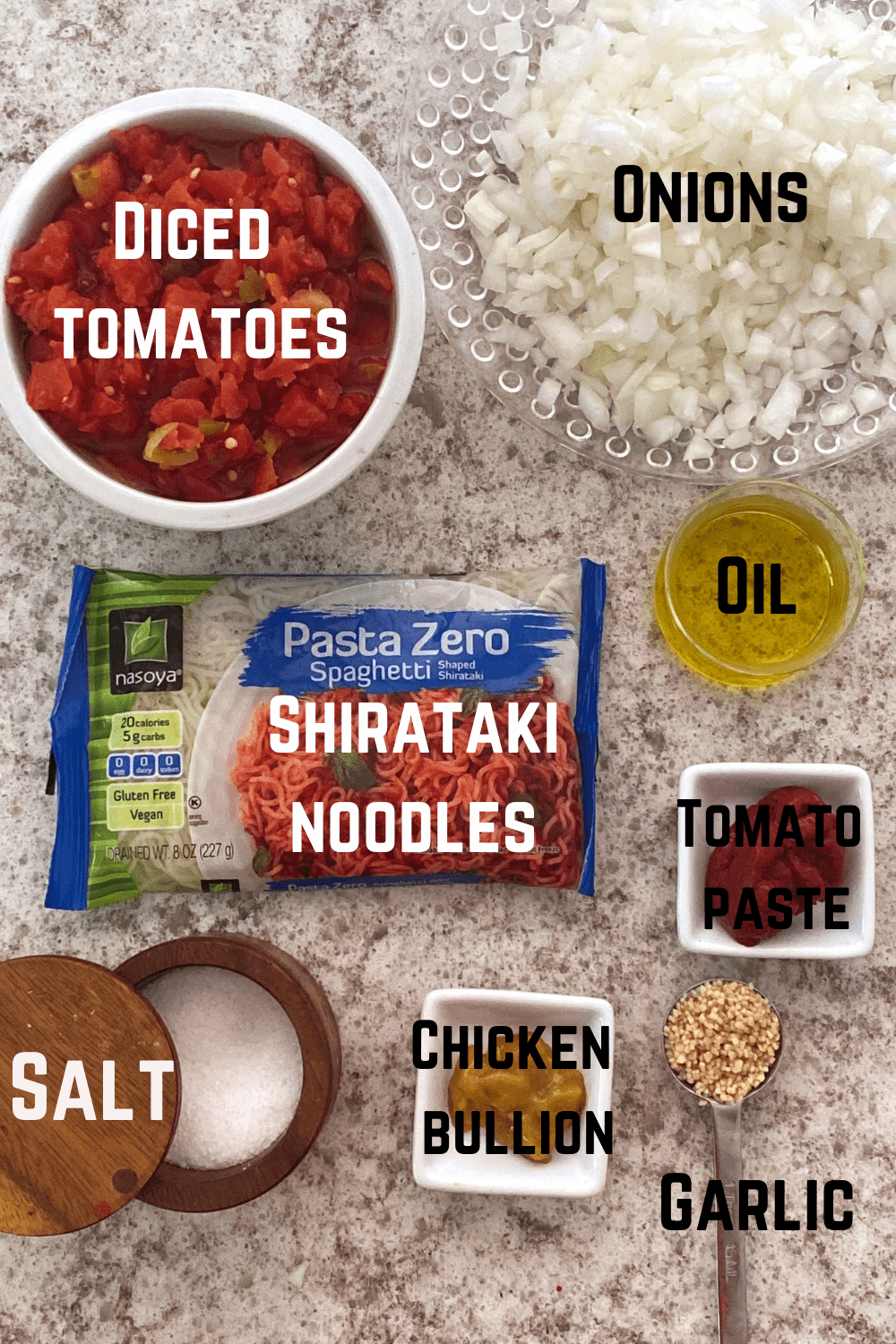 Even though my parents have not tasted the comfort food that is fideo, I wanted to be able to share in the comfort with them- but sans carbs (carb is a four-letter word at my parents house!). So I set out to find a low carb fideo noodle.
This is when I happened upon the shirataki noodle made from mushrooms (*note: the recipe used shirataki noodles made from tofu since that is what my mom found at her grocery store).
The shirataki noodle is very low in carbs and has no sugar.
With a traditional fideo recipe you crisp the noodles first by a light fry or sauté. The directions on the shirataki noodle package instruct you to rinse and drain and then dry fry the noodles.
In the recipe below, I did not cook the shirataki noodles ahead of time. I simply rinsed them and allowed them to drain while cooking the soup ingredients. I then added them to the heated pot and cooked them slightly within the pot with the tomato base )before adding the water).
I was curious if shirataki noodles would stand up to that method of cooking and was pleasantly surprised that they did. Even though slightly less crunchy, the shirataki noodles didn't soak up all the liquid like regular fideo noodles do, which I was also happy about.
Ideas for Additions or Substitutions to Low Carb Fideo
Sopa de fideo is really simple and extremely flexible. You can add meat or fish or make it vegetarian. A variety of different vegetables or beans can be added.
During tomato season, fresh heirloom tomatoes can be used instead of canned tomatoes (*note: make sure and add tomato paste if using canned tomatoes).
Many different seasoning blends can be used in the soup, from spicy to mild. Fideo is a definite plus to add to your weeknight recipe repertoire!
Cooking Tips for Best Flavor
I typically like to prepare all my mis en place (each ingredient in separate little bowls) first. I like onion, so I didn't dice too finely- I just cut the onion in fourths and used my mandolin to slice the onion but you can dice as finely/ coarsely as you prefer. The noodles I used had instructions to rinse and fry before use, but I didn't fry the noodles first before using them in this recipe- just rinsed and let them drain out while I was completing the next steps.
Traditional fideo is shorter noodles, so you could cut the shirataki before adding to the pot, or while cooking in the pot for a more authentic experience.
If you are adding pre-cooked meat or vegetables, add them before covering with water. Depending on the type of vegetables you add, this may require simmering for a longer time.
Add salt and bouillon to taste. I like 1 tsp salt and 2 tsp bouillon.
Serve with lime and a cold beverage!
Low Carb Sopa de Fideo
A popular Spanish or Mexican tomato noodle soup modified to be low carb by using shirataki noodles
Ingredients
8

oz

shirataki noodles

2

Tbsp

olive oil

1

large

onion

chopped

2-5

cloves

garlic

mashed and then minced

2

10 oz cans

Rotel diced tomatoes with green chiles

2

Tbsp

tomato paste

5-6

cups

water

2

tsp

chicken bouillon base

I use Better Than Bouillon

¾

tsp

salt

or to taste

2

med

limes

optional
Instructions
Empty shirataki package of noodles into a strainer, rinse and let sit while preparing the broth.

In a large pot or dutch oven, heat 2 Tbsp oil over med-high heat. Add chopped onion and saute for 5-8 minutes until caramelized. Add garlic and stir in for 30 seconds.

2 Tbsp olive oil,

1 large onion,

2-5 cloves garlic

Add the 2 cans of diced tomatoes and 2 Tbsp tomato paste. Stir together. Add drained shirataki noodles and stir into the tomato base for a minute or two. Add water to cover (5-6 cups) and 2 tsp bouillon base and salt to taste.

2 10 oz cans Rotel diced tomatoes with green chiles,

2 Tbsp tomato paste,

5-6 cups water,

2 tsp chicken bouillon base,

3/4 tsp salt

Bring mixture to a boil and then reduce heat and simmer soup for 10-15 minutes or until heated through. I took my plastic spatula and cut the noodles while they were simmering. Alternatively you could leave them long or cut them ahead of time.

Serve with lime squeezes and a cold beverage. Buen Provecho!
Notes
NOTE:
With a
traditional fideo recipe
you crisp the noodles first by a light fry or sauté. The directions on the shirataki noodle package instruct you to rinse and drain and then dry fry the noodles.
Nutrition
Calories:
25
kcal
Carbohydrates:
5
g
Protein:
1
g
Fat:
0.1
g
Saturated Fat:
0.04
g
Polyunsaturated Fat:
0.05
g
Monounsaturated Fat:
0.04
g
Cholesterol:
0.1
mg
Sodium:
503
mg
Potassium:
98
mg
Fiber:
1
g
Sugar:
2
g
Vitamin A:
82
IU
Vitamin C:
3
mg
Calcium:
17
mg
Iron:
0.2
mg
Did you make this recipe?
If you tried this recipe, please give it a 5-star rating! To do this, just click on the stars above.
¡Buen Provecho!
Online Diet/Health Coaching:
Although I am not currently taking clients for diet & health coaching, I have been a coach for many years with the online service called coach.me. It is a great platform for all kinds of coaching – anything from specific diets, writing a blog, getting up early, or getting rid of that pesky procrastination.
There are some wonderful coaches and the testimonials will tell you what you need to know. Contact me at [email protected] to get a referral to some of the tested, experienced online coaches on Coach.me
If you'd like to start with a plan for a low carb or keto lifestyle, check out this detailed guide in ebook form. It may be all you need to lose weight on this lifestyle. Or it may be used as a supplement to one-to-one coaching.