There is no doubt that it is easier to buy corn tortillas rather than make them, but homemade tortillas are 100 times tastier! A tortilla press is helpful if you want the perfect thickness and size, but the ingredients themselves couldn't be simpler: masa, water and salt. Watch how mi amiga from the Bajio region of Mexico makes these with an inexpensive tortilla press and then try it yourself! You will be surprised at the taste difference….and it's fun!
Jump to Recipe
Jump to: Recipe | Ingredients & substitutions | How to use tortilla press | How to use comal | Common questions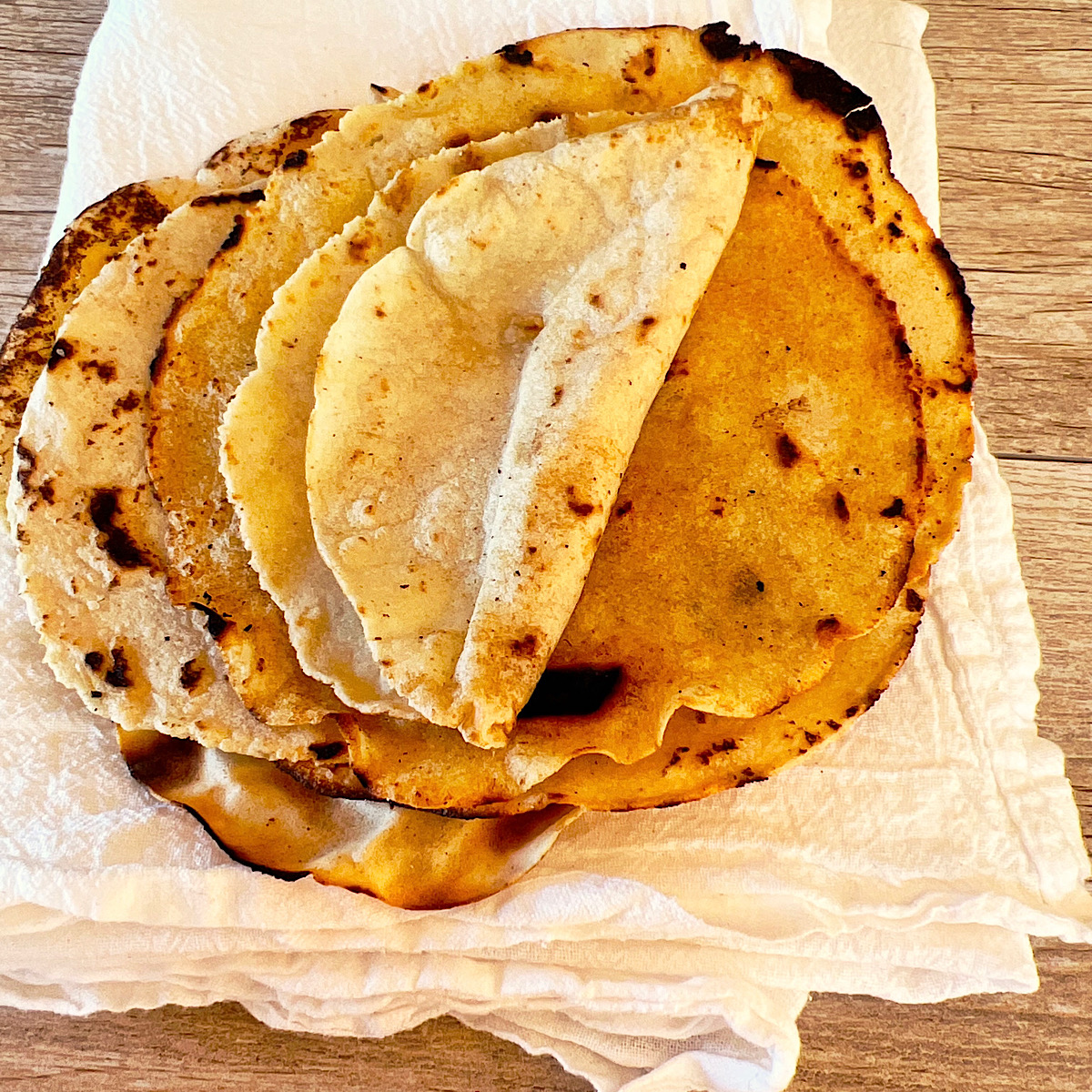 This post may contain affiliate links, and you can read our disclosure information here–
Ingredients and Substitutions:
The ingredients couldn't be simpler….masa corn flour, water and salt. You can substitutes for the masa but it will not have the same flavor or texture.
Authentic corn tortillas are made with masa harina, a ground corn flour made from corn that's dried, and cooked in water with lime from which it gets this distinct flavour. It is then ground and dried again.
Masa harina is commonly available in most grocery stores these days, but if you can't find it or want to use a substitute, you could try one of the substitutes from Angela at bakeitwithlove. I would recommend using masa harina however for both the flavor and pliability of authentic tortillas.
Kneading the tortilla dough
The trick to getting the perfect tortilla dough is getting the correct ratio of masa to water and not over-kneading it.
It's best to start with half of the hot water called for in the recipe, knead it in with your hands, add then add the rest of the water called for in the recipe. If it feels dry to your touch, add water a teaspoon at a time until you have a soft dough. See the video in the recipe card for a visual look at the kneading.
it should feel pliable but firm. If it is sticking to your hands add in an extra tablespoon of masa. If it feels too dry and crackly, add in an extra tablespoon or two of hot water.
Cover with a towel to prevent the dough from drying out. Leave to rest for about 20 minutes. Resting the dough helps the flour to absorb the water making it easier to roll out.
How to use the tortilla press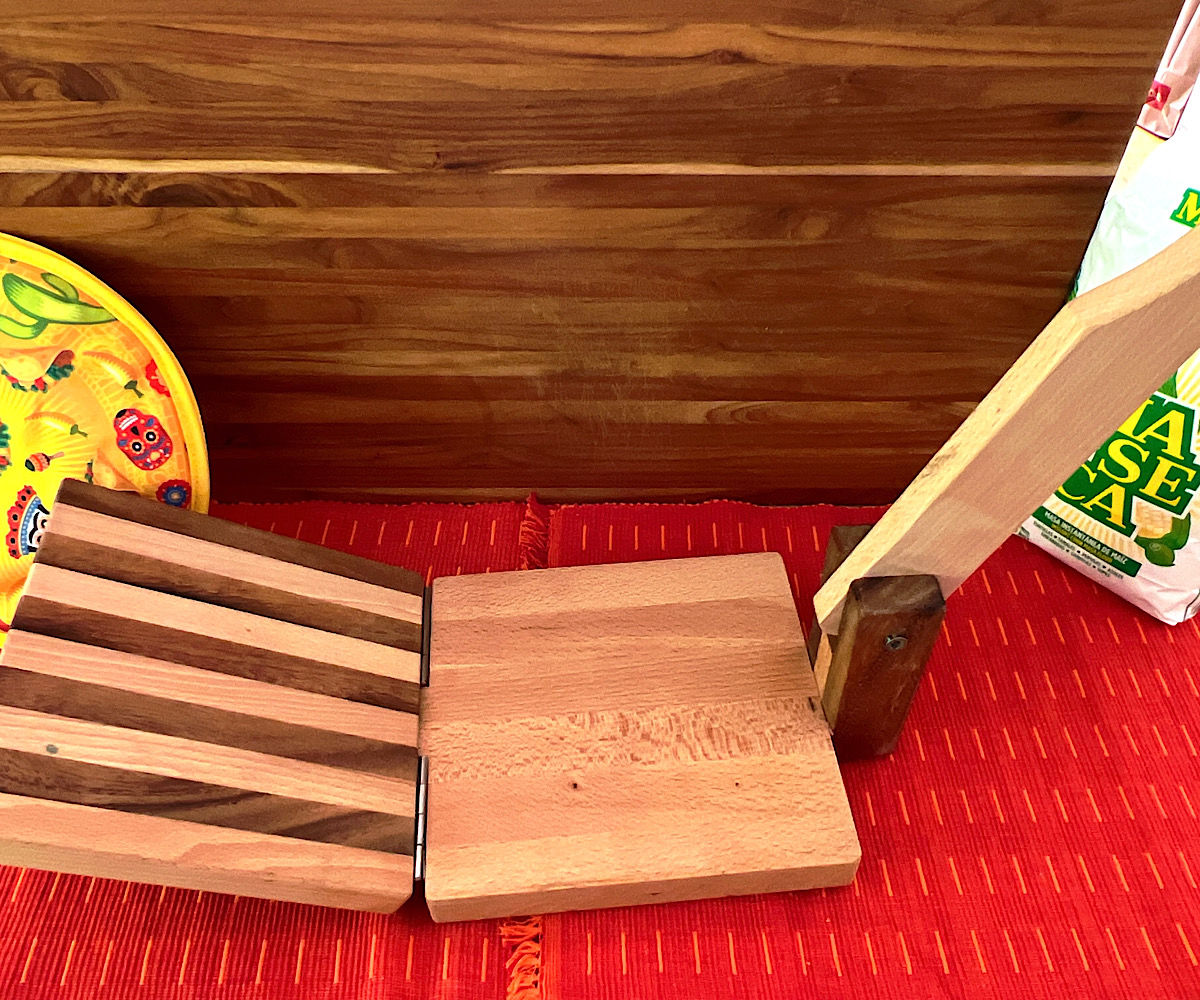 A tortilla press is a simple, inexpensive kitchen tool that presses balls of dough into thin, flat tortillas. It is much quicker than a rolling pin and gives you uniform sized tortillas. The uniform thickness makes the tortilla cook more evenly and makes it less likely to crack or fall apart.
You can opt for wood tortilla presses or cast iron. I like the wood one because I find it easier to store and clean.
Besides the dough and press, you will need wax paper, parchment paper or plastic to keep your tortillas from sticking to the press. Mi amiga from Bajio insisted upon cutting up the plastic from the bags used for vegetable in the grocery store. She wouldn't hear of ziplock bags or cling wrap, let alone parchment paper or wax paper.
Whatever you use to keep from sticking, make sure there is a piece on the base plate and then a piece to go on top of the dough ball. (See video in recipe card for a visual how-to)
Place the dough ball between two pieces of plastic in the center of a tortilla press and use the handle to press down. Grab both sides of the plastic wrap with the tortilla in between and flip it over. Press again. It should be about 5 inches diameter.
Gently peel the tortilla away from the waxed paper. Your tortilla is now ready to cook.
Using a comal or griddle to cook the tortillas
A comal is a cast iron skillet with no sides and a griddle is the same thing in a different shape or size. I have a cast iron griddle that fits neatly over my burners and find that I use it frequently as I can do three tortillas at a time. I do use the comal also, and it is easier to store.
You can also use a cast iron skillet of course, but the sides make it a little trickier to use.
While you are pressing the first tortilla turn the burners up to medium high to heat the griddle. Peel a tortilla from the plastic and cook it on the griddle until it starts to lift (about 30 seconds).
Flip the tortilla until it starts to lightly puff which indicates that it is fully cooked. Cover with a cloth to keep warm.
Low Carb Tortillas
Most tortillas are not low carb fare. They are either made with corn flour or white flour, neither of which is low carb. There are store-bought and diy alternatives that will allow you to enjoy a variety of Mexican dishes, but they vary a lot in taste.
Check this post for some of the better store-bought alternatives and a way to make your own low carb tortillas. Otherwise enjoy these homemade corn tortillas with your meal, but load up on the protein and maybe skip the rice and chips.
Frequently Asked Questions
How to store and reheat corn tortillas
If you are serving them with your meal, keep them on a plate lightly covered with a cloth. If you need to reheat them, refrigerate (once cooled) and then reheat for 15 seconds/side in a skillet, or wrap in cloth and micorwave for about 30 seconds.
Can you make corn tortillas without a tortilla press?
yes, you can use a rolling pin, but it is much more difficult to get them uniform in size and they tend to tear easire.
Is a wood tortilla press better than a cast iron press?
They both work great. The wood one is lighter and I find it easier to clean. The cast iron one may have better leverage (easier), but it takes a little more care so that it doesn't rust.
Homemade Corn Tortilla Recipe
Homemade Corn Tortillas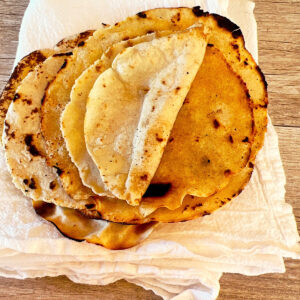 How to make homemade corn tortillas using a griddle or a comal
Equipment
Ingredients
2

Cups

corn masa flour

1 ½

Cups

hot water

1 ½

Teaspoons

salt
Instructions
Combine masa flour with water and salt and mix/knead thoroughly with your hands until it forms a soft dough (Don't overwork it). If it feels dry, add teaspoons of water (one by one).

2 Cups corn masa flour,

1 1/2 Cups hot water,

1 1/2 Teaspoons salt

Take a small amount of dough in your hands and form into a ball. Weigh it on a scale and add or subtract dough from the ball until you have a 1-ounce ball. This is the amount to aim for in the next 18 balls.

The bowl of masa should make about 19 balls of 1-ounce each. You can weigh each one if you want or just estimate. They should be about golf ball size.

Start heating up your griddle to medium-high heat.

Line a tortilla press with 2 sheets of plastic wrap (a thin plastic bag from the grocery store used for vegetables works well here).

Place each ball between the two sheets of plastic and press until tortilla is about 5 inches diameter.

Carefully peel off tortilla from plastic wrap and place on griddle.

Cook each tortilla for about 30 secons on each side, turning the tortilla 3 times. On our griddle we were able to make 3 tortillas at a time, but it will depend on the size of your griddle or comal or skillet.

Place tortillas in a tortilla warmer or cover with a cloth napkin to keep them soft and warm. To reheat: Tortillas can be reheated in skillet or griddle (15 seconds per side) or in the microwave (wrap in damp paper towel and microwave 30-45 seconds)
Notes
**To Store: once tortillas are cool, place them in ziplock bag and refrigerate (for up to a week)
** For toatadas: Let tortillas cool down and then fry in oil
Nutrition
Calories:
44
kcal
Carbohydrates:
9
g
Protein:
1
g
Fat:
0.5
g
Saturated Fat:
0.1
g
Polyunsaturated Fat:
0.2
g
Monounsaturated Fat:
0.1
g
Sodium:
124
mg
Potassium:
32
mg
Fiber:
1
g
Vitamin A:
26
IU
Calcium:
17
mg
Iron:
1
mg
Did you make this recipe?
If you tried this recipe, please give it a 5-star rating! To do this, just click on the stars above. And don't forget to tag me at @dorothy_stainbrook_heathglen, if you share a picture on Instagram! You can also tag me at #heathglen!