If you're stressing about gravy this Thanksgiving, stop. This dish can be a handful because it's usually the last thing to finish and needs some attention, but you can make an easy homemade stock a day or two ahead of time and a good stock will ensure your gravy is not bland and flavorless. Even with the best of recipes however, bad things can happen so in addition to the recipe, I'm sharing tips on how to rescue your gravy when things go sideways. Stress-free cooking is the goal during the holidays (and always actually).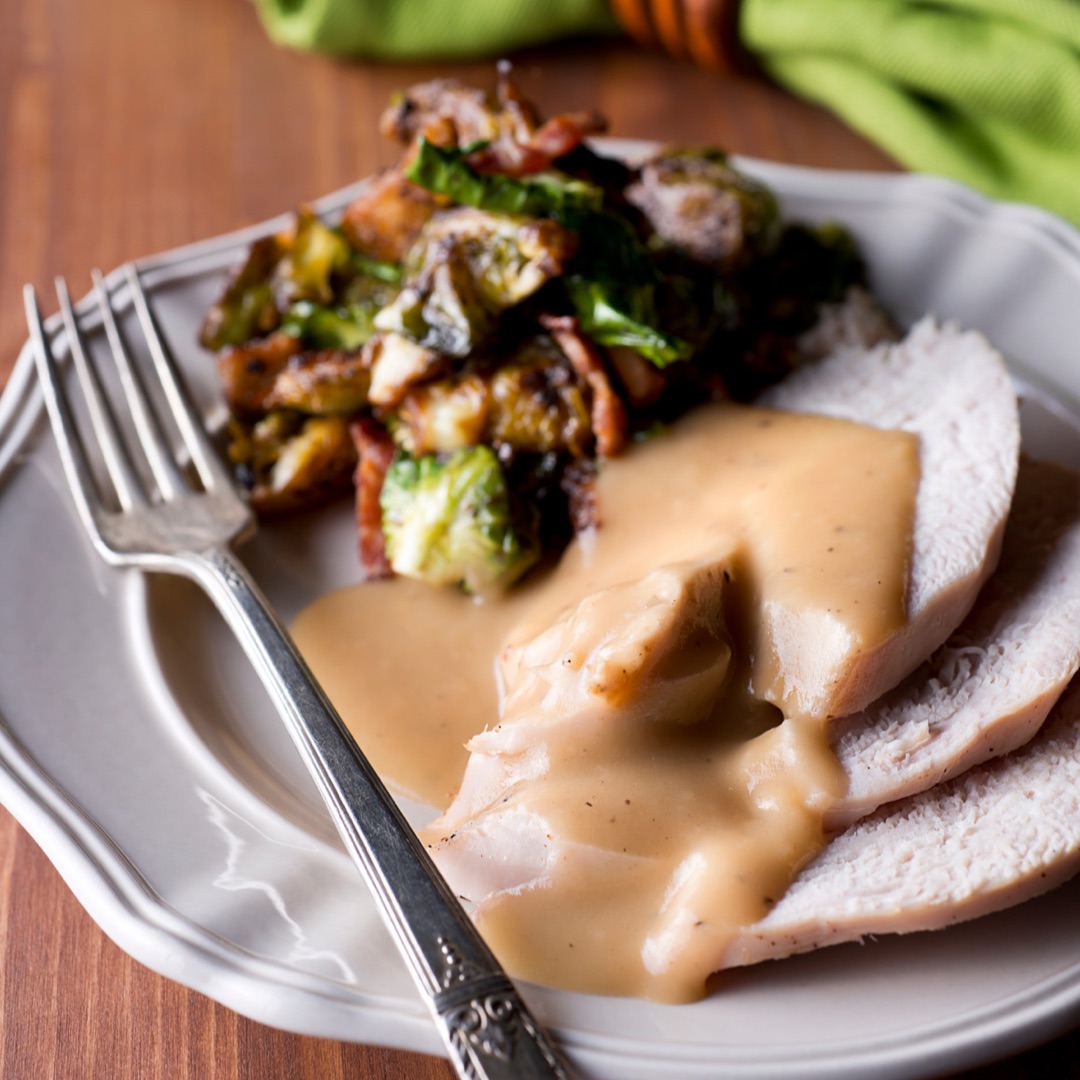 Jump to: RECIPE | Basic ingredients | Adding Flavor to Gravy | Fixing Common Problems | Liquid Fat Flour Ratios | Make Ahead Base | FAQ
This post may contain affiliate links, and you can read our disclosure information here–
Gravy Making 101
I'm pretty sure gravy is a must on everyone's Thanksgiving table. It can save a dry turkey, bring boring mashed potatoes to life and keep on giving for the next-day open-faced turkey sandwich.
There are many, many versions of gravy, from country gravy with sausage drippings to Cumberland sauce for lamb, to red-eye gravy with coffee. This post is focused on turkey gravy, but many of the "gravy-saver" tips hold for all different types of gravy.
Unfortunately, gravy is also a bit of a "stress dish" for many cooks. We've all been there: guests are pouring in, wine is flowing and you're stuck in the kitchen trying to breathe life into something that turned out lumpy and bland for some reason. Not this year!
Let's get your gravy game plan ready. First off, make sure you've got all the ingredients and tools on hand to avoid having to run out to buy something at the last minute. Preparation is the key to (gravy) success.
Basic Ingredients for Great Thanksgiving Gravy:
The drippings and brown bits (from the roasted turkey or chicken, or whatever your Thanksgiving go-to protein is)
A good stock. The stock is the key to great instead of good. Make a homemade stock a day or two ahead (recipe for a good one is below) and avoid using prepared stock if possible)
All purpose flour
Fresh herbs (sage and thyme are my go-to, but go with your preference; just make sure they are fresh)
Helpful Kitchen Equipment for Turkey Gravy
Saucepan (I like a cast iron skillet)
gravy separator (or 4-cup measuring cup)
Tip: Brining your turkey can make it more difficult to achieve a great gravy, as it can be overly salty. Keep some butter on hand as a substitute if you are using a heavily brined turkey.
Adding Flavor to Bland Turkey Gravy
The ingredients mentioned above are all you need to make a basic gravy that will taste absolutely fine. But since this is Thankgiving, you probably want to go beyond "fine" and aim for impressive.
Luckily, there are many different additions that can give your gravy a little je ne sais quoi:
Fresh sage and thyme are classic herbs that complement turkey gravy
Wine, sherry or apple brandy are popular alcohol additions
Shallots are less pungent than onions but still offer max flavor
Heavy whipping cream if you like a creamy gravy
Homemade stock (using the turkey neck and giblets, as well as some vegetables. See the recipe below for an excellent make ahead stock.
If you're making your gravy base ahead of time, use a gravy fat separator to easily remove excess fat if need be.
Lastly, make use of all that roasted turkey goodness by making it directly in the roasting pan. That way, you get all of those tasty crusty bits stuck to the bottom, which is where all the flavor is.
How to Fix Common Gravy Problems
In cooking, even with good preparation, things can always go south. The key is not to stress out – and know some basic fixes or rescue strategies ahead of time.
So here are some "gravy saver tips" for common problems. Read this ahead of time as some of the fixes are preventative and some are last-minute.
My gravy is too salty!
Problem: you added too much salt, or there was too much salt in your stock or turkey drippings. Now your Thanksgiving gravy tastes like the ocean.
Solution: there are actually multiple things you can do. For example, adding some lemon doesn't make the gravy less salty, but a hint of bright acidity will help to mask the salt. You can also thin the gravy with some unsalted stock or milk, or even go the lush route with heavy cream.
My gravy is lumpy!
Problem: you didn't whisk enough, didn't add flour gradually, or the liquid was too hot when the flour was first added…. this is one of the most common gravy problems. Inside of the lumps is raw flour, which is not pleasant.
Solution: The drippings and stock need to be hot before adding the flour but not boiling hot. Add the flour gradually and whisk continuously. I like to make the flour into a slurry by adding flour and warm water to a small jar and shaking it up. You still need to whisk it thoroughly and continuously, but using a slurry results in fewer lumps. Worse case scenario If the lumps persist, is to opt to strain the gravy or even just break out the blender.
My gravy is bland!
Problem: you followed all the instructions, but the flavor is lacking. Was all the work for nothing?
Solution: This is the easiest gravy problem to end up with in my opinion, because there's so much you can do. Salt and pepper are obvious choices, but here are a few popular additions to enhance flavor:
Worcestershire or soy sauce for umami,
a splash of wine or lemon juice for acidity,
a sprinkle of MSG,
additional herbs (complementary herbs include chives, parsley, chervil, basil, tarragon, and sage
a half teaspoon of mustard
1-2 Tablespoons of soaked, drained and chopped dried porcini mushrooms
puree roasted garlic
Don't worry too much about exact measurements. Add a little of one or more of the above flavor enhancers and then taste. Rinse and repeat. Constant tasting is one of the secrets of a great cook.
My gravy is runny!
Problem: you added a bit too much stock and now your gravy is too thin.
Solution: You should be able to boil some of the liquid out by stirring over high heat. You could also make a cornstarch slurry with equal parts cornstarch plus room-temperature water and whisk that in. Adding more liquid sounds counterintuitive, but give it a few minutes of constant whisking and you'll see improvement.
My gravy is oily!
Problem: you overdid it with the turkey fat and/or butter.
Solution: this is where the gravy fat separator comes in! Alternatively, you can try to spoon off the fat or let the gravy cool so it congeals at the top and can be removed.
My gravy tastes like flour!
Problem: you didn't let the drippings and flour roux brown enough, and now the gravy tastes chalky.
Solution: crank up the heat for a few minutes while whisking regularly. If your gravy thickens too much, just add some more stock, drippings or cream.
M gravy tastes burned!
Problem: The roasting pan got too hot and the drippings burned
Solution: Make your gravy in a heavy-based roasting pan that is just large enough to hold the turkey. If it is too big or too thin parts of the turkey drippings will burn.
How Much Gravy to Make Per Person
If you're anything like me, you overdo the amount of food on Thanksgiving. Gravy is one thing that you shouldn't skimp on. After all, how many times a year do you actually have turkey drippings? And don't forget about the all-day snacking on leftovers that goes on the next day. Gravy is a must for the open-faced turkey sandwich!
It does depend on the size of your turkey, however and the number of guests. Here is a handy chart that might help:
Make Ahead Gravy Base
If you're aiming for a stress-free Thanksgiving dinner, a make-ahead gravy base is a lifesaver.
So how do you prepare your gravy base ahead of time so all you have to do on the day is finish it off once you've got the turkey drippings on hand? It's easy! Note that we're assuming here that you haven't roasted your turkey yet.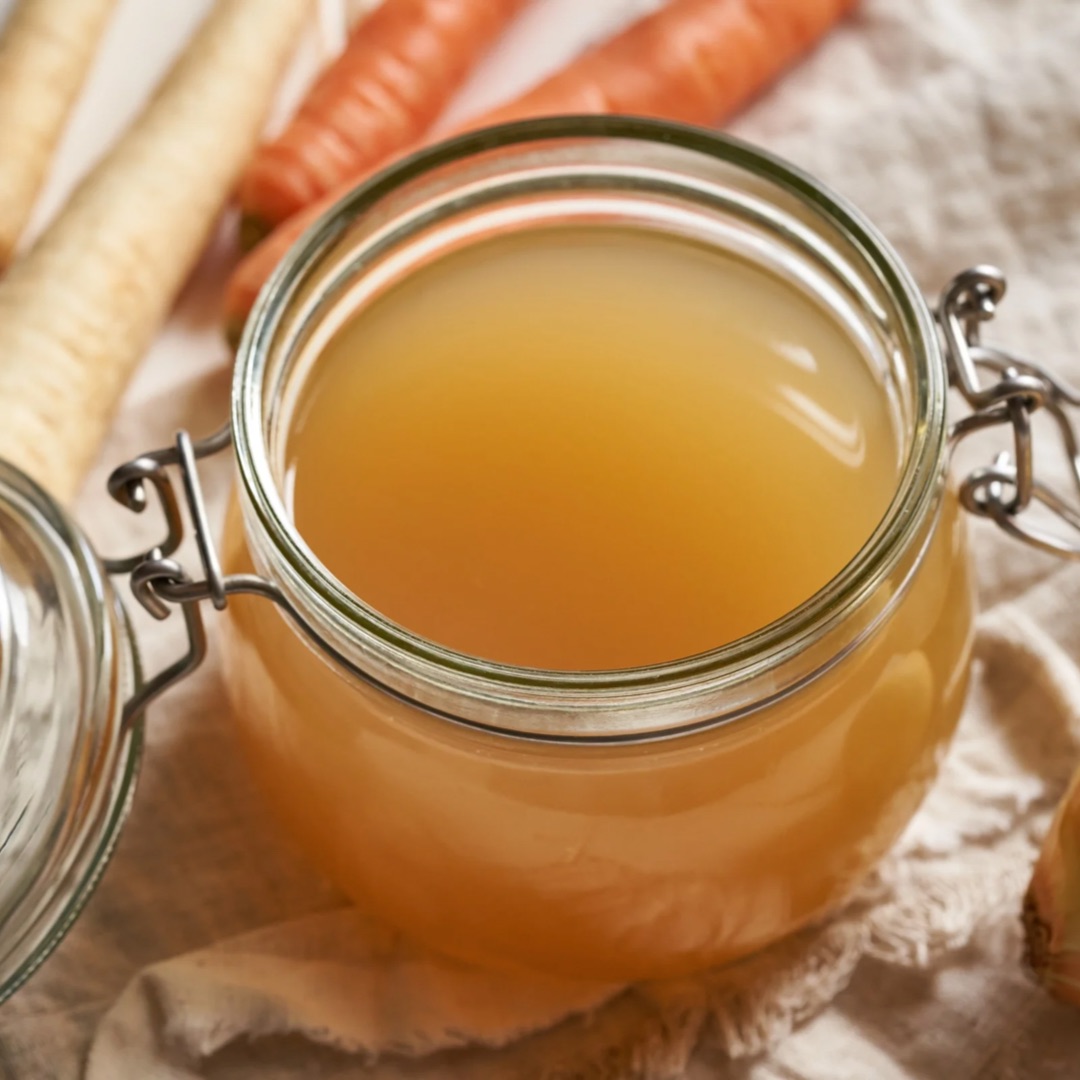 Prepare the stock base by long-simmering (1-2 hours) the turkey giblets and/or wings, plus some vegetables if you choose (see recipe below)
Use butter and/or the fat spooned off the stock to sauté some shallot, fresh sage and thyme (or your favorite fresh herbs). Do this in a dutch oven so you can add the stock to the shallot and sage butter while hot. This is called deglazing the pan.
Add the stock to the pan and thicken it with a flour slurry until you've obtained the gravy base (slurry is about 2 Tablespoons flour shaken in a jar with warm water and then whisked into the herb-flavored stock. This can then be stored in the fridge until you're ready to use it (bring to room temperature when you are getting ready to use it)
On the day of the feast, after roasting the turkey, heat up the drippings over a medium high burner in a heavy bottom pan (not too big or it will burn). Whisk in the gravy base and give your guests the pleasure of a classic turkey gravy with a ton of flavor.
Frequently asked questions
Can you freeze gravy?
Absolutely. Just freeze your gravy in an airtight container and it'll last 6 months or more without any difference in taste.
How much gravy per person?
About 1/3 cup should work for most people, though you could make a little extra for the gravy maniacs (me!) just in case. Refer to the gravy math infographic above to quickly figure out the ratios.
Recipe for Turkey Gravy with Make Ahead Stock
Homemade Turkey Gravy with Make-Ahead Stock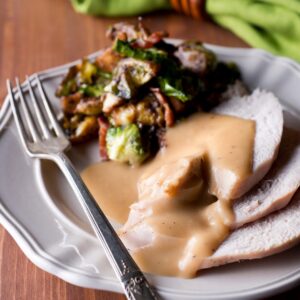 Make a great homemade stock 2-3 days ahead of Thanksgiving and use it to make perfect, stress free gravy after the turkey has been roasted.
Ingredients
For the turkey gravy base
giblets and neck of turkey

do not use liver

½

Medium

onion

halved, not chopped

1

Cup

parsley sprigs

not chopped

1

bay leaf

4-6

Cups

water

6

Tablespoons

butter

2

Tablespoons

fresh sage

chopped

2

shallots

thinly sliced
For the gravy
3

Tablespoons

all purpose flour

pan drippings from a roasted turkey

not brined

4

Cups

homemade base stock

see above
Instructions
Prepare the stock: In a large pot add the turkey giblets and/or wings, the onion, the parsley and the bay leaf. Add enough water to cover and bring to a boil.

Once it comes to a boil, turn down the heat and simmer for 1-2 hours.

giblets and neck of turkey,

1/2 Medium onion,

1 Cup parsley sprigs,

1 bay leaf,

4-6 Cups water

In a large skillet, saute the shallots about 5 minutes, or until softened. Add the sage and saute together another 3-4 minutes.

6 Tablespoons butter,

2 Tablespoons fresh sage,

2 shallots

Make the roux: add the flour and a few tablespoons warm water to a small jar with a secure lid. Shake it until it is a thoroughly mixed liquid. Whisk the roux into the shallot-sage butter using a wire whip.

Add the stock to the pan and heat everything over medium-high heat, whisking continuously to prevent lumping. This takes about 5 minutes or until your base is thickened to your preference. Taste and add a little salt and pepper.

Allow it to cool and then refrigerate until ready to use (can be stored up to 3 days). Bring to room temperature on the day you plan to use it.

3 Tablespoons all purpose flour

On the day of the feast, after roasting the turkey, remove the turkey from the roasting pan and strain the liquid into a a measuring cup or a gravy separator to separate the juices from the fat.

The juices will sink to the bottom while the fat floats on top.

Heat up the drippings over a medium high burner in a heavy bottom pan (not too big or it will burn). Add the homemade gravy base to the heated drippings to deglaze and scrape up all the browned bits.

Reduce the heat to low and slowly whisk in the gravy base. Simmer until the gravy is smooth and thickened slightly, about 5 minutes, whisking as it thickens.

If needed, thin the gravy with the reserve juices that you separated from the fat. Taste and season with salt and pepper. Serve warm.

4 Cups homemade base stock,

pan drippings from a roasted turkey
Notes
**Notes:
Turkey liver makes broth bitter. Leave it out
Popular herbs to add include chives, parsley, chervil, basil, tarragon or sage
Use a heavy bottomed pan that is not too big when making the gravy. Thin large pans can burn the drippings and brown bits.
Nutrition
Calories:
62
kcal
Carbohydrates:
3
g
Protein:
0.4
g
Fat:
6
g
Saturated Fat:
4
g
Polyunsaturated Fat:
0.2
g
Monounsaturated Fat:
1
g
Trans Fat:
0.2
g
Cholesterol:
15
mg
Sodium:
50
mg
Potassium:
24
mg
Fiber:
0.3
g
Sugar:
1
g
Vitamin A:
175
IU
Vitamin C:
1
mg
Calcium:
7
mg
Iron:
0.1
mg
Did you make this recipe?
If you tried this recipe, please give it a 5-star rating! To do this, just click on the stars above.