A traditional fruity piquant sauce made with current jelly (called Cumberland sauce) is a classic for pork chops, lamb, venison or wild game. The recipe below is an easy version with no alcohol and is served up with seasoned lamb chops or seared pork chops.
Jump to:
RECIPE
What is Cumberland Sauce?
Traditional vs Non-alcoholic Version
Substitute Ingredients
Common Questions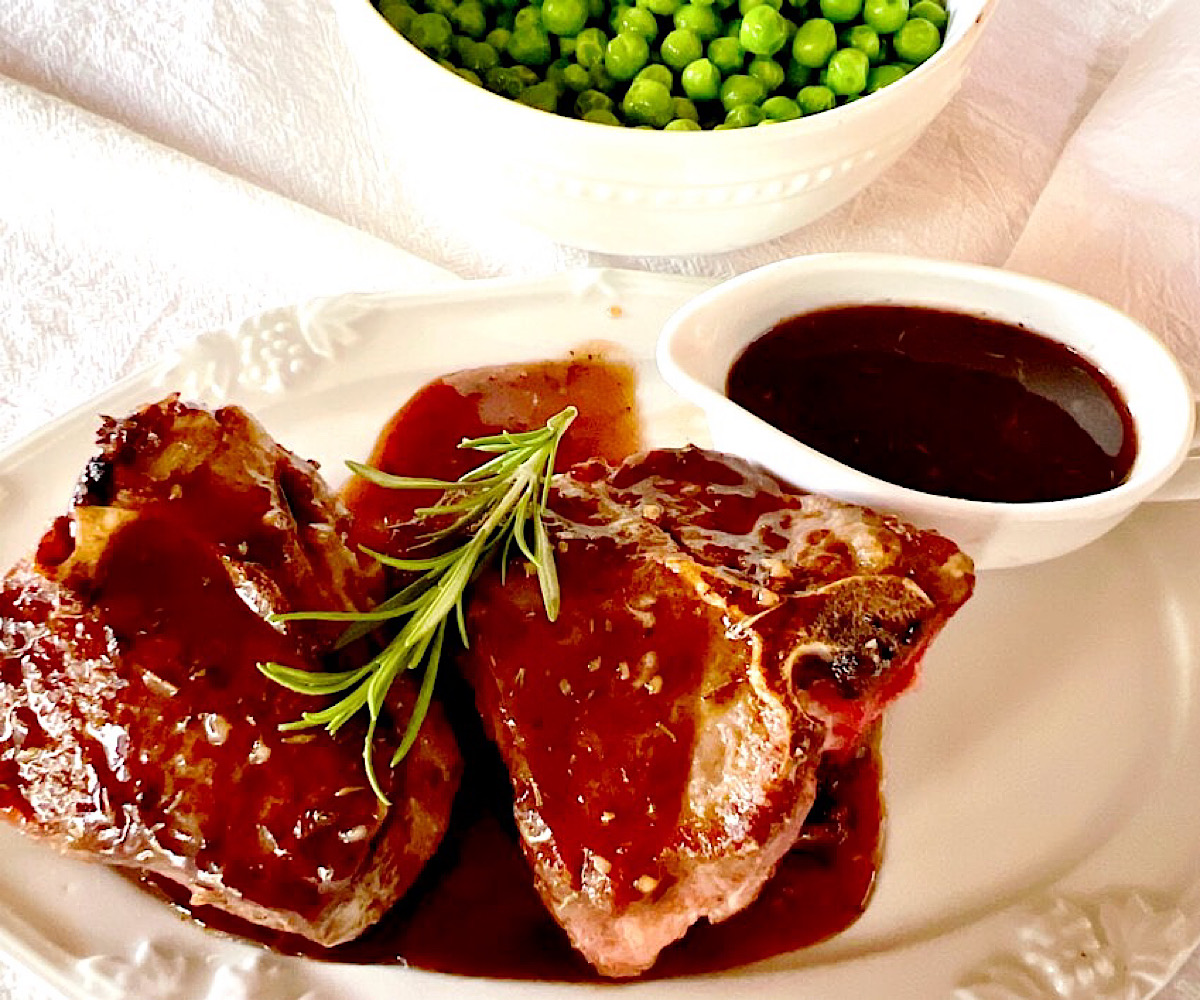 This post may contain affiliate links, and you can read our disclosure information here–
What is Cumberland Sauce?
Cumberland sauce is one of the classic fruity-piquant sauces designed to be served with meat or wild game. While there is not one "authentic" recipe for Cumberland sauce, it usually includes the following ingredients:
Red currants, either in jelly or syrup or as whole fruits. You can substitute other "tart red fruit", however, and I've used elderberry jelly, chokecherry jelly, tart cherries and cranberry jelly.
Red wine or Port. I love cooking with Port, but if you don't like to use alcohol in your cooking you can use red wine vinegar. The recipe below was made with red wine vinegar, and while not traditionally authentic, it was still delicious.
Citrus. Most recipes have either lemon or orange zest plus some juice, too. I used a red current and blood orange jelly but I would also add citrus zest if you have citrus on hand. The bitter Seville oranges are what was historically used.
Mustard: I prefer Dijon mustard, but the classic version uses English dry mustard spice (Coleman's).
Black pepper is another standard ingrediant.
Where did Cumberland Sauce Originate?
The fruity-piquant sauce was often used with game in Medieval cooking in order to tone down the gamey taste with strong flavors.
The named version of this sauce is traced to Hanover, Germany, but the British made it popular, and it is now iconically British. It is a classic sauce for Winter holidays in England.
Traditional vs Non-Alcoholic Version
My version of the cumberland sauce (recipe at end of post) is not completely "authentic", as it includes caramelized onions and no port wine.
While my recipe below is a quick and easy version, this version from BBC Cooking is a traditional sauce that reduces the port to a syrup.
Substitutions and Pairings for Cumberland Sauce
Meat Substitutes
Cumberland sauce is a wonderfully flavorful "gravy" that can enhance lamb, turkey, ham, duck and roast goose. Some of these pairings are traditionally served around the holidays, but it is wonderful sauce that can make use of fresh Spring currants for a week-night meal.
This currant "gravy" is a great foil to dress up leftovers and help with fixing up meat that might have become too dry.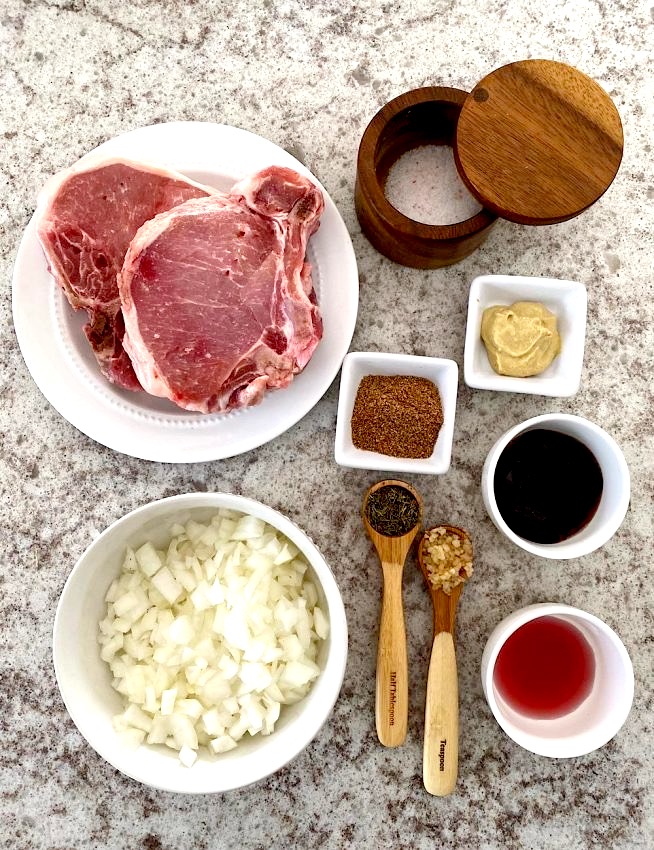 Fruit Substitutes
The idea of tangy fruit sauces paired with meat is not relegated to just the Cumberland sauce of course. The classic fruit that is found in a Cumberland sauce is red currants, but many other fruits will work as well.
The key is to have a tart red fruit.
I have used the following tart red fruit jellies and they have all been delicious. Jellies are typically sweeter than jams and will offer a smoother sauce.
Try to avoid the inexpensive store-bought jellies as they tend to be sickly sweet. Here are a few to try if you cannot find red currant jelly:
Cranberry jelly
Tart cherry jelly
Elderberry, Black Currant or Gooseberry jelly
Chokecherry jelly
Raspberry jelly
Frequently Asked Questions:
How long will the sauce keep, and can you freeze it?
Cumberland sauce stores well in a screw-top jar in the refrigerator for up to two weeks.
The sauce can be frozen for up to a month.
How do you thicken fruit sauces?
Add cornstarch to fruit sauces that need thickening. Always mix cornstarch with a cool liquid before adding to ensure that it doesn't clump up in the boiling fruit mixture.
Can you make Cumberland sauce without alcohol?
Port wine is the classic liquid ingredient in Cumberland sauce. I used red wine vinegar, which still has a trace of alcohol but a very small amount.

Most of the alcohol is used up in the fermentation process, but there may be trace amounts still there – on the order of between 0.1% and 2%. Consequently, using a tablespoon of white wine vinegar might contain a drop of ethanol.

If you want to avoid alcohol in entirety, you could try more citrus juice, some pickle juice or the brine from capers. It will not be the same sauce, but will still be tasty.
Other Recipes that Pair Well with Cumberland Sauce:
Try it instead of the apple-onion-cream sauce with Pheasant Normandy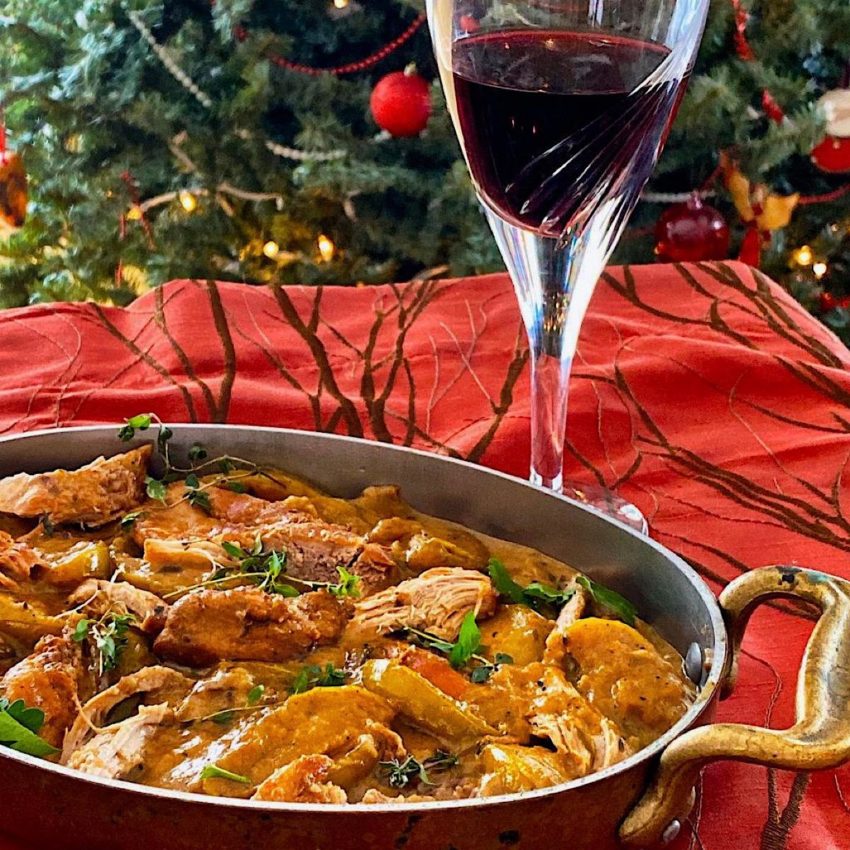 Try it on top of this Beef Brisket recipe instead of the Chimichurri sauce called for in the recipe;
Lamb is often used with these fruity piquant sauces, so give this Rolled Leg of Lamb a go.
Recipe for Pork Chops with Red Currant Sauce:
Lamb Chops with Cumberland Sauce
These seared lamb chops are enhanced with an easy fruity-tangy sauce called Cumberland sauce. Quick and easy to make if you have a tart red jelly.
Ingredients
2

Tablespoons

Olive oil

1

Onion

Chopped

4

lamb chops

You can sub in pork chops if desired; either should be thick chops

1

Teaspoon

Salt

Kosher

2

Teaspoons

Coriander

If using fresh, toast it quickly and grind

1

Teaspoon

Dried thyme

Crushed

1

Teaspoon

Minced garlic

4

Tablespoons

Currant jelly

Or other red tart jelly

2

Tablespoons

Red wine vinegar

Or Port wine or red wine

1-2

Tablespoons

Dijon mustard

½

Teaspoon

Black pepper

Ground
Instructions
In a large skillet, heat up olive oil and add the chopped onion to the skillet. Saute about 5 minutes or until translucent. Remove from skillet and place in small pot.

2 Tablespoons Olive oil,

1 Onion

Season lamb chops on both sides with salt, coriander and thyme. Add a little more olive oil to skillet if needed and heat up over medium high heat. Add chops and sear, cooking for about 4-5 minutes, depending on thickness. Flip over when chops are seared to your liking on the bottom side. Lower heat a bit and cook on the flip side for 4-8 minutes (depending on thickness)

4 lamb chops,

1 Teaspoon Salt,

2 Teaspoons Coriander,

1 Teaspoon Dried thyme

While chops are cooking add remaining ingredients (garlic through pepper to the pot with the reserved onions. Cook mixture over medium low heat until jelly is melted and all ingredients are thoroughly mixed together. Set aside.

1 Teaspoon Minced garlic,

4 Tablespoons Currant jelly,

2 Tablespoons Red wine vinegar,

1-2 Tablespoons Dijon mustard,

1/2 Teaspoon Black pepper

When lamb chops are done serve with the sauce either on the side or drizzled over the chops. Serve with a side of greens or potatoes and a green vegetable.
Video
Seared Pork Chops with Cumberland Sauce
Nutrition
Calories:
357
kcal
Carbohydrates:
17
g
Protein:
42
g
Fat:
12
g
Saturated Fat:
5
g
Polyunsaturated Fat:
1
g
Monounsaturated Fat:
5
g
Cholesterol:
129
mg
Sodium:
731
mg
Potassium:
608
mg
Fiber:
1
g
Sugar:
11
g
Vitamin A:
14
IU
Vitamin C:
4
mg
Calcium:
41
mg
Iron:
4
mg
Did you make this recipe?
If you tried this recipe, please give it a 5-star rating! To do this, just click on the stars above.