Pancakes are beloved by most people, but the flour and the sugary syrups (or toppings) tend to make them high carb and high sugar. These savory pancakes made with Kimchi and a high protein pancake mix add a lot of nutrition while lowering the refined sugar content. Serve them with the added recipe for a sour cream and pomegranate molasses topping!
Jump to: The Recipe | Adding Kimchi | High Protein Pancakes | Illustrated Step by Step | Homemade vs Mix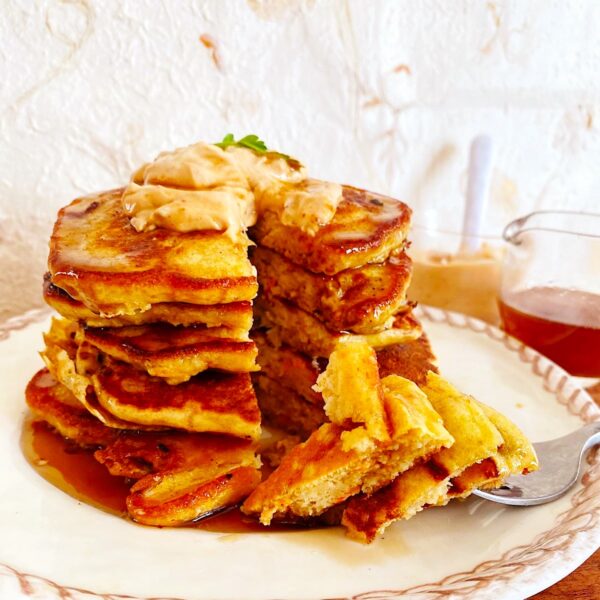 This post may contain affiliate links, and you can read our disclosure information here–
What are Kimchi Pancakes?
Kimchi pancakes are typically thought of as a Korean savory pancake that is often served crispy and thin. They are what some Americans would refer to as "fritters" and they can be made crunchy, chewy, salty or spicy.
The recipe below is a more traditional pancake made with a high protein mix (Kodiak Cakes) and a homemade Kimchi filling. Substantive enough to have for dinner…..light enough to have for breakfast!
What Goes with Kimchi Pancakes?
If you are having your pancakes for breakfast, a sweet maple syrup pairs really wonderfully with the tangy fermented kimchi.
Add a little sour cream to the syrup and you have an over-the-top delicious breakfast of layered flavors and textures.
Kimchi pancakes are also good cold if you want an easy lunch or snack. Serve them with a soy sauce dip or add a touch of wasabi sauce mayonnaise to the top of the cake and roll it up.
For dinner anything goes, but fish is always popular with kimchi. A few other complimentary dinner ideas include:
Baked salmon with a soy glaze
Pork chops and sautéed Asian bok choy
A fish soup
Are Kimchi Pancakes healthy?
Kimchi itself is a staple of Korean cuisine, and is made of salted, fermented vegetables. Though it usually begins with cabbage as its base, dozens of varieties of kimchi exist using other vegetables, such as radish, cucumber, or onion.
The fermentation process that kimchi goes through adds to the health benefits with it's abundance of probiotics.
With minimal calories, a low carb count, and zero fat, kimchi can make a healthy choice for just about anyone.
When kimchi is added to the high protein count of the Kodiak pancakes, you end up with a very healthy meal indeed!
What are High Protein Pancakes
A typical pancake from a mix has an average of 2.4 grams of protein, whereas most protein pancakes contain around 10 grams. The extra protein can come from dried eggs, oats, flax seed, protein isolates extracted from whey, milk, or soy, or some combination of all of those ingredients, depending on the brand.
Based on my son's recommendation, we tried the Kodiak Cakes that have about 14 grams of protein (per 1/2 cup). The ingredients are primarily whole grain wheat flour, whole grain oat flour, and protein isolates from wheat, whey, and buttermilk.
I found these pancakes to be delicious and extremely filling, especially with all the vegetables from the kimchi.
Are High Protein Pancakes Low Carb?
A serving of two medium Kodiak pancakes will end up giving you about 15 carbs. While that doesn't really qualify as "low carb", the protein cakes make up for it with a high protein, low sugar nutritional analysis.
They will also be very satiating, which means you will get full faster and stay full longer. All of these considerations need to be taken into account on a low carb lifestyle.
If you are experimenting with a slow carb diet lifestyle, you might want to save these delicious, healthy pancakes for cheat day.
Illustrated Step by Step Method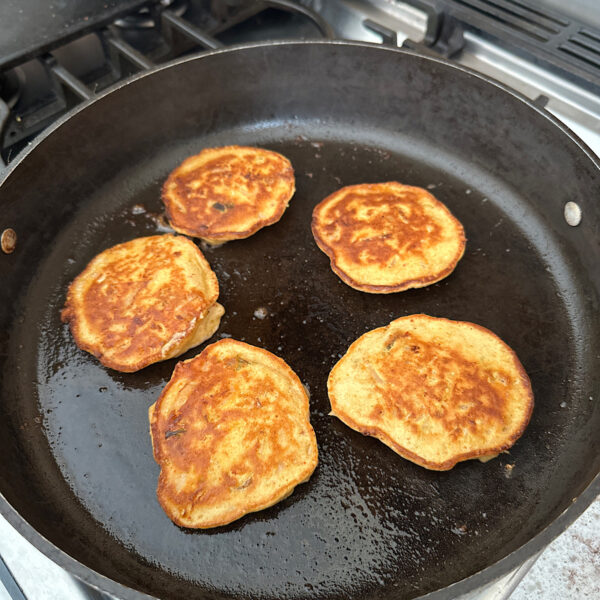 High Protein Pancakes from Scratch vs a Mix?
I took a look at a wide range of protein pancakes recipes and from a health standpoint, I think the Kodiak mix won. It has very little sugar and uses the same type of whole grain wheat and oat flours that most of the "from-scratch" recipes used.
The thing that brought the homemade recipes down a notch in my opinion is the sugar. Many of them used bananas to keep the batter moist and bananas are really high in sugar.
Homemade recipes also used a range of different protein powders. Protein powders can cover a wide variety of ingredients, and there is a great deal of debate on the "health" of some of the powders. They are all pretty heavily processed.
With respect to "taste", I don't have a good sample size. The only thing I can say is the Kodiak pancakes were crispy, savory and awesome.
I believe the kimchi filling or the topping you choose would determine the tastiness more than the cake. Pancakes can be a vessel for the good stuff, rather than the main event!
Frequently Asked Questions
Are high protein pancakes fluffy or dry and dense?
Like most pancakes, they can be either fluffy or dense. The key is more in the process of making the batter rather than they type of mix. A few key tips:

1. Don't overmix the batter
2. Let the batter rest 5-10 minutes before cooking
3. Separate the egg whites out and beat them before adding to mix
4. Only flip once
Can you freeze high protein kimchi pancakes?
When cooled, place pancakes on a parchment paper–lined baking sheet and place tray in freezer until pancakes are completely frozen, about 4 hours. Once frozen, transfer pancakes to a zip-top freezer bag or other freezer-safe container and store frozen for up to 2 months.May 2
Can you find kimchi in the grocery store?
Yes, it is most often in the produce section of the grocery store in glass jars.
Other similar recipes popular on this site:
Savory or Sweet Pumpkin pancakes
Spicy Fish Cakes with 2 Dipping Sauces
Slow Carb Asian Chicken and Broccoli Dinner
High Protein Kimchi Pancake Recipe
High Protein Kimchi Pancakes
These kimchi pancakes are made with a high protein pancake mix (Kodiak Cakes), and include a recipe for a sour cream and pomegranate molasses topping to go with them. Easy, healthy meal for breakfast, lunch or dinner! They can be served with sweet toppings (aka maple syrup) or savory spicy toppings.
Ingredients
Kimchi pancakes
1

Cup

Kodiak high protein pancake mix

may need a little more for preferred consistency

2

Eggs

1 ½

Cup

chopped Kimchi

Homemade or store-bought

¼ – ½

Cup

Water

The amount depends on your preferred consistency. I used 1/4 cup

1

Tablespoons

Oil

I used bacon grease, sesame oil is good also, or your preferred oil
Sour Cream Pomegranate Topping
½

Cup

Sour cream

¼

Cup

Pomegranate molasses

½

Teaspoon

chile paste

I used a spicy Asian fried chile paste
Instructions
Kimchi pancakes
In a large bowl, with a wire whisk or slotted spoon, stir together Kodiak mix and 2 eggs

Add 1 cup Kimchi and and stir everything together until thoroughly mixed

Add a little water or pancake mix to get the cakes to your desired consistency.

1 Cup Kodiak high protein pancake mix,

2 Eggs,

1 1/2 Cup chopped Kimchi,

1/4 – 1/2 Cup Water

Let the batter rest about 5 minutes. While resting warm up 1 Tablespoon of bacon fat or butter over medium heat in a large skillet. You can use oil instead of butter, but butter will make more golden brown cakes.

Add about 1/4 cup of batter to the heated oil in the skillet for 3" cakes and 1/2 cup for 4-5" cakes. Keep the cakes from touching each other if possible.

Cook about 3-4 minutes and then flip with a pancake turner (check bottom before flipping to see if it is golden brown).

Flip and cook another 3-4 minutes.

Remove from skillet and serve with maple syrup or savory topping like the sour cream topping below.
Sour cream pomegranate topping
In a small bowl, stir together the sour cream, pomegranate molasses and chile paste until smooth and creamy.

1/2 Cup Sour cream,

1/4 Cup Pomegranate molasses,

1/2 Teaspoon chile paste
Nutrition
Calories:
144
kcal
Carbohydrates:
5
g
Protein:
17
g
Fat:
7
g
Saturated Fat:
2
g
Polyunsaturated Fat:
1
g
Monounsaturated Fat:
2
g
Trans Fat:
0.01
g
Cholesterol:
90
mg
Sodium:
147
mg
Potassium:
117
mg
Fiber:
0.3
g
Sugar:
3
g
Vitamin A:
206
IU
Vitamin C:
0.2
mg
Calcium:
83
mg
Iron:
2
mg
Did you make this recipe?
If you tried this recipe, please give it a 5-star rating! To do this, just click on the stars above.
Online Diet/Health Coaching:
Although I am not currently taking clients for diet & health coaching, I have been a coach for many years with the online service called coach.me. It is a great platform for all kinds of coaching – anything from specific diets, writing a blog, getting up early, or getting rid of that pesky procrastination.
There are some wonderful coaches and the testimonials will tell you what you need to know. Contact me at [email protected] to get a referral to some of the tested, experienced online coaches on Coach.me
If you'd like to start with a plan for a low carb or keto lifestyle, check out this detailed guide in ebook form. It may be all you need to lose weight on this lifestyle. Or it may be used as a supplement to one-to-one coaching.