When tomato season starts to wane, gardeners find themselves with the desire to salvage the green tomatoes. This recipe for a Korean-style green kimchi is the perfect way to preserve green tomatoes, resulting in a tangy, delicious condiment to get you through the Winter doldrums. Let me show you how easy!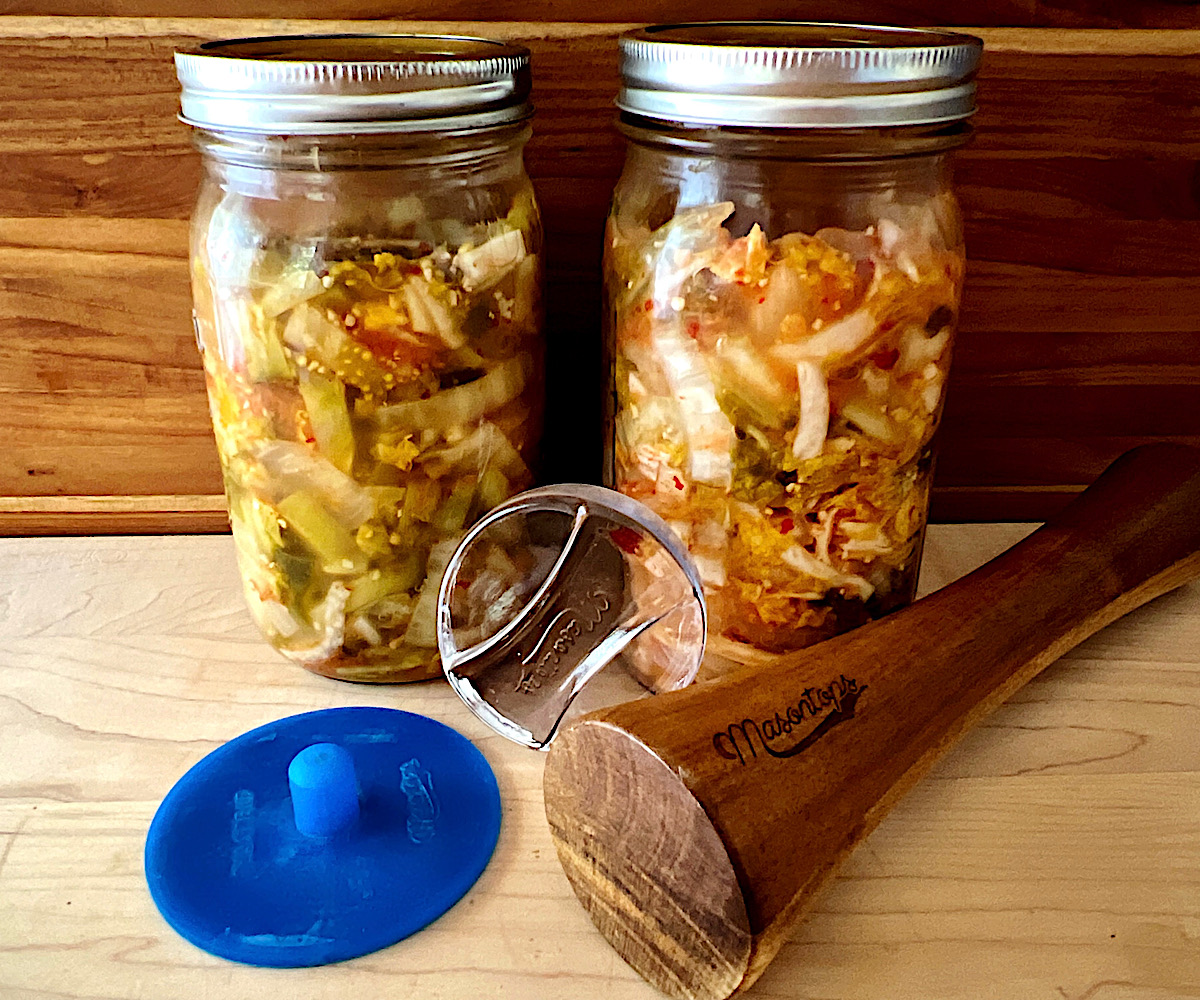 This post may contain affiliate links, and you can read our disclosure information here–
What is Kimchi?
Kimchi is a traditional Korean recipe made of fermented vegetables and a wide range of seasonings (usually spicy). It is a staple side dish of Korean cuisine and is served with just about every meal.
There are hundreds of different types of kimchi made with different vegetables as the main ingredients, but two ingredients that are traditionally included is napa cabbage and/or daikon radishes.
Our recipe for Korean green kimchi does use the napa cabbage, but also includes green tomatoes and semi-hot chile peppers as key ingredients.
How to Use Kimchi
Many, many Korean meals come with a side of kimchi. It is also popular as a condiment used to enhance hamburgers and hotdogs. One of my favorite ways to use tomato kimchi is in these high-protein kimchi pancakes.
What Vegetables are Used in Kimchi?
Cabbage is the most common vegetable, but daikon radish, carrots, cucumbers and scallions are also frequently used. We grow a lot of tomatoes and peppers and found that green tomatoes and chile peppers combine with the cabbage and spices beautifully.
Really Korean kimchi is so flexible that just about any vegetable can be used. It mostly depends on the regional availability and what is in season when you start the fermentation process.
The flexibility also allows this dish to be vegan or vegetarian by keeping all the ingredients plant-based.
Here are a few typical vegetables to consider when making kimchi:
Baby carrots
spicy radishes
pickling cucumbers
Asian pear
scallions or other onions
garlic chives
Kohlrabi
green beans
bok choy
cabbages
Chile peppers
green tomatoes
tomatillos
What Seasonings are Used in the Brine?
The liquid brine from Kimchi is made with a wide variety of spices and seasonings. It usually includes something to give it a bit of spicy heat (gochugara or chile powder), and often includes the warming ingredient of ginger.
The umami flavor of fish sauce is a typical ingredient, but it would not be considered vegan at that point. Some cooks will also use anchovies in the brine for the umami or jeotgal (salted seafood).
Sugar is optional, but most Kimchis will have at least a little sugar added. Salt is another variable, and the amount will depend on the other umami type ingredient listed above, as many of them are quite salty.
Here are some typical seasoning ingredients:
ginger
fish sauce
anchovies
Gochugaru is a ground Korean hot pepper, key to the flavor and gentle heat of kimchi.
fish sauce, which provides that signature kimchi funk
sugar (often Asian pear is used for sweetness)
alliums (garlic, onions, or scallions)
dashi or vegetable broth for extra depth over just water
Do You Need a Fermentation Kit?
You don't really need a fermentation kit to make kimchi, but if it is your first time fermenting, the kit can make it easier and more straightforward.
Basically the tools needed for making kimchi include:
Glass jars (quart size is good) with new lids and rings
some sort of weight that is put on top of the vegetables to keep them below the brine (this can be as easy as a ziplock bag filled with water)
a pickle packer to pack down the veggies below the brine
There are two main advantages of the kit. The first is that it has glass weights that fit into the jars nicely, which means you don't have to mess with filling ziplocks with water or finding a weight that fits into the jar.
The second advantage of a kit is it comes with a fitted top with a small hole that allow gas to escape. Too large of a hole and bacteria can get in. Too small and gas cannot get out efficiently.
There are a number of fermentation kits out there. This is the one we used in the video below, but most all of them work just fine. It's pretty basic.
More Preservation Methods:
Fermenting is fun (and healthy and tasty), but it is only one of many ways to preserve fruits and vegetables. For a quick and easy method for green tomatoes, try these refrigerator tomato pickles.
These 10 different methods of preserving the rest of the Summer's harvest are my all time favorites (recipe for each one!)
Recipe for Green Tomato Kimchi
Green tomato Kimchi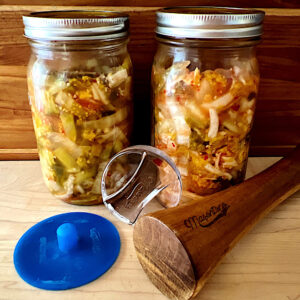 Use the end of season green tomatoes in this spicy, fermented kimchi. Wonderful the the Winter pantry
Equipment
Fermentation kit

Alternatively: quart jars, weight for inside jar, and lid that can be loosened to allow gas release
Ingredients
1

Small head napa cabbage

1

Cup

kosher salt

½

medium onion

chopped

2

medium green tomatoes

2

fresh chile peppers

you decide on the heat level of your chiles

3-4

cloves

garlic

Grated

2

teaspoons

ginger paste

2

teaspoons

granulated sugar

1

Tablespoon

fish sauce

1

Tablespoon

soy sauce

1 to 5

Tablespoons

Korean red pepper flakes

gochugaru
Instructions
Cut the cabbage lengthwise and then cut out the two cores. Slice the two halves crosswise into strips.

Place the chopped cabbage into a large bowl and sprinkle with salt. Using your hands, rub the salt into the cabbage thoroughly.

Let the salted cabbage sit for 1 1/2 hours, turning the cabbage with tongs every 1/2 hour to thoroughly coat and soften.

Rinse the cabbage well after the 1 1/2 hours and drain in a colander for about 15 minutes.

1 Small head napa cabbage,

1 Cup kosher salt

Place the rinsed and drained cabbage in a large bowl and add the remaining ingredients. Mix everything together thoroughly

1/2 medium onion,

2 medium green tomatoes,

2 fresh chile peppers,

3-4 cloves garlic,

2 teaspoons ginger paste,

2 teaspoons granulated sugar,

1 Tablespoon fish sauce,

1 Tablespoon soy sauce,

1 to 5 Tablespoons Korean red pepper flakes

Pack the kimchi 1/2 way up a 1-quart jar. Using the pickle packer (or large wooden spoon), press down firmly until the brine (the liquid that comes out) rises to cover the vegetables (you may need to add some brine from the bowl).

Repeat this process leaving at least 1 inch of space at the top.

Place the weight over the kimchi in the jar so that the brine will remain covering the vegetables. Place the jar in a bowl or plate under the jar to catch any overflow, and set aside to ferment in a cool dark place for 3-5 days.

Check the kimchi once a day, making sure the vegetables are submerged under the brine.

You can taste it as you go, and when it is the taste you prefer, transfer to the refrigerator.

It is safe to eat right away, but if you let it sit in the refrigerator for another week or two the taste will develop in its complexity.
Notes
** See above post for ideas on substitutions for either vegetables or spices
Nutrition
Calories:
18
kcal
Carbohydrates:
4
g
Protein:
1
g
Fat:
0.1
g
Saturated Fat:
0.01
g
Polyunsaturated Fat:
0.03
g
Monounsaturated Fat:
0.01
g
Sodium:
14278
mg
Potassium:
93
mg
Fiber:
1
g
Sugar:
3
g
Vitamin A:
209
IU
Vitamin C:
9
mg
Calcium:
20
mg
Iron:
0.4
mg
Did you make this recipe?
If you tried this recipe, please give it a star rating! To do this, just click on the stars above. Comments are always helpful also and I respond to all of them (except rude ones)