Sliders and beer….a combo that works for any casual gathering: outdoors on the deck, tailgating in the parking lot, or in your living room during Superbowl Sundays. While classic unadorned sliders and beer are fine on their own, it's always fun to elevate the simplistic into the sublime, which is exactly what these chow chow sliders and Michelada beer drinks do. Bonus is that it's easy!
Jump to Recipe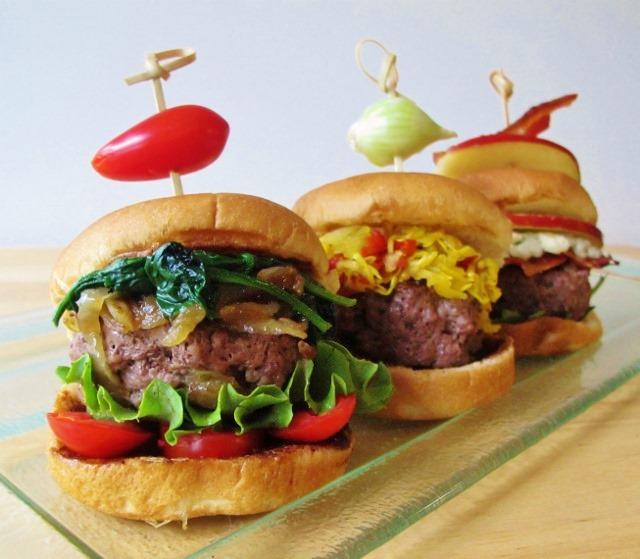 Chow Chow Sliders:
I'm a huge fan of Hubert Keller's Burger Bar in Las Vegas (and Hubert Keller in general), and was inspired by his Chow Chow Mini-burgers (aka sliders).
Chow Chow is a North American pickled relish, sometimes referred to as piccalilli. Originally it was made with cucumbers, onions, cauliflower and green peppers left overnight in brine, boiled in (cider) vinegar with whole mustard seed and celery seeds, then mashed into a paste with mustard, flour and turmeric.
Over time, there has been regional variations. The "Northern" variation is made from vegetables that might include red and green tomatoes, onions, carrots, beans, asparagus, cauliflower and peas. The "Southern" version is primarily focused on green tomatoes or cabbage. Both are pickled with varying degrees of sugar and pickling spices.
Chow Chow is eaten by itself or typically as a condiment on fish cakes, mashed potatoes, beans, hot dogs and hamburgers. The recipe below uses this awesome relish on sliders, an inspiration from Hubert Keller.
Grilling Indoors
If you don't want to fire up the outside grill or if the weather is acting up, these mini-burgers can easily be made with an indoor grill or a plain cast iron skillet. The Griddler (below) is my favorite indoor grill.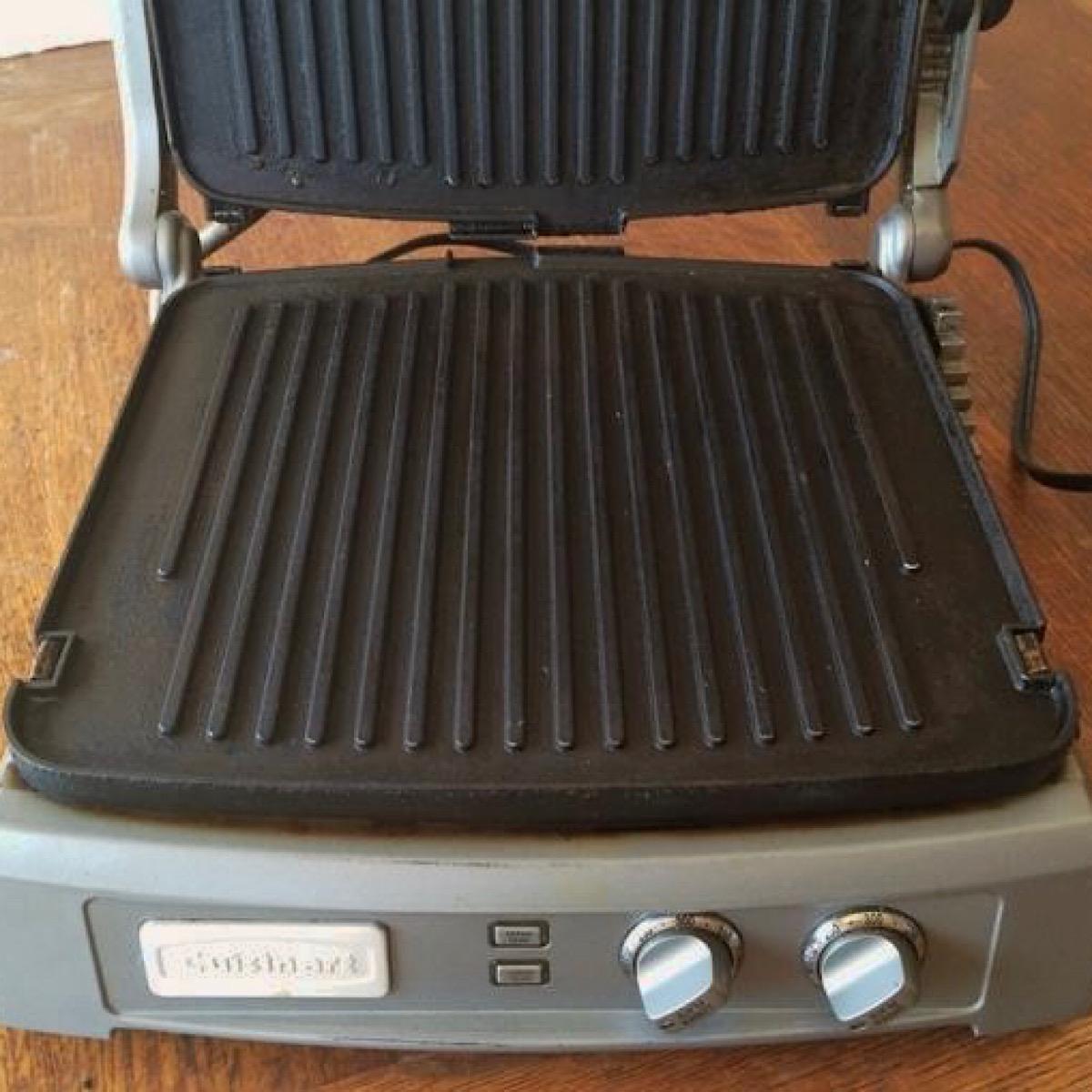 Serve with a Michelada Beer: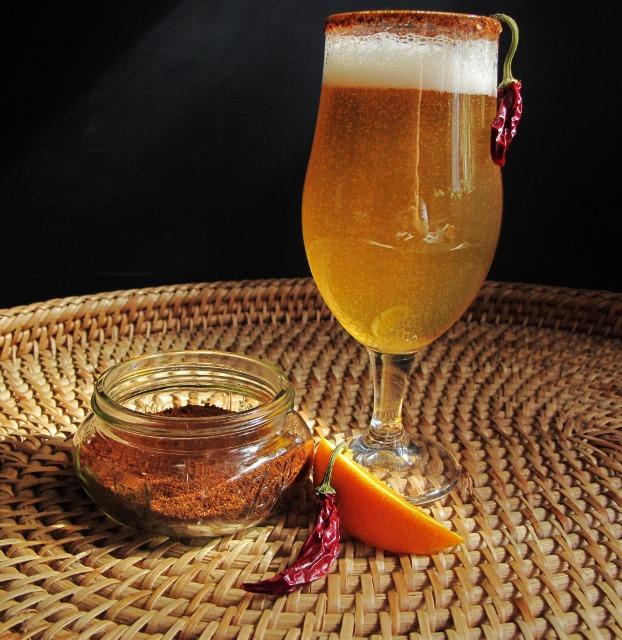 Sometimes you don't want to mess with a good beer and just enjoy it in its natural state. Sometimes you want to kick it up a notch and enjoy your beer with a little spice.
Beer is a classic drink to serve with burgers, whether they be sliders or full scale burgers. An easy way to spice up your beer and make it into a "Michalada" is to add a spiced shrub syrup.
My favorite way to make a Michalada is to rim the glass with chipotle salt and add 1/2 ounce of Orange Chipotle Spice Syrup
The combination of Sliders and Beer cry out for casual and companionship. Start the grill, text your friends to come over and enjoy!
Chow Chow Sliders
Mini burgers with a chow chow pickled relish topping to add incredible flavor and uniqueness
Ingredients
4

cups

shredded green cabbage

½

lb

green tomatoes

optional, depending on availability

1

cup

red bell peppers

chopped (I used jarred roasted red peppers)

1

small onion

chopped

½

cup

cider vinegar

½

cup

sugar

½

Tablespoon

mustard seeds

1 ½

tsp

celery seeds

½

tsp

turmeric

¼

tsp

cayenne pepper

¼

cup

green onion

sliced

2

lbs.

ground chuck

20 % fat

mini-buns

¼

cup

BBQ sauce

Your farvorite

salt & pepper
Instructions
Combine the cabbage, tomatoes, peppers, onion, vinegar, sugar, mustard seeds, celery seeds,turmeric, cayenne and 1 1/2 tsp salt in a heavy saute pan and cook over medium-high heat for about 10 minutes.

Preheat a grill or a skillet to medium high, wiping down the grate or skillet with olive oil before heating.

I have a Cuisinart Griddler Delux and I love it for indoor grilling. Turn the top and bottom plates both on sear if you have one of these.

In a bowl, use your hands to gently mix together ground beef, green onions, and 1/2 tsp pepper (more to taste). Do not add salt, as this will cause the meat to start to cure and give it a different texture.

Use a 1/2 cup dry measuring cup to form the mini-burgers. Pack the measuring cup with the burger mixture and level it off. Turn the measuring cup over onto a plate and tap the bottom until the burger patty drops out.

Don't handle the meat too much, as it is better texture and taste if it is light and airy. Salt the burger patties right before grilling.

Grill the burgers until charred on the outside and cooked inside until no longer pink (160 degrees), turning once. It takes about 3-5 minutes per side (if desired, add cheese on top of the patties for the last couple of minutes to melt).

Remove the burgers and allow them to rest on a paper towel for a couple of minutes. While the patties are resting, grill the buns, cut side down, until toasted.

Spread the bottom buns with your favorite BBQ sauce. Place the burger patty on the sauce and top with a generous portion of chow chow mix.

Serve with your favorite beer or non-alcoholic drink.
Nutrition
Calories:
237
kcal
Carbohydrates:
24
g
Protein:
11
g
Fat:
10
g
Saturated Fat:
3
g
Polyunsaturated Fat:
1
g
Monounsaturated Fat:
4
g
Trans Fat:
1
g
Cholesterol:
32
mg
Sodium:
70
mg
Potassium:
189
mg
Fiber:
2
g
Sugar:
10
g
Vitamin A:
337
IU
Vitamin C:
13
mg
Calcium:
41
mg
Iron:
2
mg
Did you make this recipe?
If you tried this recipe, please give it a 5-star rating! To do this, just click on the stars above. And don't forget to tag me at @dorothy_stainbrook_heathglen, if you share a picture on Instagram! You can also tag me at #heathglen!