The key to a great fish cake is the quality of the fish used, as well as limiting the "filler" to allow the subtle flavor of the fish to shine through. The problem however is that the filler holds the fish cakes together when you are sautéing them. Baking the fish cakes instead helps them stay together, and gives you a lighter taste. Dip it in this Southern Comeback Sauce and you have the start of a classic Southern dinner.
Jump to: Recipe | Best fish to Use | Comeback Sauce | Best Southern Dessert to Serve | Common Questions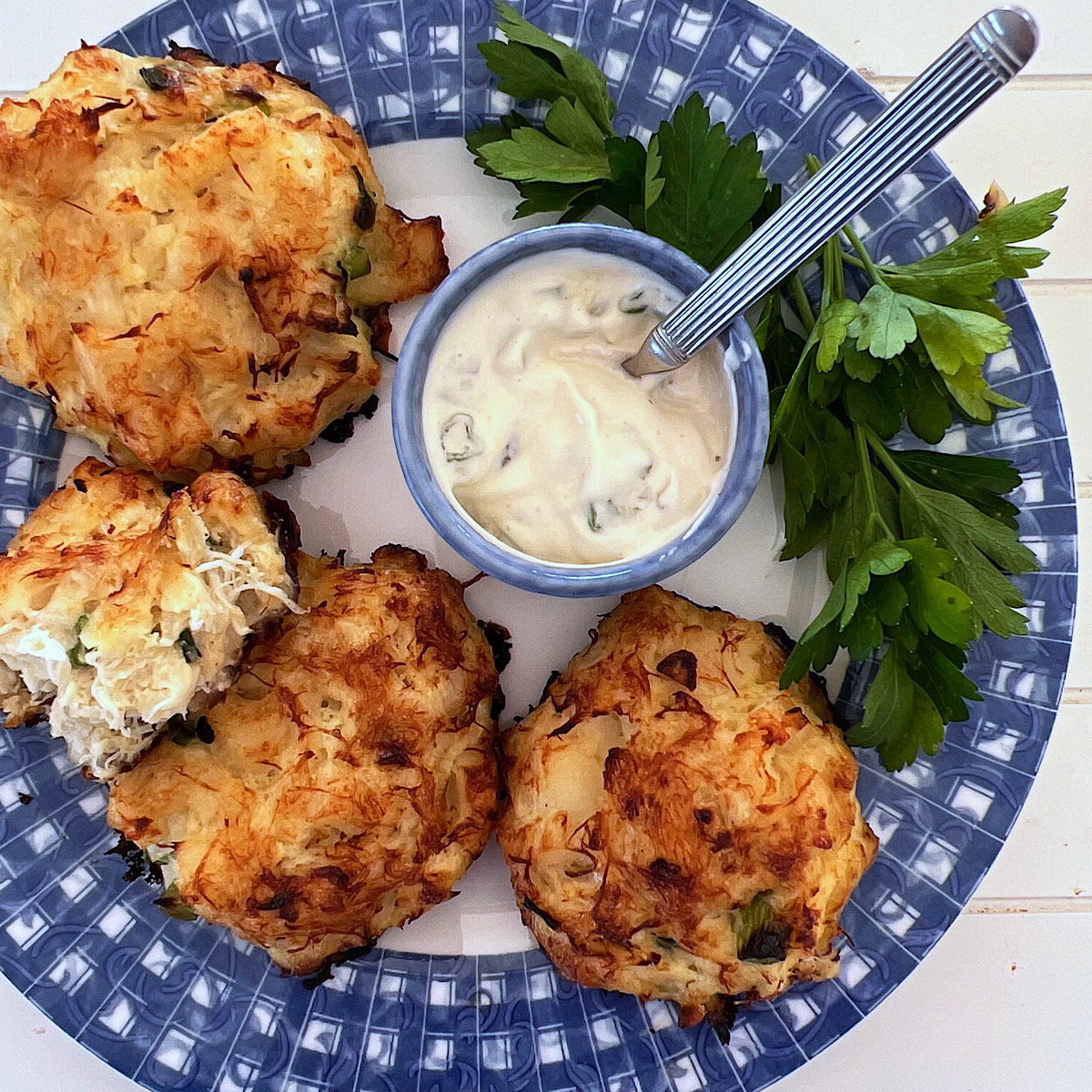 This post may contain affiliate links, and you can read our disclosure information here–
What Kind of Fish is Best to Use?
I used crabmeat from cans (must be lump crab meat however) and frozen cod in the recipe below.
I have also made it with catfish and tilapia, but it is best if you mix some of the white fish filets combined with the crabmeat. You could also chop up uncooked shrimp after taking the tails off.
Whatever mix you use, make sure the total comes to 2 pounds or the patties might not stay together. Any more than 2 pounds and they could turn out dry.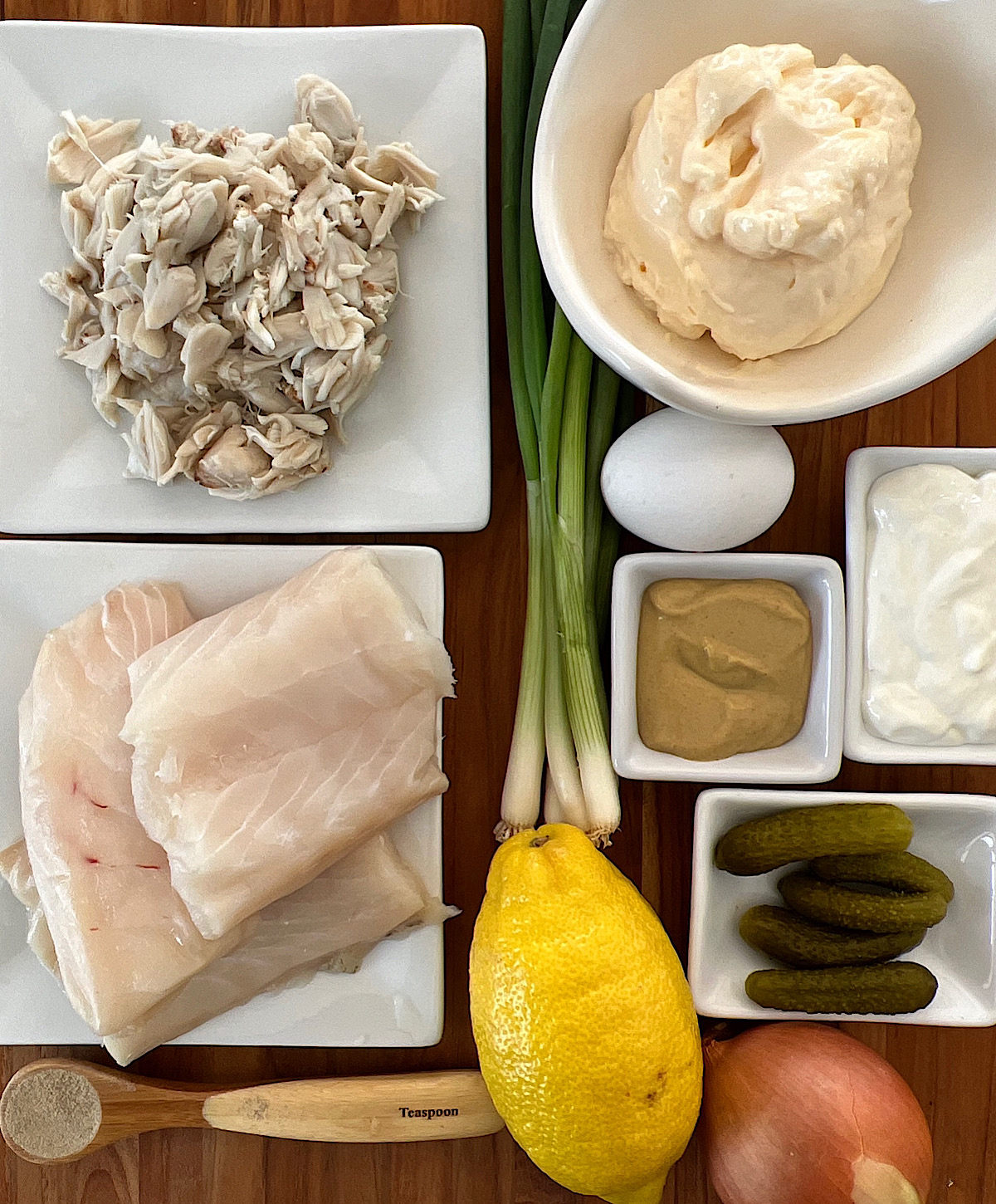 Baked fish cakes are easy, quick, healthy and delicious. What more could you ask for? Oh yeah, it's low carb compliant also.
Southern Comeback Sauce
This classic dipping sauce is extremely quick and easy and is a standard to serve in the South with deep fried, battered seafood.
It is a mayonnaise-based sauce that tastes similar to Thousand Island dressing (but not as sweet).
My recipe for Southern Comeback Sauce is included in the notes section of the recipe card, along with a classic tartar sauce.
Another great dipping sauce is this Old Bay Remoulade sauce included in the hush puppies recipe. Just make sure you don't leave out a dipping sauce, or you won't be asked to "comeback"!
Make a Fish Cake Sandwich
Fish patties are perfect for making sandwiches. You can easily freeze them and when you're craving a fish sandwich, simply slather a bun or toasted bread with mayonnaise (or the Southern Comeback Sauce), and top it with a thick slice of tomato and the fish cake. Great any time of the day!
Southern Dessert to Serve with Fish Cakes
My favorite comfort food/dessert is a creamy, sweet old-fashioned banana pudding (with Nilla wafers). No meringue in my version, so it's really quite simple. Just know that there are plenty of carbs and sugar in this dessert, so save it for cheat days.
Frequently Asked Questions:
Why do my fish cakes always fall apart?
The most common way of making fish cakes is to saute them in a skillet with some oil. This method is fine, but you need to have enough filler to keep them together, especially when turning them over. Baking them on a sheet pan doesn't require breading and they are not moved around until they have set up. They stay together much better.
Can I use frozen fish filets?
Yes. If you don't live in an area where fresh seafood is readily available, frozen fish is just fine. Even when you see it "fresh" at the grocery store, it is often flash frozen and then thawed. Just make sure it is thawed thoroughly before shredding it with the knife
Can I use a blender or food processor to shred the filets?
It is better if you don't. It is too easy to get it over-blended and that will make your cakes taste very dry. The best cakes have a range of sizes to the pieces, which you can achieve by just using a knife to chop some of the filet and shred some of it.
What do you serve with fish cakes?
The first thing I make sure of is to have a good dipping sauce. There are many to choose from (I've listed 2 in the notes section of the recipe card.

I also like to serve a green vegetable. The visual is appealing to the senses and the flavors pair well together for most green vegetables. Chopped broccoli, asparagus, sautéed spinach, etc. You could also use bright orange carrots. Just stay away from mashed white vegetables or cauliflower as the colors, flavors and textures are not robust enough.
Sautéed Fish Cakes vs Baked
Of course the answer to this is that it depends on your taste preferences. If you are leading any kind of a low carb or slow carb lifestyle, or if you need to be gluten free, these baked fish cakes are full of flavor.
They tend to be a little lighter as they do not soak up any oil. For a tasty version of sauteed fish cakes, this recipe for Spicy Fish Cakes with Panko has excellent flavor and texture.
This post may contain affiliate links, and you can read our disclosure information here–
Recipe for Baked Fish Cakes with Southern Comeback Sauce
Baked Fish Cakes with Comeback Sauce
These baked fish cakes can be made with a crushed saltine coating, or no coating at all if you are low carb. The Southern Comeback sauce is a classic and is a very easy dipping sauce to pair with this Southern dish.
Equipment
large bowl

measuring spoons and cups
Ingredients
1

lb

skinless fish filets

Shredded (can use cod, catfish, tilapia or any whitefish)

1

Lb

canned crab meat

if you don't have 1 lb, make up the difference with more white fish to equal 2 lbs.

3

Tbsp

scallions

sliced thinly

1

large egg

lightly beaten with a whisk

¾

Cup

thick mayonnaise

not olive oil based mayonnaise

¼

Cup

sour cream

2

Tablespoons

mustard

I used Dijon

1

tsp

kosher salt

Adjust amount to your own taste

½

tsp

white pepper

2

Tablespoons

chopped parsley

optional

panko or breading

optional
Instructions
Preheat the oven to 400°F

Shred the cod filets with a knife and mix together with the crab. Chop the scallions.

1 lb skinless fish filets,

3 Tbsp scallions,

1 Lb canned crab meat

In a large bowl, whisk together the egg, mayo, sour cream and mustard. Add the chopped scallions, the salt and pepper and parsley (if using) and stir all together.

Gently mix in the 2 lbs of fish with a spatula.

3 Tbsp scallions,

1 large egg,

3/4 Cup thick mayonnaise,

1/4 Cup sour cream,

2 Tablespoons mustard,

1 tsp kosher salt,

2 Tablespoons chopped parsley,

1/2 tsp white pepper

Gather a handful of mixture and lightly form into a patty about 1/2 to 1-inch thick. The bowl should make about 12 – 15 patties. The patties will be loosely held together and may seem too moist. Just make them a bit smaller if they won't stay together for you. (I make them into a small ball with my hands and then press them down a bit on the baking sheet.

Place patties on a lightly oiled cookie sheet and refrigerate for 30 minutes.

If a cookie sheet won't fit in your fridge, put patties on a plate and then transfer to baking sheet with a spatula after chilling.

Take them out of the fridge and place on baking sheet. At this point you can dredge them in panko or breading if you want a crust.

Bake the fish cakes for 12-15 minutes in the oven. Do not turn them. They should be a pale light brown on top.

Remove them from the oven and turn your oven to broil. Place the sheet pan back in for about 2 minutes to brown the tops. Watch carefully so as not to burn.

2 Tablespoons chopped parsley,

panko or breading

Remove from the oven, let them sit for about 5 minutes and then serve with lemon wedges and a dipping sauce. (recipe for dipping sauce is in the Notes section.

I served it with some asparagus with a soy based dressing on it, but greens of any simple preparation would be a great accompaniment.
Notes
SOUTHERN COMEBACK SAUCE:
Whisk together these ingredients:
1 cup mayonnaise
1/4 cup chile sauce
2 Tbsp ketchup
1 Tbsp lemon juice
1 tsp smoked paprika
1 tsp Worcestshire sauce
1 tsp hot sauce
pinch of salt
1/2 tsp dry mustard
TARTAR SAUCE:
Whisk together all of the following ingredients in a bowl. Cover and store in the refrigerator until ready to serve.
1 cup mayonnaise
1/2 cup sour cream
1/2 onion, finely minced
4 cornichons, finely minced (can substitute pickles or capers)
2 tsp mustard (can substitute 1 Tbsp white-wine vinegar)
1 1/2 Tbsp minced herbs (chives or tarragon are my favorites)
1/2 cup
Nutrition
Calories:
179
kcal
Carbohydrates:
1
g
Protein:
14
g
Fat:
13
g
Saturated Fat:
3
g
Polyunsaturated Fat:
7
g
Monounsaturated Fat:
3
g
Trans Fat:
0.03
g
Cholesterol:
81
mg
Sodium:
546
mg
Potassium:
255
mg
Fiber:
0.2
g
Sugar:
0.3
g
Vitamin A:
95
IU
Vitamin C:
2
mg
Calcium:
51
mg
Iron:
0.5
mg
Did you make this recipe?
If you tried this recipe, please give it a 5-star rating! To do this, just click on the stars above.
Online Diet/Health Coaching:
Although I am not currently taking clients for diet & health coaching, I have been a coach for many years with the online service called coach.me. It is a great platform for all kinds of coaching – anything from specific diets, writing a blog, getting up early, or getting rid of that pesky procrastination.
There are some wonderful coaches and the testimonials will tell you what you need to know. Contact me at [email protected] to get a referral to some of the tested, experienced online coaches on Coach.me
If you'd like to start with a plan for a low carb or keto lifestyle, check out this detailed guide in ebook form. It may be all you need to lose weight on this lifestyle. Or it may be used as a supplement to one-to-one coaching.