Hush puppies, a fried cornmeal ball, are a Southern delicacy, often served with deep fried seafood and a range of dipping sauces. The dipping sauces offered in this recipe include a pre-made hot pepper jelly, a recipe for a Southern Comeback Sauce and a link to a great Old Bay Remoulade sauce. These dipping sauces are a great accompaniment to fish cakes also!
Jump to:
RECIPE
Comeback Sauce
More Dipping Sauces
More Classic Southern Recipes
This post may contain affiliate links, and you can read our disclosure information here–
What are hush puppies?
Hush puppies are a savory, deep-fried, round cornmeal ball. A perfect hush puppy is crunchy on the outside and soft inside. The original creation itself is said to have started with French nuns who had immigrated to New Orleans.
However, hush puppies didn't acquire their common name until one day when an African cook was frying up a batch and a puppy began to howl. She gave the puppy a plate full of the deep-fried dough balls and told the puppy to "hush puppy." It must have worked because the term hush puppies is now ubiquitous.
3 Dipping Sauces for Hush Puppies or Fish Cakes
The easiest dipping sauce for hush puppies is a pre-made jam or jelly (preserve). Three preserves that I have tried and loved as dipping sauces to accompany hush puppies include a hot pepper jelly, lime marmalade, and an heirloom tomato jam.
The tomato jam has a little kick, the hot pepper jelly is a go-to for many Southerners, and the lime marmalade has just the right amount of pucker to go with the cornmeal hush puppies.
The Classic Southern Comeback Sauce
This classic Southern dipping sauce hails originally from Jackson, Mississipi, and of course it's name says it all (i.e., you will always come back for more).
Some say the name comes from the Mississippi goodbye, where a visitor was always left with a "y'all come back now". Whether this is true or not I have no idea, but it certainly could be, and it makes a good story.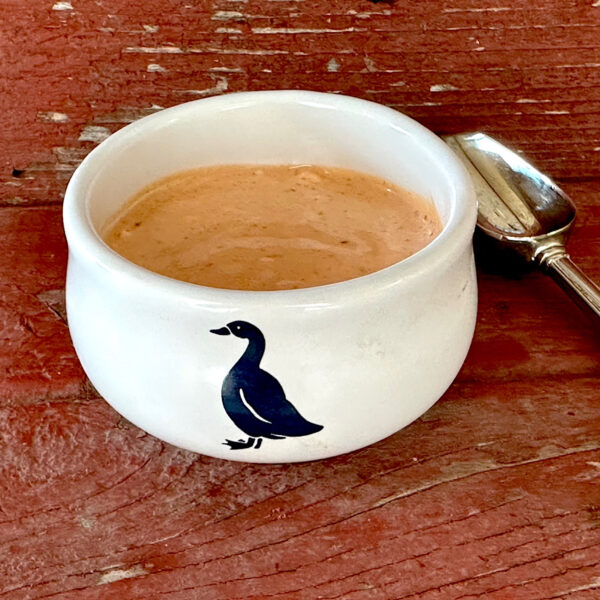 The sauce itself is a version of a remoulade, and is similar to a Thousand Island salad dressing. It is extremely easy to make and usually includes different ratios of mayonnaise, chile sauce, ketchup and Worcestershire sauce.
The version in the recipe card below (see notes section) also includes smoked paprika, dry mustard and hot sauce. Garlic and onion are often added, either in fresh chopped form or in powder form.
**Pro Tip:For the best flavor, make the sauce a day ahead of time and refrigerate it overnight.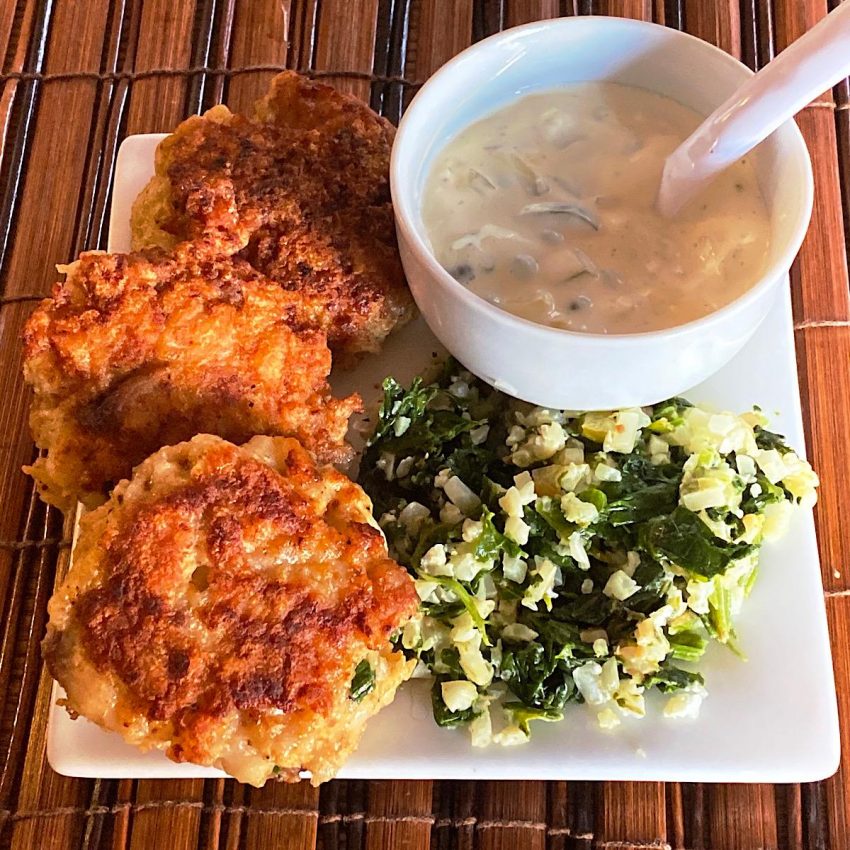 Old Bay Remoulade Sauce
There are countless variations to a remoulade sauce, but at the core it is a mayonnaise based sauce with pickles, seasoning and usually mustard or horseradish. Although it originated in France, Louisiana was the U.S. state that made it popular.
My favorite remoulade sauce is made with Old Bay seasoning, capers instead of pickles, and both horseradish and mustard. My recipe is posted with the baked fish cakes recipe found here. It is a perfect dipping sauce with any Southern fried food.
What to Serve with Southern Dipping Sauces
Most often you will see these dipping sauces served with deep-fried, battered dishes like seafood or hush puppies. That is not to say that they won't be wonderful with many other "dippable" foods like fries or even roasted vegetables!
Here are some of my favorite ideas, but don't limit yourself!
sweet potato fries
as a burger spread
oyster po boys
More Southern Classic Recipes:
My mom grew up in Shreveport Louisiana, and her all-time favorite dinner was fried catfish, hush puppies, and sweet iced tea, with a banana pudding for dessert. Check out these recipes for her favorite Southern dishes:
The Southern dinner of hush puppies, fried catfish and sweet tea was made in honor of my mom's 90th birthday, reminiscent of the food she grew up eating. I'm so happy I got to make it for her before she passed.
Recipe for Hush Puppies with Southern Comeback Sauce
Southern Hush Puppies with Dipping Sauces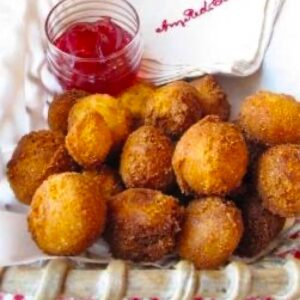 Deep fried cornmeal hush puppies with a Old Bay remoulade sauce, a Southern Comeback Sauce, or a hot pepper jelly dip.
Equipment
large bowl

Slotted spoon
Ingredients
1

cup

yellow cornmeal

fine grind

1

cup

all-purpose flour

¼

cup

sugar

½

tsp

black pepper

1

Tbsp

kosher salt

½

tsp

cayenne pepper

1

Tbsp

baking powder

1

large egg

lightly beaten

2

Tbsp

melted bacon fat

2

green onions

thinly sliced

1

cup

buttermilk

can also use whole milk or combination of milk and beer

3

Tbsp

unsalted butter

melted

oil for frying

peanut oil or oil with high smoke point

Southern Comeback Sauce

**see notes below
Instructions
In large bowl, whisk cornmeal with the flour, sugar, pepper, salt, cayenne and baking powder. Add the egg, milk, butter, green onions and bacon fat and whisk until dry and liquid ingredients are combined (do not over-mix or texture will be tough)

1 cup yellow cornmeal,

1 cup all-purpose flour,

1/4 cup sugar,

1/2 tsp black pepper,

1 Tbsp kosher salt,

1/2 tsp cayenne pepper,

1 Tbsp baking powder,

1 large egg,

2 Tbsp melted bacon fat,

1 cup buttermilk,

3 Tbsp unsalted butter,

2 green onions

Cover and refrigerate for at least 1 hour.

Preheat the oven to 400 degrees. In pot that is at least 6 inches deep (6-qt. Dutch oven works great) heat 2 inches of oil to 350 – 375 degrees. Don't skimp on the oil, the batter needs to submerge in the oil.

Use a thermometer to maintain the 350 – 375 temperature, because if the heat is too low the puppies will absorb too much oil and if it is too high the outside will burn before the inside is done. Remember, the heat goes down when you add a lot of batter to the oil.

Set a rack over a baking sheet and place near the stove. Drop tablespoon-size balls of batter into the hot oil, about 6 at a time. You can drop the batter using 2 soup spoons sprayed with vegetable oil or a small ice-cream scoop.

Fry puppies until they are a rich golden brown and cooked through, about 3 minutes. Some of the puppies will flip themselves over, but use a slotted spoon or utensil to turn those that don't so they cook evenly. With a slotted spoon, transfer hush puppies to rack to drain. Repeat with remaining batter.

When all of the puppies have been fried, reheat them in oven for about 3 minutes, or until they're hot. Serve with variety of hot pepper jams or the Southern Comeback Sauce detailed in the notes below.
Notes
**Note: Oil may be used for another fry job if it is stored properly. After puppies are done, let oil cool thoroughly. Remove cooked particles by straining oil through strainer lined with cheesecloth or coffee filter. Use funnel to pour oil into empty bottle with a lid and label, date and store in the refrigerator. Use within one month.
COMEBACK SAUCE:
Whisk together these ingredients:
1 cup mayonnaise
1/4 cup chile sauce
2 Tbsp ketchup
1 Tbsp lemon juice
1 tsp smoked paprika
1 tsp Worcestshire sauce
1 tsp hot sauce
pinch of salt
1/2 tsp dry mustard
OLD BAY REMOULADE:
1 1/2 cup mayonnaise
1 minced garlic clove
2 Tbsp ketchup
2 tsp capers
2 tsp coarse grain mustard
2 tsp Worcestshire sauce
2 tsp horseradish
2 tsp Old Bay seasoning
HOT PEPPER DIP
You can use any hot pepper jelly for this dip. If the jelly is too thickly gelled, just heat it up a bit in the microwave to soften.
Nutrition
Calories:
163
kcal
Carbohydrates:
29
g
Protein:
5
g
Fat:
3
g
Saturated Fat:
1
g
Polyunsaturated Fat:
1
g
Monounsaturated Fat:
1
g
Trans Fat:
0.003
g
Cholesterol:
24
mg
Sodium:
915
mg
Potassium:
293
mg
Fiber:
2
g
Sugar:
2
g
Vitamin A:
162
IU
Vitamin C:
1
mg
Calcium:
110
mg
Iron:
2
mg
Did you make this recipe?
If you tried this recipe, please give it a 5-star rating! To do this, just click on the stars above.
Online Diet/Health Coaching:
Although I am not currently taking clients for diet & health coaching, I have been a coach for many years with the online service called coach.me. It is a great platform for all kinds of coaching – anything from specific diets, writing a blog, getting up early, or getting rid of that pesky procrastination.
There are some wonderful coaches and the testimonials will tell you what you need to know. Contact me at [email protected] to get a referral to some of the tested, experienced online coaches on Coach.me
If you'd like to start with a plan for a low carb or keto lifestyle, check out this detailed guide in ebook form. It may be all you need to lose weight on this lifestyle. Or it may be used as a supplement to one-to-one coaching.