With the Masters Tournament coming up, I thought I'd highlight two iconic menu items to recreate during this time of Green Jackets: the Classic Pimento Cheese Sandwich and the Azelea Cocktail (with a peach twist). The history of the sandwich is fun, and the sandwich itself is actually quite good!
Jump to:
RECIPE
History of the Original Pimento Cheese Sandwich
Azalea Cocktail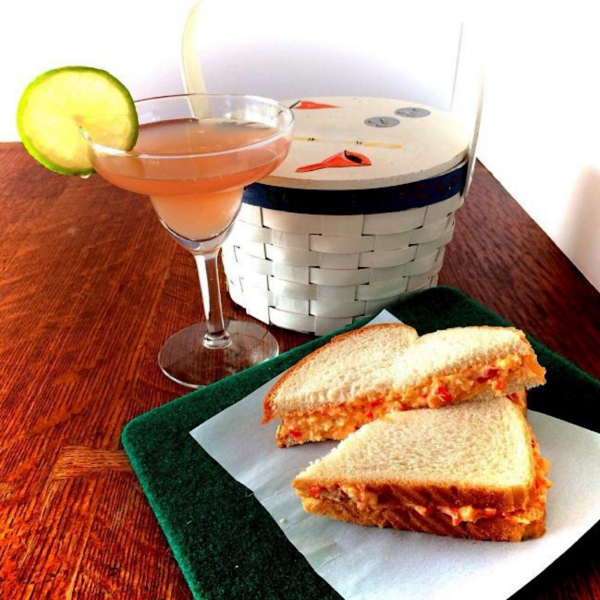 I distinctly remember being mortified as a teenager when I caught a glimpse of the Masters Golf Tournament on TV. Who in the world would wear that awful green jacket to any event that was televised, and why is something as boring as golf on the television anyway?
Now that I am older and have two avid golfers in the family… well I still think the green jacket is pretty awful. Some of the history of the tournament is quite interesting however. Here are some historical tidbits around the food:
The Pimento Cheese Sandwich: and "PimentoGate"
As traditional as the green jacket, the Pimento Cheese Sandwich is another one of those beloved, (but odd) icons of the Masters. Priced at $1.50, the sandwich, and its price, seem to be frozen in time.
Legend has it that the original recipe was the secret of an "old man that will not be named", and when the tournament changed vendors the recipe was effectively recreated by Ted Godfrey, the franchise owner of a restaurant chain called Wife Saver. Then….the tournament let go of most of the local vendors, including Godfrey's Wife Saver chain.
Following in the "old man who will not be named" shoes, Mr. Godfrey will not divulge the secret recipe of his recreated pimento sandwich, and the club has had a difficult time replicating the sandwich.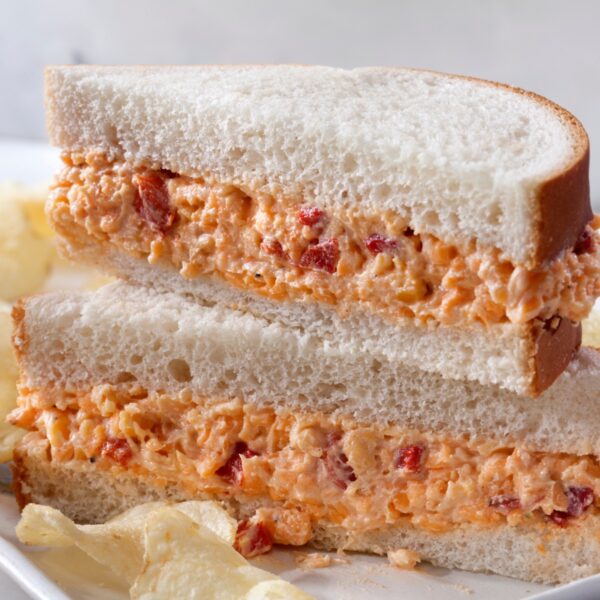 Apparently there was quite a bit of grumbling and some gentle hostility in 2013 because the Pimento Cheese Sandwich had changed. If nothing else the Masters is a beacon of tradition, and it just won't do to have a non-traditional Pimento Cheese Sandwich (it was said to have spice in it).
Wright Thompson, ESPN magazine writer, noted that, "it feels a little chef-ified to me. There's some more spice. The true offense is just any sort of change."
Because it was touted as the original Augusta recipe, I made the version from the Junior League of Augusta, Georgia). From the research I could find, it is likely that the sandwich served at the Masters omitted the blue cheese and the Parmesan cheese however.
My favorite golfer actually like this spread quite a bit, but found it to be much more enjoyable as a topping on a burger rather than soaking into soft Wonder bread.
The Azalea Cocktail
While the Gin and Tonic is considered the official cocktail of the Masters, there are several others that are traditional to the south and honor the Masters.
The Azalea cocktail is a classic since azalea bushes bloom all over Augusta during April when the Masters Golf Tournament occurs. I've added some Peach Simple Syrup to make it just a little more Georgian, and called it the Peach Azelea Cocktail. Directions and ingredients are in the notes section of the recipe card.
More No-Cook Sandwich Recipes
Recipe forPimento Cheese Sandwich & Azalea Cocktail
Classic Pimento Sandwich from the Masters
Ingredients
3

cups

shredded white Cheddar Cheese

2

cups

shredded yellow Sharp Cheddar Cheese

1

cup

Parmesan cheese

4

oz.

crumbled blue cheese

1 4

oz.

jar sliced pimentos

1

cup

light mayonnaise

2

Tbsp.

Dijon mustard

6

Slices

Soft white bread
Instructions
Combine the white Cheddar cheese, yellow Cheddar cheese, Parmesan cheese, blue cheese, pimentos, mayonnaise and Dijon mustard in a food processor and process until smooth. Remove to a bowl.

3 cups shredded white Cheddar Cheese,

2 cups shredded yellow Sharp Cheddar Cheese,

1 cup Parmesan cheese,

4 oz. crumbled blue cheese,

1 4 oz. jar sliced pimentos,

1 cup light mayonnaise,

2 Tbsp. Dijon mustard

Cover and chill. Spread on bread to make sandwiches.

6 Slices Soft white bread
Video
A Cocktail for the Masters
Notes
Azalea Cocktail:
1 part canned pineapple juice
dash of grenadine to color it pink
Mix in cocktail shaker with ice, shake and strain. Garnish with a lime wheel.
Nutrition
Calories:
4093
kcal
Carbohydrates:
125
g
Protein:
210
g
Fat:
307
g
Saturated Fat:
155
g
Polyunsaturated Fat:
41
g
Monounsaturated Fat:
71
g
Trans Fat:
0.2
g
Cholesterol:
754
mg
Sodium:
9518
mg
Potassium:
1380
mg
Fiber:
8
g
Sugar:
24
g
Vitamin A:
11250
IU
Vitamin C:
148
mg
Calcium:
6136
mg
Iron:
11
mg
Did you make this recipe?
If you tried this recipe, please give it a star rating! To do this, just click on the stars above. Comments are always helpful also and I respond to all of them (except rude ones)