This classic egg salad sandwich mixes mayonnaise, Dijon mustard and a little lemon zest with perfectly cooked soft-boiled eggs. The recipe includes a method that not only makes perfect soft boiled eggs (or hard boiled eggs) but also shows you how to achieve no-fuss, easy peeling every time. Thoroughly and repeatedly tested!!
Jump to:
RECIPE
Step by Step Method for Soft Boiled Eggs
Flavor Additions for Egg Salad Sandwiches
Step-by-Step for Egg Salad Sandwich
Good for Health or Diet?

This post may contain affiliate links, and you can read our disclosure information here–
Step-by-Step for Making Soft Boiled Eggs
Before you make the sandwich you need some soft-boiled or hard-boiled eggs. Here is a tried and true method of getting perfect soft-boiled eggs that will peel effortlessly every time. Seriously!
Step #1: Lower eggs into a pot of boiling water
Step #2: After eggs have boiled exactly 8 1/2 minutes, lower them into a "large" ice bath
Step #3: Step #3: Tap egg to crack it and gently remove the shell from the boiled egg
**Tip: If you want hard-boiled eggs, leave them in the boiling water for 10 1/2 minutes.
Flavor Additions & Substitutions
The recipe below is for a simple egg salad. There are tons of ways to add enhancements based on your flavor preferences. Here are a few of my favorite additions/substitutions:
Add a little smoked paprika (see photo below)
Add some Romesco sauce (tomato/almond/pepper sauce)
Celery (chopped) for crunch
Purple onions instead of scallions
Capers (or pickles) for a pickled pungent flavor
Spicy chile paste or chile crunch
For the recipe below, these are the ingredients you will need. Add any of the enhancements above to customize.
Step by Step to Make a Creamy Egg Salad Sandwich
I like egg salad sandwiches to be creamy but not soupy. If this recipe is too creamy for you, just back off the mayo and mustard a bit.
Use the 3-step method above to peel 6 soft-boiled eggs and then follow these steps:
Step #1: chop eggs with a fork and then mash up with a wire whisk
Step # 2: Add mayo, mustard, lemon, scallions and salt to chopped eggs and stir to combine
Step #3: Spread egg salad on slice of bread and top with thinly sliced radish
**Tip: Make sure the white part of the eggs are mashed or chopped into small pieces. Large pieces of egg whites can be a bit rubbery.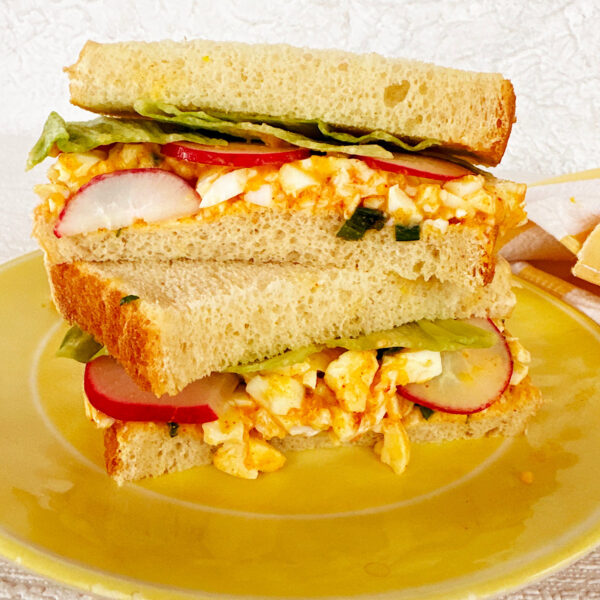 **Tip: Be careful with the addition of salt. Egg salad can become overly salty very quickly.
Are Egg Salad Sandwiches Good for a Diet?
Of course it depends on your diet. I follow a lower carb, high protein diet and eggs are the perfect food for this lifestyle.
The bread you choose is the main ingredient that is problematic for low carb diets. A couple of ways to lower the carbs is to opt for a lower carb bread such as Ezekiel bread or alternatively to serve your sandwich as an open-faced egg salad sandwich.
In the end, I subscribe to the idea that it is important to watch the total carb and sugar content as a daily total rather than on a single meal. An egg salad sandwich is certainly healthy, and IMHO it has a place in the low carb lifestyle.
More Recipes for the Sandwich Aficionado
Sandwiches are one of the most versatile and easiest ways to a good lunch in my opinion. Here are a few of my favorite sandwiches throughout the year:
Frequently Asked Questions
Can you freeze an egg salad sandwich?
Well…you can freeze it without a health problem, but you will lose quality of ingredients. Once eggs are frozen and then thawed, they tend to become tough and rubbery in texture. Mayonnaise also doesn't do well in the freezer. Once it's thawed the emulsion tends to break down causing a watery consistency.
How long will an egg salad sandwich last in the refrigerator
An egg salad sandwich will last in the fridge for 3-5 days. Make sure it is stored in an airtight container and kept at a temperature below 40 degrees Fahrenheit. Egg salads with some of the more watery dressings or sauces might lose quality more quickly than a classic dressing of mayo, mustard and lemon juice.
Recipe for Creamy Egg Salad Sandwich
Creamy Egg Salad Sandwich
This classic recipe for egg salad uses soft-boiled eggs, a little Dijon mustard with mayonnaise and brightens it up with lemon zest.
Ingredients
6

eggs

1

Tablespoon

mayonnaise

2

Teaspoons

Dijon mustard

½

Teaspoon

lemon zest

2

Tablespoons

lemon juice

from 1/2 large lemon

2

Tablespoons

chopped scallions

⅛

Teaspoon

salt

3

large radishes

sliced thinly

6

Slices

soft bread

I used a whole wheat
Instructions
For the Soft Boiled Eggs
Bring a large pot of water to a boil. When boiling, use a large spoon to gently lower eggs into the pot, two at a time. If the shell cracks the egg will float and will not be perfect.

Turn the timer on to 8 1/2 minutes and let the eggs sit in the boiling water until timer goes off.

While waiting, fill a large bowl with ice cubes and cold water.

After 8 1/2 minutes remove the eggs with your spoon and gently place in the bowl of ice water. Let them sit in the ice water for 3 minutes or more. This will shrink the eggs a bit and allow the shells to be peeled easily.

Remove from ice water one at a time and peel. Rinse the egg to ensure little pieces of shell are not left on it, and place in a medium sized bowl.
For the Egg Salad Sandwich
Cut the eggs in half and using a large fork, start to mash up the eggs inside of the bowl. Finish by using a wire whisk in a chopping fashion to get the egg whites mashed more thoroughly.

Add the mayo, mustard and other salad ingredients (not the radishes) to the bowl and blend together with the eggs.

1 Tablespoon mayonnaise,

2 Teaspoons Dijon mustard,

1/2 Teaspoon lemon zest,

2 Tablespoons lemon juice,

2 Tablespoons chopped scallions

Assemble the sandwiches: spread the salad on one side of the bread, top with sliced radishes. Add lettuce if using and top with other slice of bread. Enjoy!

3 large radishes,

6 Slices soft bread
Notes
FAVORITE ADDITIONS/SUBSTITUTIONS
Add a little smoked paprika (see photo below)

Add some Romesco sauce (tomato/almond/pepper sauce)

Celery (chopped) for crunch

Purple onions instead of scallions

Capers (or pickles) for a pickled pungent flavor

Spicy chile paste or chile crunch
Nutrition
Calories:
272
kcal
Carbohydrates:
26
g
Protein:
18
g
Fat:
10
g
Saturated Fat:
3
g
Polyunsaturated Fat:
3
g
Monounsaturated Fat:
4
g
Trans Fat:
0.03
g
Cholesterol:
327
mg
Sodium:
414
mg
Potassium:
277
mg
Fiber:
4
g
Sugar:
3
g
Vitamin A:
480
IU
Vitamin C:
4
mg
Calcium:
144
mg
Iron:
3
mg
Did you make this recipe?
If you tried this recipe, please give it a 5-star rating! To do this, just click on the stars above.