There are countless ways to make this nutty, rich, low carb sauce, and countless ways to use it. This version includes roasted red peppers, tomato puree, almonds, vinegar, paprika and smoky chile pepper blends. Although traditionally made with a mortar and pestle, using a food processor cuts down the prep time.
Jump to:
RECIPE
What is Romesco?
How to Use Romesco
Ingredients and Process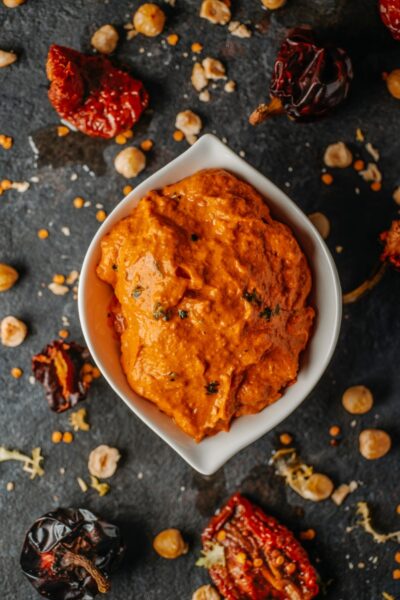 This post may contain affiliate links, and you can read our disclosure information here–
What is Romesco Sauce?
Romesco is basically a rich, pungent and smoky sauce with a base of red peppers and tomatoes and thickened with toasted almonds, garlic, vinegar and herbs. The almonds give the sauce a creamy texture without having to use flour or a thickener.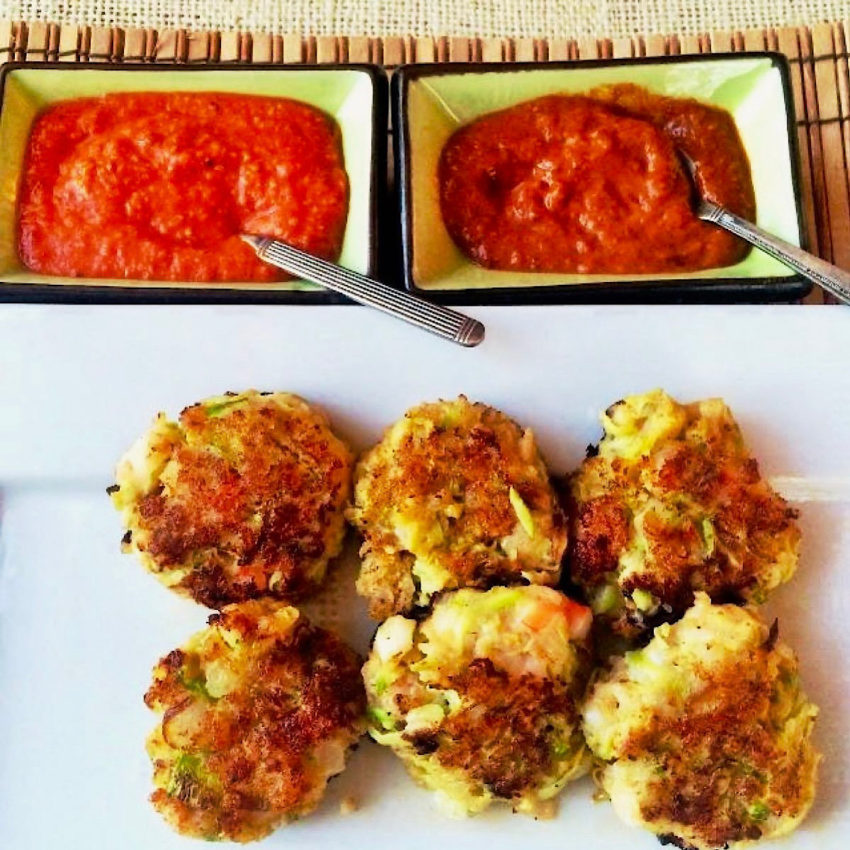 How is Low Carb Romesco Sauce used?
The fishermen in Northeastern Spain came up with this sauce to enhance their catch, but its uses have long since expanded into accompaniments for grilled meats and many vegetable dishes.
The sauce is also just as good on a piece of toast that's been brushed with olive oil and maybe rubbed with more garlic. Or try it on a bed of butternut squash as in this dish below:
During the springtime in Catalonia, a traditional barbecue would probably find a Romesco sauce being put to good use as a dip for charred spring onions (called "calcots" in Spain).
One of my go-to uses for romesco when I am being really strict on a slow carb lifestyle is to have as a side to scrambled eggs (see below):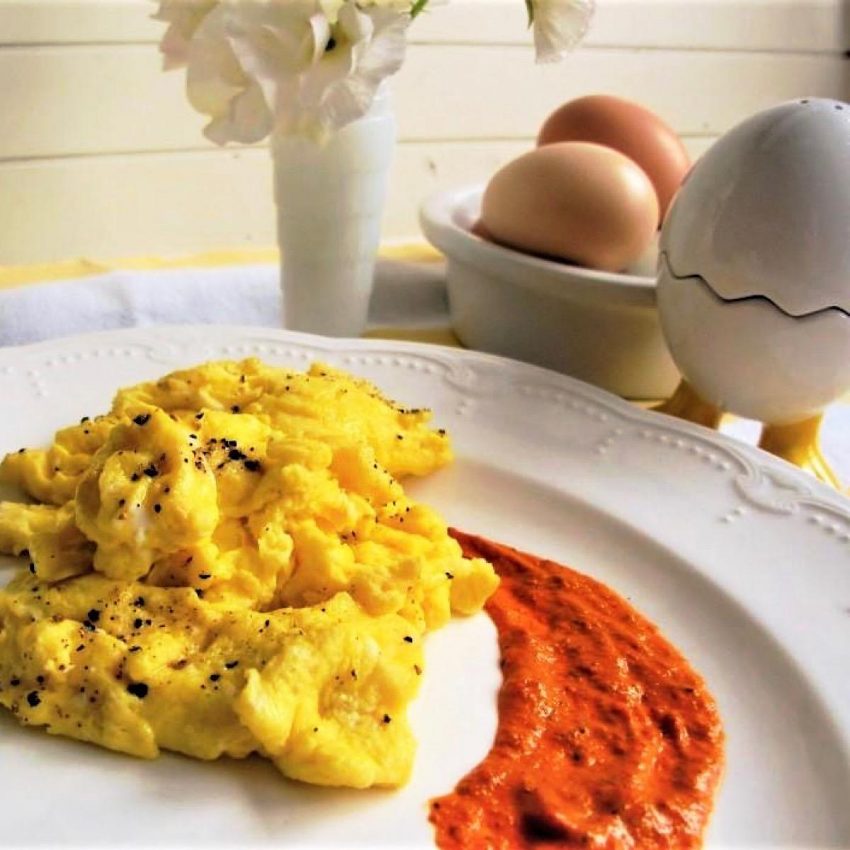 Ingredients and Process
I grow heirloom tomatoes and chile peppers on our small farm (Heathglen Farm) and make products to sell at our twin cities farmers' markets. Romesco is one of the sauces that always sells out.
We smoke the heirloom tomatoes, toast the almonds, add sherry vinegar and fresh herbs and then water-bath the whole thing to give it a long shelf life. The almonds are what makes this romesco sauce so creamy, not dairy or sugar.
Low Carb Romesco is a great addition to a low carb lifestyle, adding a lot of flavor to your proteins and vegetables without the guilt.
Flavor without guilt…..that should be a new tagline!
**Tip: Wherever you are, if you have the time, let the sauce stand for an hour at room temperature before serving. Like a good red wine, it is better at room temperature.
Ciao!
Recipe for Low Carb Romesco Sauce
Low Carb Romesco Sauce
This Spanish sauce improves anything it touches. Made with a base of peppers and tomatoes and thickened with almonds. Garlic, smoked paprika and sherry vinegar add the finishing touches
Ingredients
¾

cup

almonds

5

cloves

garlic

medium

24

ounce

jarred roasted red peppers

16

ounces

tomato puree

4

tablespoons

sherry vinegar

can substitute red wine vinegar

1

tablespoon

smoked paprika

¾

teaspoons

chipotle powder

1

teaspoon

salt

¼

teaspoon

black pepper

½

cup

olive oil
Instructions
Lightly toast the almonds in a skillet until you start to smell their nutty perfume (doesn't take long).

Let them cool a little bit and then pulverize them in a blender or grinder. You want them finely ground, but not so much that it is a paste.

Add the almonds, garlic, peppers, puree, vinegar, paprika, chipotle powder, salt and pepper to a food processor and pulse until everything is finely chopped.

With motor running, slowly add ½ cup extra-virgin olive oil; process until smooth.

Taste and adjust seasonings and salt to your preference.

Do Ahead: Romesco can be made 1 week ahead. Cover and chill.

5 cloves garlic,

24 ounce jarred roasted red peppers,

16 ounces tomato puree,

4 tablespoons sherry vinegar,

1 tablespoon smoked paprika,

3/4 teaspoons chipotle powder,

1/2 cup olive oil,

1 teaspoon salt,

1/4 teaspoon black pepper
Nutrition
Calories:
81
kcal
Carbohydrates:
8
g
Protein:
3
g
Fat:
5
g
Saturated Fat:
0.4
g
Polyunsaturated Fat:
1
g
Monounsaturated Fat:
3
g
Trans Fat:
0.002
g
Sodium:
984
mg
Potassium:
338
mg
Fiber:
3
g
Sugar:
2
g
Vitamin A:
812
IU
Vitamin C:
31
mg
Calcium:
59
mg
Iron:
2
mg
Did you make this recipe?
If you tried this recipe, please give it a star rating! To do this, just click on the stars above. Comments are always helpful also and I respond to all of them (except rude ones)
Online Diet/Health Coaching:
Although I am not currently taking clients for diet & health coaching, I have been a coach for many years with the online service called coach.me. It is a great platform for all kinds of coaching – anything from specific diets, writing a blog, getting up early, or getting rid of that pesky procrastination.
There are some wonderful coaches and the testimonials will tell you what you need to know. Contact me at [email protected] to get a referral to some of the tested, experienced online coaches on Coach.me
If you'd like to start with a plan for a low carb or keto lifestyle, check out this detailed guide in ebook form. It may be all you need to lose weight on this lifestyle. Or it may be used as a supplement to one-to-one coaching.