Pepperonata (peh-peh-roh-NAH-tah) is an Italian vegetable dish of slow-cooked, or stewed bell peppers with onion and garlic. Of course there are variations and some Italian cooks will add tomatoes, eggplant, or other Italian vegetables. Exclude the anchovies and it is a great plant-based dinner.
Jump to Recipe
Jump to Recipe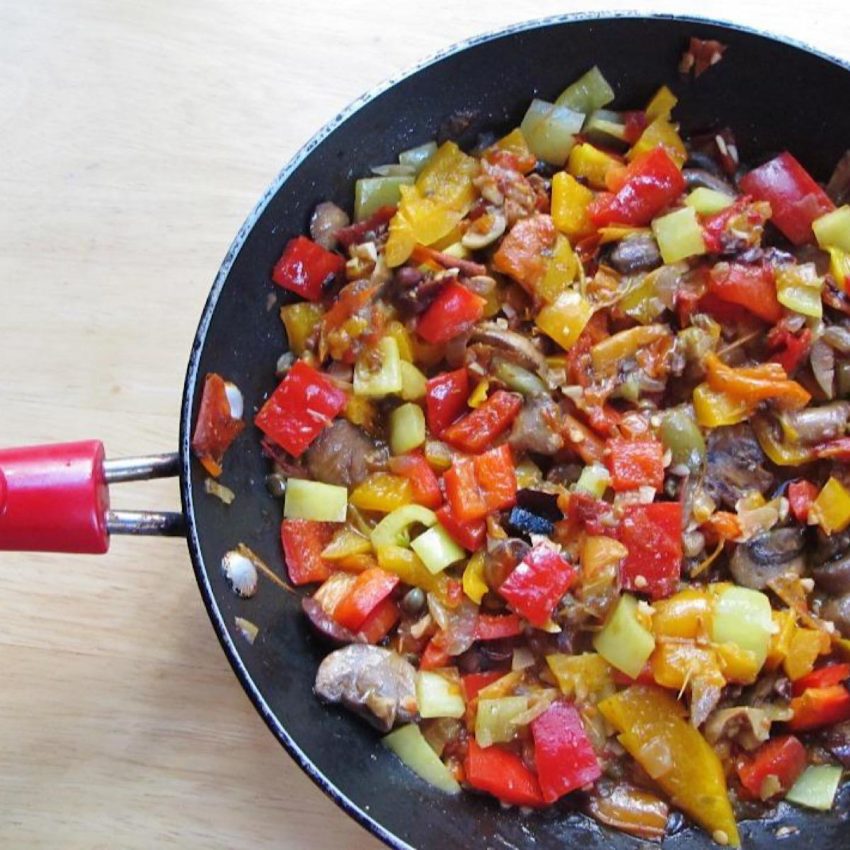 The Basics of a Pepperonata Side Dish
The classic way to make a pepperonata sauté is to cook 2 cloves of minced garlic and 1/2 sliced onion in 1/4 cup of olive oil over low heat for 10 minutes. Season with salt and pepper. Add 5 bell peppers that are quartered and of different colors and cook for 10-15 minutes, until the bell peppers are soft.
In one of my low carb Italian dinner options, I added some ground pork, some capers and a bit of anchovy paste. I opted for a creamy butternut squash as the bed for the pepperonata, with the Romesco sauce on the side as a topping.
The Romesco Sauce is a blend of heirloom tomatoes, peppers, almonds and spices. It pairs perfectly with squash, as well as many other veggies and meats.
Boost Flavor with Romesco Sauce
However you decide to mix it up, classic or uniquely yours, pepperonata can be a stand alone side dish or used as a sauté topping for proteins or vegetables on a low carb lifestyle.
Adding a tomato-almond Romesco Sauce takes it over the top and enhances the flavor even more.
Vegetable Substitutions
We had the luxury of an extra long growing season in Minnesota this year, and I was able to harvest a boatload of different sweet and hot peppers, along with a bountiful harvest of heirloom squash.
It is always easiest to design a dinner around what is in your fridge (or in this case your garden), and the bright orange bell peppers and squash inspired an Italian Fall dinner with pepperonata taking center stage.
The low carb Italian Romesco sauce made with tomatoes, peppers and almonds added sweetness and creaminess with any refined sugar or flour. The beta carotene from the orange peppers and butternut squash added nutrition, along with eye-popping color.
The caramelized onions and mushrooms added richness, and the anchovies took it over the top by adding the umami flavors
Pepperonata as a Dinner
For another great use of pepperonata, click here to see the recipe for a Pepperonata Burger.
Pepperonata Side Dish Sauté
Pepperonata is made with a wide range of sweet and/or hot peppers, along with onions and various spices. It make a great side dish or a topping for proteins or grains.
Ingredients
2-3

Tbsp

olive oil

1 ½ to 2

cups

assorted sweet peppers

chopped

1

medium

onion

roughly chopped

3

cloves

garlic

minced

1 ½

tsp

anchovy paste or 2 anchovy filets

(optional)

salt & pepper to taste

1

medium

butternut squash

2

Tbsp

Romesco sauce

(optional)
Instructions
Heat olive oil in a large (12-inch skillet or saute pan over high heat. Preheat oven to 375 degrees.

Add the peppers and onions to the skillet and saute, stirring often, for about 5 minutes. Add the garlic and saute quickly being careful not to burn the garlic (only needs about 30 seconds. Add anchovy paste to skillet.

Lower the heat to medium and continue cooking until the onions are translucent and the peppers are soft (about another 10 minutes).

While the peppers are cooking cut the squash in half and place on baking sheet flesh-side down. Cook squash at 400 degrees for about 30 minutes.

Season to taste with salt and pepper.

Check to see if squash is done by poking flesh with a fork and if it gives easily it is done.

Serve squash as a bed topped with pepperonata and provide Romesco sauce on the side to top off the saute. You could also serve the squash as a side dish without the pepperonata on top, and then just use the Romesco as a topping for the squash alone as an enhanced side dish.
Nutrition
Calories:
183
kcal
Carbohydrates:
29
g
Protein:
4
g
Fat:
8
g
Saturated Fat:
1
g
Sugar:
8
g
Did you make this recipe?
If you tried this recipe, please give it a 5-star rating! To do this, just click on the stars above. And don't forget to tag me at @dorothy_stainbrook_heathglen, if you share a picture on Instagram! You can also tag me at #heathglen!
Online Diet/Health Coaching:
Although I am not currently taking clients for diet & health coaching, I have been a coach for many years with the online service called coach.me. It is a great platform for all kinds of coaching – anything from specific diets, writing a blog, getting up early, or getting rid of that pesky procrastination.
There are some wonderful coaches and the testimonials will tell you what you need to know. Contact me at [email protected] to get a referral to some of the tested, experienced online coaches on Coach.me
If you'd like to start with a plan for a low carb or keto lifestyle, check out this detailed guide in ebook form. It may be all you need to lose weight on this lifestyle. Or it may be used as a supplement to one-to-one coaching.