This Pepperonata-topped bunless burger makes perfect use of a wide range of peppers, from sweet to hot. Pepperonata is an Italian classic that can easily accompany a plant-based dinner or become a robust topping for proteins.
Jump to Recipe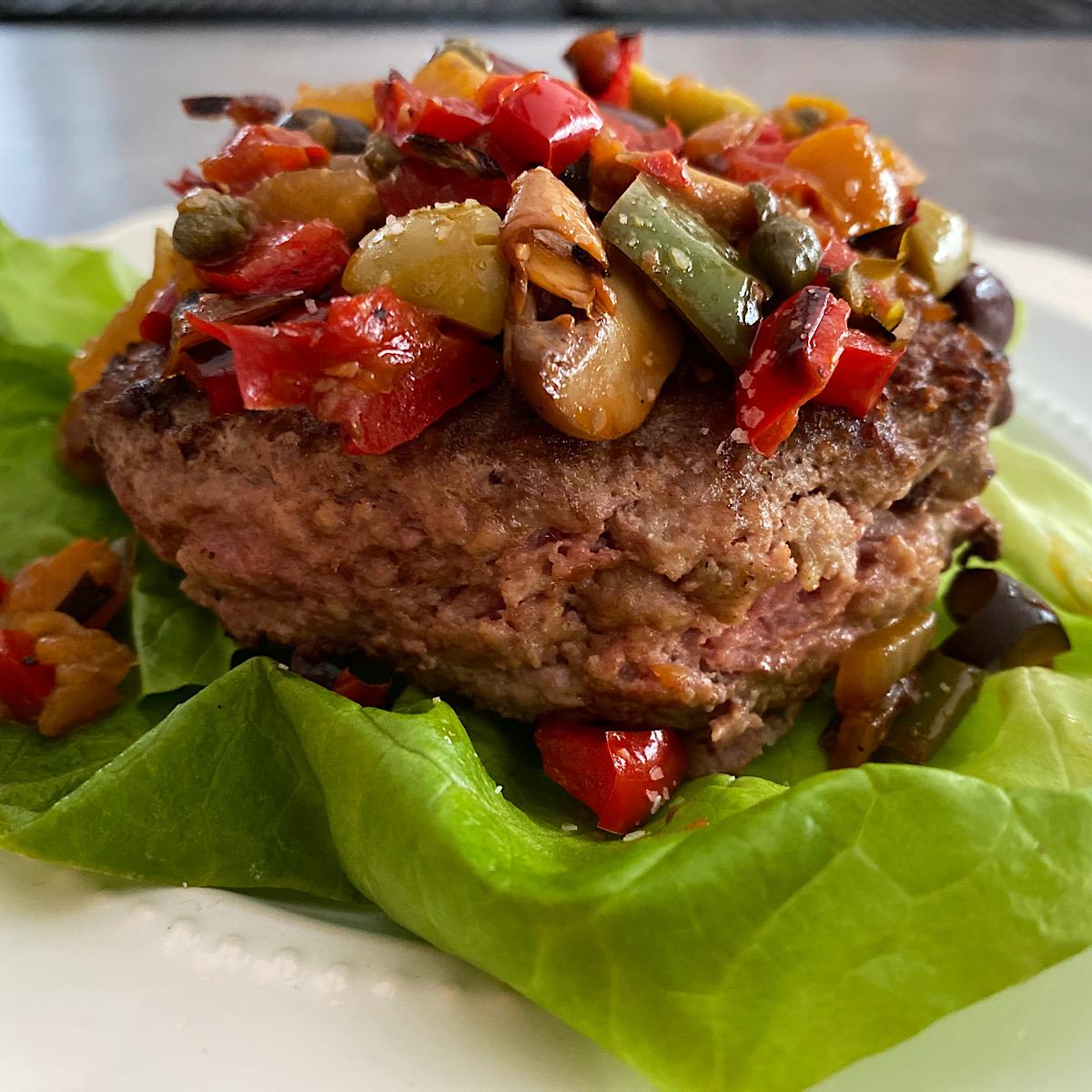 What is Pepperonata?
Pepperonata (peh-peh-roh-NAH-tah) is an Italian vegetable dish of slow-cooked, or stewed bell peppers with onion and garlic. Of course there are variations and some Italian cooks will add tomatoes, eggplant, or other Italian vegetables.
The simplest way to make Pepperonata is to cook 2 cloves of minced garlic and 1/2 sliced onion in 1/4 cup of olive oil over low heat for 10 minutes. Season with salt and pepper. Add 5 bell peppers that are quartered and of different colors and cook for 10-15 minutes, until the bell peppers are soft.
As a Bunless Burger Topping
Pepperonata is sometimes served with a frittata, steak, chicken, or over pasta. I like it served over Winter squash with a little Romesco sauce added if available.
It is also frequently served cold as part of antipasti. Today's recipe is using pepperonata as topping for a simple low carb bunless burger.
What Kind of Peppers are Best for Pepperonata?
Many different pepper varieties can be used, from sweet to very spicy. I like the complexity of a mix of hot, mild and sweet peppers.
In addition to the complexity of flavor, using a variety of peppers results in a stunning visual dish. It is often said that we eat first with out eyes, and a mix of colors, shapes and textures can definitely elevate the visual appeal of this dish.
Red bell peppers will add sweetness, fresh green jalapenos will add a medium amount of heat, and yellow banana peppers will add more of the vegetal earthy flavor.
The bottom line, however is to go with what you have available. Jarred peppers from the store can stand in nicely in the Winter months when fresh peppers are not readily available.
What Kind of Ground Beef is Best for Hamburgers:
If you want the "tastiest" burger, buy some with at least 20 percent fat. If I buy hamburger from the grocery store I look for "chuck" burger that is an 80-20% burger to fat ratio.
My mom cooked in a time when all fat was considered bad and meat was to be cooked a long time for safety, so she will still make burgers with very lean meat and cook them to well done (aka overcook them!).
There is an abundance of evidence-based studies out there around good fats/bad fats/animal fats/etc. It is really difficult to make good health decisions because for every study that tells you about a particular nutritional fact, there is another study that will refute that fact.
Whatever your sentiments are about fat, I can tell you one thing……a hamburger patty has a whole lot more flavor with more fat in it. And the pepperonata topping on a bunless burger takes flavor a big step further.
One other thing to know about making your hamburger patty is to add an egg if you are using lean ground beef.
You will have a difficult time making the patty stay together if you are using lean meat without an egg mixed into it. Fattier ground beef probably won't need the addition of an egg.
Pepperonata as a Plant-Based Dish
A pepperonata saute makes an excellent side dish or topping for vegetables like squash. If you want it to be plant-based, just exclude the anchovies. This recipe for pepperonata and romesco as a topping for squash is an Italian-inspired way to use pepperonata in plant-based meals.
Pepperonata on Bunless Burgers
This luxurious saute of pepers, onions, mushrooms and olives is a perfect topping for a bunless burger. A Mediterranean low carb dinner!
Equipment
cutting board and sharp knife
Ingredients
1 – 2

Pounds

Ground beef

80 % lean and 20% fat (or lean beef mixed with an egg)

1 ½

cups

assorted peppers

Can use jarred peppers or a combination or fresh and jarred, both chopped

1

large

onion

coarsely chopped

2-3

cloves

garlic

minced

4

oz

mushrooms

Canned or fresh

2

Tablespoons

olive oil

¼

cup

Kalamata olives

pitted if possible, chopped

¼

cup

green olives

pitted & chopped

1 ½

Tablespoons

capers

drained

2

Tablespoons

red wine vinegar

1

Teaspoon

anchovy paste

Or two anchovies, minced; exclude if you want a plant-based dish

salt & pepper to taste
Instructions
Form ground beef into four small patties (or 3 larger patties). If the beef is lean, mix it together with an egg to help bind it together. Salt the patties and set aside.

Chop all the vegetables needed for the pepperonata (peppers, onions, mushrooms, garlic and olives)

Heat olive oil in a large skillet or saute pan over med-high heat.

When oil is hot, add the onions to the skillet, lower heat to medium and saute, stirring often, for about 3-4 minutes. Add garlic and cook for 1 minute longer. Then add the peppers and cook with onions for another 3-4 minutes. Add mushrooms and cook for another 3-5 minutes. Vegetables should be getting very soft and translucent.

Lower heat but keep warm while cooking the burgers.

In another skillet cook the hamburger patties over medium high heat. Once seared, reduce the heat and cook on one side for 3-5 minutes (depending on thickness). Flip burgers and cook on the other side.

When burgers are almost done, remove pepper mixture from heat and stir in remaining ingredients (olives, capers, vinegar and anchovy paste if using). Stir in more olive oil if desired to make the peperonata moist and oily.

Season to taste with salt and pepper and add a little more vinegar if needed. Serve over the burgers or other protein. Can also be served over winter squash or grains for a plant-based dish.
Nutrition
Calories:
564
kcal
Carbohydrates:
9
g
Protein:
32
g
Fat:
44
g
Saturated Fat:
14
g
Trans Fat:
2
g
Cholesterol:
122
mg
Sodium:
521
mg
Potassium:
748
mg
Fiber:
3
g
Sugar:
5
g
Vitamin A:
1821
IU
Vitamin C:
75
mg
Calcium:
61
mg
Iron:
4
mg
Did you make this recipe?
If you tried this recipe, please give it a 5-star rating! To do this, just click on the stars above.
Online Diet/Health Coaching:
Although I am not currently taking clients for diet & health coaching, I have been a coach for many years with the online service called coach.me. It is a great platform for all kinds of coaching – anything from specific diets, writing a blog, getting up early, or getting rid of that pesky procrastination.
There are some wonderful coaches and the testimonials will tell you what you need to know. Contact me at [email protected] to get a referral to some of the tested, experienced online coaches on Coach.me
If you'd like to start with a plan for a low carb or keto lifestyle, check out this detailed guide in ebook form. It may be all you need to lose weight on this lifestyle. Or it may be used as a supplement to one-to-one coaching.