Move over, expensive store-bought herbal teas! Today, let's have a look at how to dry herbs for tea yourself at home: a cheaper option, and a great way to make good use of garden herb clippings or fresh herbs bought in bulk.
Jump to:
Iced Chamomile Tea Recipe
What Is Tisane?
Gathering Herbs
How To Dry Herbs For Tea
Storing Herbs
FAQ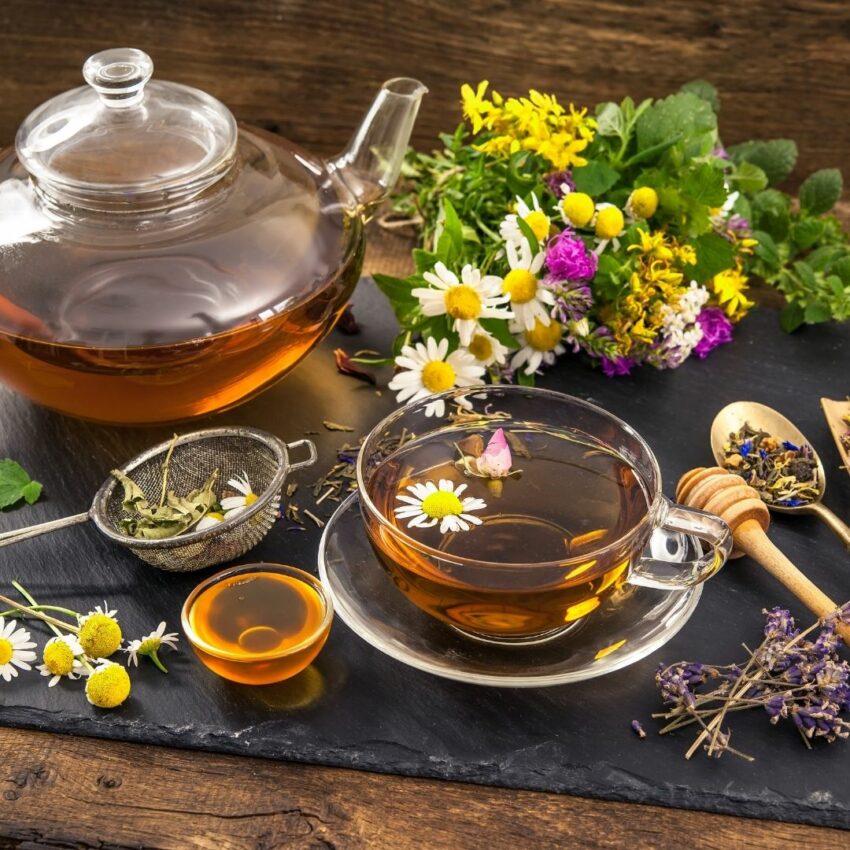 This post may contain affiliate links, and you can read our disclosure information here–
What Is a Tisane?
Herbal teas are also known as tisanes. They're characterized by the fact that they don't contain any leaves of the actual tea plant, Camellia sinensis, instead being comprised of different herbs and spices. This means they're caffeine-free, and depending on the herbs, can have all sorts of health benefits.
It's easy to dry and blend your own herbs in order to create tisanes to enjoy year-round or give away (they make great gifts for friends and loved ones!). There's a range of different herbs you can use, depending on your own tastes and preferences. If you're interested in growing your own, be sure to have a look at my list of best herbs to grow for homemade herbal tea.
Below, for those with their own herb gardens, let's first discuss how to harvest them to dry for use in tisanes. Then, we'll have a look at four different easy methods for drying herbs, which allows you to store them long-term and use whenever suits you.
Did you know? You don't need a lot of space to grow your own herbs, as many species do well in pots. Find out how to grow your own balcony herb garden if you don't have a backyard at your disposal!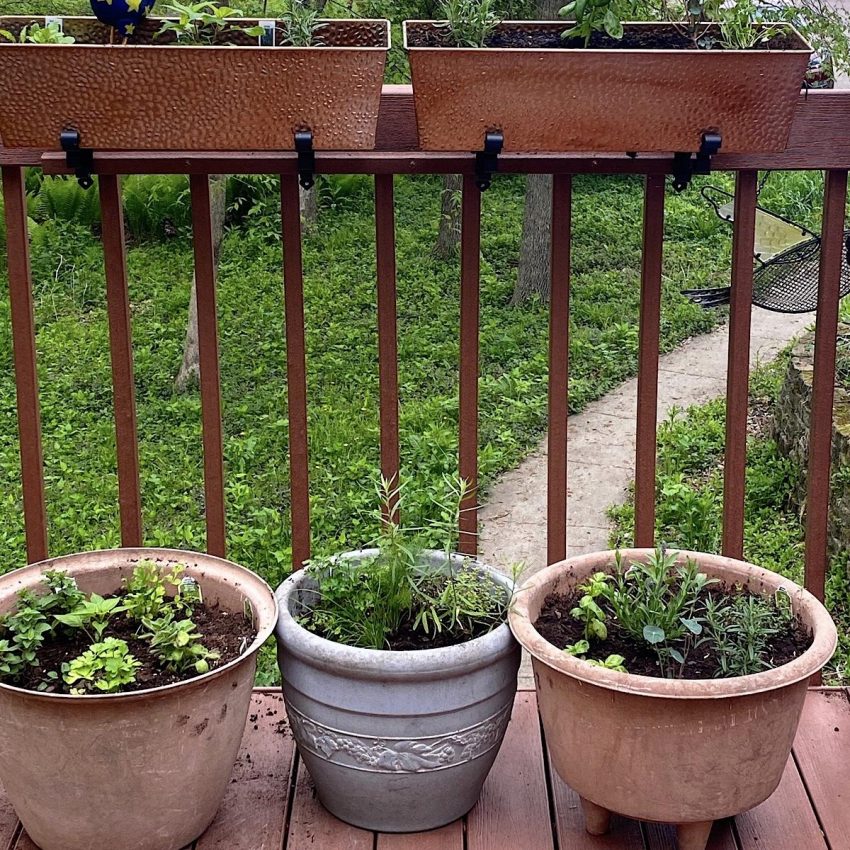 How To Gather Your Own Herbs
If you're planning on drying some herbs from your garden to use in homemade herbal tea blends, it's important to know when and how to do it. Picking them correctly and at the right time can absolutely make a difference in flavor!
Tisane enthusiasts generally agree that the best time to pick herbs for tea is in the late morning. At this point, any dew should have dried, but the sun hasn't had the chance to evaporate the essential oils in the plants' leaves yet. They're at their most fragrant at this point.
To harvest herbs, whether flowers or leaves, you should use a pair of sharp and clean garden shears or scissors to snip off the stems you're after. Don't be shy: healthy plants don't tend to mind a good pruning. Some can be halved without issue – in fact, it usually encourages them to grow back even bushier.
Once you've gathered your herbs, you should prepare them for drying immediately for the best results. Brew a cup of fresh tea with a few of the leaves (it would be almost criminal not to!) and let's get to work.
How To Dry Herbs For Tea: 4 Methods
Although you can use freshly picked herbs to make tea, there's only so much you can drink before they wither. Drying them makes them last much longer, allowing you to create your own tea blends and store them for months.
Before we have a look at how to dry herbs for tea, inspect the herbs you picked or bought. Discard any sickly leaves or infested stems before gently rinsing and patting your harvest dry with some paper towel.
1. Air Drying
Although it's the slowest method of the four we'll discuss here, air drying herbs for tea is also the most hands-off way to go about it. Plus, I personally love the look and scent of bunches of herbs hung across a room to dry!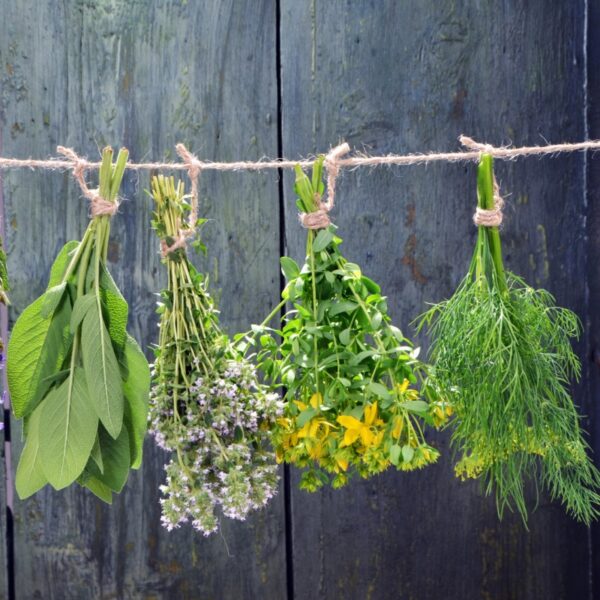 Here's how you air dry herbs for tea:
Gather the herbs into small bunches of a few stems each. Tie the stems together using rubber bands.
Hang some twine in a dry* and dark location, like a basement or shed. Suspend the bunches clothes line-style, far enough apart to allow good airflow.
Check on the herbs every few days. How long they take to dry depends on factors like temperature and humidity.
You'll know your herbs are ready when you can crumble the leaves or flowers between your fingers. Move on to the section on storage to find out how to make sure they last.
*It's really, really important to keep the herbs dry. In humid climates, the air drying method may not work as well, as there is a bigger risk of mold.
2. With A Dehydrator
If you regularly make your own tisanes (or dried tomatoes, or veggie chips…) , having a dehydrator makes life so much easier. Rather than having to wait weeks, it allows you to dry your herbs within hours!
No chances of mold or rot taking hold, as you'll be processing the herbs the same day you picked them, plus it makes your home smell divine.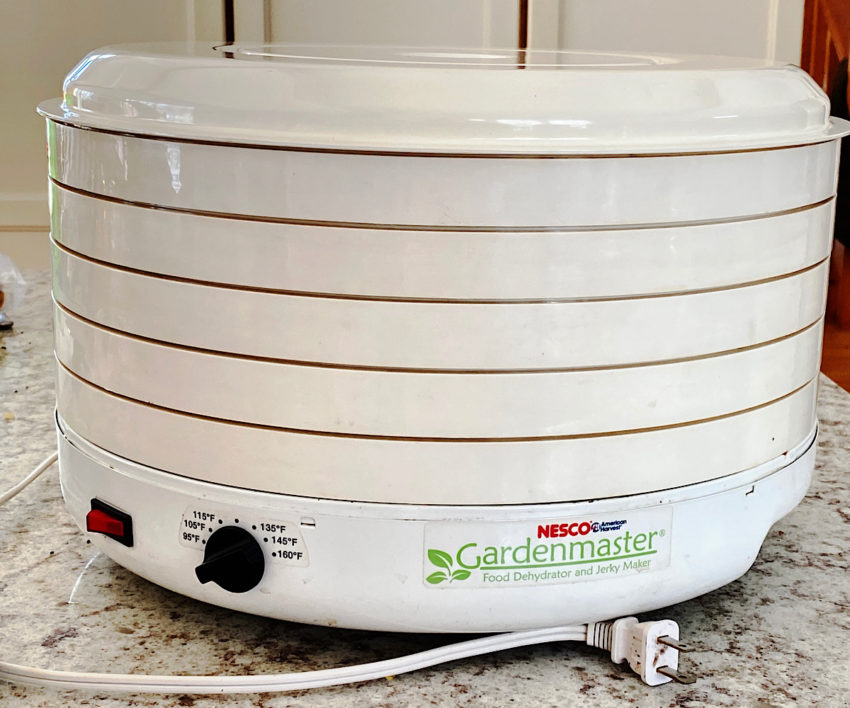 Here's how you dry herbs for tea with a dehydrator:
Place the herbs in the dehydrator. They should be in a single layer, leaving space between them to allow for proper airflow.
Set the dehydrator to around 115 °F (if it allows you to set the temperature).
Check on the herbs hourly. Things can go very quickly in a dry environment, but it may be up to four hours in humid climates.
The herbs are ready when you can crumble the leaves of flowers between your fingers. They're now ready to store!
3. In The Oven
The oven method works well if you want to dry your herbs quickly but don't own a dehydrator. You don't need any special equipment, just the oven itself and one or two parchment paper-lined baking sheets.
Here's how you dry herbs for tea in the oven:
Preheat the oven to 175 °F.
In the meantime, lay out the herbs on the baking sheet(s) in a single layer. Don't overcrowd them!
Place the sheet(s) in the oven. If your oven tends not to heat evenly, switch the sheets' positions after 15 minutes. You may also have to turn them around if the back of the oven gets warmer than the front.
Check the herbs at the 30 minute mark, and every 15 minutes after that.
Once you can crumble the herbs between your fingers, they're dry and ready for storage.
4. In The Microwave
Okay, this one's a bit iffy in my opinion, but I know some folks do swear by it, saying it's faster and helps maintain color and flavor.
Drying herbs and flowers in the microwave can work, but you have to be careful to avoid burning them! Setting your herbs on fire is not a great way to start your tea blending adventure, so work in short bursts.
Here's how you dry herbs for tea in the microwave:
Place the herbs between two paper towels on a microwave-safe plate.
Nuke the whole thing for 30 seconds at a time, checking in between to see how the herbs are coming along.
Continue until the herbs are no longer pliable, but crumble between your fingers.
Storing Herbs For Tea
Once your herbs are fully dry, they're ready to use in tisanes. It's important to store them correctly, though, because if they come into contact with moisture they can become moldy!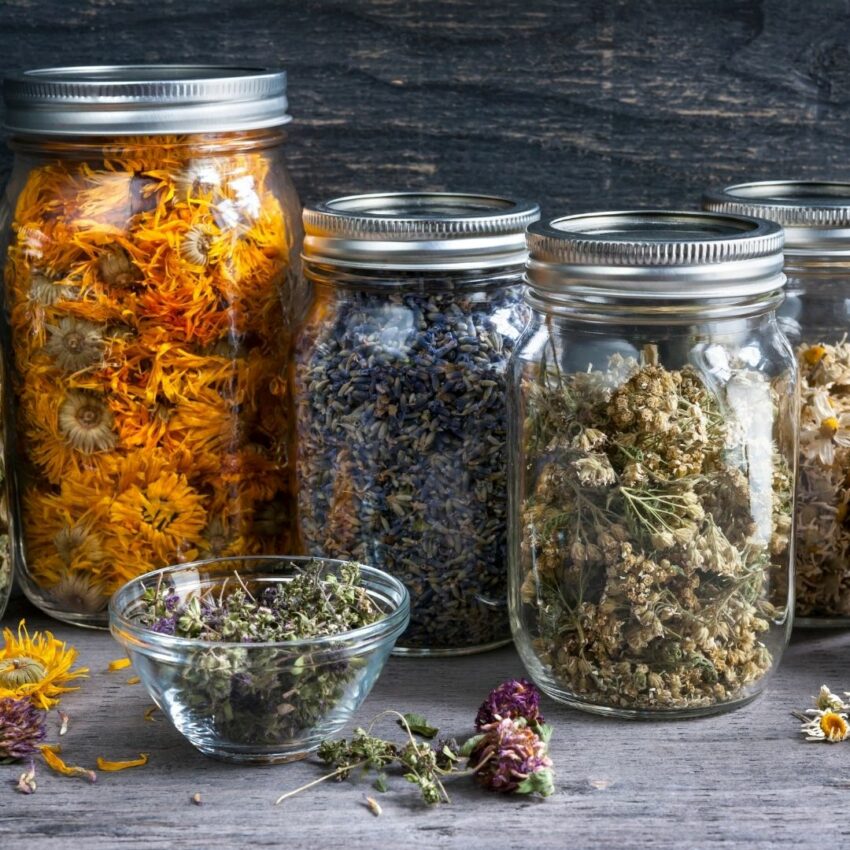 Luckily, preparing tea herbs for storage is easy:
Separate the leaves from the stems. You can compost the stems or use them in a homemade potpourri.
Optional: Use the herbal tea blending guide to create your favorite tisane blends.
Optional: Place the herbs in tea baggies so all you'll have to do when you want a cup of tea is reach out and grab one.
Place the herbs in airtight jars, making sure to label them so you don't forget which is which.
Set the jars in a cool and dark place, like a cupboard.
Frequently Asked Questions
Do herbal teas expire?
If you keep your herbal tea in a cool and dry place, it will last for a long time. However, I do recommend using it within a year. This is because the herbs do lose some of their flavor over time, which would be a waste of perfectly good tea!
Is herbal tea hydrating?
Absolutely. Because it doesn't contain caffeine, herbal tea is just as hydrating as water.
Bonus: Iced Chamomile Tea Recipe
Did you know that your dried herbs aren't just perfect for use in hot tea? If it's a bit too toasty for a classic cuppa, try this soft and refreshing iced chamomile tea instead!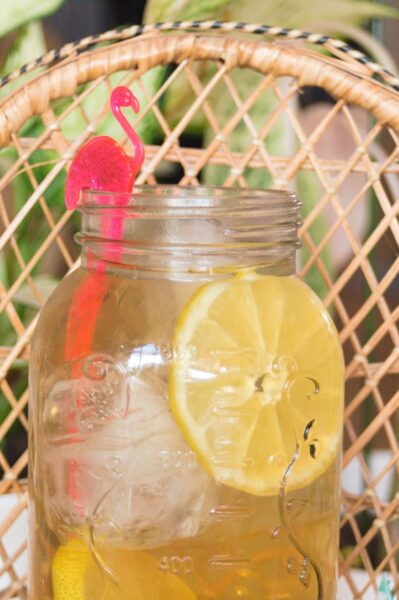 Iced Chamomile Tea
This refreshing iced tea is made with soothing dried chamomile. It'll be your new summer favorite!
Ingredients
5

tbsp

dried chamomile flowers

or 10 tea bags

6

cups

water

2

tbsp

sugar

see notes

1

lemon

sliced

ice
Instructions
Boil the water in a kettle or on the stove.

Place the dried flowers in the tea ball and hang it in the teapot, or place the baggies in the teapot if using those.

5 tbsp dried chamomile flowers

Pour the hot water over the chamomile and let steep for 5 minutes. Remove the chamomile and let the tea cool a little, around 15 minutes.

Transfer to the glass pitcher, add sugar and stir. Let the tea cool completely before serving.

Add lemon slices and serve your iced chamomile tea over as much ice as you prefer.
Notes
1. If you don't want to use sugar, honey and chamomile also taste divine together. Or use your favorite sugar substitute, like stevia!
2. If not all the water fits in your teapot, don't worry. Just add as much as fits, and then dilute the strong brew you've made with the rest of the water when transferring to the pitcher. The result is the same.
Nutrition
Calories:
6
kcal
Carbohydrates:
2
g
Protein:
0.2
g
Fat:
0.1
g
Saturated Fat:
0.01
g
Polyunsaturated Fat:
0.02
g
Monounsaturated Fat:
0.002
g
Sodium:
15
mg
Potassium:
35
mg
Fiber:
1
g
Sugar:
1
g
Vitamin A:
5
IU
Vitamin C:
11
mg
Calcium:
14
mg
Iron:
0.1
mg
Did you make this recipe?
If you tried this recipe, please give it a star rating! To do this, just click on the stars above. Comments are always helpful also and I respond to all of them (except rude ones)