Loose-leaf teas and expensive organic blends of tea are all the rage, but did you know there's a cheaper (and more fun!) alternative? Most of the popular herbs used for herbal teas (better known as tisane) are actually a breeze to grow at home. Homegrown herbal tea blends are infinitely more fresh, which means more flavor as well as better health benefits.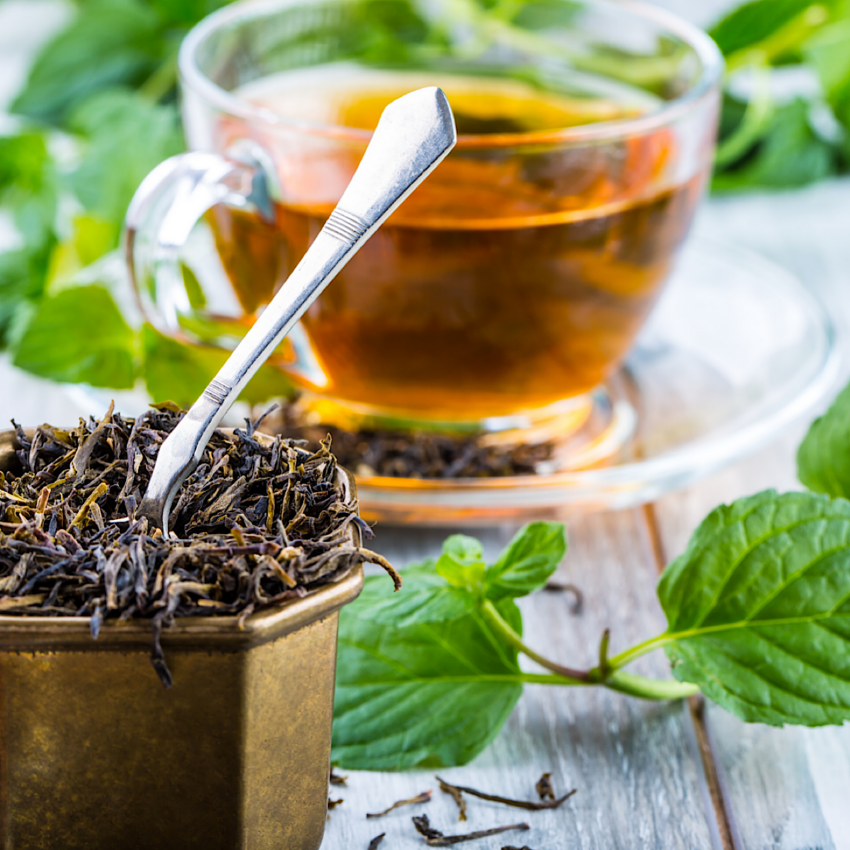 This post may contain affiliate links, and you can read our disclosure information here–
Let's have a look at 10 of my favorite easy herbs for a well-rounded tea garden, whether you grow in containers or in the ground.
I've included three bonus options for root tea.
Benefits of Growing an Herbal Tea Garden
Reserving a corner in your garden or on your balcony or deck for a little tea garden has so many advantages. A few of them include:
It's easy. You can grow these plants in a bed, but most do just as well in pots.
Herbs are versatile. Many are not just useful for tea!
The aesthetics. Lots of these plants bloom beautifully and abundantly.
And speaking of flowers, bees and other insects love herbs.
10 Best Herbs to Plant for Flavor in Tea Blends
Chamomile (Matricaria recutita or Anthemis nobilis)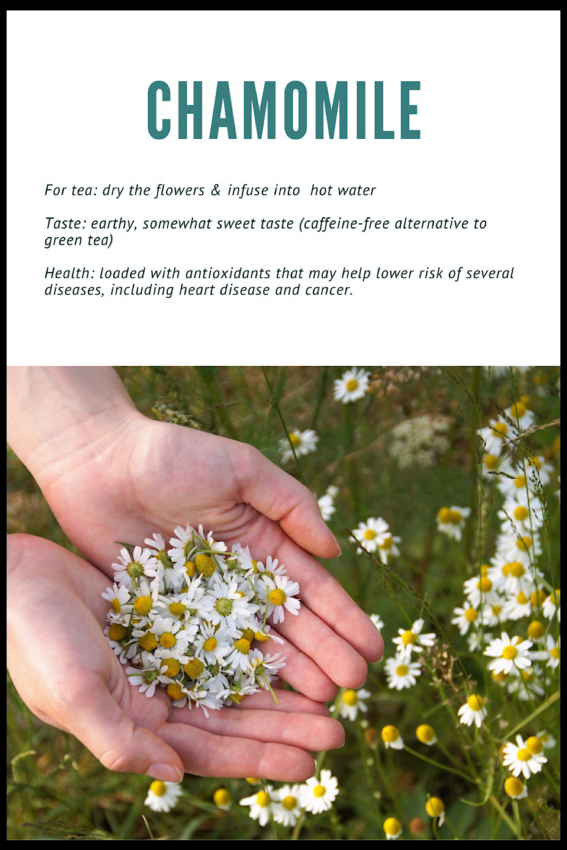 Did you know there isn't just one chamomile plant? The name refers to a few different species in the daisy family. Two of them, Roman chamomile (Anthemis nobilis) and German chamomile (Matricaria recutita) are commonly used in herbal teas. Their flavor is wonderfully delicate and soothing, but unmistakably floral.
Chamomile is easy to grow. Just scatter some seeds over a bed or in a planter and give them a gentle press into the soil. Give the plants plenty of sun (8 hours is great) and don't forget a little fertilizer every few weeks if you're growing in a container.
Rosehip (Rosa sp.)
I mentioned earlier that some tea garden plants bloom wonderfully, and this is definitely a prime example. Rosehips are the fruit of the rose bush. That means that in order to obtain them, you have to grow roses first (what a bother!).
You can actually use the rose leaves for tea as well, and the tangy rosehips are perfect for so many things: tea, syrup, jams, pies… what I'm trying to say is, this is a versatile plant you really can't skip in your tea garden.
One of the most popular rose species for rosehips is the wild dog rose (Rosa canina), which blooms a delicate pink. It likes moist but well-draining soil, full sun or semi-shade and not too much frost during the winter season.
Remember the seeds need cold storage, so they're not the quickest to germinate.
Rosemary (Salvia rosmarinus, formerly Rosmarinus officinalis)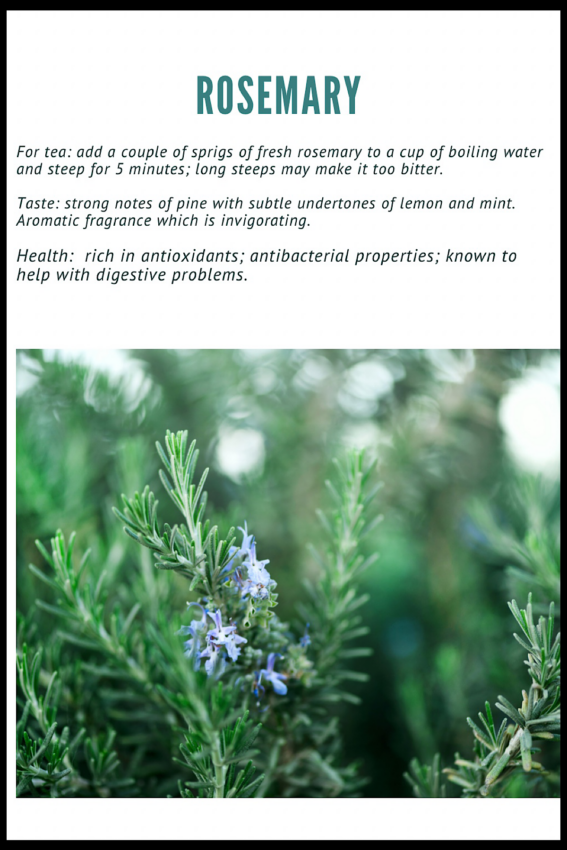 You may think of rosemary mostly as a herb used in Mediterranean cooking (like my delicious tomato crostata), but did you know it also works really well in herbal tea mixes?
This plant is a total delight: you can smell it just walking by, it grows into a huge and beautiful bush and its Mediterranean origins mean it's not demanding at all.
It's easiest to buy a rosemary seedling rather than sowing yourself. Well-drained, sandy soil with some added compost is great if you're growing in a container, or just pop the plant directly into the ground.
Give it plenty of full sun and keep it well-watered, though be sure not to drown it. They can take a bit of drought, but they grow much better if you keep them hydrated.
Fennel (Foeniculum vulgare)
Another one of those versatile numbers, roasted fennel is to die for. Fennel leaves make a great topping for yogurt tips and in vinaigrettes. We even use fennel in one of our syrups: rhubarb orange fennel shrub syrup.
And fennel seeds? Those aren't just part of the five-spice powder you'll find throughout Chinese cuisine, they're also what fennel tea is made of. I love a cup of aniseed-like fennel brew: it's soothing, herby and can really help calm an upset stomach.
Fennel likes a warm and sunny location and well-draining soil. It doesn't need a lot of water, but be sure not to let it dry out too much either. In fall, when the seedheads have dried, cut them off and harvest for tea. No need to re-sow next year, because although the plant will die off in winter in most climates, it'll come right back when things warm up.
Mint (Mentha sp.)
Fresh mint tastes just as great made into a cup of tea as it does in a cheeky pitcher of homemade sangria or even a savory Moroccan stew.
And the great thing is, this herb is very easy to grow: it can actually attain weed status if you let it do its thing in your garden. So be warned, and grow your mint in a container instead if you don't want to find it everywhere. Just provide rich, moist soil and partial shade and you're good to go.
Although some types of mint are more common than others, there is actually a mind-boggling amount of hybrids and cultivars out there. For tea-making purposes, good ones include:
Peppermint (Mentha x piperita)
Spearmint (Mentha spicata – used for Moroccan mint tea, which is to die for)
Water mint (Mentha aquatica)
Apple mint (Mentha suaveolens – considered by many to be the best for iced tea)
Did you know? Catnip, which is another member of the mint family, also tastes great in a herbal tea blend. Yep, it's not just for our furry friends!
Lemon balm (Melissa officinalis)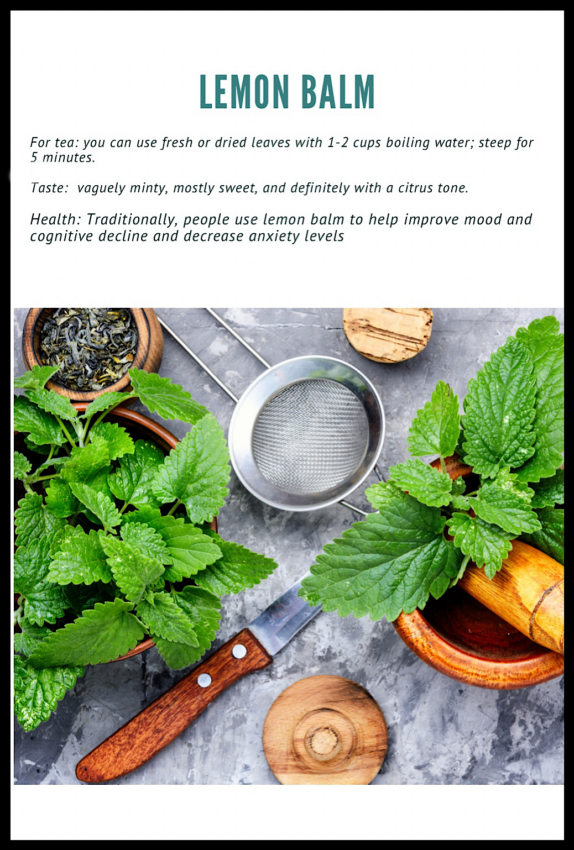 Although lemon balm belongs to the mint family, it's a member of a different genus, so I figured it deserved its own spot on this list. It's a great herb to use if you'd like to add a subtle lemon flavor to your tea blends.
No green thumb needed, because like its Mentha cousin, this one is very easy to grow. You can sow indoors from March or outdoors once the risk of frost has passed. Alternatively, go for a seedling from your local nursery.
Use a rich, well-drained soil and give your lemon balm plant direct sun. It will die off during winter in cooler climates, but don't worry, as you'll be able to enjoy it again come springtime.
Remember to remove the flowers if you don't want to end up with lemon balm all over the place.
Lemon verbena (Aloysia citrodora)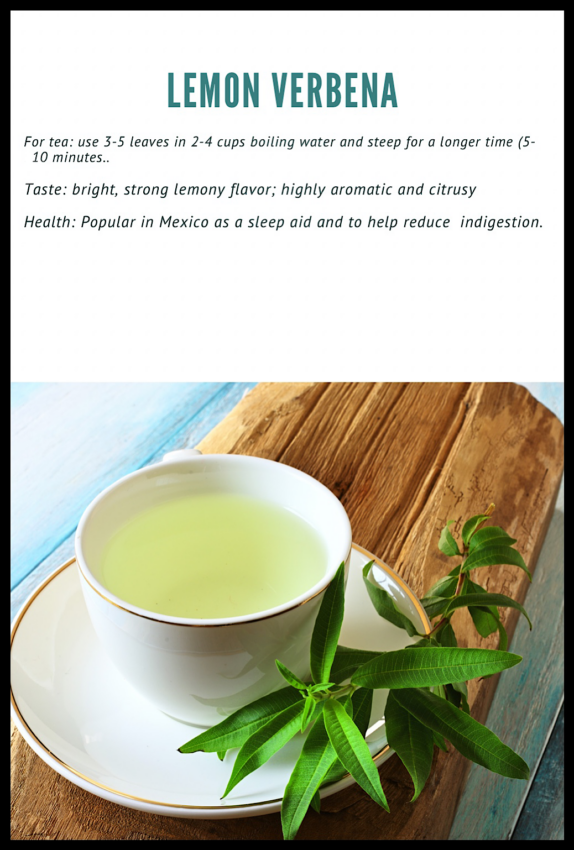 Can't get enough of lemony herbal teas? Be sure to not just include the aforementioned lemon balm in your tea garden, but also lemon verbena.
Also known as lemon beebrush, this herb has a bunch of culinary uses and is especially widely used to flavor all sorts of beverages, from liqueurs to sodas to teas. I particularly like to brew it with some fresh mint.
Because lemon verbena is originally found in tropical Latin America, it isn't as hardy in cooler climates as lemon balm. It can handle some frost, but will lose its leaves once things reach freezing levels. You could consider keeping yours as a container plant and grow it indoors during the colder months if your winters are on the harsher side.
Planting should always be done after the risk of the last frost passes. Like the other species on this list, lemon verbena appreciates plenty of sun.
Lavender (Lavandula sp.)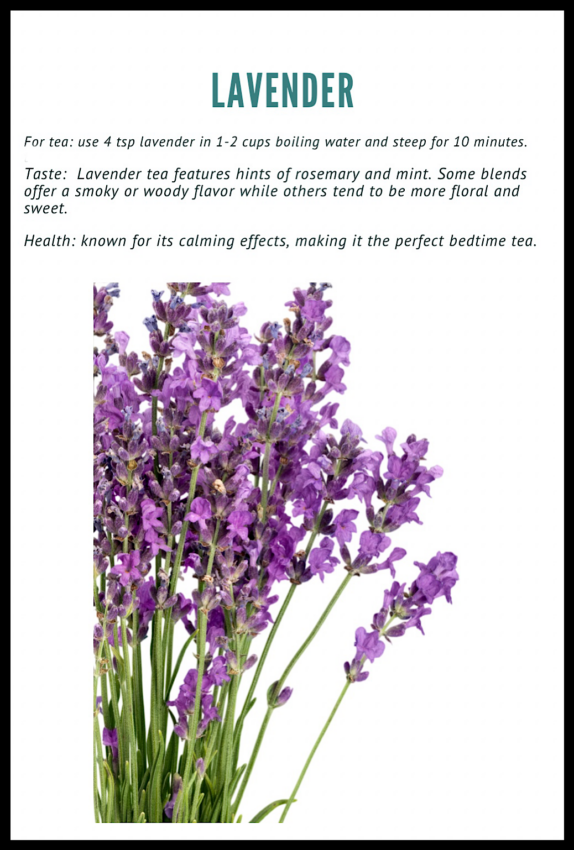 Is a herb garden really a herb garden if there's no lavender?! The genus Lavandula, particularly Lavandula angustifolia, is beloved for its lovely blueish-purple flowers, its culinary uses, its fragrance, its essential oil, its medicinal properties… need I go on? Even bees adore this herb.
Use dried flower buds (and optionally, dried leaves) for tea and the rest of the plant for lavender cocktails, to flavor savory dishes, for potpourris or even to make a delicious jam. Lavender tastes especially great combined with berries: we produce both a blueberry lavender syrup and a strawberry lavender one here at the farm.
Lavandula angustifolia is another Mediterranean native, which is good news for us as it means it's on the hardy side and not difficult to grow.
Surprisingly, it can even handle a good bit of frost, although it may be best to bring it indoors in winter if you live in an area colder than Zone 5. Provide a well-draining, neutral soil and full sun. Water deeply whenever the soil has dried completely.
Coneflower (Echinacea sp.)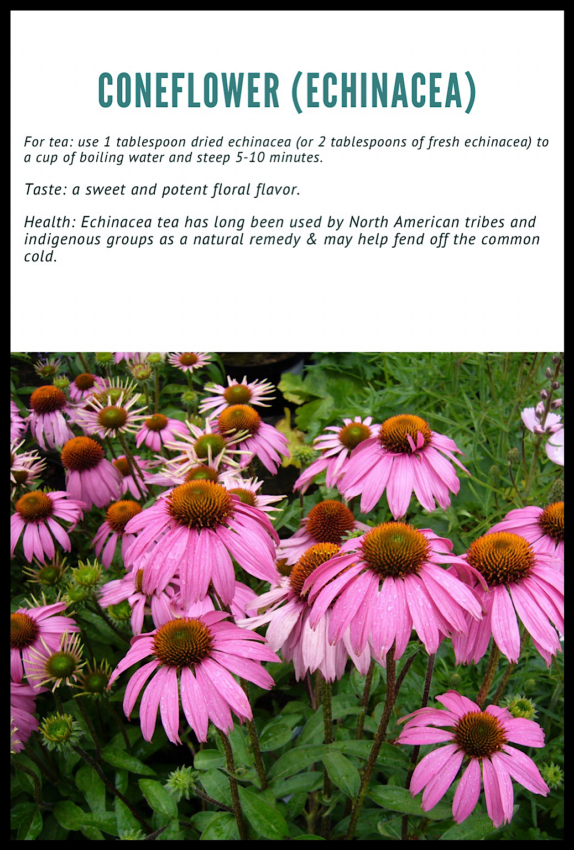 This is one of those plants I'd grow even if it weren't for the fact that it's a popular tea ingredient. How beautiful are those purple, orange or white flowers? The species is popular in herbal remedies, and although there isn't enough scientific evidence to back up claims of its efficacy, its flavor itself makes it worth brewing into tea. You can use the roots and/or the flowers for an earthy, soothing and floral drink.
The most popular coneflower variety for tea gardens is Echinacea purpurea, although Echinacea pallida and angustifolia also work well.
All are hardy perennials that can be grown in almost any type of soil and like plenty of sun. You can sow yours whenever except full summer or full winter – they start flowering reliably in the second year.
Bee balm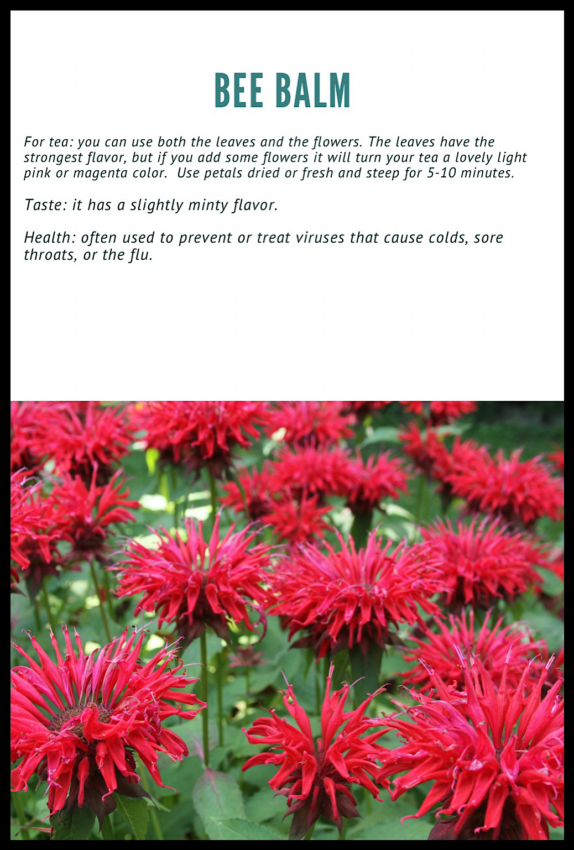 Sorry, another mint family member. There are just so many great species to choose from for a tea garden! Bee balm is actually a North American native and not just known for its fragrance and flavor, but also its beautiful bright pink flowers.
Both the leaves and these flowers can be used for making tea.
Bee balm is easy to care for. It grows well in a range of conditions, although it prefers full sun and lightly moist soil. Before you sow, be sure to stratify the seeds. The easiest way to provide this necessary period of cold in a natural manner is to simply sow in fall, because otherwise, you may end up having to pop the seeds into the refrigerator.
Bonus: 3 plants for root tea
Liquorice: Takes a while to grow, but in the meantime, the little flowers are very nice. Liquorice spice tea is delicious.
Ginger: Can be grown from a store-bought ginger root. Fantastic with honey and lemon.
Valerian: The underground stems can be brewed into a natural sleep aid. Be sure to follow a recipe so you don't overdo it!