This vegetable tart featuring carrots, a puff pastry crust and a tangy lemon-ricotta filling is perfect for easy celebrations, and the ingredients are flexible enough to suit a range of tastes. Make ahead and keep in the refrigerator. It will keep perfectly for several days.
Jump to:
RECIPE
Best Veggies & Dough to Use
Which Veggies to Roast Ahead?
Substitutions
Herb Combinations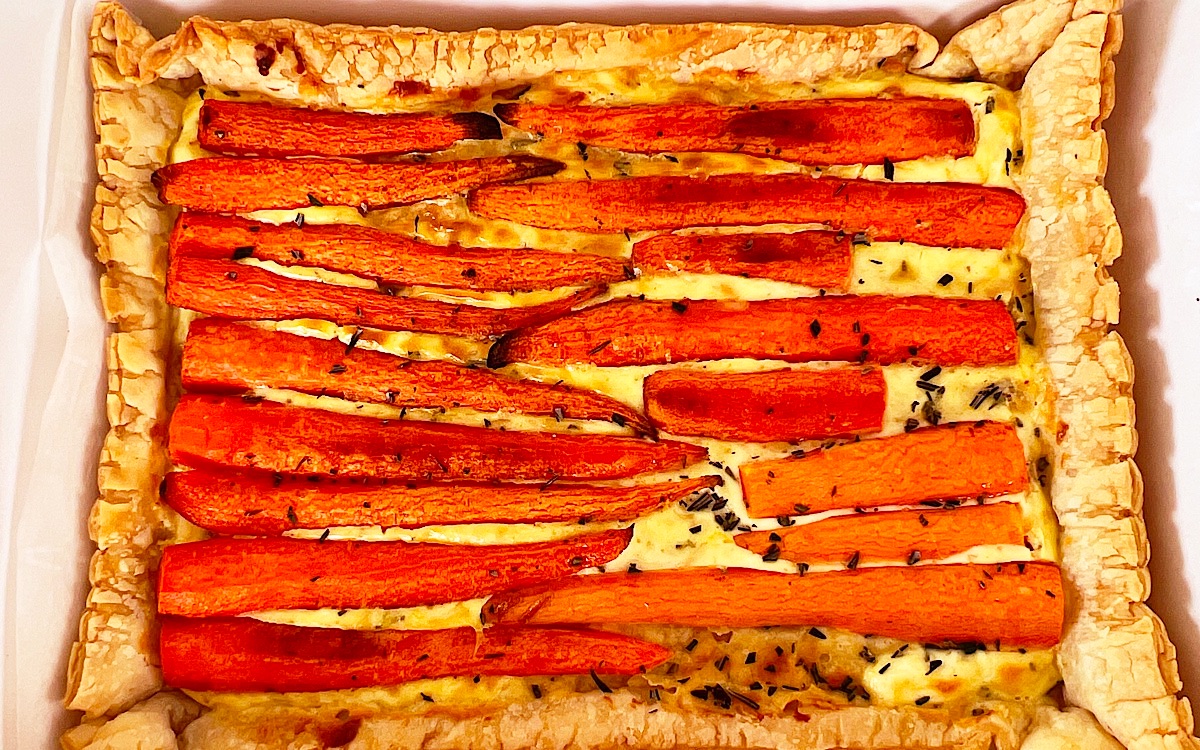 This post may contain affiliate links, and you can read our disclosure information here–
Best Veggies & Easiest Dough for Tarts
There are some ingredients that you want to make sure are as fresh as possible and some that make your life easier without sacrificing taste. The vegetables you use should always be fresh, but you can save a lot of time by using storebought pastry.
I used a puff pastry dough for the tart that you can find in the freezer section of the store. Dufor is considered by many to be the highest quality, but most often you'll need to go with what is available to you. I've used several different brands and they all tasted great to me. I don't really think it's a wine tasting kind of thing.
With respect to the vegetables, the best route to go is to use what is in season. Farmers' markets will generally offer the best seasonal produce. The other thing to know about vegetables is some will benefit by roasting ahead (like carrots and root vegetables), and some are more fragile and can cook at the same time the pastry crust is cooking (like tomatoes and spinach)
**Tip: if you are cooking the more fragile veggies with the pastry, it is important to use a creamier filling so as not to tear the dough when spreading it out. More on this below.
Vegetables to Roast Ahead
Vegetables that benefit in taste by pre-roasting include the root vegetables and any others that are sturdy enough to handle roasting at 400 F for 20 minutes without turning to mush. A few examples include:
Carrots
turnips
kohlrabi
Leeks or onions
cauliflower
fennel
Peppers
parsnips
potatoes
eggplant
zucchini
artichokes
Vegetables that Don't Need Pre-Roasting
Raw, quick-cooking vegetables that can be cooked along with the puff pastry include:
broccoli and broccolini, cut into 1/2-inch-thick florets;
cherry tomatoes,
thinly sliced sugar snap peas;
thin asparagus
corn kernels cut off the cob.
Spinach & greens
Substitutions or Additions:
Substitutions for the Goat Cheese Filling:
Using goat cheese alone might be too tangy or too difficult to spread. Using creme fraiche alone instead of goat cheese will be milder, but is so creamy that it might make a mess of the tart. I've found that a combination of something creamy (like Crème fraîche) along with something tangy but more "sturdy" makes a perfect combination for the tarts.
Here are some ideas below. You can combine them in any proportion but for the recipe below I used 1/4 cup of ricotta and 1/4 cup of goat cheese, and found it to be sturdy enough to be spreadable yet have the tangy, creamy flavor.
Cream cheese (sturdy)
ricotta (tangy & creamy)
Mexican crema (tangy & creamy)
Heavy cream (mild and creamy)
Crème fraîche (mild and creamy)
feta cheese (tangy and sturdy)
goat cheese (mild to tangy and sturdy)
mascarpone (mild and creamy)
feta (tangy and sturdy)
heavy cream/double cream (mild and creamy)
Substitutions for the puff pastry
I found puff pastry to be the easiest to work with and light enough that the vegetables can shine through. Other store-bought pastry that would work include:
Shortcrust
pie crust
filo dough
almond pastry
Herbs that Work Well Together for Savory Tarts
There are soooo many herbs and greens that work well with vegetable tarts. A few of my favorite combinations are as follows:
Tarragon & chives
Rosemary & thyme
Rosemary, garlic & lemon zest
Parsley & chervil
Thyme & chives
Microgreens and any soft herbs
Vegetable Tarts without Eggs
Many recipes for vegetable tarts do not include eggs in the filling. If you opt not to include an egg, you might want to add a little more of the creamy type of dairy rather than the sturdy so that it is more spreadable.
Alternatively, you can blend the filling in a blender instead of trying to get it spreadable by mixing with a wire whip by hand.
Can you freeze vegetable tarts?
I would not recommend freezing. The puff pastry will get pretty soggy if you freeze it as one. Some cheese fillings can be frozen, but others won't work well. For example, ricotta cheese freezes OK compared to other creamy cheeses, but like cream cheese it separates and dries out a bit after freezing.
How long will vegetable tarts last in refrigerator?
The finished tart can be refrigerated for up to 5 days and reheated until warm or enjoyed at room temperature.
More Tarts you Might Enjoy Making
Carrot Tart with Goat Cheese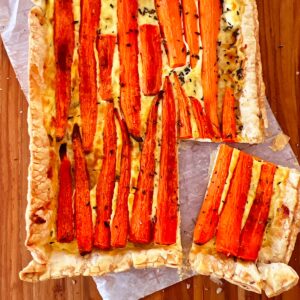 An easy savory vegetable tart made with carrots, goat cheese & ricotta, and a store-bought puff pastry
Equipment
13 x 9 baking pan

bowl and whisk

Knife
Ingredients
1

Lb

fresh carrots

not baby carrots

1

Tablespoon

olive oil

1

egg

¼

Cup

ricotta

or creme fraiche, or Mexican crema, or marscarpone

½

Cup

goat cheese

or feta, or cream cheese

1

Teaspoon

minced rosemary

1

Tablespoon

lemon zest

½

Teaspoon

salt

or to taste

1

Tablespoon

minced garlic

14

Oz

packaged puff pastry

thawed
Instructions
Preheat oven to 400°F. Peel and rinse carrots and slice lengthwise.

Place carrots on baking sheet and sprinkle with olive oil and salt (can use pepper also if you like). Rub oil and salt in to the carrots with your hands and then lay them out on baking sheet not touching.

Roast carrots for 20 minutes, remove pan and set aside. Leave oven on at 400°F.

**Note: If you want to save time, you can follow step 2 for the pastry and bake carrots and pastry at the same time.

1 Lb fresh carrots,

1 Tablespoon olive oil

Sprinkle flour on surface and on rolling pin, and unroll thawed pastry dough onto the surface. Gently roll out until you get a 13" x 9" rectangle.

Place a piece of parchment paper in bottom of 13 x 9 pan, loosen the dough underneath with a spatula so it doesn't stick to the surface, and carefully move dough retangle to pan (on top of parchment paper). Prick bottom with a fork.

(See video in the post for this step if needed)

Bake for 20 minutes or until just slightly starting to color.

14 Oz packaged puff pastry

While pastry is baking, in a bowl, add egg, cheeses, rosemary, zest, salt and garlic. Whisk vigorously with a wire whisk until most lumps are gone and everything is incorporated together. It will not be totally smooth (if you like you can mix in blender until perfectly smooth).

1 egg,

1/4 Cup ricotta,

1/2 Cup goat cheese,

1 Teaspoon minced rosemary,

1 Tablespoon lemon zest,

1/2 Teaspoon salt,

1 Tablespoon minced garlic

When pastry has cooled a bit, spread cheese mixture on bottom of dough using a spatula or a pastry brush.

Arrange carrots on top of the cheese mixture as artistically as you like, but not leaving large gaps.

Bake the tart at 400°F for 15-20 minutes or until edges are golden brown.

Garnish with rosemary or greens. Serve warm or at room temperature. It will keep in the refrigerator for 5 days and can be reheated.
Nutrition
Calories:
373
kcal
Carbohydrates:
29
g
Protein:
8
g
Fat:
25
g
Saturated Fat:
8
g
Polyunsaturated Fat:
3
g
Monounsaturated Fat:
13
g
Trans Fat:
1
g
Cholesterol:
31
mg
Sodium:
375
mg
Potassium:
236
mg
Fiber:
2
g
Sugar:
3
g
Vitamin A:
9684
IU
Vitamin C:
5
mg
Calcium:
65
mg
Iron:
2
mg
Did you make this recipe?
If you tried this recipe, please give it a star rating! To do this, just click on the stars above. Comments are always helpful also and I respond to all of them (except rude ones)