Big batch Sangria is perfect for parties and gatherings. It's easy, inexpensive, and can be prepared in advance. There are tons of variations on Sangria….red, white, bubbly, with brandy or non-alcoholic. This post includes a pitcher recipe for a red sangria, along with tips for substituting ingredients and how to customize sangria for a wide range of palates.
Jump to: Recipe | Tips for Making Best Sangria | Best Sweetener for Sangria | Best Wine for Sangria | Fruit & Spices for Sangria | Complementary Liqueurs
This post may contain affiliate links, and you can read our disclosure information here–
Classic sangria is of Spanish origin, but there is really no standard or "authentic" way to make sangria. The basic ingredients include wine (red or white), a sweetener (fruit syrup or sugar), seasonal fruit, a bit of brandy and/or triple sec and something fizzy or bubbly (like carbonated water or sparkling wine)
How to Make the Best Sangria:
Soak the citrus fruit for a whole day in Rum, Triple Sec, Brandy or some other spirit. It makes a difference to really get the fruit infused into the wine. If you are in a rush you can microwave the fruit and liquor for 30 seconds but it's a shabby second to letting it slowly infuse.
Many recipes include a variety of fruits (like peaches or strawberries). The classic Spanish sangria only includes citrus and if you want to be true to the form, stick with citrus.
Fill the glass with ice first and then use a pitcher that has a strainer on the spout. If you use a regular pitcher you'll keep filling everyone's glass with large chunks of fruit or ice.
Slice the fruit or cut into large wedges. Don't chop or mince the fruit. It doesn't look attractive in the pitcher, and it won't infuse into the wine in the same way.b
Use inexpensive wines. The fruit and sugar will mask any of the subtle flavors an expensive wine.
If the sangria is too sweet, add some more wine (a dry wine like merlot or cabernet). You can also add some lemon juice.
If the sangria is too sour, add a can of orange soda or lemon-lime soda
If the sangria is too "winey", add some flavorings. Examples might include: cinnamon sticks, fruit flavored rum, ginger ale, tawny port, orange liqueur (like triple sec), or fruity drink syrups.
What is Best Sweetener for Sangria?
Simple syrups (sugar and water heated and dissolved) or fruit syrups (a simple syrup with added fruit juice) are typically used to sweeten Sangria.
If you are using simple syrups, taste as you go because many of the spirits used in Sangria (like Triple Sec) can be full of sugar also and you may get a sangria that is overly sweet.
Shrub syrups are fruit simple syrups with the addition of vinegar (aka drinking vinegars). They tend to be more tangy and less sweet and are often infused with spices or herbs. Shrub syrups often offer that "secret ingredient" mystique for the adventursome.
This primer on shrub syrups is a good start if you want some details on making your own shrub syrups. If you would rather buy some ready-made shrub or simple syrups, there is a wide variety of pre-made syrup flavors.
Best Red Wine for Sangria
Since sangria hails from Spain, a Spanish red wine is most often recommended. Rioja or anything with a garnacha or tempranillo grape is perfect. It certainly does not have to be a Spanish wine to be great sangria however.
I like to use a dry red wine with cherry undertones (Syrah or Pinot Noir is good). Just know that the fruit, the other liqueurs, and the sweetener mask any nuances of the wine, so an inexpensive wine is fine.
Typical Fruit and Spices
The standard fruit for a Spanish sangria would include citrus, and sometimes green apples. Many recipes include a variety of fruits (like peaches or strawberries) and the beauty of sangria is that it is so easy to customize.
While oranges, lemons and other citrus is the most classic, you might prefer to use the fruit that is in season in your area. It certainly will not make the drink less wonderful!
Cinnamon sticks are often added and make great stir sticks. I like the addition of star anise or ginger slices also. Just use a pitcher with a strainer on the spout so people don't end up with big chunks of fruit and spices and not enough of the actual beverage!
Traditional Liqueurs or Alcohol Additions in Sangria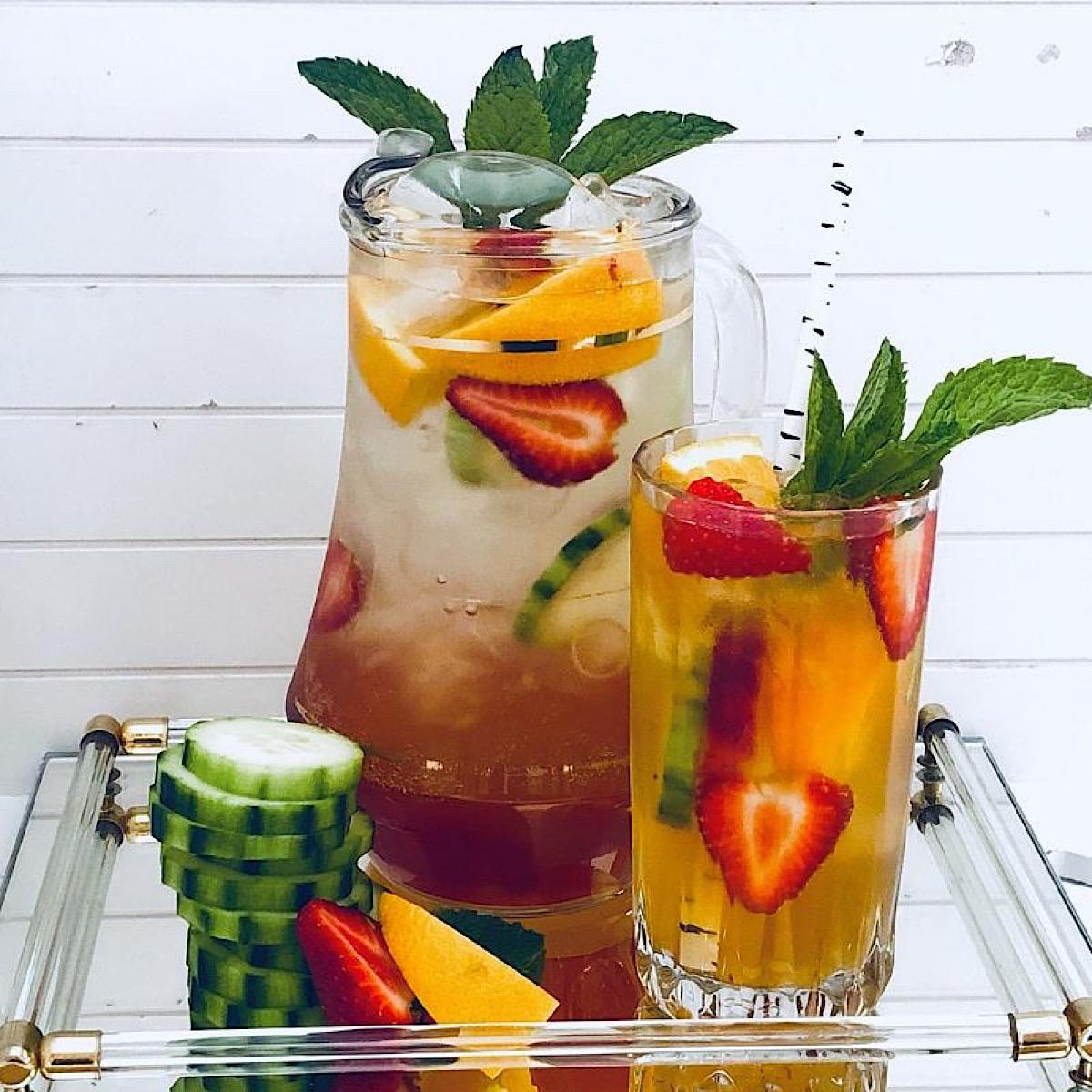 Brandy is the most common alcoholic addition to sangria. Cognac can be substituted but remember that the nuances of expensive ingredients will be masked by the sweetness. Sangria is sometimes referred to as a "wine punch" and doesn't need fine wines and liqueurs.
Orange liqueur: Triple sec is often added to sangria to enhance the flavor of the citrus
Something bubbly: It is typical to top off a chilled glass of sangria with something bubbly right before serving. Sparkling water, ginger ale, sparkling wine, champagne, Prosecco, are some options, but really anything with bubbles is good.
How to Serve:
Chill the pitcher of sangria in the refrigerator for at least 30 minutes (more is even better) before serving. It will help the myriad of flavors from the fruit, spices and alcohol meld together.
If you have a large pitcher, lay out the glasses, the ice, and some bubbly soda or bubbly wine and allow people to self serve. Serve the sangria over ice, topping off each glass with a splash of bubbly.
Recipe for Cherry Flavored Sangria
Sangria with Cherry-infused flavor
A fruity pitcher of "red" sangria made with red wine, a cherry syrup for sweetness and a carbonated water or sparkling wine for the "bubbly"
Ingredients
2

bottles red wine

look for cherry undertones (i.e, Pinot Noir, Merlot or Syrah wines are good)

½

cup

orange liqueur

triple sec

¼

cup

brandy

¾

cup

cherry flavored syrup

I used 5-spice cherry syrup

2

oranges

thinly sliced

2

limes

thinly sliced

2

lemons

thinly sliced

2

cups

sparkling water or sparkling wine

fresh mint to garnish
Instructions
Combine all ingredients except mint and sparkling water or wine in a large container.

Cover and chill for at least 1 hour and up to 24.

2 bottles red wine,

1/2 cup orange liqueur,

1/4 cup brandy,

3/4 cup cherry flavored syrup,

2 oranges,

2 limes,

2 lemons

Before serving add sparkling liquid (water or wine) and garnish with fresh mint.

2 cups sparkling water or sparkling wine,

fresh mint to garnish
Notes
Notes:
nutrition calculations were made using sparkling water rather than sparkling wine.
Use a pitcher with a strainer on the spout so people don't end up with big chunks of fruit and spices and not enough of the actual beverage!
Nutrition
Calories:
216
kcal
Carbohydrates:
26
g
Protein:
0.4
g
Fat:
0.1
g
Saturated Fat:
0.02
g
Polyunsaturated Fat:
0.02
g
Monounsaturated Fat:
0.01
g
Sodium:
13
mg
Potassium:
67
mg
Fiber:
1
g
Sugar:
21
g
Vitamin A:
55
IU
Vitamin C:
15
mg
Calcium:
15
mg
Iron:
1
mg
Did you make this recipe?
If you tried this recipe, please give it a 5-star rating! To do this, just click on the stars above.