Summer picnics or beach outings often involves packing up hearty sandwiches, and the last thing you want is a tomato that makes your sandwiches soggy when you unwrap your carefully made sandwich. The key to not having soggy sandwiches is to choose the right tomato, one that is meaty instead of juicy. These 11 heirloom tomatoes offer the best of the best heirloom tomatoes for sandwiches in terms of meaty slicers that work well.
Jump to Recipe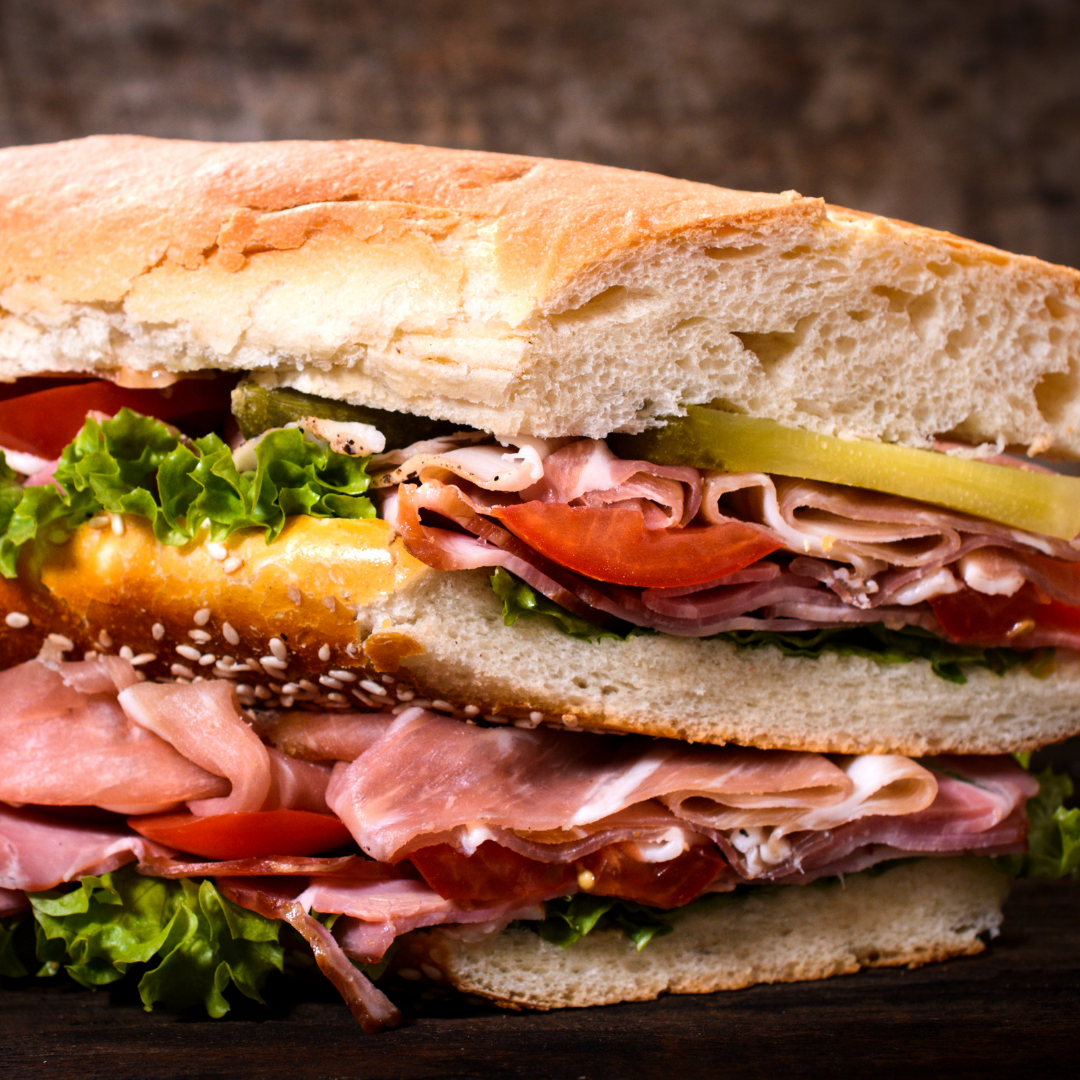 Best heirloom tomatoes for sandwiches
What is the best tomato for sandwiches that you can plant in your veggie garden this year? The type of variety you're after is large, firm and not overly juicy, with a lot of flesh and not too much seed.
They're known as beefsteaks or slicers and many easily grow to over a pound in weight – some up to 2lb! Their shape can vary from smooth and round to highly ribbed, flat, pointy and more. When you look at descriptions in the seed catalogs or at the nursery, look for the word "meaty".
Beefsteak tomatoes aren't hugely popular among commercial growers, which is why they're not all that common in your average supermarket. They're a big favorite among home growers, though, not in the least because there are loads of delicious heirloom varieties out there.
Many of the large, red heirloom varieties are known for their real "classic, tomatoey" flavor. Be careful, because you may never want to go back to those watery, store-bought tomatoes!
I've been growing heirloom tomatoes since 1998 and have tried just about all of them. With respect to the meaty "slicers", which are the best for sandwiches, here are my favorites:
Mortgage Lifter
Let's kick off the list with a classic heirloom variety, one that deserves a prominent place on my list of favorite heirloom tomato varieties. Mortgage Lifter has been around since 1922 and is as popular as ever. Its flavor is characterized as mild and lightly sweet, with tall plants that can yield fruits of over 2 pounds. The tomatoes need around 85 days to mature and keep coming all season long, since this is an indeterminate variety.
Cherokee Purple
I'd grow Cherokee Purples just for their color! How gorgeous are those big, red to purplish-green tomatoes? Another heirloom slicer variety, this one is known for its sweet, acidic and even lightly smoky flavor. It needs around 90 days to mature and is an indeterminate that can grow large, vigorous vines and lots of big tomato fruits.
You can buy Cherokee Purple tomato seeds online.
Brandywine tomato
This pinkish-red beefsteak isn't known for maturing quickly (it needs up to 100 days), nor for being particularly prolific (yields tend to be on the low side). So why is it so popular among heirloom tomato enthusiasts – one of the most popular slicer breeds overall? Well, it just tastes like a tomato is supposed to! As mentioned in my guide to the best tasting heirloom tomato varieties, it's characterized by a good balance of sweetness and noticeable acidity.
You can recognize the plants from their unusual leaf shape, which is reminiscent of that of a potato vine.
Did you know? The exact origins of many older heirloom tomato breeds are often vague, but some have a long history. For example, Cherokee Purple seeds are said to have have been handed down for generations before they became commercialized in the '90s, and to have originated with the Cherokee tribe. Brandywine has been around since the 1880s and is supposedly Amish in origin.
Caspian Pink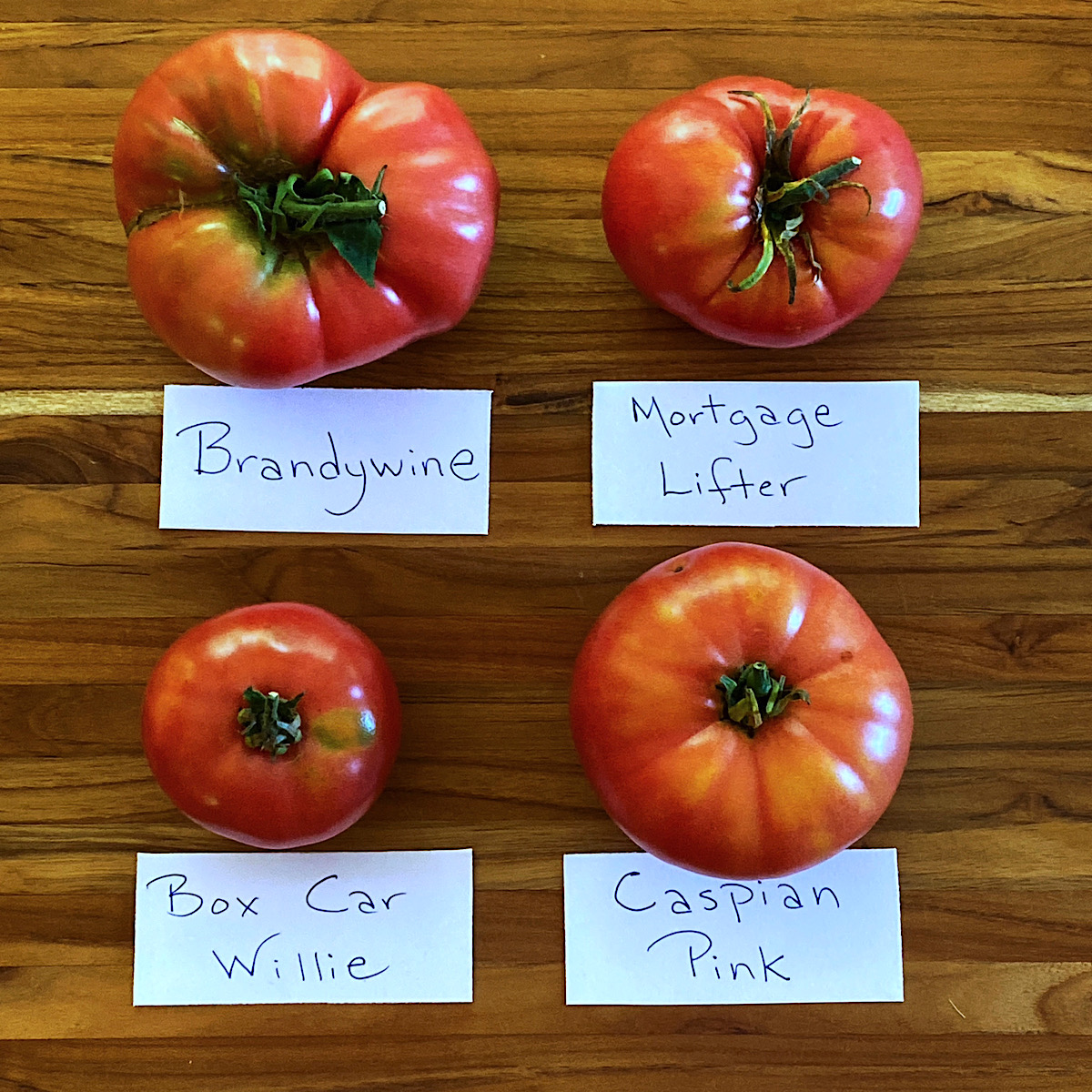 Originally developed in Russia, this pink cultivar is best known for the fact that it's one of the few that can rival the classic Brandywine in flavor. It is often grown as the main alternative to Brandywine, as it matures earlier (Brandywine tends to be fairly late).
The plants grow tall and vigorous, produce a great crop and are more suitable for cooler climates than many other varieties. They're indeterminate and need around 85 days to mature.
Aussie tomato
Bold flavor, huge vines, big yield and up to 2 pounds in weight: what more can you ask for in a slicer tomato?! The 'Aussie' cultivar from down under is sweet but tangy, and a delight for any sandwich or burger. It's an indeterminate variety that reaches maturity in around 90 days and has a nice and long harvest season.
Carbon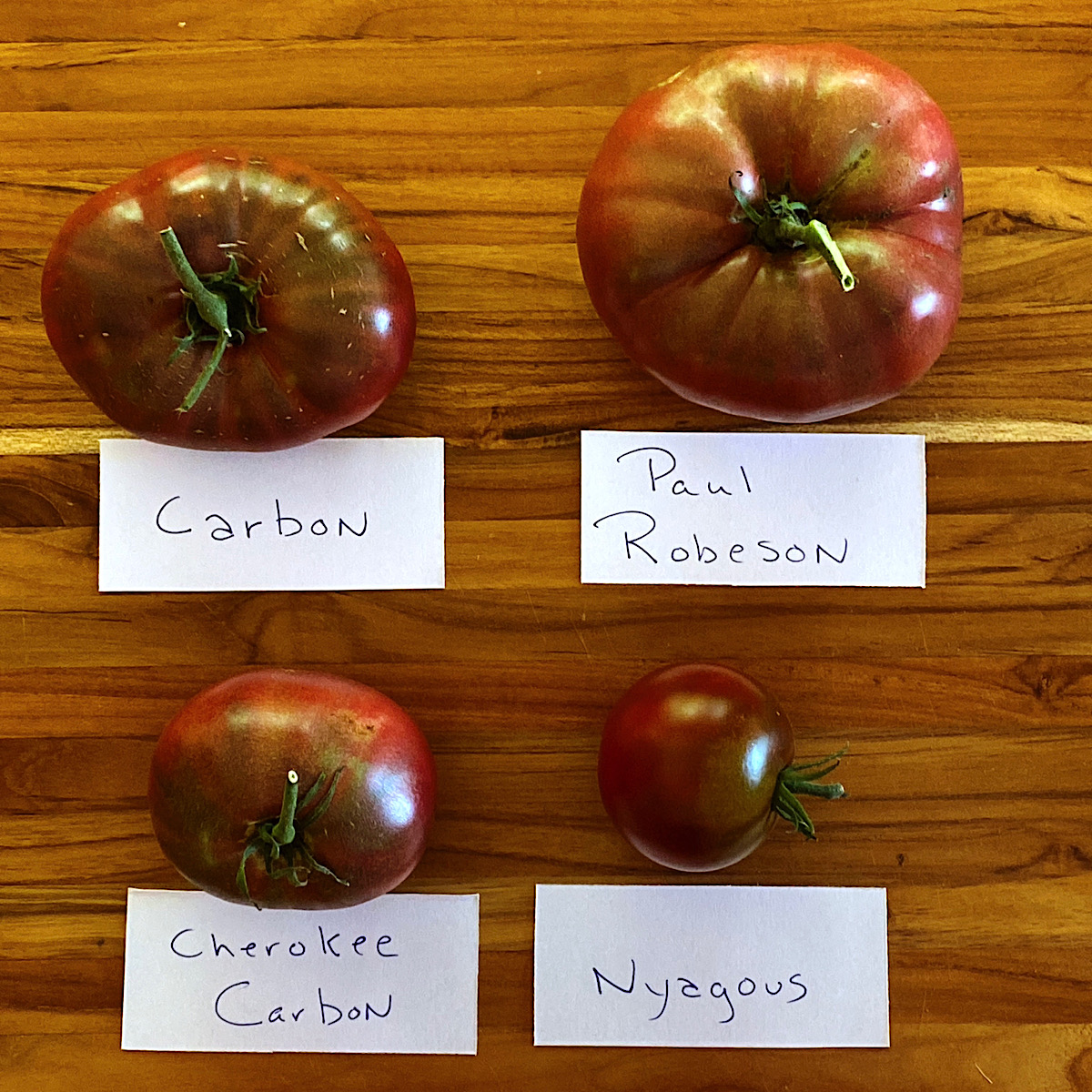 Rich, complex flavors made this variety the winner of heirloom tomato taste tests at Cornell University, and they have won taste awards coast to coast. The fruit is smooth, large, and beautiful, being one of the darkest and prettiest of the purple or black types.
They seem to have an extra dose of the complex flavor that makes dark tomatoes famous.One of the darkest of the black tomatoes. Produces large, 8 to 12 ounce, crack resistant fruits – similar to 'Cherokee Purple'. Excellent for salads and sandwiches.
Black Krim tomato
Another purple tomato breed (often referred to as black tomatoes), Black Krim is a medium-sized beefsteak that came to the US from the Ukranian Crimea peninsula. Dark maroon in color with a little green-to-black coloration on the shoulders, it's known for its great balance of sweetness and acidity. The plants are large, prolific and appreciated by gardeners around the world for being hardier than average.
Big Rainbow tomato
We've discussed pink, purple and normal red tomatoes – time for a little more color in the list! Meet Big Rainbow, a variety appreciated for its yellow, orange and red streaks. Fruity and sweet in flavor, this one was commercialized in 1983 and has been a favorite for colorful salads and sandwiches ever since. The tomatoes are large and ribbed, growing abundantly and all season long on tall and vigorous vines.
Pruden's Purple
Pruden's Purple is really more pinkish red in color rather than purple, but that doesn't take away from its flavor, which is widely considered similar to (and occasionally even better than) that of the classic Brandywine. What attracts a lot of gardeners is that this is an early bird: it matures in only around 75 days and ripens earlier than many of the other large heirloom tomato varieties.
Kellogg's Breakfast tomato
Another colorful number, Kellog's Breakfast is appreciated for its yellowish orange skin and flesh. This heirloom slicer is a relatively recent addition, having been commercialized in 1993, but has quickly become popular among gardeners. It's characterized by its wonderfully sweet flavor and very productive, tall vines.
Hughs tomato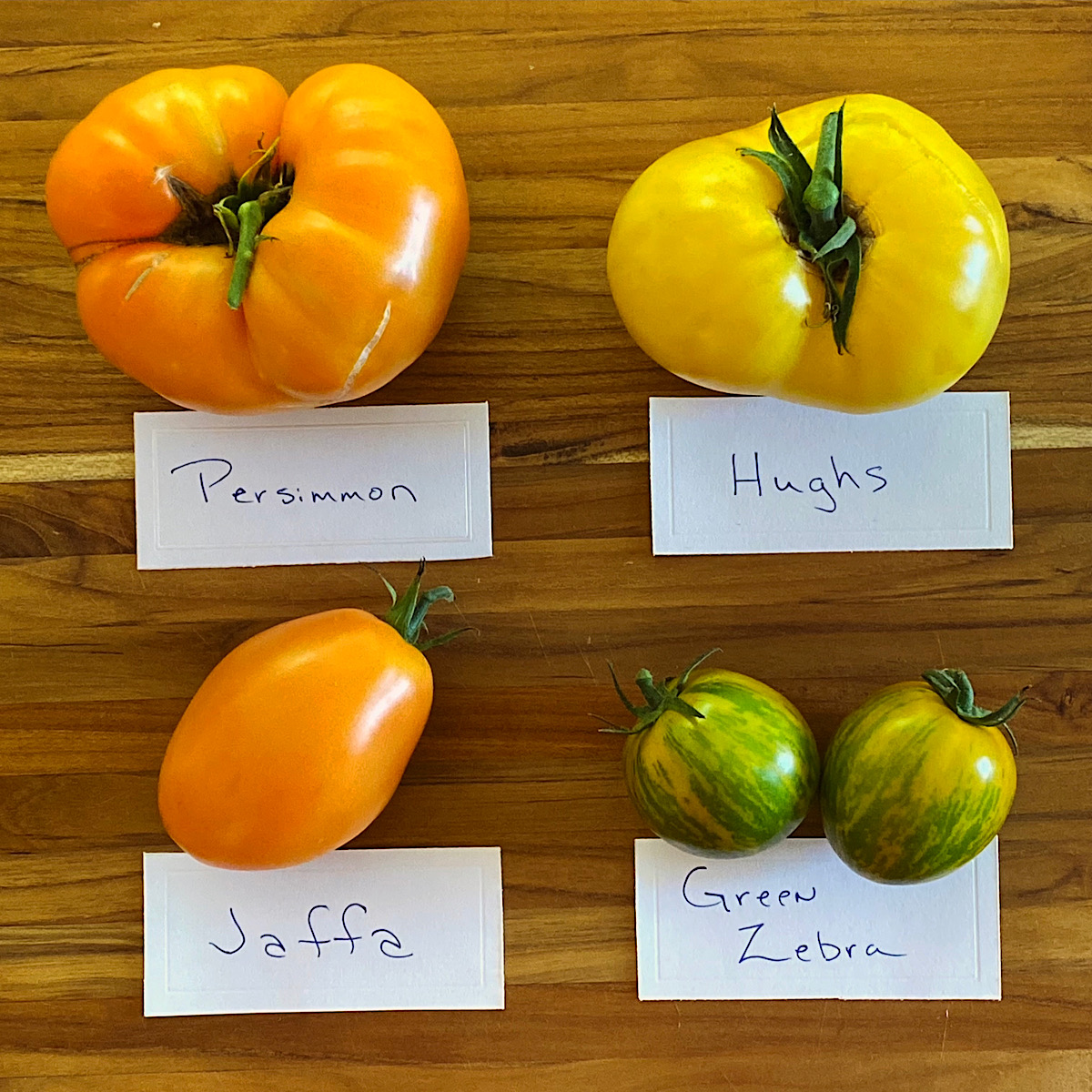 If the aforementioned Kellog's Breakfast still wasn't quite bright enough for you, maybe the almost neon yellow Hughs is more to your taste. And don't think flavor was traded for looks here either: this heirloom breed is known for its sweet taste and excellent texture. It matures in around 85 days and is perfect for a colorful sandwich or heirloom tomato salad.
Aunt Rubys
To finish off our tomato rainbow, let's have a look at my favorite green heirloom tomato breed for sandwiches, Aunt Rubys. I know green can scream unripe, but don't let that fool you! These large beef tomatoes are actually deliciously sweet. You'll know yours are ripe when the bottom begins to take on a yellow tinge. Aunt Ruby is characterized by their small seed cavities, meaning that although they're juicy, they don't turn your sandwich soggy.
Best sandwiches for slicer tomatoes:
Okay, so you chose a slicer tomato variety for your veggie garden and now you've managed to coax some tomatoes out of it. What can you do with them? Well, in case you're still in need of ideas, I've gathered three of my favorite recipes that include that golden combo of bread and tomatoes.
And in order to further celebrate slicer tomatoes, I've gone ahead and come up with a bonus sandwich recipe especially for this article! Fresh, home-grown tomato goes amazingly with slices of prosciutto and some quality mozzarella.
Frequently asked questions
How to stop tomatoes making sandwiches soggy?
The bane of any sandwich enthusiast's existence! If you don't want a soggy sandwich, choosing the right slicer tomato can help. Varieties that contain less seeds just aren't quite as wet.

Other than that, it helps to place the tomato between dry ingredients on your sandwich, or to use mayo as a protective "barrier". The fat prevents moisture from reaching the bread.

You can also slice the tomatoes, lay them on a paper towel, salt them and let them rest for a bit. The salt will draw out the water.
Do slicer tomatoes need caging?
YES! The vines grow tall and can be very prolific. The weight of those huge tomatoes, easily a pound or more, will break the stems without a little support.
Prosciutto caprese sandwich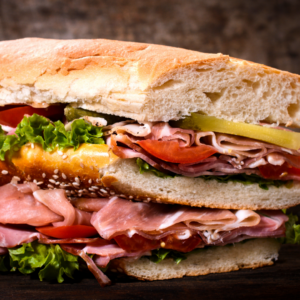 A fresh sandwich that combines the best Italy has to offer with home-grown slicer tomatoes!
Ingredients
2

ciabatta or focaccia rolls

4

slices

quality prosciutto ham

2

Slices

mozarella

sliced, buffalo is ideal

1

beefsteak heirloom tomato

sliced

½

Tablespoon

olive oil

extra virgin is ideal

10

fresh basil leaves

optional

salt & pepper

to taste
Instructions
Using a serrated bread knife, slice the bread rolls in half lengthwise.

Lightly toast the bread halves (optional).

Layer the sandwiches in your preferred order (I like to go for olive oil, prosciutto, tomato, mozzarella, salt, pepper, basil).

Keep sandwiches wrapped and refrigerated until it's time to serve them.
Notes
If you've got any tomato left over – which is likely given how big some beefsteak breeds are – just sprinkle it with some salt and pepper to eat as-is. Heirloom varieties are delicious and don't need any bells and whistles to shine.
Nutrition
Calories:
273
kcal
Carbohydrates:
18
g
Protein:
11
g
Fat:
18
g
Saturated Fat:
6
g
Polyunsaturated Fat:
2
g
Monounsaturated Fat:
7
g
Trans Fat:
1
g
Cholesterol:
33
mg
Sodium:
449
mg
Potassium:
205
mg
Fiber:
1
g
Sugar:
2
g
Vitamin A:
815
IU
Vitamin C:
9
mg
Calcium:
154
mg
Iron:
1
mg
Did you make this recipe?
If you tried this recipe, please give it a 5-star rating! To do this, just click on the stars above.