Thanksgiving feasts often end up with leftover turkey that can be very dry the next day. A quick way to repurpose that turkey into a hearty breakfast or lunch for the day after Thanksgiving is to make a simple open faced turkey sandwich, but dress it up with a Southern red-eye gravy. Not only is it delicious, but it keep you awake for the rest of the festivities!
Jump to: RECIPE | What is Red Eye Gravy? | What Does it Taste Like? | Ingredients & Substitutions | Red Eye vs Country Gravy | How to Serve it | Common Questions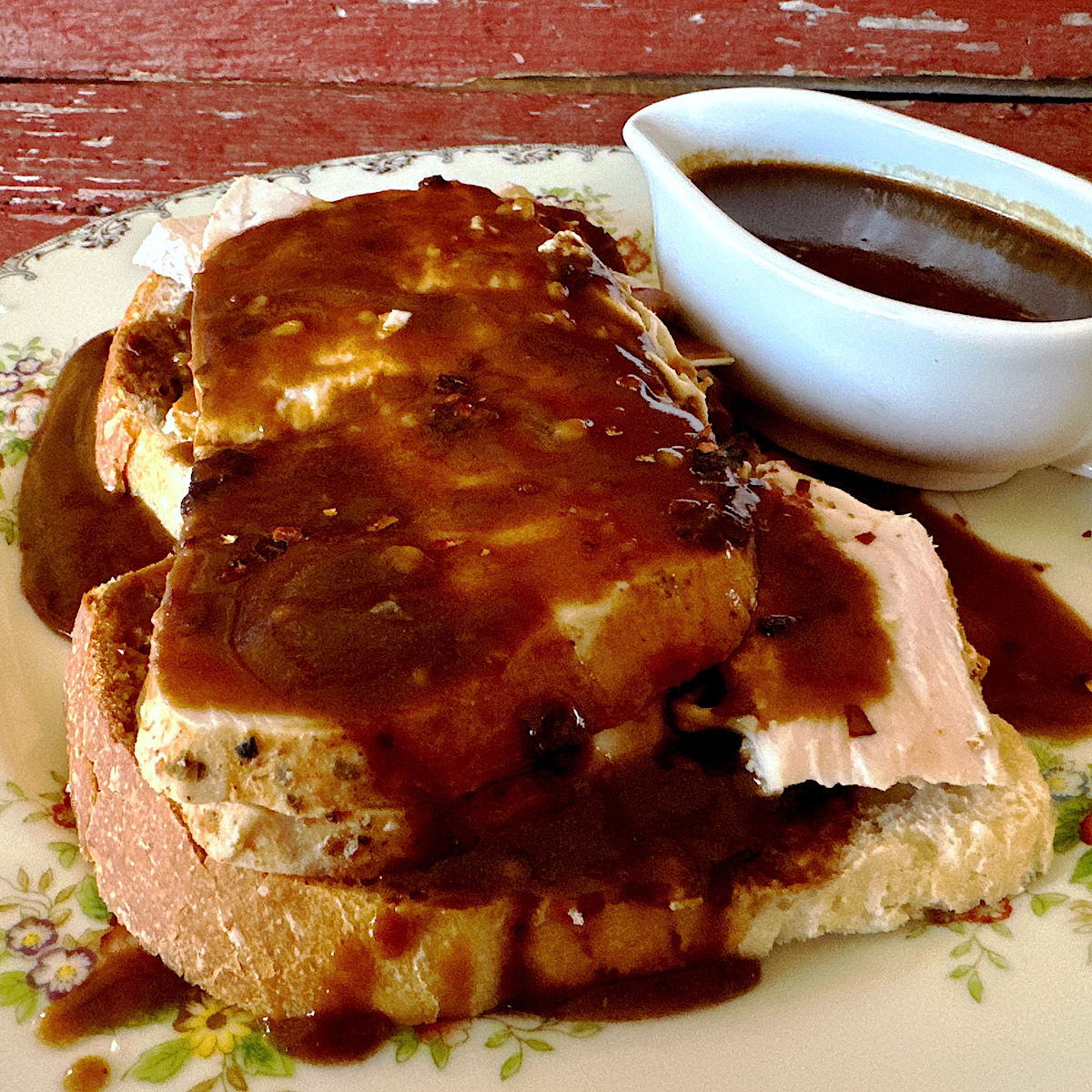 This post may contain affiliate links, and you can read our disclosure information here–
What is Red Eye Gravy?
Red-eye gravy hails from the Southern US and it is usually associated with the grease that comes from country ham. Basically it is a thin sauce made from the drippings of pork (sometimes bacon), and it is always combined with coffee (usually strong black coffee).
My husband is a lover of this gravy and frequently tries out different versions for breafast. Until I did a bit of research, I assumed it was called red-eye gravy because it had coffee in it and was there forward helpful in easing a hangover. Well, that may be partially right, but of course there is a debate.
One side of the debate believes that red-eye gravy's name comes from its visual resemblance to a red human eye, owing to the red pepper and the eye-shaped layer of grease that forms on the surface of the gravy when the coffee and chicken broth are added to the ham drippings. Hmm, I sure didn't notice that.
Another version of its naming history was that President Andrew Jackson asked for ham with a topping of gravy as red as his cook's bloodshot eyes (from drinking the night before). I'll go with this version.
What does it taste like?
Unlike the traditional gravy you may have had with your turkey dinner, red-eye gravy is more of a thin sauce. It has a slightly bitter background from the coffee, which many find to be a pleasant, if somewhat unique, taste.
It is common to add some spicy peppers to the sauce, and the cook's preference on the level of heat from the peppers may range from mild to very spicy. My recipe below also adds a touch of bourbon which adds warmth to the slightly bitter coffee.
What Kind of Fat is Best?
Because it originated in the South, the country ham is usually associated with red-eye gravy. Since I wanted to use the gravy with turkey, I used a little bacon grease mixed with some chicken broth. The fat from the grease is really a necessity for this kind of "gravy".
Although it is meant to be a thin sauce, many cooks will thicken it up slightly by adding a bit of flour to the grease (a roux).
Just remember it is not the flour-thickened gravy typically served at Thanksgiving with the turkey. It can be a relief however, to be spared some of the richness the day after the Thanksgiving feast.
What Goes with Red Eye Gravy?
Southern cooks often serve this gravy with either biscuits or ham (or both). Other popular ways to serve it include:
Meatloaf
ham
Shrimp & grits
steak
biscuits
rice
sausage
pork chops
And of course, don't forget the classic old fashioned banana pudding with Nilla wafers for dessert!
Ingredients & Substitutions
Redeye gravy essentially requires 2 key ingredients: drippings (grease) from bacon or ham and strong black coffee.
If you find the gravy a bit too bitter from the coffee, add about one tablespoon of chicken broth and then a pinch of sugar to mellow out the flavors. Because the recipe below is serving the gravy with turkey, I added a little more chicken broth.
Although the traditional version does not include a roux, some cooks will thicken it slightly with pinches of flour or cornmeal.
Other common additions include pinches of sugar, a little hot pepper spice or a touch of bourbon.
Red Eye Gravy vs Country Gravy (aka Sausage Gravy)
While redeye gravy is more of a thin sauce made with pork drippings and strong coffee, country gravy is a thicker, gravy made by adding milk and a flour roux to the pork drippings.
Country gravy also goes by the common names of Sawmill gravy or Sausage gravy. It is typically made with dripping from pork sausage rather than bacon or country ham drippings.
There is no coffee included in the country gravy and it is therefore a lighter color. While redeye gravy is used is used to top off many different dishes or proteins, country gravy is primarily seen as a "biscuits and gravy" dish. Country gravy is sometimes referred to as biscuit's soulmate.
More Recipes that Use Leftover Turkey:
Fideo de Sopa (Mexican Noodle Soup) with leftover turkey
Slow Cooker Turkey Chili with Squash and Beans
Big Batch Turkey Chili with Mole Sauce
Frequently Asked Questions
How to make red-eye gravy less bitter
If you find the gravy a bit too bitter or sour (from the coffee), add about one tablespoon of chicken broth and then a pinch of sugar to mellow out the flavors.
What is Louisiana Redeye Roast Beef Gravy?
Cajun-style redeye gravy gets its kick from coffee as well (possibly chicory), but the meat drippings come from roast beef rather than ham. The spice background might also vary according to the cook.
Red-Eye Gravy on an open face turkey sandwich
Open Face Turkey Sandwich with Red Eye Gravy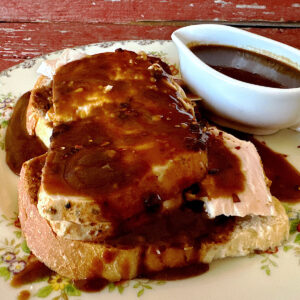 Red eye gravy is made with bacon grease and strong black coffee and is a perfect foil for leftover Thanksgiving turkey that might be on the dry side. Try it as an open-face sandwich for breakfast or lunch in the days following the holiday feast.
Ingredients
1

Cup

strong coffee

2

Tablespoons

bacon grease

1

Tablespoon

all purpose floor

1

Tablespoon

red pepper flakes

or more to taste

¼

Cup

chicken broth

made with chicken bouillon

1

Teaspoon

bourbon

optional

2

Slices

sourdough bread

4

Large slices

leftover turkey
Instructions
Brew a cup of pretty strong coffee with your favorite brewing method.

If you do not have bacon grease saved from previous cooking, you will need to fry some bacon and save about 2-3 tablespoons of the grease after removing the bacon.

Heat bacon grease over medium-high heat in a skillet (preferably cast iron). Sprinkle flour over the grease and whisk continuously until a dark brown roux is achieved.

Slowly whisk in pepper flakes, coffee, chicken broth and bourbon. Whisk over medium heat until you get to your desired consistency, adding a bit more flour if desired.

1 Tablespoon all purpose floor,

1 Tablespoon red pepper flakes,

1/4 Cup chicken broth,

1 Teaspoon bourbon,

2 Tablespoons bacon grease

Prepare an open face sandwich with sourdough bread and sliced leftover turkey. Pour sauce over the open-face sandwich and serve with additional gravy on the side.

2 Slices sourdough bread,

4 Large slices leftover turkey
Notes
**NOTES:
If you find the gravy a bit too bitter from the coffee, add a couple of tablespoons chicken broth and then a pinch of sugar to mellow out the flavors. Because this recipe is serving the gravy with turkey, I added a little more chicken broth, but no sugar.
Also the traditional version of redeye gravy does not include a roux. I have added a little flour as a roux to get it a little thicker, but it is not necessary if you want a thin redeye sauce.
Nutrition
Calories:
331
kcal
Carbohydrates:
38
g
Protein:
9
g
Fat:
16
g
Saturated Fat:
6
g
Polyunsaturated Fat:
2
g
Monounsaturated Fat:
7
g
Cholesterol:
15
mg
Sodium:
593
mg
Potassium:
228
mg
Fiber:
3
g
Sugar:
3
g
Vitamin A:
1187
IU
Vitamin C:
0.03
mg
Calcium:
51
mg
Iron:
3
mg
Did you make this recipe?
If you tried this recipe, please give it a 5-star rating! To do this, just click on the stars above.