Silky and sweet, bannana pudding layered with vanilla wafers and sliced bananas is quintessential Southern comfort food. My Louisiana mom's version of this classic dish added layers of whipped cream instead of the meringue topping and used evaporated milk instead of sweetened condensed milk. It is a little less sweet than many versions, but is creamy rich and a treat for both young and old.
Jump to: RECIPE | Is Banana Pudding Southern? | Homemade vs Pudding Mix | Ingredients & Substitutions | Illustrated Step by Step | More Southern Recipes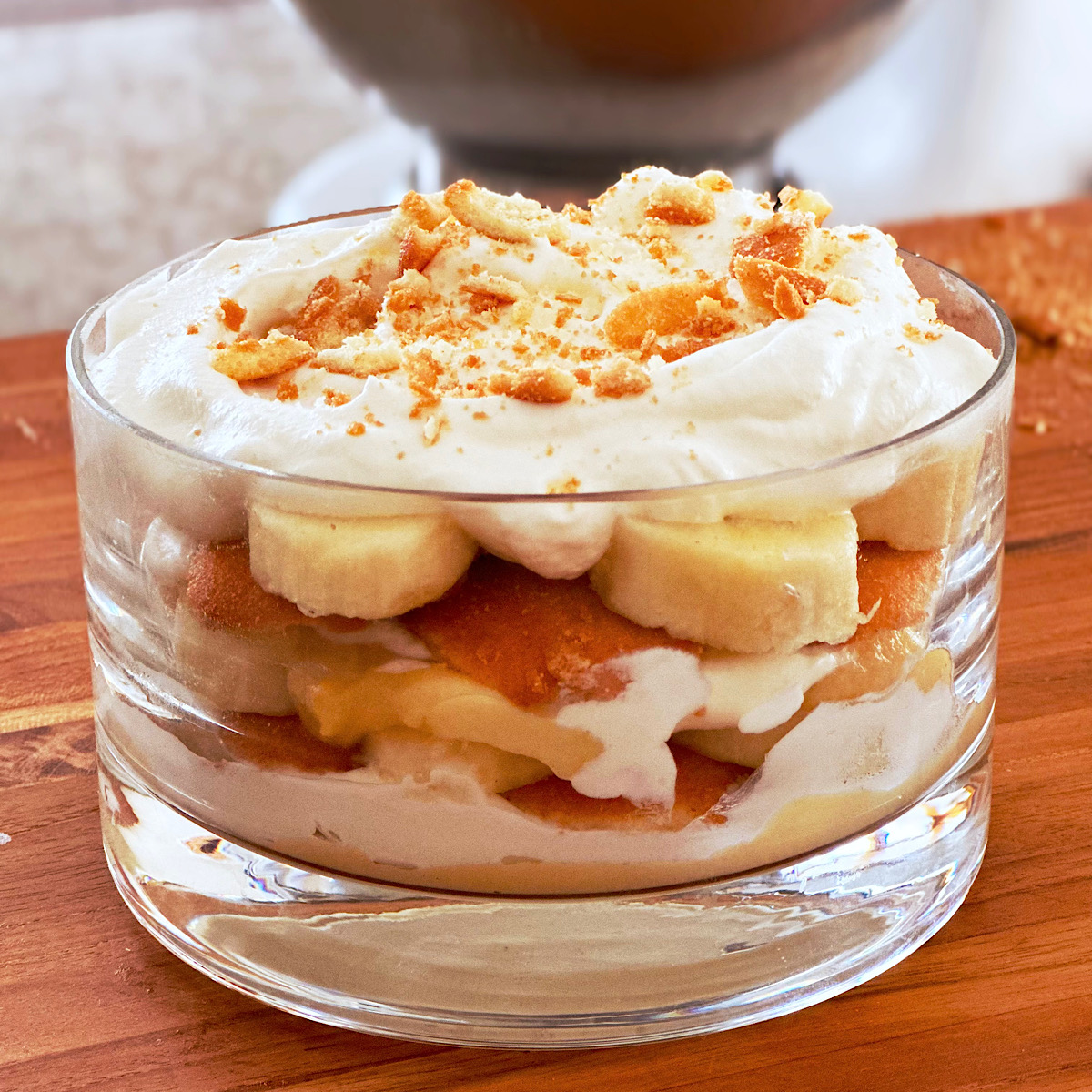 This post may contain affiliate links, and you can read our disclosure information here–
Is Banana Pudding Southern?
Banana pudding has a strong Southern identity that goes back more than half a century. A detailed history of banana pudding can be found at Serious Eats, where it is tied to bananas being imported to New Orleans, Nabisco's marketing of Nilla Wafers, and the writings of food journalists.
The Serious Eats author of this comprehensive history states:
After World War II, banana pudding's Southern identity really took hold, and by the 1950s, newspaper writers were routinely associating the dessert with the South. In 1956, for instance, a New York Age headline declared, "Deep South's Banana Pudding Tasty Treat." In 1959, the Oregon Statesman noted that banana pudding "has a touch of the South."
As with any recipe that has a history, there is plenty of debate on authenticity. Some of the more common debate topics noted by the Serious Eats author includes:
Do you used boxed pudding mix or a homemade custard? (I used homemade custard)
Is it vanilla-flavored or banana, and do you pour it over the top of stacked wafers and bananas or layer it in with them?
Do you bake the whole thing in an oven or just assemble and chill? (I assembled and chilled)
Do you top it with homemade meringue or canned whipped cream or whipped topping? (whipped topping for me)
Do you serve it immediately so the wafers are still crisp or let it rest a day in the icebox so everything sogs together? (I love i both ways!)
Ingredients and Substitutions
Homemade Pudding vs Instant Pudding Mix
Homemade pudding, vanilla or chocolate, is really underrated. The flavor is so much richer and so much more complex. The texture is thick (and slightly lumpy) rather than thin and watery like a powdered mix can be.
The instant pudding mix can look smooth and velvety but that texture doesn't make up for the taste, especially in a banana pudding where a few delicious lumps just adds to the overall taste of the dish.
And truth be told, homemade pudding is actually quite simple to make.
Whipped Cream Topping vs Meringue
Most of the classic banana pudding recipes, including the recipe on the Nilla wafer box, top the pudding-wafer-sliced banana layers with a egg white meringue that is baked. I have opted for a whipped cream topping for 4 reasons:
It is easier. Whipped cream doesn't require any baking like a meringue does. They both need to be whipped into soft peaks, but the whipped cream is then used right away without baking. Note this example of what soft peaks with whipped cream looks like.
Whipped cream adds to the creamy layers. The meringue is only used as a topping, whereas the whipped cream is both a topping and an addition to the layers, making the pudding even more silky delicious.
Sweetness. Many banana puddings are made with sweetened condensed milk, which is pretty sweet. If you use evaporated milk like the recipe below and don't add sugar to the whipped cream, it is sweet and creamy without being sticky sweet
Authentic? My mom was born and raised in Louisiana and I grew up on her banana pudding. I was born in Alabama so this is authentic to me. Of course there is always debate these days on what authentic really means. I know one thing…..it's an incredible recipe!
Illustrated Step by Step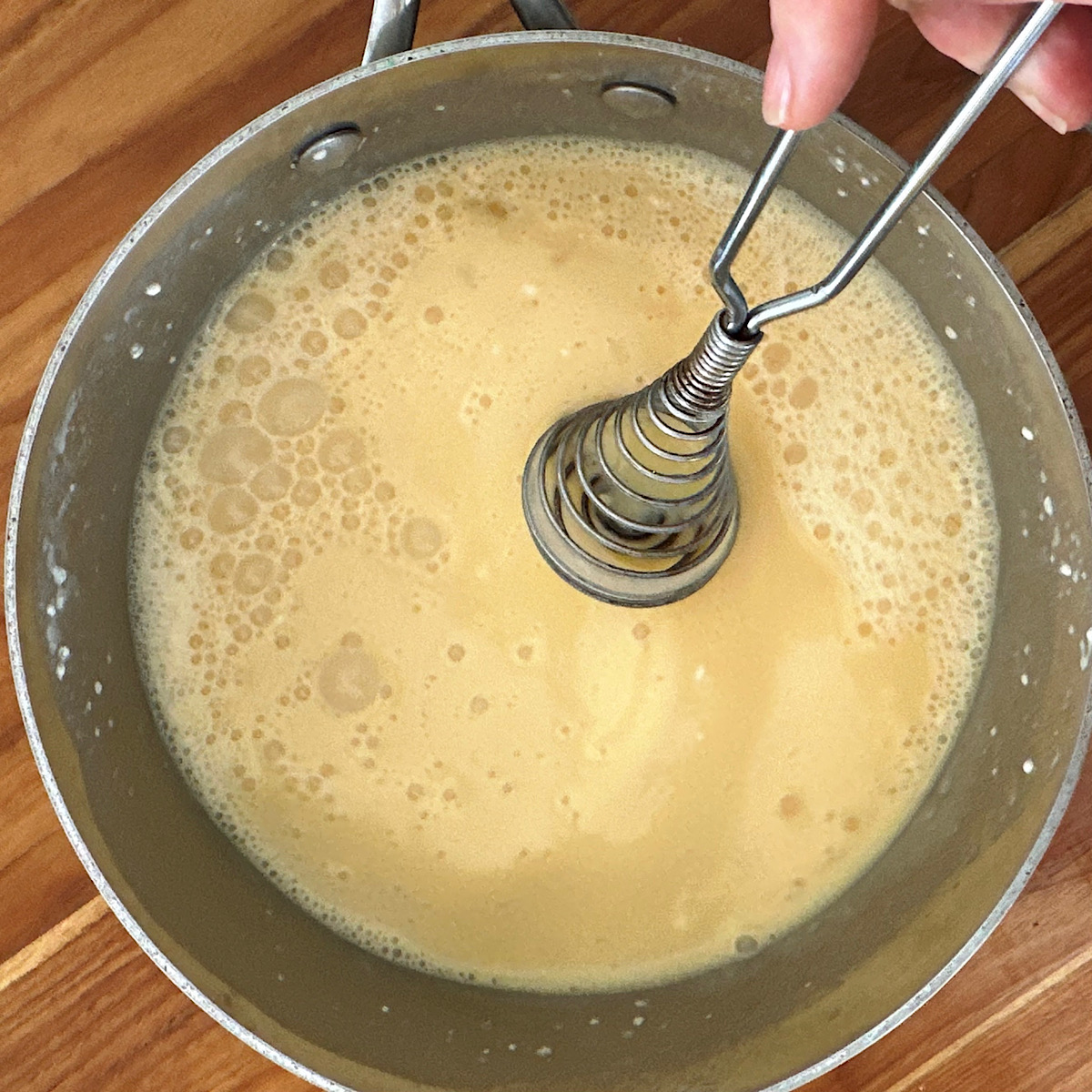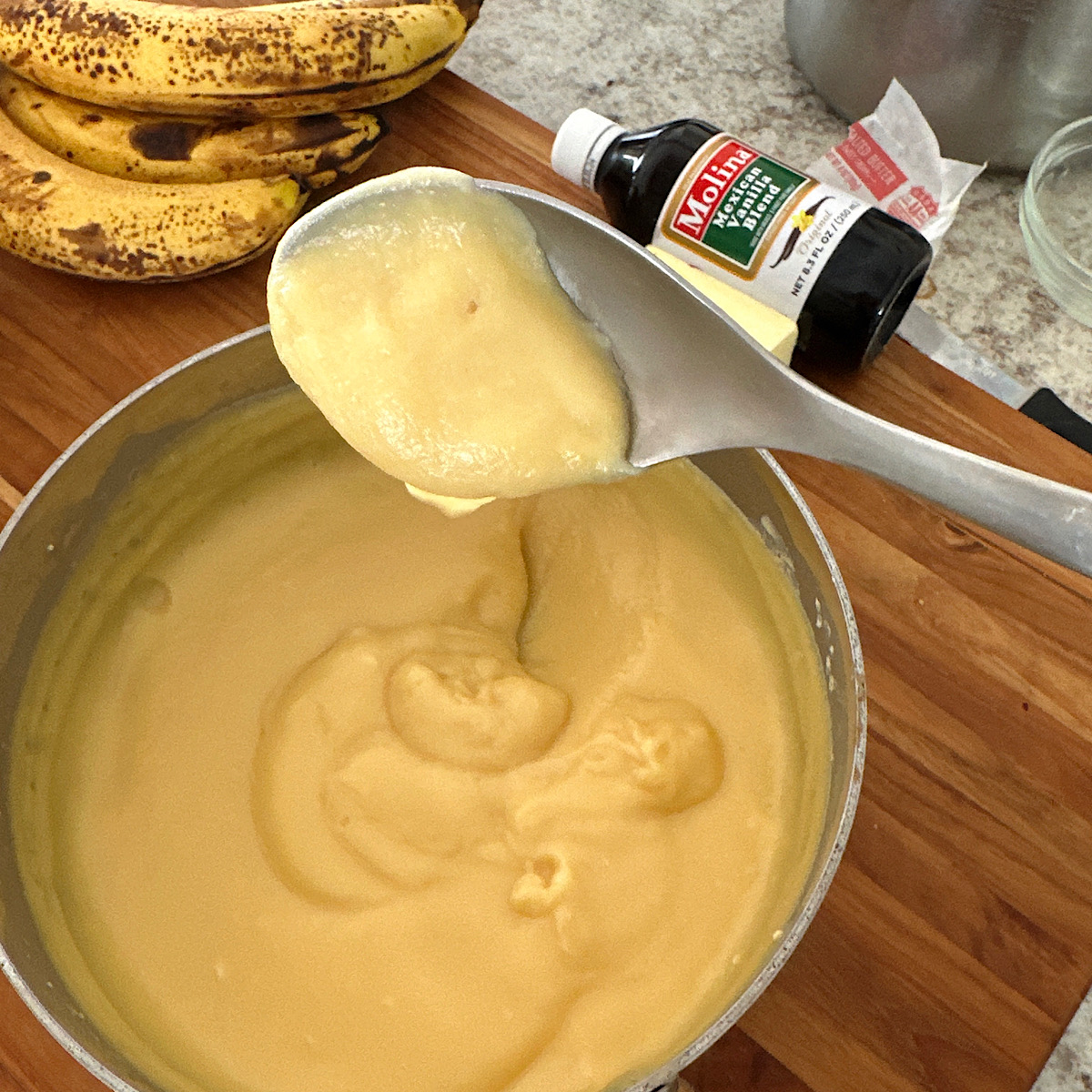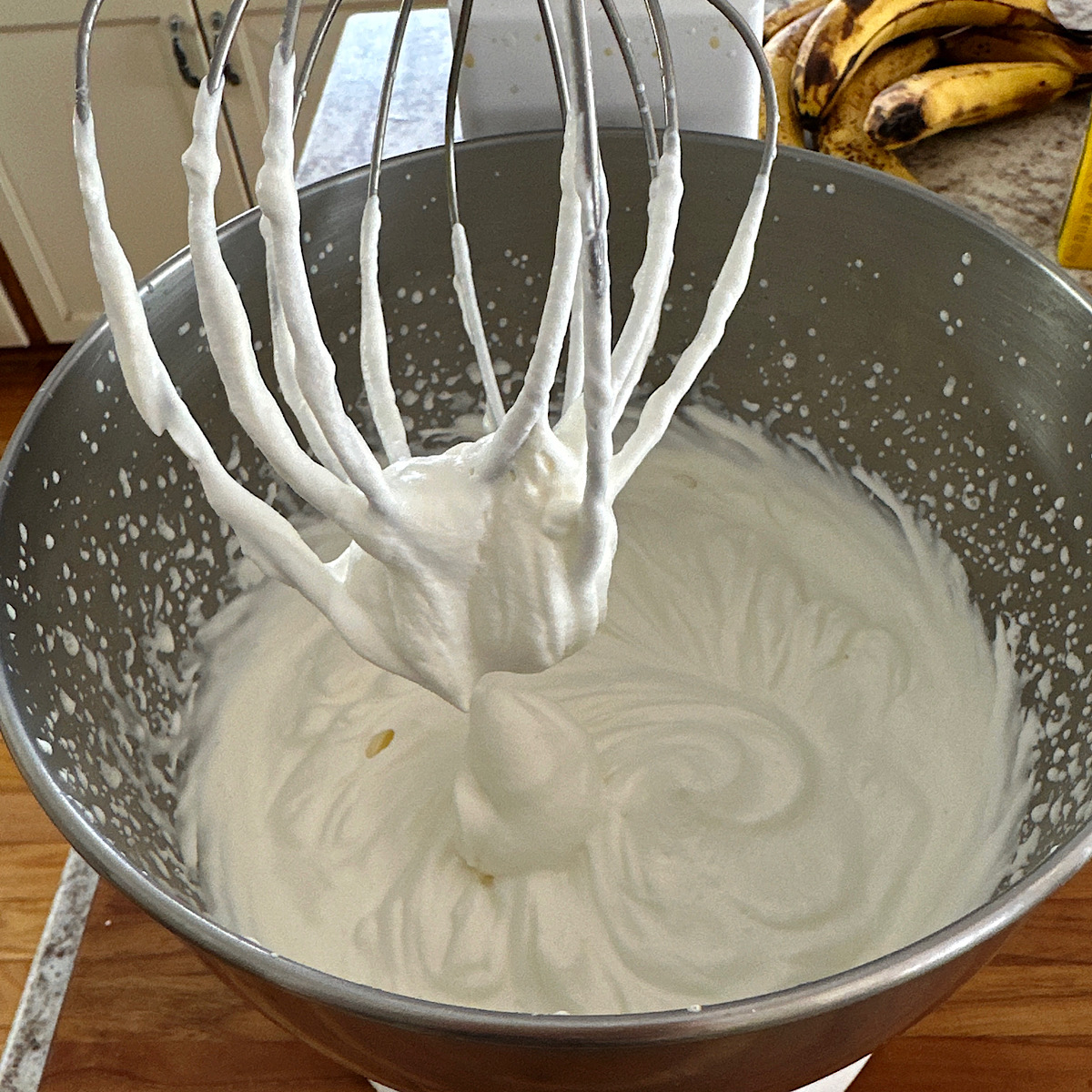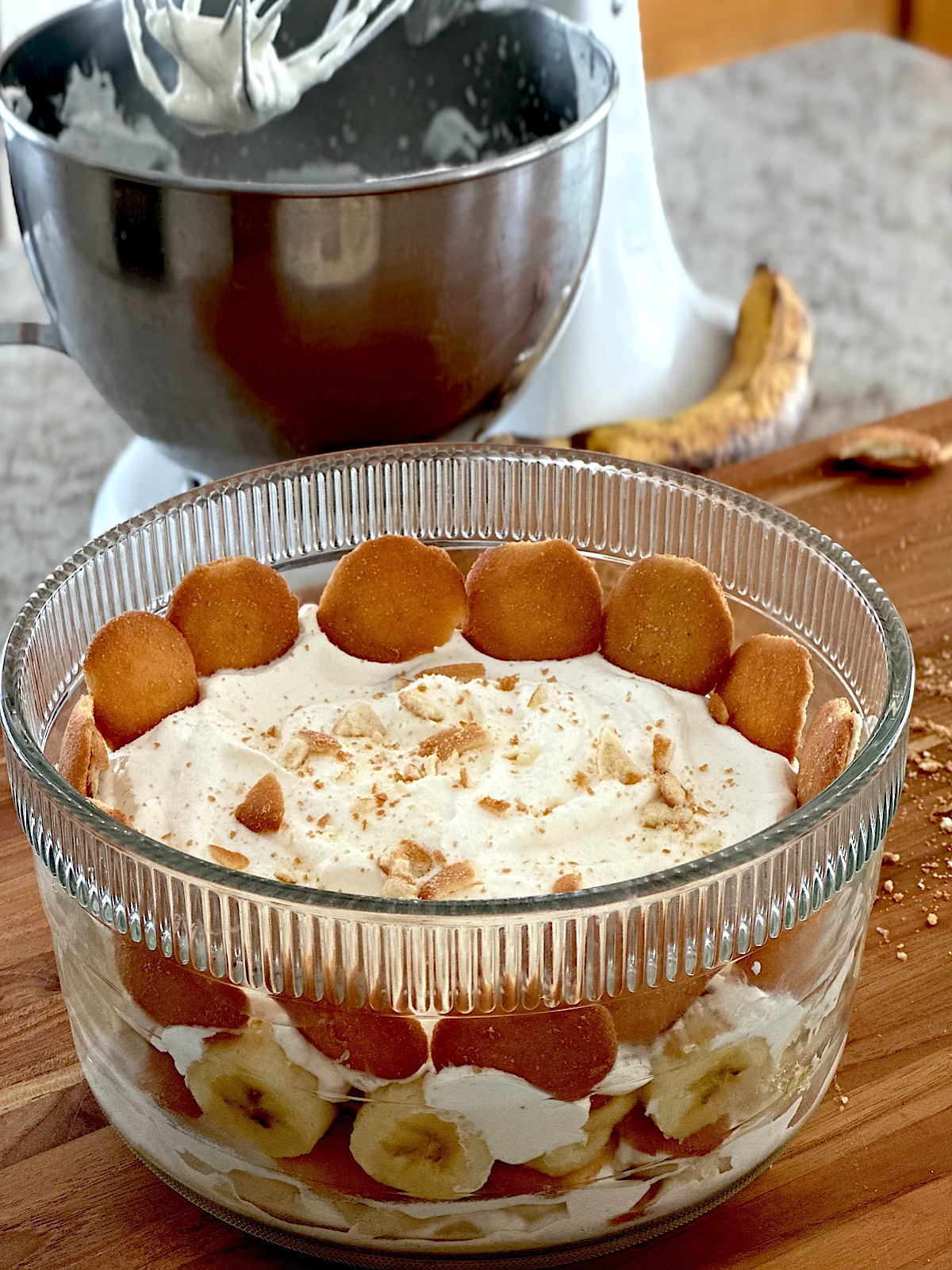 More Southern Recipes from Louisiana
Recipe for Homemade Banana Pudding
Old Fashioned Banana Pudding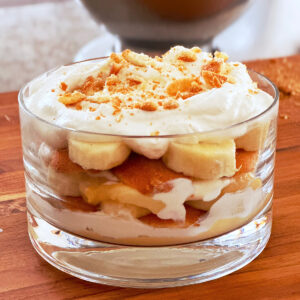 This is a Southern recipe for banana that uses evaporated milk rather than sweetened condensed and whipped cream rather than meringue. It is creamy, sweet and very easy.
Equipment
medium sized saucepan

serving container

I used a large glass bowl but a 9 x 13 baking dish would also work
Ingredients
5

Tablespoons

all purpose flour

this should equal 1/4 cup plus 2 Tablespoons

1

Cup

sugar

⅛

Teaspoon

salt

1

Cup

water

1

Cup

evaporated milk

2

Large

eggs

lightly beaten

¼

Cup

butter

unsalted

2

Teaspoons

vanilla

2

Cups

heavy whipping cream

36-40

vanilla wafers

Save some out for garnish

4

bananas

ripe
Instructions
In a medium saucepan (no heat under it yet), whisk together dry ingredients (flour, sugar and salt). Whisk in water, milk and lightly beaten eggs. Get it as smooth as possible, but there may be some lumps.

Cook over medium heat stirring constantly, until mixture thickens.

5 Tablespoons all purpose flour,

1 Cup sugar,

1/8 Teaspoon salt,

1 Cup water,

1 Cup evaporated milk,

2 Large eggs

Add butter and vanilla and cook gently over low heat until butter melts. Let it cool a bit before layering the pudding.

1/4 Cup butter,

2 Teaspoons vanilla

While the pudding is cooling, make the whipped cream. Simply beat the heavy cream in a stand mixer until soft peaks have formed (adding sugar or a little bourbon to the whipped cream is optional).

2 Cups heavy whipping cream

Place a thin layer of pudding on the bottom of your glass dish (large bowl or baking dish is fine). Add a thin layer of whipped cream, then a layer of Nilla wafers, then a layer of sliced bananas.

Repeat layering, saving out enough whipped cream to use as the top layer.

Garnish with crumbled vanilla wafers. You can serve it immediately for crunchier wafers, or chill (covered) for a few hours for a softer meld of the wafers.

Keeps covered in the refrigerator for up to a week.

36-40 vanilla wafers,

4 bananas
Notes
**NOTE:
Whipped cream doesn't require any baking like a meringue does. They both need to be whipped into soft peaks, but the whipped cream is then used right away without baking. Note this example of what soft peaks with whipped cream looks like.
Nutrition
Calories:
625
kcal
Carbohydrates:
73
g
Protein:
8
g
Fat:
36
g
Saturated Fat:
21
g
Polyunsaturated Fat:
3
g
Monounsaturated Fat:
9
g
Trans Fat:
0.3
g
Cholesterol:
139
mg
Sodium:
285
mg
Potassium:
439
mg
Fiber:
2
g
Sugar:
52
g
Vitamin A:
1234
IU
Vitamin C:
6
mg
Calcium:
142
mg
Iron:
2
mg
Did you make this recipe?
If you tried this recipe, please give it a star rating! To do this, just click on the stars above. Comments are always helpful also and I respond to all of them (except rude ones)