Grilling does not have to be limited to the outdoors. You can use an indoor grill (or a "comal") to get blackened or grilled white fish that are perfect for making healthy fish tacos. Add some avocado cream, pickled onions and a white Baja style sauce and you'll have the best homemade Mexican fish tacos ever!
Jump to:
RECIPE
What are Baja Style Fish Tacos?
Customize with Sides
What Kind of Fish to Use
Are Fish Tacos Healthy?
Seasoning Ideas
Indoor Grilling
How to Use a Comal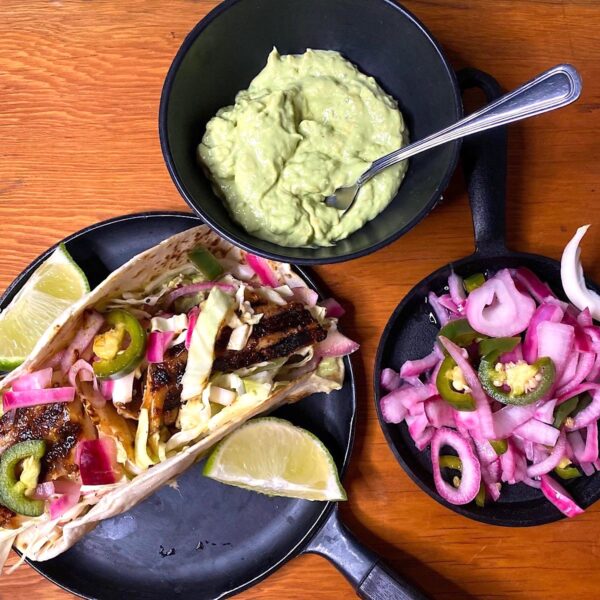 This post may contain affiliate links, and you can read our disclosure information here–
What are Baja Style Tacos?
The "classic" fish taco originated in Baja California, Mexico. The key elements of the Baja-style taco involves deep-fried white fish, shredded cabbage, and a creamy white sauce. There is, of course, a debate on whether modifying this holy trinity leads to a lesser fish taco.
I have modified "slightly" by choosing grilled white fish over deep-fried due to my dietary lifestyle. I have also chosen to make the creamy sauce with avocados and sour cream (which isn't the classic white sauce). While customized to my dietary preferences, I still consider this fish taco mostly Baja-style.
Sometimes however, modifications can dilute the original product. The addition of mango or pineapple salsas, very spicy chile peppers, or elaborate slaws may enhance the fish taco for many, but it is a more significant detour from the core Mexican original Baja fish taco.
One of the best things about tacos or taco bars is the ability to customize the sides to please a wide range of tastebuds. Just don't refer to them as Baja tacos if you veer too far away from the holy fish-trinity of white fish, cabbage slaw and a creamy sauce (typically a white sauce).
Sides, Sauces & Slaws for Fish Tacos
One of the best things about tacos of any kind is that they are easy to customize for individual tastes. Whether cooking for a crowd, a small family or just one or two, the best way to serve tacos is to lay out a range of accompaniments and allow people to assemble their own.
Here are a few of my favorite taco sides to serve when customizing:
Shredded cabbage slaw: creamy or crunchy
Avocado cream (recipe from Hubert Keller below)
Fresh cilantro as garnish
Baja sauce: (Sour cream, mayonnaise, lime juice, cilantro, seafood seasoning, and ancho chile pepper together in a bowl)
Pico de gallo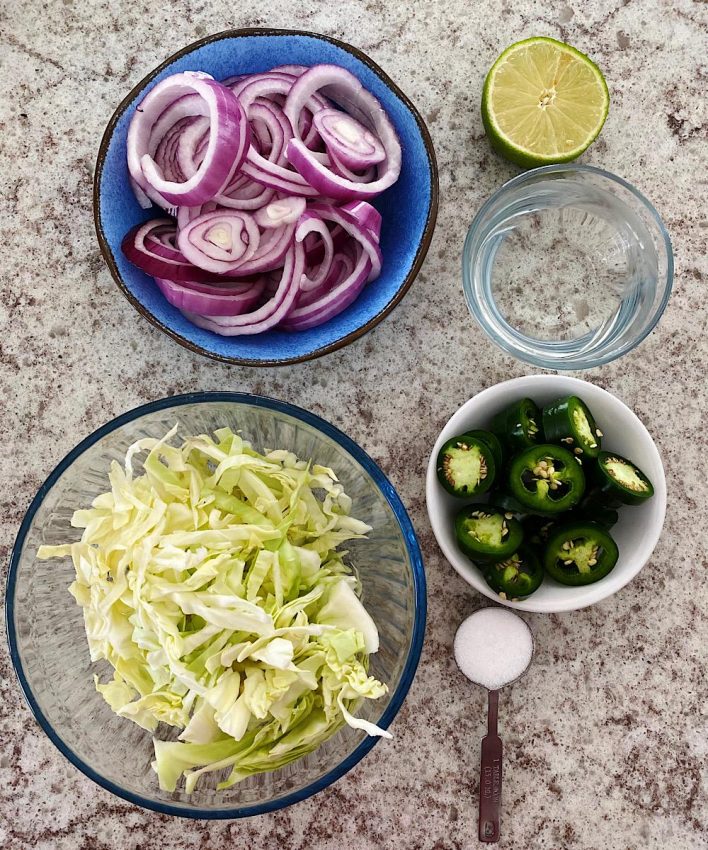 What Fish is Best to use for Fish Tacos?
Most Mexican fish tacos are made with white-fleshed fish like cod, tilapia, snapper, halibut, catfish, mahi mahi, etc. White fleshed fish is probably the most-used fish because it is mild in flavor, inexpensive and readily available.
Hubert Keller has a wonderful recipe for tuna tacos, and I have seen salmon used in fish tacos also.
Practically any kind of fish will work in fish tacos, but it is helpful to decide first if you want to go with grilled fish or fried fish. I find that using 1-inch thick filets works best if you are grilling.
Mild flavored white fish works best if you are adding robust fillings like pickled onions, jalapenos or spicy sauces.
Stronger flavored fish such as tuna or salmon work best with creamier milder fillings so that the flavor of the fish shines through.
Grilled Fish vs Fried Fish for Tacos?
The answer to this question is very subjective and can provoke heated debate. Grilled fish is my favorite way to make fish tacos for two reasons: 1) it is healthier and 2) I don't have to figure out what to do with the used oil.
Those who favor grilled fish in their tacos maintain that it tastes cleaner and fresher, and that it is a lighter meal for the summer months.
Fried fish is the classic way fish are prepared in Baja California, Mexico, which many consider the authentic birthplace of the fish taco.
Those who favor fried fish maintain that the crispy batter provides a better texture and "grabs" the salsa so the tortillas don't get soggy.
They are both delightful actually. The recipe below is made with grilled fish (on an indoor grill), but it has a robust spice rub that ends up making the fish more "blackened" than lightly grilled.
Are Fish Tacos Healthy?
Absolutely they are healthy! Here is why:
Making fish tacos with grilled fish rather than deep fried is a healthier way to go by avoiding the higher fat content.
Pickled onions are fermented and will help with gut health (in addition to being very tasty)
Cabbage slaw can be very healthy if you don't add a lot of sugar and fats. The cabbage slaw in this recipe is undressed except for a bit of the pickling liquid. It is added to the tacos to provide "crunch"
Avocados are the darling of the keto and low carb crowd. They are actually a fruit and are high in the good fats. Avocados mixed with sour cream is the crowning glory of these tacos and is completely compliant with a low carb or keto diet
The tortillas are the only thing that is not low carb and doesn't really have any nutritional benefits. Low carb tortillas are readily available in the grocery stores, or you can make your own low carb tortillas.
Best Seasoning or Rub for White Fish
There are many, many spice blends that pair well with white fish. A few of my favorites include:
Cajun blend: This blend is mildly spicy and savory. It usually includes paprika, thyme, oregano, cayenne pepper, as well as white and black pepper, garlic powder, and salt. Cajun spice blends can add a complex flavor and dark blackened color to fish;
Lemon-Dill blend: This is a milder blend that includes lemon zest, dill weed, celery seed, garlic powder, and onion salt;
Jerk seasoning: Jerk is a Caribbean blend that is a bit sweeter than other fish blends, but rounds out the sweetness with a generous portion of spicy chile pepper. Jerk seasoning usually includes allspice, brown sugar, onion and garlic powder, cumin, smoked paprika and cayenne pepper;
Chile Lime (aka Tajin): This blend is a standard for fruits and vegetables on Mexican Street food and on the table in Mexican restaurants. It is basically powdered chile peppers, dehydrated lime and salt. This is a good homemade blend if you want to make your own Tajin.
Old Bay seasoning: This is an all-around good blend for fish that is readily available in grocery stores.
Tomato-Chipotle blend: This is the blend that I include in the recipe below. It adds a gentle, smoky heat to the fish and results in a somewhat blackened crust. It includes tomato powder, smoked paprika, chipotle powder, and kosher salt.
Grilling with an Indoor Grill
I love grilled food, but hate all the prep work of getting the grill ready. An indoor grill is super easy to use and because it grills from both top and bottom, it is the quickest way I have found to cook most proteins.
I bought a Pro Cuisinart Griddler, inspired by watching Hubert Keller cook amazing restaurant food with it. Here are some of the advantages:
Quick: it cooks from the top and bottom at the same time making short shrift of cooking steaks, chops, fish, etc.
Sear & Grill marks: you can easily get the seared crust so common with grilled food, plus the visual appeal of the grill marks
Easy cleanup: The grill plates pop out and can be run through the dish washer or soaked in a sink full of hot water
Smokeless: The newer indoor grills are "smokeless". Although that wasn't advertised as a component when I got mine, I have never noticed a problem with smoke coming from the Griddler
Adjusting for Thickness: The Griddler is spring-loaded and the top grill can be adjusted to fit any thickness of the ingredient (thick steaks to thin fish filets)
Large cooking surface: The Griddler can be opened to lay both top and bottom grill plates out flat. This greatly increases the grill area, but it allows only one side of the ingredient to be grilled
Drip tray: There is a drip tray attached to the Griddler which catches the fat and allows for easy removal and disposal
Here is a brief post that shows a photo and detailed review of the Griddler
How to Use a "Comal" in Mexican Cooking
A comal is basically a flat griddle with thin edges, and it is used frequently in Mexican cooking. It is often made of cast iron, and shares the properties of heat retention like a cast iron skillet.
The comal pan is simple and can be used on an induction burner, an electric stovetop, or a flame burner. It's also lightweight (unlike a cast iron skillet of similar size), which makes it easy to take in and out of storage.
It is helpful to give your comal an intial seasoning. Simply rub the exterior in oil and set it in a preheated oven at 350 F for an hour. The comal is not porous like the iron skillet, so food, heat, and oils will keep it in good shape after this initial seasoning.
It doesn't handle moisture well however, and can develop rust if not cleaned in a similar fashion to a cast iron pan (i.e., water and not soap and dried well, maybe rubbed with a bit of oil)
Unlike non-stick cookware, these circular or oblong pans impart a special flavor to meats and vegetables. A comal is often used to prepare and warm up tortillas on the stovetop or bake items in the oven, and can handle very high heat.
How to Use the Comal for Tortillas
Tortillas in the mass market are only half done, and the tortilla needs to be browned for good Mexican dishes. A warm, browned tortilla makes a huge difference in the flavor and texture of your Mexican meals, and there is no better way to make perfect tortillas than by using a good comal
The secret to using this pan is to let it heat up before you put the tortilla on. Turn the burner on medium high and get the comal nice and hot (not smoking however). On my gas stove this takes 2-3 minutes.
Once you have a medium-hot comal, put a tortilla on, and let it brown till you see air begin to bubble between the tortilla layers. I use a sharp knive to pop the bubbles and a spatula go press the tortilla flat in the pan.
It doesn't take long for the tortilla to brown (yes you can peek). Use some tongs (or your fingers) to flip it and wait till the opposite side is also browned, about 30 seconds or a minute per side.
Now put the tortilla in your covered tortilla warmer or between the folds of a freshly washed kitchen towel to keep warm while serving your Mexican dinner!
Street vendors have used the comal for generations. While heating up tortillas is a common use, Central American cooks have used this special pan to toast chiles and to sear meat for a variety of dishes.
Use a basket or browned tortillas with this delicious Tacos al Pastor Mexican dinner made in an instantpot
Recipe for Fish Tacos with Avocado Cream
Fish Tacos with Avocado Cream
Fish tacos can be made with a wide range of fish, a wide range of accompaniments, and the fish is either grilled or fried. This recipe uses grilled cod with a spice rub, accompanied with avocado cream, pickled onions and shredded cabbage.
Equipment
Indoor grill (or panini maker)

Bowls and measuring spoons

Box grater (or other grater)

8-11 inch skillet
Ingredients
1

Red onion

Sliced

2

Jalapenos

Sliced thin

3

Cups

Cabbage

shredded

1 ½ – 2

Cups

White wine vinegar

1-2

Tablespoons

lime juice

Or juice from 1 lime

1-2

Tablespoons

Sugar

4

Teaspoons

Kosher salt

divided

16

Ounces

fish filets

or 4 filets of white fish about 1-inch thick

3

Tablespoons

Spice rub

Recipe for chile-tomato powder rub in notes

1

Tablespoon

Olive oil

1

Avocado

3

Tablespoons

Sour cream

1

Lime

Juiced

6

Small

corn tortillas
Instructions
Pickled Onions and Cabbage
Slice a red onion (can cut slices in half if you prefer smaller bites). Slice jalapenos into thin slices and combine onions and jalapenos in a bowl. Cut cabbage in half, remove core, and shred the halves using the large holes of a box grater (or other grater). Place shredded cabbage in a separate bowl.

1 Red onion,

2 Jalapenos,

3 Cups Cabbage

Add vinegar, lime juice, sugar and 3 teaspoons salt to a small pot and cook over medium heat until sugar and salt are dissolved. (1-2 cups water can be added here if you have a lot of onions). Pour vinegar liquid over onion jalapeno mix and let sit for 30 minutes to a few days.

After 30 minutes or so, take 1/4 to 1/2 cup of the pickling juice in the onion mix and pour over the cabbage. Set aside both bowls until ready to assemble the tacos.

1 1/2 – 2 Cups White wine vinegar,

1-2 Tablespoons lime juice,

1-2 Tablespoons Sugar,

4 Teaspoons Kosher salt
Grilled Fish
Turn indoor grill on to high heat and add a little olive oil to the grill. Coat fish filets with 1 tablespoon salt and 2-3 Tablespoons of your favorite spice rub (recipe for my spice rub is in the notes section).

When grill is hot add the coated fish filets to the grill and cook for 3-5 minutes (depending on the heat of your grill and the thickness of your filets). My grill is a Cuisinaart indoor grill and my filets were 1-inch cod filets. They were done on both sides in about 4 minutes. Test your filets by pressing down on the top with a fork. They should be soft but not spongy. Alternatively cut into one of the filets to see if it is no longer translucent.

16 Ounces fish filets,

3 Tablespoons Spice rub,

1 Tablespoon Olive oil
Avocado cream
While grill is heating up and before you place fish on the grill, make the avocado cream. Just add the flesh of 1 avocado, 3 Tablespoons sour cream, the juice from 1 lime and some salt and pepper into a food processor. Blend together until creamy

1 Avocado,

3 Tablespoons Sour cream,

1 Lime
Tortillas
In a dry skillet, heat store-bought tortillas one at a time. Place warm tortillas on a plate and serve with the accompaniments. It's easiest to let people put together their own tacos
Serving
Lay everything out in individual bowls or plates (tortillas, onion mix, cabbage, avocado cream and fish). People can then put together their tacos and customize them.

If you want to put together the tacos yourself for your guests or family, spread the avocado cream on a warm tortilla, add a handful of pickled onions, layer with fish that has been broken up a bit, and add cabbage on top. Enjoy!
Notes
For the tomato-chile pepper spice rub:
In a small bowl whisk together: 1 tablespoon tomato powder, 1 tablespoon smoked paprika, 1 tablespoon chipotle powder and 1 tablespoon kosher salt
Nutrition
Calories:
223
kcal
Carbohydrates:
22
g
Protein:
17
g
Fat:
8
g
Saturated Fat:
2
g
Polyunsaturated Fat:
1
g
Monounsaturated Fat:
4
g
Cholesterol:
36
mg
Sodium:
1620
mg
Potassium:
680
mg
Fiber:
6
g
Sugar:
3
g
Vitamin A:
261
IU
Vitamin C:
28
mg
Calcium:
91
mg
Iron:
2
mg
Did you make this recipe?
If you tried this recipe, please give it a 5-star rating! To do this, just click on the stars above.
Online Diet/Health Coaching:
Although I am not currently taking clients for diet & health coaching, I have been a coach for many years with the online service called coach.me. It is a great platform for all kinds of coaching – anything from specific diets, writing a blog, getting up early, or getting rid of that pesky procrastination.
There are some wonderful coaches and the testimonials will tell you what you need to know. Contact me at [email protected] to get a referral to some of the tested, experienced online coaches on Coach.me
If you'd like to start with a plan for a low carb or keto lifestyle, check out this detailed guide in ebook form. It may be all you need to lose weight on this lifestyle. Or it may be used as a supplement to one-to-one coaching.