Osso buco is a robust Northern Italian comfort food, traditionally made with veal shanks, but easily modified with other meats such as beef, lamb, veal and even pork. Although it sits in the oven braising for three hours, the hands-on part of cooking is easy and minimal. Great for cold weather cooking, entertaining guests or family meals.
Jump to:
The Recipe
What is Osso Buco?
Meat Substitutions
Illustrated Steps
What to Serve with it?
Low Carb?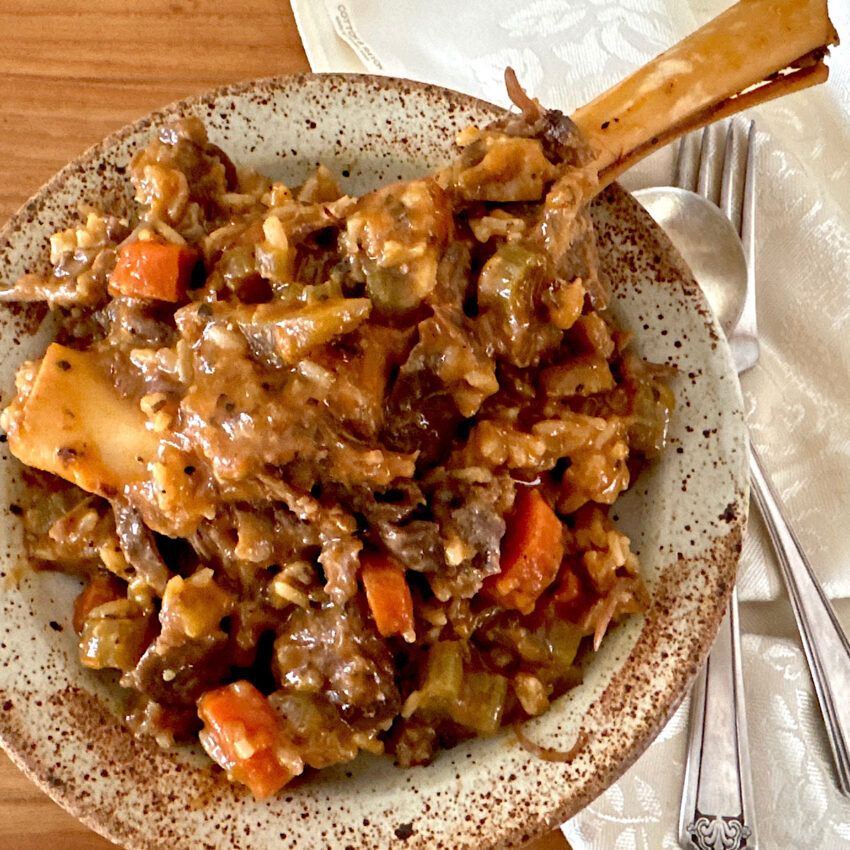 This post may contain affiliate links (at no cost to you). Here's our disclosure information
What is Osso Buco?
The term Osso Bucco means "hollowed bone" and it is referring to the shin bone, or shank, which is filled with marrow that gives the stew it's luxurious flavor and texture.
The shanks are cooked in some combination of wine and stock, along with vegetables (usually carrots, onions, and celery), and then braised in the oven for around three hours, or until fork-tender.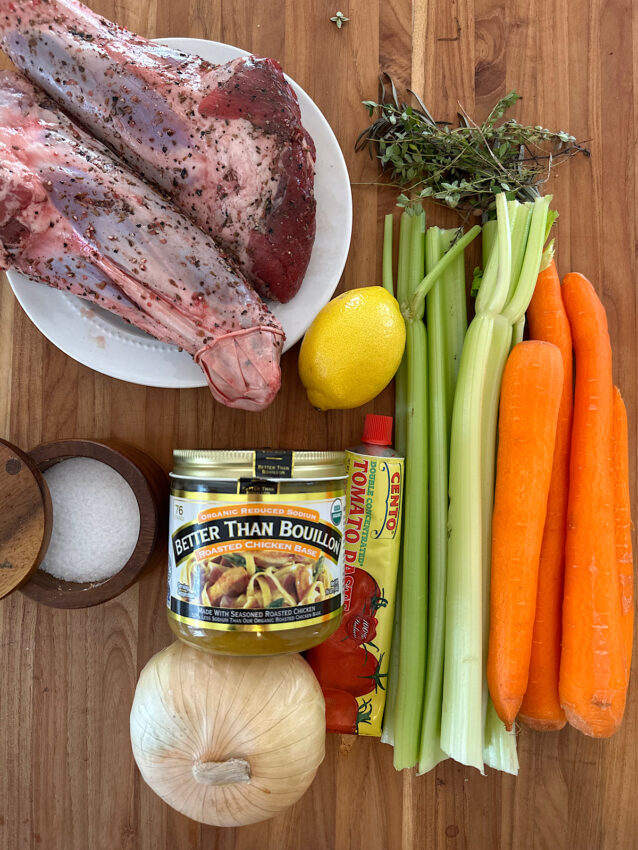 What Kind of Meat can be Substituted in Osso Buco?
The "authentic" version of Osso Buco is made with veal shanks. I'm not a big fan of the way veal is raised however, so I opt for different meats. The other downside of veal is that it is very expensive and can be difficult to find.
The key is to use a shin bone from your meat of choice that has some fat and a lot of "marrow" within and around the hole in the bone.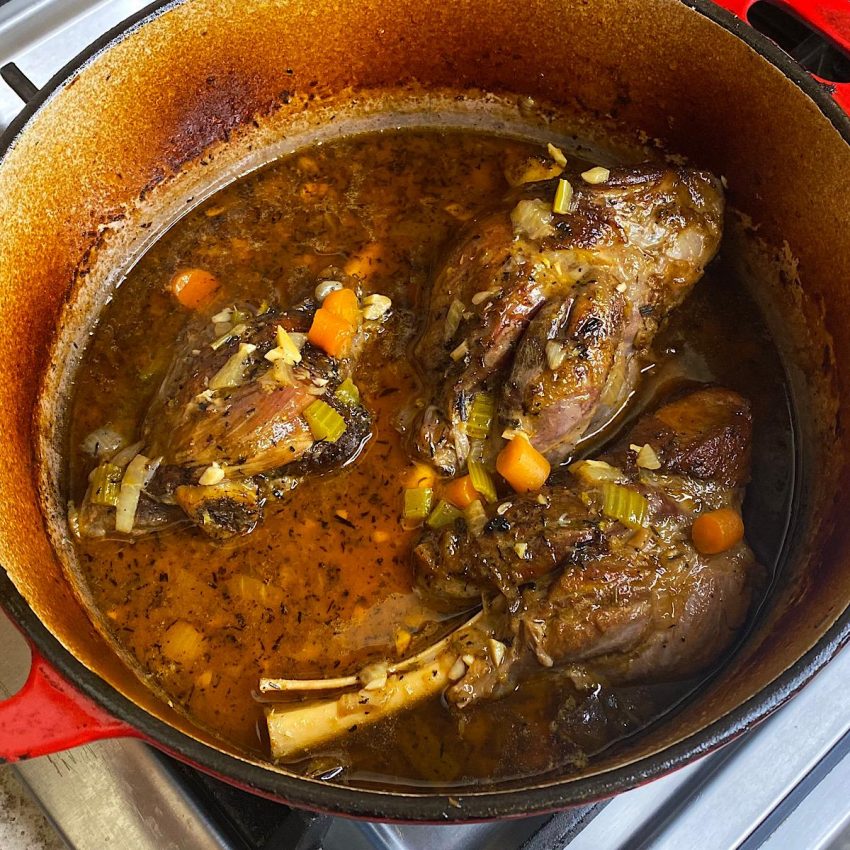 Beef: I first made this Italian stew with beef shanks that were cut to about 4 inches. The meat cut in Beef Osso Bucco is a cross-cut of beef from the shank that's around an inch and a half thick. It's a pretty thick meat cut but it becomes full of flavor and very tender when braised.
Lamb: The recipe below uses lamb shanks, as that is what was available from our local grocer. Lamb is more fatty than beef, and some people think it has a gamey taste.
Most of the gamey taste is in the fat, so if you want to decrease this type of flavor, refrigerate the stew after making it. The fat will skim off the top easily the next day. Of course you need to plan for this!
Oxtail: I made Osso Buco with oxtail many years ago in college, and the rich flavor is still a food memory. Pieces of oxtail replace the veal shanks of the Northern Italian veal version, but the rest of the ingredients and braising time are similar.
According to Eric Akis from The Times Colonist the cut of meat known as oxtail once came from an ox but today the term refers to beef or veal tail (I guess there are not that many oxen around, at least in the US!)
He states: "To ready that tail for sale, it is skinned and cut, widthwise, into oval-shaped, shorter lengths. With a bone running down the centre of it, oxtail is not that meaty, but the meat is does have is rich and flavourful. It's also very tough and requires long and slow simmering, stewing or braising to make it succulently tender."
Oxtails might be the easiest bones to find in the grocery store. Butchers will usually carry them also.
Pork: Pork shanks can also be substituted in this hearty stew. I have not used pork shanks before, nor have I ever seen them in the grocery store. Here is a recipe from Food and Wine that uses pork shanks if you want to check it out.
Illustrated Step by Step: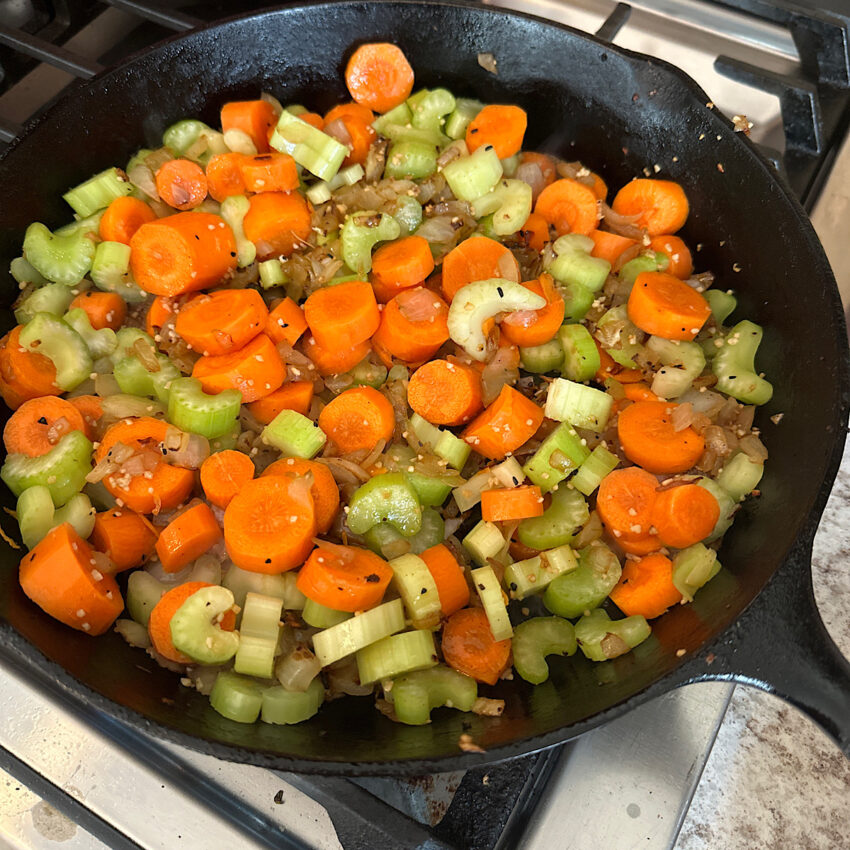 What to Serve with Osso Buco
This hearty Italian stew is often accompanied by a garnish called "gremolata". Gremolata is a mixture of chopped lemon peel, parsley and garlic. A recipe for a quick gremolata is in the notes section of the recipe card below.
The other traditional accompaniment is a risotto made with saffron. Saffron is quite expensive for the real stuff, but if you want to stay as authentic as possible, here is a recipe for Risotta alla Milanese from Fine Cooking
I like to keep it simple, so I may serve it with a green vegetable or just all on its own. Other serving suggestions include:
steamed broccolini
polenta
garlic mashed potatoes
risotto (see recipe above)
crusty robust bread
Is Osso Buco Low Carb?
Yes, it is both low carb and keto no matter which meat you use. The only thing to avoid if you want to stay low carb is a recipe that flours the shanks prior to browning them.
I don't use flour in my recipe below and haven't found it to be necessary to the flavor, texture or browning from the sear.
Can you Make it in Slow Cooker?
If you are not a fan of long slow cooked braising, you can certainly make Osso Buco in a slow cooker (probably an instant pot also, but I have not tried it).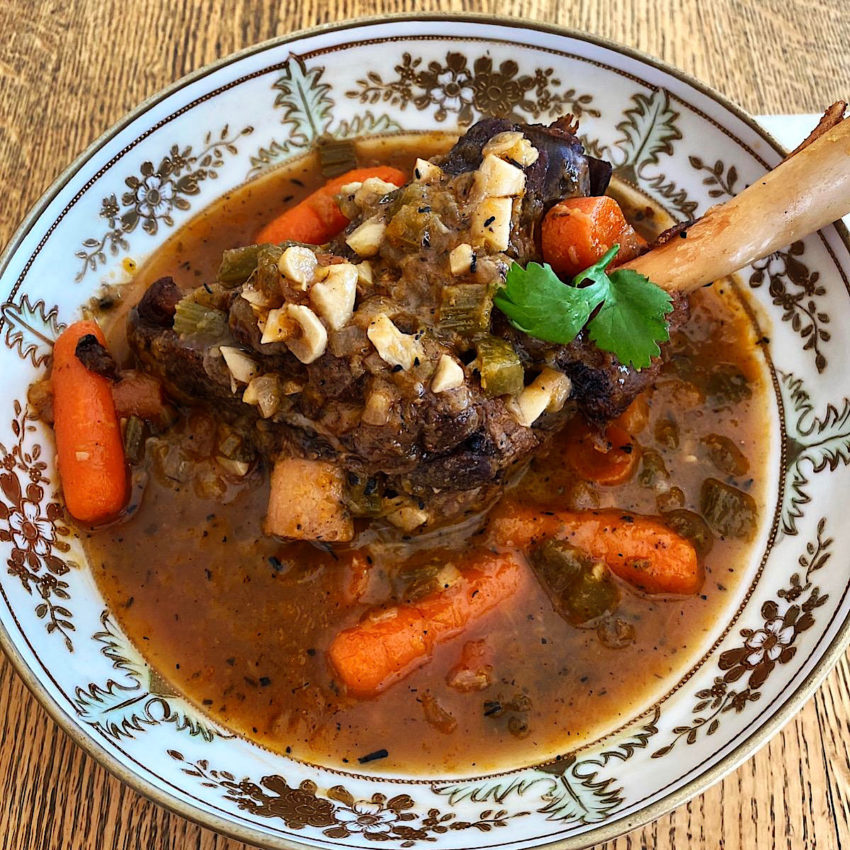 Other Cold-Weather Stews to Enjoy:
Recipe for Osso Buco with Lamb Shanks
Osso Buco with Lamb Shanks
A robust Northern Italian stew made with lamb shanks, vegetables and white wine. Easy prep with a long slow braise in the oven
Ingredients
2

large

lamb shanks

approx. 1½ pounds each

1-2

Teaspoons

Kosher salt

1-2

Teaspoons

Thyme

Crushed fine

2-3

Tablespoons

olive oil

refined or "light" olive oil has higher smoke point

1 ½

cup

onions

Or 1 large onion, coarsely chopped

10-12

Baby carrots

Or 4 long carrots, coarsely chopped

4

stalks of celery 8" long

coarsely chopped

8

garlic cloves

minced

1 ½

tablespoon

tomato paste

2

cups

White wine

3

tablespoons

fresh rosemary

finely minced or crushed (can use dried, but decrease to 2 tablespoons

2

Bay leaves

2

cups

Chicken stock

1

tablespoon

lemon zest

Or zest from 1 lemon

1

Tablespoon

Parsley
Gremolata (optional)
3

Tablespoons

Flat leaved parsley

2

Cloves

Garlic

Minced

1

Tablespoon

Lemon zest

2

Anchovy fillets

Minced
Instructions
Preheat oven to 350 degrees F.

Pat the lamb shanks dry with paper towels to remove any excess moisture. The shanks will brown better when they are dry. Season each shank with salt and crushed thyme.

2 large lamb shanks,

1-2 Teaspoons Kosher salt,

1-2 Teaspoons Thyme

In a large Dutch oven pot, heat oil until smoking. Add shanks to the hot pan and use tongs to turn and brown on all sides, about 3 minutes per side. Remove browned shanks and reserve.

In the same pot, add the onion, carrot and celery. Saute until soft and translucent, about 8 minutes. Add the garlic and cook 1 minute (do not burn). Add the tomato paste and mix well. Return browned shanks to the pan and add the white wine and bring to a low boil for a couple of minutes. Add the rosemary and bay leaves and 2 cups of the chicken stock and bring to a simmer or low boil.

2-3 Tablespoons olive oil,

1 1/2 cup onions,

10-12 Baby carrots,

4 stalks of celery 8" long,

8 garlic cloves,

1 1/2 tablespoon tomato paste,

2 cups White wine,

3 tablespoons fresh rosemary,

2 Bay leaves

Add enough water to just cover the lamb shanks in the pot (can use chicken stock or wine for the liquid, but water is fine). Cover the pot and place in the oven for 3 hours. Check after a couple of hours to make sure liquid hasn't reduced too low. If the shanks are looking gray instead of deep brown, uncover the pot for the last hour.

Carefully remove the cooked shanks from the pot and place in a serving platter. Pour all the juices, vegetables and sauce from the pot over the shanks and garnish with chopped parsley and lemon zest.

1 tablespoon lemon zest,

1 Tablespoon Parsley
For the Gremolata
Shortly before serving, combine the parsley, garlic, lemon zest, and anchovies. Add two Tbs. of the gremolata to the stew. Serve the osso buco topped with the stew sauce and a small sprinkling of the remaining gremolata.

3 Tablespoons Flat leaved parsley,

2 Cloves Garlic,

1 Tablespoon Lemon zest,

2 Anchovy fillets
Notes
For the Gremolata:
Makes about 1/2 cup
This is fast to do with a mini food processor or by hand.
3 large cloves garlic
1 cup packed parsley leaves
2 – 3 tablespoons finely grated lemon zest
1/2 teaspoon or so salt
Pulse the garlic, parsley, and lemon zest to finely chop it. Be careful not to turn it into a paste. It should be light and airy. Add salt to taste.
Shortly before serving, add two Tablespoons. of the gremolata to the stew. Serve the osso buco topped with the stew sauce and a small sprinkling of the remaining gremolata.
Nutrition
Calories:
627
kcal
Carbohydrates:
29
g
Protein:
47
g
Fat:
16
g
Saturated Fat:
4
g
Cholesterol:
135
mg
Sodium:
1780
mg
Potassium:
1181
mg
Fiber:
3
g
Sugar:
12
g
Vitamin A:
3006
IU
Vitamin C:
17
mg
Calcium:
96
mg
Iron:
6
mg
Did you make this recipe?
If you tried this recipe, please give it a star rating! To do this, just click on the stars above. Comments are always helpful also and I respond to all of them (except rude ones)
Online Diet/Health Coaching:
Although I am not currently taking clients for diet & health coaching, I have been a coach for many years with the online service called coach.me. It is a great platform for all kinds of coaching – anything from specific diets, writing a blog, getting up early, or getting rid of that pesky procrastination.
There are some wonderful coaches and the testimonials will tell you what you need to know. Contact me at [email protected] to get a referral to some of the tested, experienced online coaches on Coach.me
If you'd like to start with a plan for a low carb or keto lifestyle, check out this detailed guide in ebook form. It may be all you need to lose weight on this lifestyle. Or it may be used as a supplement to one-to-one coaching.