Fall-apart tender chunks of beef slow-cooked in a Mexican chile sauce commonly known as Chile Colorado. Colorado means "red" in Spanish, and this makes a rich, red, savory, and complex stew. Perfect for your slow carb eating plan, this is not a labor-intensive meal for the cook. This classic Mexican dish just needs a long simmer on the stove-top to give it an incredible depth of flavor.
Jump to: Recipe | What is Chile Colorado? | dried chiles vs spice blend | best chile pepper varieties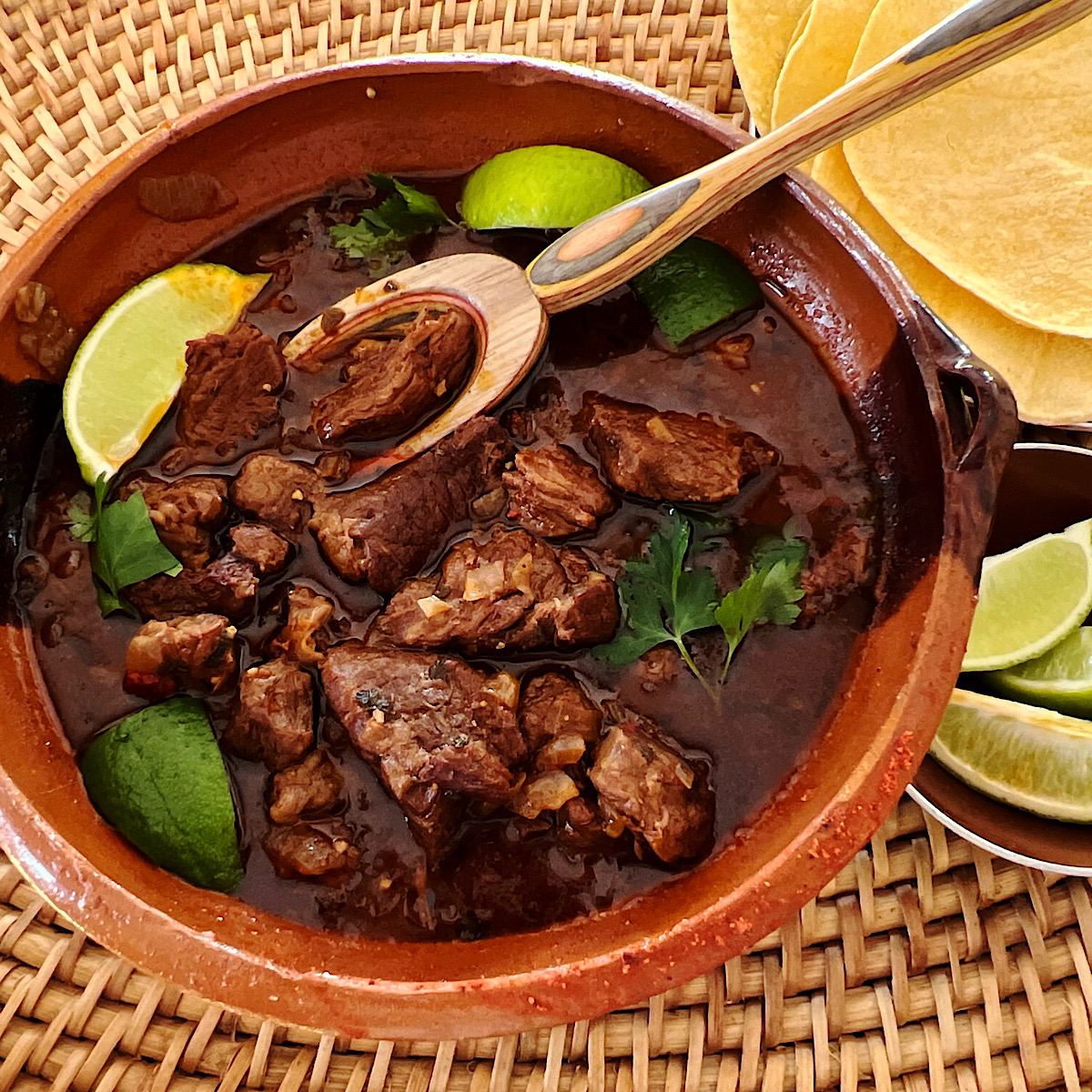 This post may contain affiliate links, and you can read our disclosure information here–
What is Chile Colorado?
So, what exactly are the attributes of "authentic" Chile Colorado and how did it get its name? Is it the official chile of the state of Colorado? Or is it nothing but a different name for regular chile, the more familiar type made with tomatoes and beans?
Although they share a name, Chile Colorado has very little to do with the state of Colorado. Colorado means red in Spanish and since Colorado has so many red sandstone formations, early Spanish explorers thought it a good name for the territory they had just claimed for the Spanish crown.
Similarly, Chile Colorado gets its name from the deep, reddish-brown color imparted by a flavorful blend of dried chiles that are its most important ingredients.
And even though our minds immediately jump to tomatoes and/or beans when we think of chile, this classic version of chile derives its flavor profile from Mexican and Spanish cooking.
It includes neither tomatoes or beans. Instead, it offers tender beef chunks simmered in a sauce made from onions, garlic, cumin, oregano, and a blend of reconstituted dried chile peppers.
The most common blend of chile peppers includes anchos (for the smoky-chocolate flavor), guajillos, and sometimes mild pasilla peppers.
Dried Chiles vs Powdered Spice Blend?
There are a variety of recipes for this dish that involve making it in a crock pot, or using canned enchilada sauce, or making it with the more labor-intensive dried and reconstituted chiles.
The recipes that call for making this meal in the crockpot often call for an additional step to boil down and thicken the sauce separately. A crockpot doesn't allow for the signature sauce to evaporate and thicken properly. And using a canned enchilada sauce for Chile Colorado, while quick, provides a flavor profile that is just wrong for this dish.
While you certainly can make Chile Colorado with dried chiles, you should be prepared for the extra time involved in cleaning (de-seeding), reconstituting, boiling, and cutting up the chiles to make the sauce, not to mention finding a source for the various chiles required.
Most grocery stores will have a small selection of common peppers, but they are often expensive. A Mexican grocery store is probably the easiest and quickest way to obtain the several varieties of chiles necessary. If you don't have such a grocery nearby, you probably can find what you need online.
The recipe below also uses annatto powder, which is a bright red powder made from ground annatto pods. Annatto, or achiote in Spanish, is a seed that is native to the Yucatan region of Mexico and parts of Brazil. It helps to give this dish its unique red color and adds a little fruity twist to the dish.
Annatto powder can be hard to find in stores as well, and again the best bet is likely a Mexican specialty grocery store. It is available on amazon here.
If making this stew using authentic methods is what you prefer, here's a really nice pictorial step-by-step showing how to use re-constituted dried chiles rather than a spice blend: click here.
Making Chile Colorado Easier
When it comes to the amount of time spent on this dish as opposed to its taste, I've found most cooks want a compromise. They seek the hearty flavors of this stew without having to spend too long sourcing and preparing the ingredients.
My slow carb recipe below accommodates your need for ease of preparation but remains true to the spices and flavors that make this dish such a winner.
This slow carb Chile Colorado simmers the stew meat and sauce on low and gradually to bring out the robust flavors, but it uses a spice blend of smoked anchos and pasillas rather than dried chile peppers.
Toasted cumin, mexican oregano and carmelized onions add to the robust flavors of this simple stew.
Chile Colorado is usually served with fresh tortillas, but tortillas are not low-carb compliant so they are left out of this recipe. There are some low carb tortillas on the market now- here's a short list I compiled as well as a homemade recipe.
If you are not concerned about carbs and want a more authentic Chile Colorado experience, serve it with warm, fresh tortillas. (Oh, and don't forget a beer – Mexican, of course!)
TIP: If you want tortillas but still prefer to keep your carbs on the lower side, check out these brands:
Mama Lupe Low Carb Tortillas; Mr. Tortilla Low-Carb Multigrain Tortillas; Tia Lupita Low Carb Cactus Corn Tortillas; La Banderita® Carb Counter / Whole Wheat Flour Tortillas; Mission, Flour Tortilla – Low Carb -Soft Taco; Siete Almond Flour Grain Free Tortillas.

Best Chile Peppers for Mexican cooking?
I'm always confused about the correct use and spelling of this word. However, as a general rule of thumb chile with an "e" at the end is the correct Spanish spelling. It refers to a capsicum pepper, specifically a spicy pepper grown throughout New Mexico.
Common chile peppers used in Mexican cooking would include ancho, jalapeno, pasilla, serrano, chile de arbol and guajillo peppers. Carne Con Chile Colorado literally means "meat with red-colored chile sauce."
Chili spelled with an "i" at the end is the Americanized version, and usually refers to the dish or the stew rather than the fresh or dried peppers. You'll often see a powdered spice mix in the store labeled "Chili Powder." It seems most Americans make their stew with this powdered form of peppers.
Dishes that feature New Mexico chiles, normally use the "chile" spelling. You'll often see this spelling as in green chile sauce, green chile stew, red chile sauce, and chile colorado.

But whether you spell it "chile" or "chili," I guarantee you will enjoy this delicious dish!
**Pro Tip: This is a perfect recipe to freeze. You can easily make a double batch and quickly have a warm, robust meal ready on a chilly day. This should freeze well for up to 6 months.
Similar Recipes You'll Love
Here are some other recipes we love, and we think you will too!
Recipe for Chile Colorado
Low Carb Chile Colorado
Fall-apart tender chunks of beef slow-cooked in a chile sauce made with a blend of Mexican chiles which are ground into a spice for easy cooking.
Ingredients
4

tbsp

olive oil

refined, divided

2

lbs

beef stew meat

I have also used chuck roast cut into bite-sized chunks

4

cups

water

1

large

onion

minced

4

cloves

garlic

peeled and minced

2

tbsp

smoked chile blend

1

tsp

dried oregano

1

tsp

ground cumin

toasted

1

tsp

achiote

you can use ground achiote seeds or a paste (the paste will have other seasonings in it however)

2

tbsp

red wine vinegar

1

tsp

salt

taste as you go and add more if needed
Instructions
Heat oil over med-high heat in dutch oven or large iron skillet. Sear stew meat in oil until browned and then add water. Cover and simmer over low heat for about an hour.

4 tbsp olive oil,

2 lbs beef stew meat,

4 cups water

While stew meat is simmering, saute the onion in the oil in a large skillet over medium heat until it is caramelized. This will take 5-10 minutes and the onion will turn translucent and golden, but not dark brown. When onion is caramelized, add the garlic to the skillet and saute for 30 seconds to 1 minute, being careful not to burn garlic.

1 large onion,

4 cloves garlic

Next, add smoked chile blend, oregano and ground cumin, achiote, vinegar and salt to caramelized onion-garlic mixture and cook for about 1 minute, stirring while cooking. Set aside.

2 tbsp smoked chile blend,

1 tsp dried oregano,

1 tsp ground cumin,

1 tsp achiote,

2 tbsp red wine vinegar,

1 tsp salt

When stew meat has finished simmering for an hour, add the onion-spice mixture to the stew pot. Cover and simmer 1 to 1 1/2 hours. Taste occasionally and add more salt if needed.
Nutrition
Calories:
465
kcal
Carbohydrates:
5
g
Protein:
51
g
Fat:
25
g
Saturated Fat:
6
g
Polyunsaturated Fat:
2
g
Monounsaturated Fat:
15
g
Cholesterol:
141
mg
Sodium:
724
mg
Potassium:
859
mg
Fiber:
1
g
Sugar:
2
g
Vitamin A:
16
IU
Vitamin C:
4
mg
Calcium:
78
mg
Iron:
5
mg
Did you make this recipe?
If you tried this recipe, please give it a star rating! To do this, just click on the stars above. Comments are always helpful also and I respond to all of them (except rude ones)
Online Diet/Health Coaching:
Although I am not currently taking clients for diet & health coaching, I have been a coach for many years with the online service called coach.me. It is a great platform for all kinds of coaching – anything from specific diets, writing a blog, getting up early, or getting rid of that pesky procrastination.
There are some wonderful coaches and the testimonials will tell you what you need to know. Contact me at [email protected] to get a referral to some of the tested, experienced online coaches on Coach.me
If you'd like to start with a plan for a low carb or keto lifestyle, check out this detailed guide in ebook form. It may be all you need to lose weight on this lifestyle. Or it may be used as a supplement to one-to-one coaching.