Mexican cuisine can be readily adapted to low carb lifestyles without losing flavor or the essence of the dish. These carnitas are so good that you will not miss tortillas in the slightest. Easy prep with a low and slow (but hands-off) cooking time!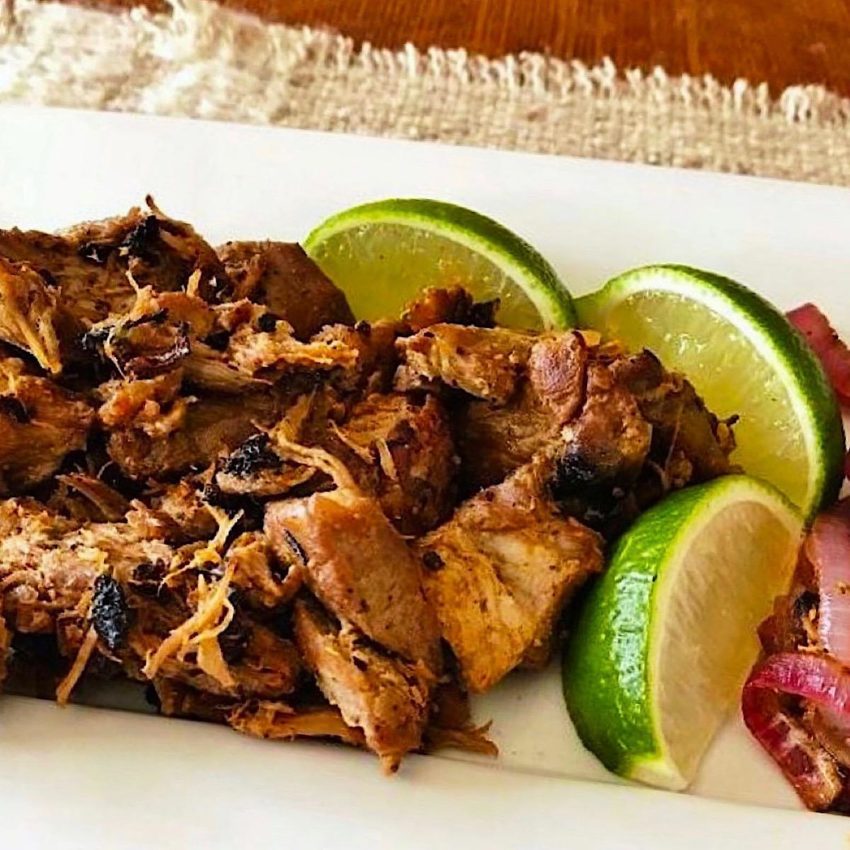 Can Mexican Food Really be Low Carb??
Mexican cuisine often has a bad rap in the low carb world, but many of the food choices associated with Mexican food are actually quite healthy and can fit into a slow carb or low carb diet beautifully.
One of my favorite food memories were some perfectly cooked carnitas topped with fresh avocados that I had at a little hole-in-the-wall Mexican restaurant in Riverside California. ….crispy seared on the outside and warm and tender on the inside.
Tortillas and rice are generally the culprits that add carbs to Mexican cuisine. In many cases however, rice and thick tortillas can actually mask the flavor of my favorite Mexican dishes.
I think that's why the carnitas were such a food memory for me. It was simple and perfectly cooked and the flavor was allowed to shine through. My dish was accompanied with fresh avocado, cilantro, sour cream and refried beans….all slow carb and all delightful.
Basics of Making the Best Pork Carnitas
Carnitas are crispy on the outside and juicy tender on the inside, which is a bit different than just pulled pork.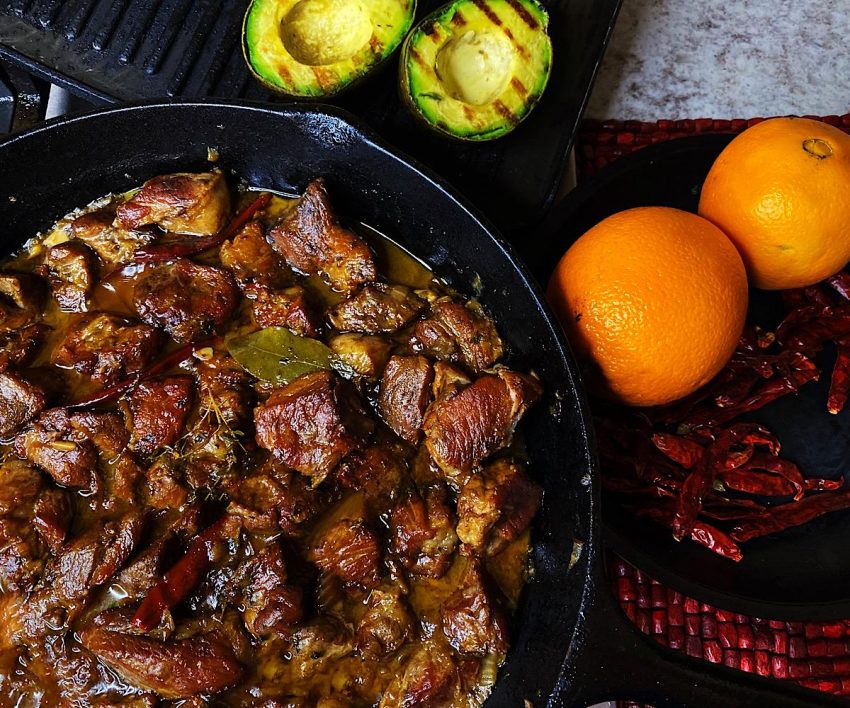 The traditional way to cook carnitas is to simmer the meat slowly in lard in a thick-bottomed pot (I used a dutch oven), which disperses the heat evenly in a process similar to making a confit.
Mexican spices are added as it simmers, and once the appropriate tenderness is achieved, the heat is turned up and the outside of the pork begins to crisp.
How are Carnitas Different from other Mexican Meat Dishes?
The crisping of the outside of the pork is one of the things that distinguish carnitas from pulled pork. At their best, carnitas are moist & juicy inside, with plenty of well-browned, crisp edges on the outside
Pop Sugar put together this summary below of the differences between carnitas and other Mexican meats, which I found really helpful:
Carne asada: Grilled, marinated pieces of beef (typically sirloin or rib) served inside burritos and tacos.
Carnitas: Shoulder of pork that's been seasoned, braised until tender with lard and herbs (oregano, marjoram, bay leaves, garlic), pulled apart, and then oven-roasted until slightly crisp, then eaten alone or used as a filling for tacos, tamales, tortas, and burritos.
Al pastor: Crisp-thin shavings of vertical spit-roasted pork, marinated with guajillo chiles and achiote, then served on tortillas. Pastor means "shepherd," the name given to Lebanese merchants who immigrated to Mexico City in the early 1900s, bringing the concept of shawarma with them.
Cochinita pibil: Whole suckling pig or pork shoulder that's marinated in citrus with achiote, then wrapped in banana leaves and roasted. Historically, it's buried in a pit with a fire at the bottom.
Barbacoa: Traditionally, beef cheek and head that's covered in leaves from the maguey plant, then slow cooked over a wood fire in a pit in the ground. In America today, it also refers to spicy, shredded, slow-braised beef that's been made tender, then pulled apart.
Benefits of Cooking with Lard
Mexican kitchens have been cooking with lard for a long time. Using fat, of any kind, has been given a bad rap in the past, but that is slowly changing as the research behind keto and low carb diets increases.
Here are some of the documented benefits that I have been able to find:
Lard is not a typical saturated animal fat, because pure lard contains no trans fats.
Lard is 60 per cent monounsaturated fat, which is associated with a decreased risk of heart disease, whereas butter is 45 per cent monounsaturated fat.
Lard's smoke point is high, about 190C (375F), making it the ideal frying oil because it makes fried food lighter, fluffier, and crispier in a shorter time, without burning and turning carcinogenic.
Pork lard is odourless and tasteless when rendered properly.
Lard and butter have the same trace amounts of cholesterol — about 95 milligrams per 100 grams of fat.
Best Low Carb Side Dishes for Carnitas
Refried beans and rice are typical side dishes that accompany a Mexican dinner.
A lower carb/lower calorie option for the refried beans would be pickled onions. Pickled onions add a bright tangy note to the rich, buttery fat of the pork which is very complimentary.
While not quite as low in carbs, a classic accompaniment to carnitas is broiled red onions (Cebollas Encurtidas). These onions are often broiled and then soaked in citrus juices and are an often-seen side to carnitas.
Creamy, healthy avocados are a classic keto or low carb ingredient that pairs wonderfully with pulled pork dinners. Grill them for a special dinner, or just slice them and place on top of the crispy carnitas.
Refried beans, while not keto, work well on a "slow carb" diet where beans are one of the mainstay proteins.
Since tortillas and taco shells are not compliant with a low carb or slow carb diet, the meat itself takes on a more important role. You'll never miss the tortilla if you treat yourself to carnitas cooked to perfection!
Other accompaniments might include salsa, shredded cabbage slaw or cilantro.
One of my favorite side dishes is this low carb jicama tomatillo slaw.
Low Carb Carnitas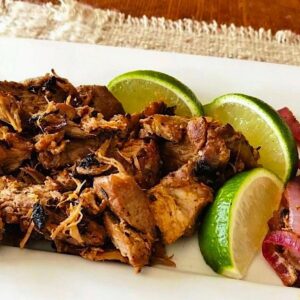 Ingredients
1

orange

2

Tbsp

lard

olive oil if you don't like lard

3

lb

boneless pork shoulder roast

cut into 1-2 inch pieces

½

cup

chopped onion

3

cloves

garlic

minced

2

cups

water

4

sprigs

fresh thyme

2

bay leaves

1

tsp

salt

1

tsp

dried oregano

1

tsp

chipotle spice

choose a spice that meets your heat preference

1

Tbsp

lard

or oil
Instructions
Zest an orange and then squeeze the juice from the orange. Add them together in a bowl and set aside

In a large Dutch oven (or heavy-bottomed pot), heat 2 Tbsp lard over medium-high. Add some of the cut up meat in a single layer to cover the bottom of the pot, being careful not to crowd. Cook first layer of meat until browned, turning with tongs to brown all sides. When that layer of meat is browned, remove to a plate and add the next layer of meat and cook it until browned and then remove to the plate. Rinse and repeat until all meat is browned.

When meat is browned and removed to a plate, add the onion and garlic to the Dutch oven pot. Cook until onions are translucent and caramelized, about 5 minutes or so, stirring occasionally. Return meat to pot.

Add the reserved orange zest and juice and the next 6 ingredients to the Dutch oven (through the chile pepper). Bring to a boil and then reduce the heat and cover. Simmer for 2 hours.

After 2 hours, bring the pot back up to a gentle boil and cook, uncovered 15 to 20 minutes more or until most of the liquid is evaporated, stirring occasionally. Remove the thyme sprigs and bay leaves and either go to the next step or store the meat until ready. The meat can be stored at this point in the refrigerator for up to 3 days.

When ready to make the carnitas, heat 1 Tbsp lard over medium heat in a large skillet. Using a slotted spoon, remove the meat from the sauce and spread it in a single layer in the skillet. Cook 5 minutes or until meat starts to crisp, turning occasionally (may need to do this in batches).

Serve with lime wedges, jalapeno pepper, guacamole (or fresh, sliced avocados), caramelized onions, and refried beans.
Nutrition
Calories:
186
kcal
Carbohydrates:
3
g
Protein:
31
g
Fat:
5
g
Saturated Fat:
1
g
Cholesterol:
82
mg
Sodium:
310
mg
Potassium:
560
mg
Fiber:
1
g
Sugar:
2
g
Vitamin A:
271
IU
Vitamin C:
10
mg
Calcium:
35
mg
Iron:
1
mg
Did you make this recipe?
If you tried this recipe, please give it a 5-star rating! To do this, just click on the stars above. And don't forget to tag me at @dorothy_stainbrook_heathglen, if you share a picture on Instagram! You can also tag me at #heathglen!
Online Diet/Health Coaching:
Although I am not currently taking clients for diet & health coaching, I have been a coach for many years with the online service called coach.me. It is a great platform for all kinds of coaching – anything from specific diets, writing a blog, getting up early, or getting rid of that pesky procrastination.
There are some wonderful coaches and the testimonials will tell you what you need to know. Contact me at [email protected] to get a referral to some of the tested, experienced online coaches on Coach.me
If you'd like to start with a plan for a low carb or keto lifestyle, check out this detailed guide in ebook form. It may be all you need to lose weight on this lifestyle. Or it may be used as a supplement to one-to-one coaching.