Cochinita pibil is a pork dish that is typically cooked underground. This recipe uses the slow cooker so that typical home cooks can enjoy this wonderful Mexican dish. The pork shines in a sweet, tangy achiote sauce in this recipe for cochinita pibil.
Jump to: RECIPE | What is Cochinita Pibil? | Spices & Substitutions | How to Use Leftovers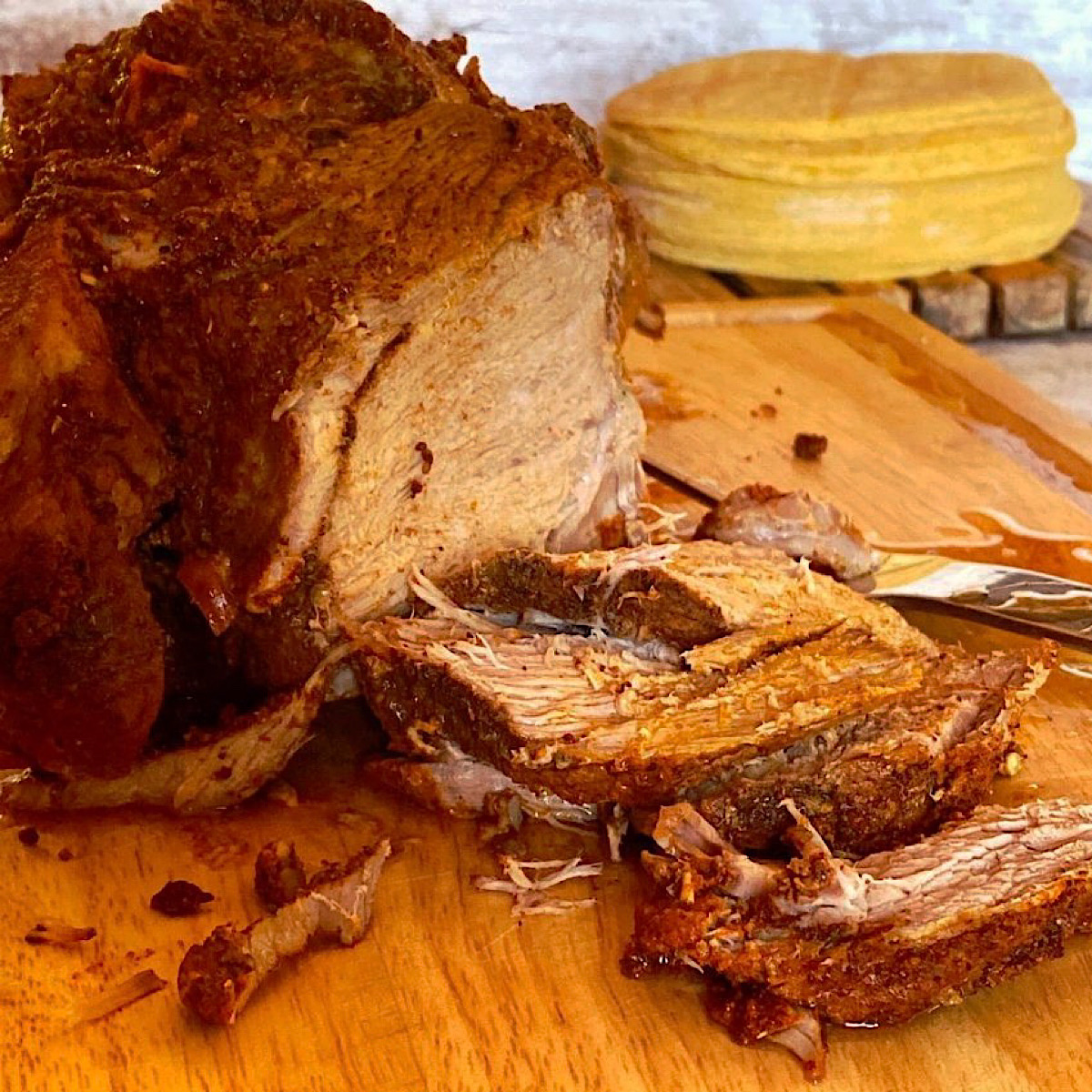 What is Cochinita Pibil?
"Cochinita" translates to little pig in Mexican and "pibil" is a method of cooking in a large pit underground. Oftentimes, large banana or palm tree leaves are used to cover these pits and hold in the moisture.
Sometimes the banana leaves are used as a natural packet to make items like tamales. Another way the banana leaves are typicall used is as a meat pocket to make something similar to a meat pie.
Although, you can cook almost any meat "pibil style", pork butt or pork shoulder is the type of meat that really shines with this method because it holds in the moisture so well.
The method of underground cooking with a banana leaf cover is typically used in the Yucatan peninsula of Mexico and in some other countries like Belize and Guatemala. The home cook in the US doesn't typically have access to underground pits or banana leaves however, so I've modified the cooking method to make this wonderful dish in the slow cooker. It also works well in the Instant Pot.
Classic Spices and Substitutions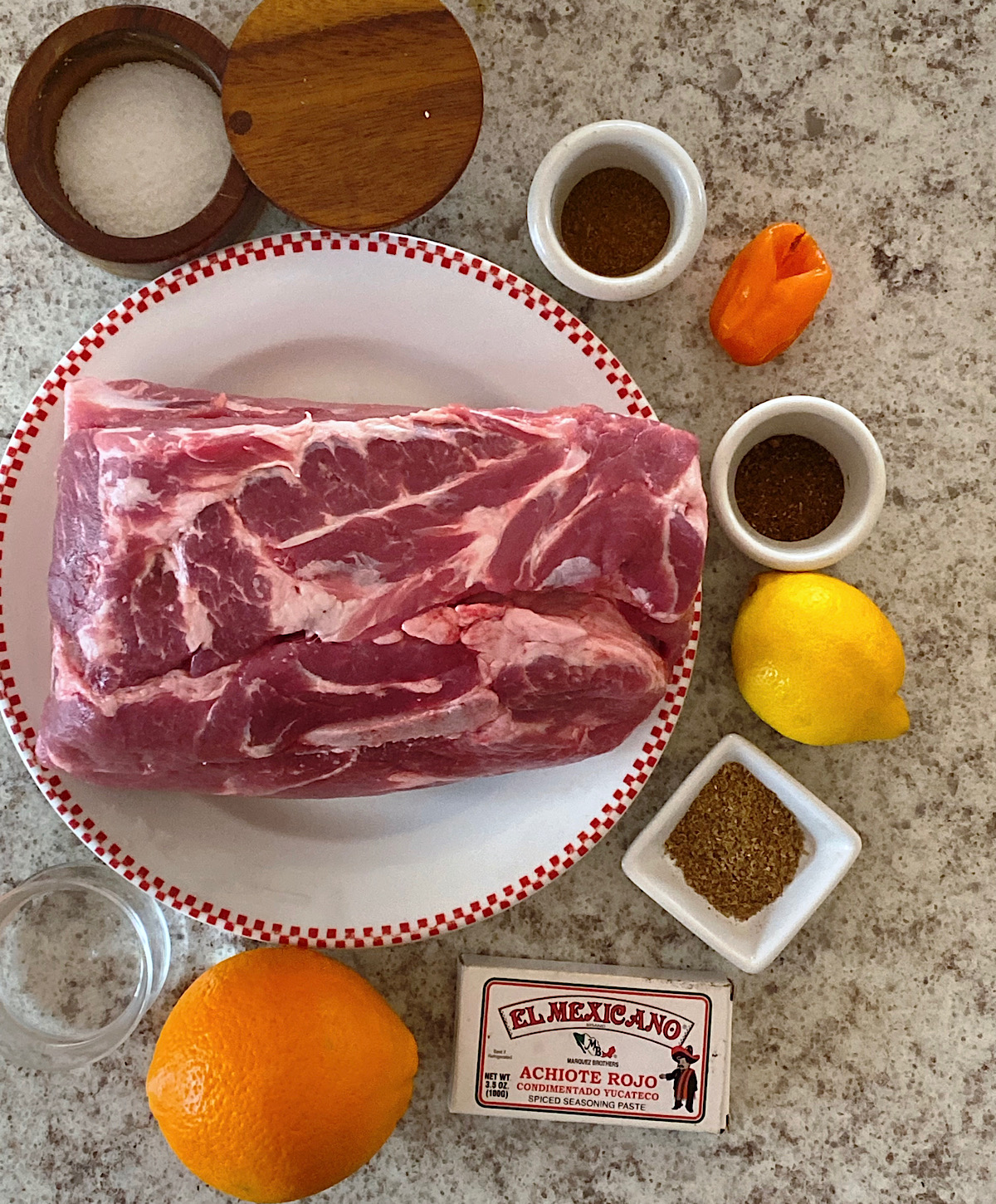 The key element of cochinita pibil is the achiote (annatto) paste. The paste is often hard to find in places that do not have a high Latinx population but you can order it on amazon- this is the brand I use.
You can change up the pepper and use various substitutes for most of the spices if desired, but you cannot substitute the achiote- it is key in this recipe!
Ideas for Leftover Shredded Pork
A five pound pork shoulder will generally give you more cochinita pibil than you would need for one dinner. There are many delicious ways to use this marinated pulled pork.
It does freeze well, but here are a couple of ways to used it the next day without that feeling of eating "leftovers":
It Is a wonderful option for a tacobar, with tortillas (if you are not on a low carb diet), with pickled onions and any other condiments you have on hand;
Mix the pork into scrambled eggs or reheat the pork and cook a fried egg on top
Use it as a topping for pizza, nachos or even french fries!
My husband folded our leftover pork into an oven-baked tamale pie that was to die for. It was similar to this harissa tamale pie recipe, but it folded in the leftover pork.
Basically it was a box of cornmeal muffin mix with chiles and pork mixed in and baked in the oven (topped with your favorite salsa). Here is a photo of the finished product:
Recipe for Mexican Cochinita Pibil
Low Carb Cochinita Pibil
A traditional pork dish from the Yucatan peninsula, cooked in a crock pot rather than underground
Ingredients
3

Tbsp

achiote

annatto paste, 1 1/2 oz

⅓

cup

fresh squeezed orange juice

⅓

cup

lemon juice

⅓

cup

white vinegar

4.5

lbs

pork shoulder

can use butt as well

1

scotch bonnet pepper

can use habanero or another chile pepper, seeded and finely diced

2

tsp

ground cumin

2

tsp

smoked paprika

2

tsp

ground coriander

1

tsp

salt

1

Cup

water

Lime wedges, jalapenos, guacamole, pickled onions

optional- for serving
Instructions
In a small bowl, combine the achiote paste, orange juice, lemon juice and vinegar. Mix thoroughly until all the achiote paste is wet and combined with the juices.

3 Tbsp achiote,

1/3 cup fresh squeezed orange juice,

1/3 cup lemon juice,

1/3 cup white vinegar

Place the meat in a large bowl and add the pepper, achiote/ juice mixture, and the spices and rub all over the pork. Make sure to get the juice in all the crevasses of the pork.

Place in the refrigerator and let marinate overnight turning the pork at least once to ensure full coverage.

4.5 lbs pork shoulder,

1 scotch bonnet pepper,

2 tsp ground cumin,

2 tsp smoked paprika,

2 tsp ground coriander,

1 tsp salt

Place the pork and all the juice mixture in a crock pot or slow cooker. Add 1 cup of water and turn on low for 8 hours or longer.

Remove pork from slow cooker and shred with two forks. If not serving right away, return pork to the slow cooker.

Serve with lime wedges, hot pepper slices, guacamole, refried beans queso fresco or pickled onions.

Lime wedges, jalapenos, guacamole, pickled onions
Nutrition
Calories:
489
kcal
Carbohydrates:
5
g
Protein:
62
g
Fat:
23
g
Fiber:
1
g
Sugar:
3
g
Did you make this recipe?
If you tried this recipe, please give it a 5-star rating! To do this, just click on the stars above. And don't forget to tag me at @dorothy_stainbrook_heathglen, if you share a picture on Instagram! You can also tag me at #heathglen!
Online Diet/Health Coaching:
Although I am not currently taking clients for diet & health coaching, I have been a coach for many years with the online service called coach.me. It is a great platform for all kinds of coaching – anything from specific diets, writing a blog, getting up early, or getting rid of that pesky procrastination.
There are some wonderful coaches and the testimonials will tell you what you need to know. Contact me at [email protected] to get a referral to some of the tested, experienced online coaches on Coach.me
If you'd like to start with a plan for a low carb or keto lifestyle, check out this detailed guide in ebook form. It may be all you need to lose weight on this lifestyle. Or it may be used as a supplement to one-to-one coaching.