Brussel sprouts are often hailed as one of the most-hated foods. However, Caesar salad is one of the most popular. This unique combination of brussel sprouts and Caesar salad brings out the best in both dishes for a spectacular side dish to any meal.
Jump to:
RECIPE
Health Benefits of Brussels
Substitutions
How to Use a Mandolin
How to Serve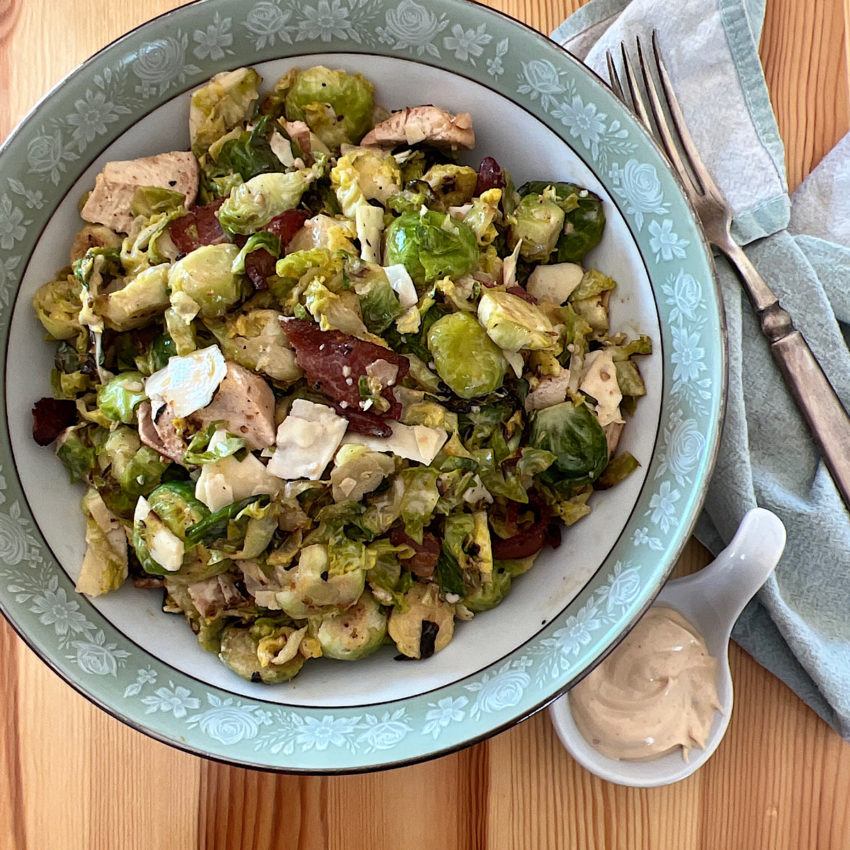 This post may contain affiliate links, and you can read our disclosure information here–
Health Benefits of Brussel Sprouts
Turns out, there is apparently a scientific reason why some (not all!) people dislike brussel sprouts. Many bitter plants are poisonous and, therefore we have an instinctual aversion to bitter foods.
Bitter can be an acquired taste however (think Negroni) and sprouts have many key nutrients that can really make a difference in health.
They are packed with vitamin C and K. They are also very high in fiber and have iron, calcium and magnesium.
This particular low carb brussel sprouts Caesar salad is delicious, and can be easily modified to suit vegetarian diets by leaving out the anchovies.
Another favorite low carb salad of mine is this French nicoise salad (without the potatoes of course)!
And as an added benefit, it is quite filling and could be a meal unto itself. My mom added bacon and chicken to make it a full low carb meal (see above photo).
How to Serve Brussel Sprouts
Brussel sprouts are often over-boiled until mushy. Bitter and mush…..I can understand why people wouldn't like brussel sprouts after eating them like that!
This particular recipe for a brussel sprouts Caesar salad was based off a recipe found in a 2015 People Magazine article.
I made this salad for literally every single potluck and party I hosted- so much so that some of my friends asked me to make something else. Oops! But I liked it that much.
I served it recently as a side to these ribs but it goes with a whole host of other main dishes.
Mandoline vs Sharp Knife for Slicing
When I first made this dish, I had not yet discovered the magic of a mandoline. I would typically quarter the brussel sprouts, and although this still works with the recipe, I would recommend slicing the brussel sprouts even thinner.
To get a consistent thin slice of a fruit or vegetable, a good mandoline works best. It is also much quicker and easier than a knife if it has a good quality sharp blade.
If you don't have a mandoline, don't let that deter you from slicing the sprouts with a sharp knife however!
Whether you choose the mandoline or a knife, be very careful. Sharp blades can do a lot of damage to your tender fingers. Here is the mandoline I use– it works wonderfully!
Ingredient Substitutions
In order to make this salad vegetarian, you can simply omit the anchovy paste. Although I've never tried it, you could use a vegan mayonnaise.
If you don't like using tinned anchovies or anchovy paste, a little fish sauce works the same way to give you the umami that is necessary to a classic caesar salad dressing.
One of the great things about this salad is that, although it has a very unique flavor alone, it pairs nicely with a multitude of other garnishes as well.
Additions could include:
Capers,
Cornichons (those little French pickles),
Parmesan crisps.
This vegetable medley using brussel sprouts, cauliflower and red peppers is another delicious way to enjoy brussel sprouts. Guaranteed to turn a brussel sprouts hater into a brussel sprouts lover!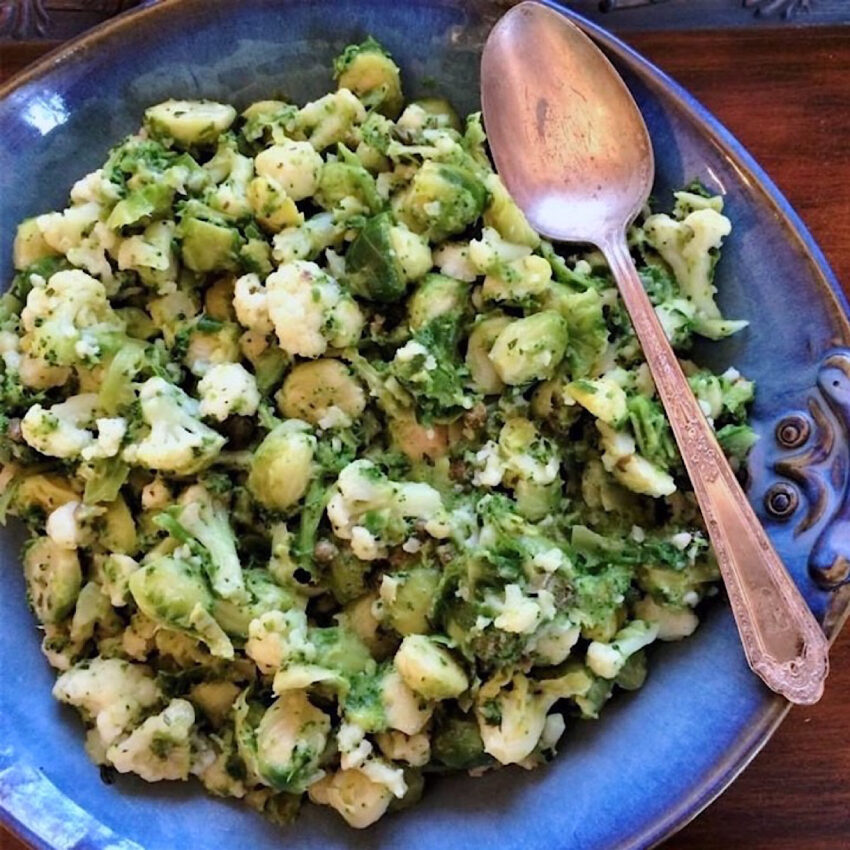 If you make and love this recipe, please leave a ★★★★★ review below and any comments others might find helpful. It means a lot to me when you try my recipes, and I'd love to know how it goes.
Low Carb Brussel Sprouts Caesar Salad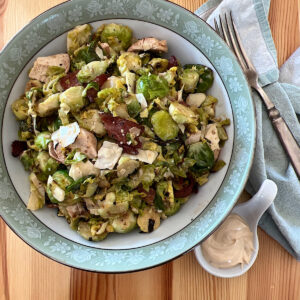 A slightly salty, tangy way to use brussel sprouts in a side dish that even brussel sprout haters will enjoy
Ingredients
1.3

pounds

brussel sprouts

prior to slicing

2

tablespoons

olive oil

½

cup

parmesan or asiago cheese

finely grated or shredded

⅓

cup

mayonnaise

½

teaspoon

Dijon mustard

¾

teaspoon

Worcestershire sauce

2

tablespoons

lemon juice

fresh lemon juice

½

teaspoons

minced garlic

can use jarred if no fresh bulbs on hand

2

teaspoons

anchovy paste

can substitute fish sauce or 6 anchovy fillets

6

dashes

hot sauce

I used Frank's hot sauce

salt & pepper

to taste
Instructions
For the Brussel Sprouts
Rinse the brussel sprouts and using a sharp knife, remove stems. Using a mandoline or a very sharp knife, thinly slice the brussel sprouts.

1.3 pounds brussel sprouts

Heat 2 tablespoons of olive oil over medium-high heat in a large skillet. Add brussel sprouts to skillet and toss to ensure even coating of olive oil.

Cook, stirring occasionally for 7-9 minutes. Set aside to cool while you make the dressing.
For the dressing
In a large bowl, add the Parmesan, mayonnaise, mustard, Worcestershire sauce, lemon juice, garlic, anchovy paste, hot sauce. Season with salt and pepper, to taste. Mix all ingredients well and add brussel sprouts to the bowl. Stir to combine.

1/2 cup parmesan or asiago cheese,

1/3 cup mayonnaise,

1/2 teaspoon Dijon mustard,

3/4 teaspoon Worcestershire sauce,

2 tablespoons lemon juice,

1/2 teaspoons minced garlic,

2 teaspoons anchovy paste,

6 dashes hot sauce,

salt & pepper

Serve warm or cold- if serving cold, set in refrigerator for 1 hour.
Notes
**NOTE: If you don't like using tinned anchovies or anchovy paste, a little fish sauce works the same way to give you the umami that is necessary to a classic caesar salad dressing.
**Want more like this? Subscribe to our Sunday newsletter to get recipes, gardening guides and diet help. Let's go from Inspiration to Done!
Nutrition
Calories:
316
kcal
Carbohydrates:
15
g
Protein:
11
g
Fat:
25
g
Saturated Fat:
5
g
Cholesterol:
21
mg
Sodium:
479
mg
Potassium:
614
mg
Fiber:
6
g
Sugar:
4
g
Vitamin A:
1220
IU
Vitamin C:
128
mg
Calcium:
208
mg
Iron:
2
mg
Did you make this recipe?
If you tried this recipe, please give it a star rating! To do this, just click on the stars above. Comments are always helpful also and I respond to all of them (except rude ones)
Online Diet/Health Coaching:
Although I am not currently taking clients for diet & health coaching, I have been a coach for many years with the online service called coach.me. It is a great platform for all kinds of coaching – anything from specific diets, writing a blog, getting up early, or getting rid of that pesky procrastination.
There are some wonderful coaches and the testimonials will tell you what you need to know. Contact me at [email protected] to get a referral to some of the tested, experienced online coaches on Coach.me
If you'd like to start with a plan for a low carb or keto lifestyle, check out this detailed guide in ebook form. It may be all you need to lose weight on this lifestyle. Or it may be used as a supplement to one-to-one coaching.