Even though they are considered weeds, dandelions are a quintessential sign of summer. Once popular as a food (or wine) item, dandelions have seen a surge in popularity as an edible treat for salads, wine or jellies. This recipe for dandelion jelly (and elderflower liqueur) is the perfect combination of floral, sweet and slightly bitter. Just be sure you harvest dandelions that have not been sprayed!
Jump to:
RECIPE
Are Dandelions Healthy?
How to Pick Dandelions
Infusions for Dandelion Jelly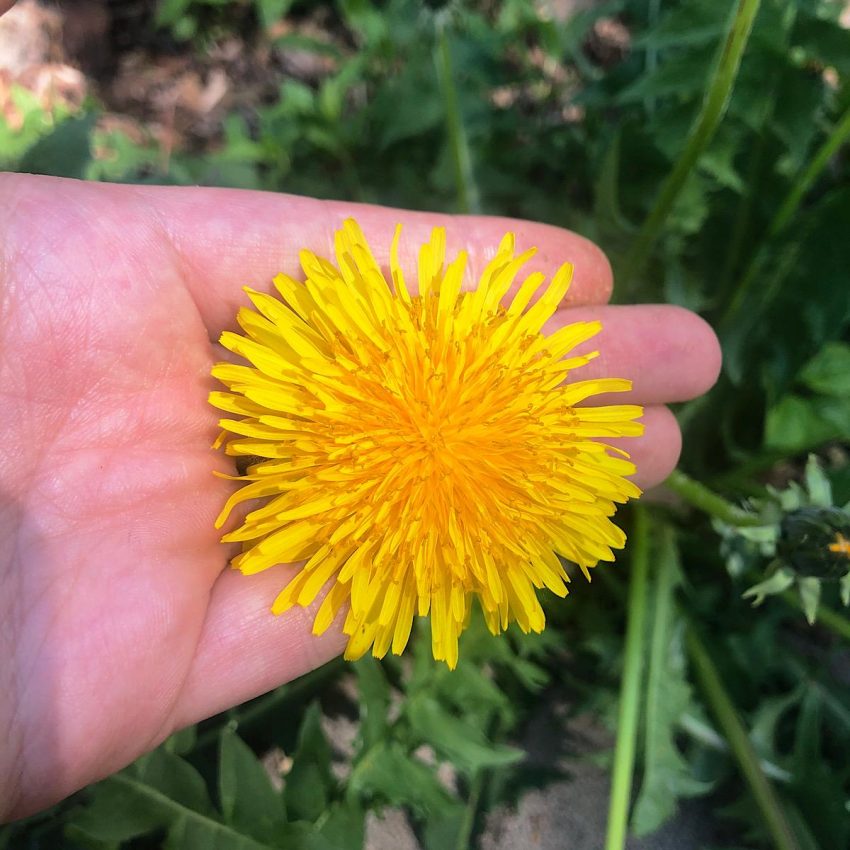 By Tesla Stainbrook. This post may contain affiliate links. See Disclosure
As a kid, growing up on a 23-acre farm, I was always trying to "make" different products. For example, when I was 7 I tried to make bread out of grasses (yellow nutsedge and quickgrass- look them up, I'm sure you'd be convinced they were wheat when you were seven!).
I used to watch my Grandpa Stainbrook make wine out of dandelions, and thought that might be something to try as our small farm has plenty of dandelions!
Alas dandelion wine was as short-lived as bread-making from grass, as I couldn't find any wine starter yeast. I turned my attention to dandelion jelly, since we already had the necessary equipment (my mom makes preserves in her business).
So dandelion jelly it was! It was a good choice as it was delicious. It tastes similar to honey, and I added some Elderflower liqueur to enhance the flavor. Yummm.
Nutritional Benefits and Traditional Uses of Dandelions
Are dandelions nutritious? The short answer is yes. Dandelions have many nutritional benefits. They have been used for hundreds of years in herbal medicines.
Dandelions contain vitamins A, C and K as well as some smaller amounts of vitamin B. They also contain minerals such as iron and calcium. Dandelions have been known to help with issues such as acne, digestion and even cancer.
Though dandelions were traditionally used as a herbal tea, they have a wider array of uses in modern times. They do have a bitter taste, which some people are not used to, but they can really enhance some dishes.
Some of their more popular uses include:
Added to salads in raw form
folded into omelets
made into wine
sauteed with greens
added to soup or pasta.
How to Harvest Dandelions for Cooking or Eating
Because Minnesota is still basically in Lock Down (it was 2020 when I wrote this), I had some extra time on my hands. I'm currently "enjoying" lockdown with my parents on their 23-acre farm in Minnesota.
Not one foot of the farm was left uncovered by dandelions. I quickly discovered the most efficient method of harvesting the dandelions for the jelly.
One of the recipes recommended picking the whole head, and then cutting the green part out. A more efficient method however is to pick the whole head, hold it in one hand, and pull the yellow petals off with the other hand and tossing the petals into a jar.
This "de-petaling" method vs. scooping the green part out also seemed to cut down on the ants and other bugs that made their way into the jar. You do want to make sure that you don't include any of the green part of the plant, as that is quite bitter.
Whichever method you use, I would recommend seeking out harvesting help from a young kid or a very bored almost-thirty-year-old!
Variations and Infusions to Enhance Dandelion Jelly
For the recipe that follows, we enhanced the flavor of the jelly by adding a bit of elderflower liqueur. Other liqueurs that would work would be Grand Marnier for an orange background or an apple brandy for a heartier apple flavor profile.
The video below shows a step-by-step of adding a lavender infusion to the jelly.
More Methods for Preserving Summer's Produce:
Recipe for Homemade Dandelion Jelly
Homemade Dandelion Jelly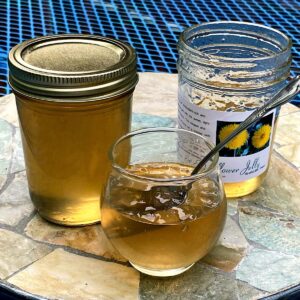 Jelly made with dandelion petals and elderflower liqueur
Ingredients
3

cups

dandelion petals

lightly packed

5

cups

water

5 ½

cups

sugar

¼

cup

lemon juice

freshly squeezed

⅓

cup

dry pectin

plus 1 Tbsp

2

oz

elderflower liqueur

alternatively use an infusion bag of aromatics
Instructions
Harvest dandelions and remove any green parts or bugs. Measure out 2-3 cups dandelion petals and place in large glass jar. Boil a pot of water and pour 5 cups over dandelion petals. Allow to cool and then place in the refrigerator for at least 24 hours.

3 cups dandelion petals,

5 cups water

Strain jar of dandelions, disposing of the petals and reserving the liquid. You should have 4 or more cups of dandelion juice now.

Place the jars in warm oven (about 250° F) so they will be hot when being filled with jelly.

Heat 4 cups of dandelion juice and the lemon juice in a large stock pot. When the juice reaches 160 degrees add the 1/3 cup plus 1 Tbsp dry pectin and stir thoroughly (use a whisk if you have it). Bring to a rolling boil and boil for 2 minutes.

1/4 cup lemon juice,

1/3 cup dry pectin

Add the sugar and elder flower liqueur. Stir continuously to combine and dissolve. Return the temperature to 200.

5 1/2 cups sugar,

2 oz elderflower liqueur

When jelly has reached 200 ° F, remove the pot from the heat and pour into 8 oz canning jars. Leave 1/4" headspace and skim foam. Place hot lids on the jars and secure with the bands (not too tight). Should make about 8 jars.

Either place jars in a water bath or allow jelly to cool on a rack without moving. It may take a full day or two before the jelly is completely gelled.
Notes
The recipe I found online called for 2 cups of dandelion petals and 4 cups water for 1 batch, but that may not give you 4 cups of juice once strained. You need 4 cups of juice to make the jelly, so I would use 3 cups of dandelion petals and 5 cups of water and let it sit (macerate) for a while longer
Nutrition
Calories:
37
kcal
Carbohydrates:
9
g
Protein:
1
g
Fat:
1
g
Saturated Fat:
1
g
Sodium:
2
mg
Potassium:
1
mg
Fiber:
1
g
Sugar:
9
g
Vitamin C:
1
mg
Calcium:
1
mg
Iron:
1
mg
Did you make this recipe?
If you tried this recipe, please give it a 5-star rating! To do this, just click on the stars above.
Online Coaching
Although I am not currently taking clients for diet & health coaching, I have been a coach for many years with the online service called coach.me. It is a great platform for all kinds of coaching – anything from specific diets, writing a blog, getting up early, or getting rid of that pesky procrastination. Explore the site through the link below. There are some wonderful coaches and the testimonials will tell you what you need to know. You can always contact me to get referrals also. Click here to get to my profile and then explore others from there.