There are so many different uses for herbs, ranging from cooking, to healing to making craft cocktails. This post (and video) offers ideas for how to successfully combine herbs in containers around six different culinary uses: Mediterranean cooking, Mexican cooking, cooking with seafood, cocktails, herbal teas, and salads.
Jump to: Mediterranean Mix | Mexican Mix | Seafood Mix | Cocktail Mix | Tea Garden | Salad Mix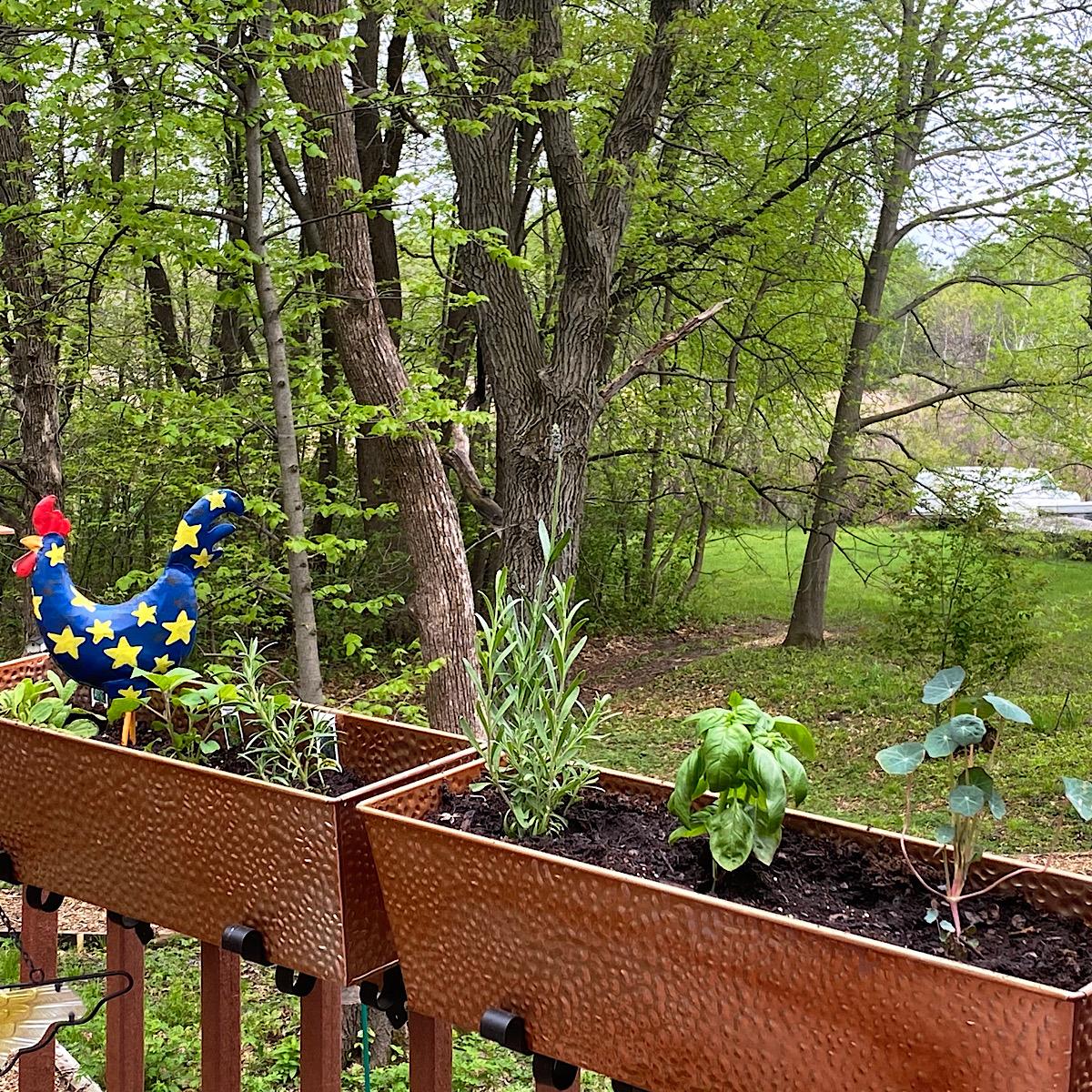 Combining Herbs in Pots
Often people will plant herbs based on what is available to them at the garden store. Another common consideration of which herbs to combine together in pots (or the garden) is based around which herbs will grow best in sun or in partial shade.
While these are both important considerations, there is another way to think of herb combinations. This third way is based around your ultimate preferences in the kitchen.
Do you prefer cooking Mediterranean dishes or Mexican? Do you dislike cooking but love to have a craft cocktail on your balcony? Or perhaps you love herbal teas for health or instead of coffee?
Here are six of my favorite ways to combine herbs for year-round uses:
Best Herbs for Mediterranean Cooking
This type of cooking usually involves herbs that will do well in full sun and not a lot of watering. Think about the Mediterranean climate. Here are my favorite herbs that I combined in a large pot for this use:
Rosemary
Sage
Thyme
Lavender
Basil
Greek Oregano
Nasturtium
Best Herbs for Mexican Cooking
This type of cooking would include herbs that grow well in sun, but it also includes a few that prefer shade. If you don't have an ideal spot (about 6 hours of sun a day, but some shade), you might want to separate these herbs into two pots.
Cilantro (partial shade)
Parsley (partial shade)
Mint (partial shade)
Mexican oregano (sun)
Cumin (sun)
Chile pepper plant (sun)
Best Herbs for Cooking Seafood
This theme is a bit unique. I love to cook seafood however, and often don't have the right herbs on hand (like dill). Most of the herbs that go well with seafood dishes like partial shade. Here are the herbs I chose:
Dill
Tarragon
Basil
Lemon thyme (or lemon verbena or lemon balm)
Chervil
Garlic chives
Parsley
Nasturtium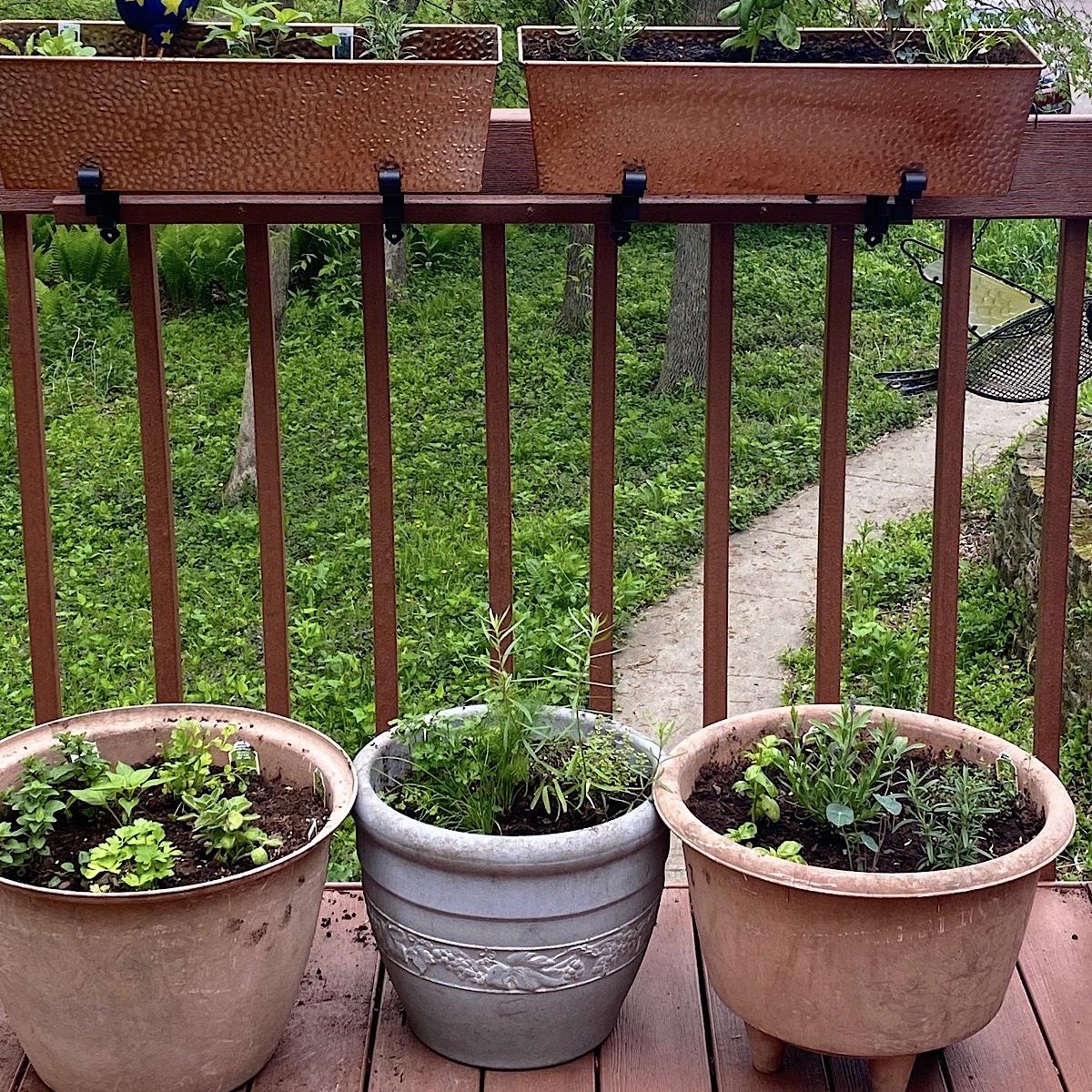 Best Herbs for a Cocktail Garden
This type of garden often includes edible flowers, which might not fit well in containers due to overcrowding. I grew the herbs in containers and the flowers in the garden area. There are many options here, but this is what I chose:
Mint (a must have for mojitos)
celery (bloody marys)
Rosemary (martinis)
Sage (fall or winter cocktails)
Lavender (spritzers)
Basil (A wide range)
Borage (cucumber flavored flower)
Calendula (vegetal flavored flower)
Bee Balm (flower)
Rose center geraniums (flower)
Best Herbs for an Herbal Tea Garden
Like the cocktail garden, a tea garden may have to be split up to accomodate the wide range of herbs, spices and flowers that would work well in a tea garden. While actual tea plants don't grow well in all climates the herbs used in tisanes or herbal teas are easy to grow.
Here is a simple list of some of my favorite herbs to grow for herbal teas. Want to learn a little more about blending herbs for herbal teas? Check out this informative post on some of our favorite homemade herbal blends.
mint
chamomile
lemon verbena
Anise hyssop
lemon balm
stevia
lavender
rosemary
sage
Rose geranium
Best Herbs for a Salad Garden
Many, many fast-growing greens and herbs can be combined in a pot for salad gardens. I grew the lettuce, arugula and radish in the garden to provide for a larger harvest of salads. The herbs were grown in a pot on the deck. Here are my favorites:
Lettuce (not head lettuce)
arugula
chervil
parsley
spinach
mizuna
celery
sorrel
bok choy
watercress
nasturiums
And there you have it. There are many other combinations of herb gardens to consider, but those are the six themes that fit my kitchen. If you prefer Indian cooking or beer-making, or sweet treats the herbs would be different combinations of course.
Check out Beginners Guide to Growing Herbs in Pots for further details!
Video on Combining Herbs Together in Pots
Just enjoy and experiment!