This is a summary of the key requirements to successfully growing a variety of themed herb gardens in containers, whether on your deck, balcony or indoors. It covers which herbs to combine for Mediterranean, Mexican or Indian cuisines, for Tea Gardens, for Salad Gardens or for Cocktail Gardens.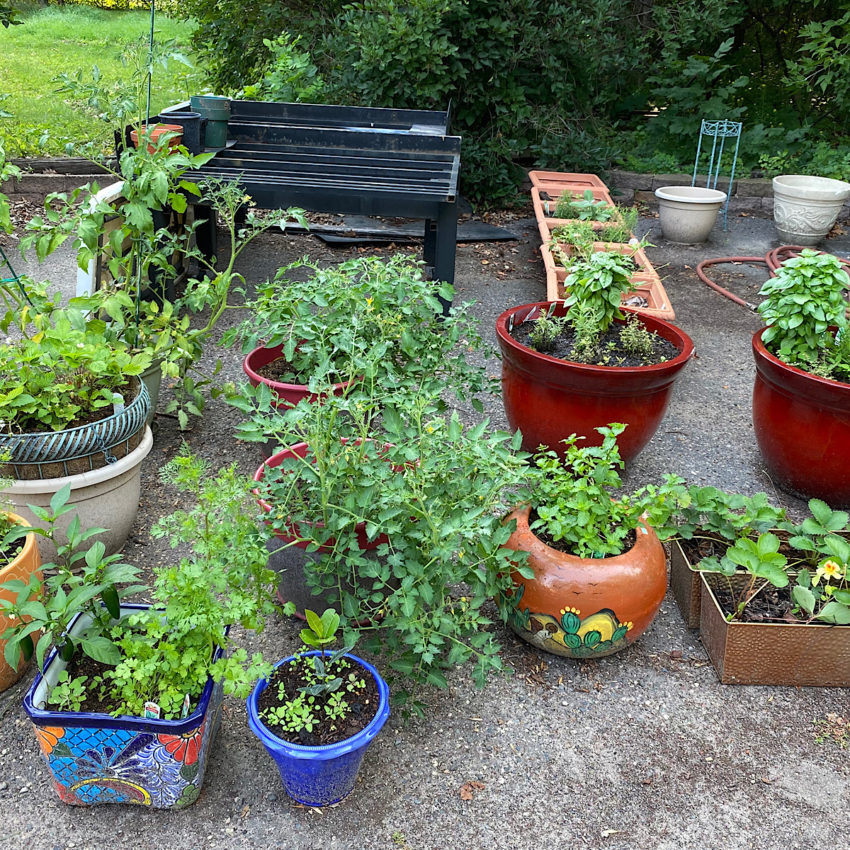 This post may contain affiliate links, and you can read our disclosure information here–
Which Herbs to Grow Together: Themes for Herb Gardens
If you have a small space and can only do one or two pots, the herbs you grow together will ultimately depend on your favorite end uses for herbs in your home. Think of it in terms of "themes"
Typical end uses or themes fall into one or more of the following categories:
Favorite cuisine to cook;
salad gardens; or
tea gardens.
cocktail gardens (check out making a (blueberry tarragon shrub syrup)
healing or medicinal herb gardens (not covered in this post)
Easy to grow herb combinations:
The following lists are the classic herbs that go together for each of the above categories (except medicinal). Since this guide is for beginners, I have only included the herbs & plants that are readily available at most nurseries and are fairly easy to grow. It is not meant to be a comprehensive listing of herbs used in each theme.
Information on the key growing requirements for each of the individual herbs included in these lists is provided at the end of this article.
Classic herb combinations for Mediterrean dishes: rosemary, basil, oregano, sage, thyme and lavender
Classic combinations for Mexican dishes: cilantro, oregano, cumin, mint, parsley and chile peppers
Classic combinations for Indian dishes: holy basil, mint, curry, mustard, fennel, coriander and dill.
Classic combinations for Tea Gardens: mint, chamomile, lemon verbena, lemon balm, stevia, lavender, rosemary and sage
Classic combinations for Cocktail Gardens: mint, rosemary, basil, sage and lavender
Easy combinations for Salad Gardens: spinach, arugula, lettuce, Mizuna, celery, sorrel, bok choy, watercress, nasturiums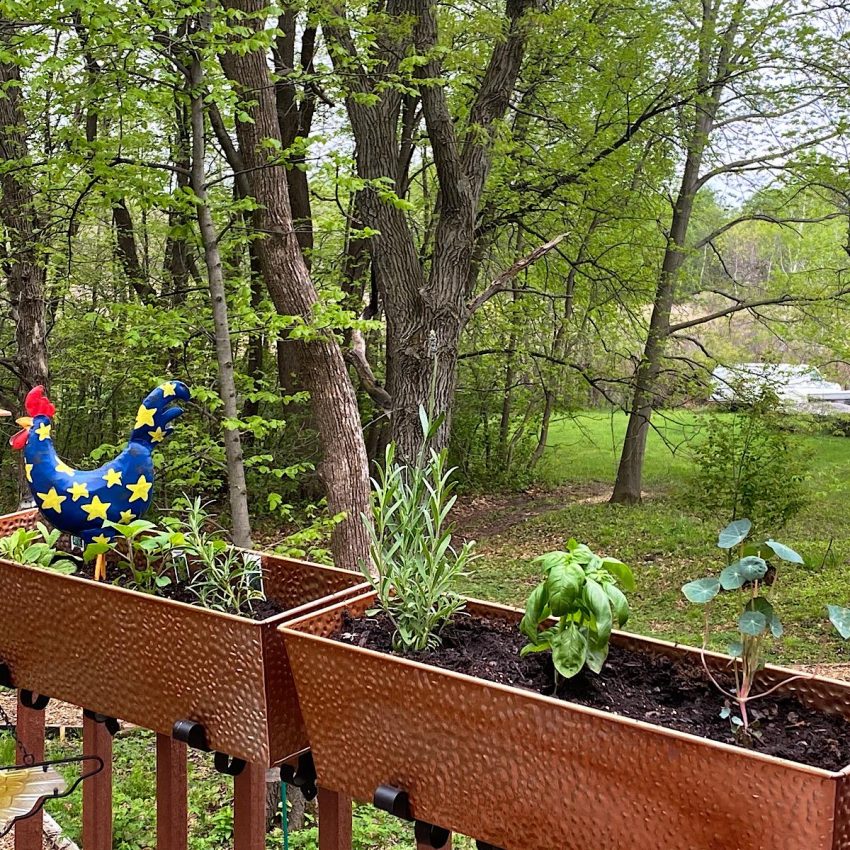 Herbs that thrive together under specific growing conditions
Sometimes your favorite theme is constrained by lack of a sunny location or by trying to combine water loving herbs with those that prefer dry feet. If you have limited space, you may need to group your herbs by growing conditions to ensure success.
Here are the combinations of herbs that grow well together based on their growth habits:
The location of your container garden relative to sun or shade is probably the most important requirement for success. If you are limited to less than 4 hours of sun a day, opt for the herbs that do well in partial shade.
It is better to see success with your container garden and avoid disappointment. You can always take on more of a challenge the following season.
Herbs that grow well in full sun: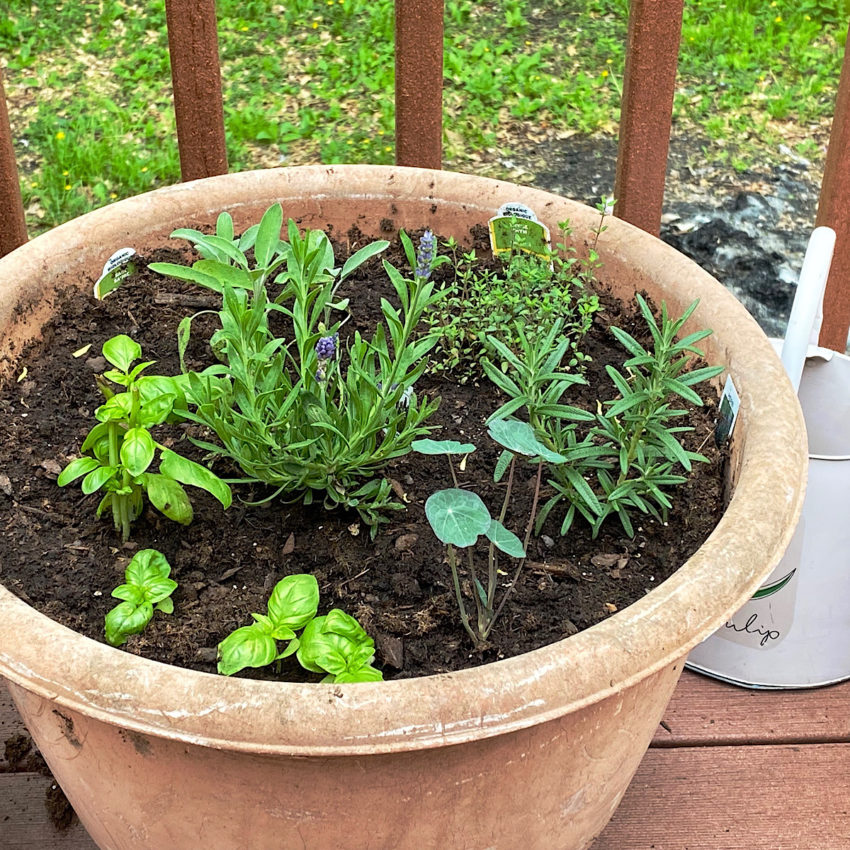 Many herbs do well in full sun, especially the Mediterranean herbs. These would include:
Basil
rosemary
sage
oregano
dill
nasturtiums
lavender
chamomile
fennel
thyme
Herbs that will grow well in partial shade: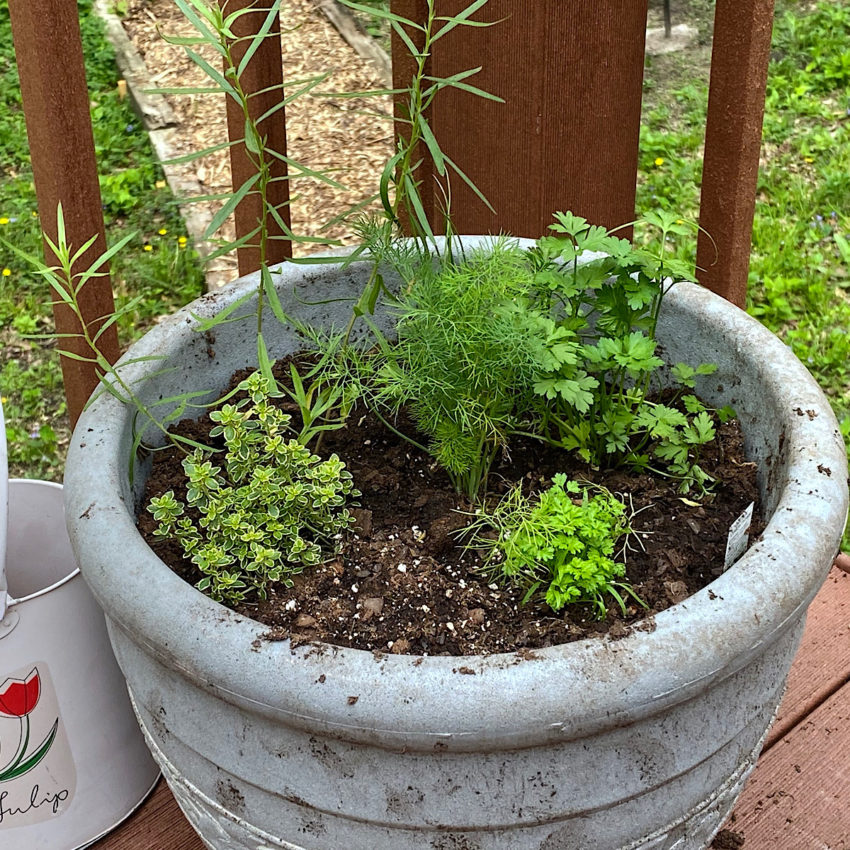 Parsley
cilantro/coriander
mint
chives
thyme
tarragon
lemon balm
chervil
sorrel
Wet vs. dry growing conditions
If you are grouping herbs together in one pot, make your life as easy as possible. Combine herbs that thrive with frequent watering in one pot and herbs that do well with dry conditions in another
Water-loving herbs:
Chives
chervil
mint
cilantro
parsley
Basil
arugula
Herbs that thrive under dry conditions:
Rosemary
sage
thyme
tarragon
lavender
bay leaf
Herbs are some of the easiest plants to grow, especially if you are limited to pots or containers.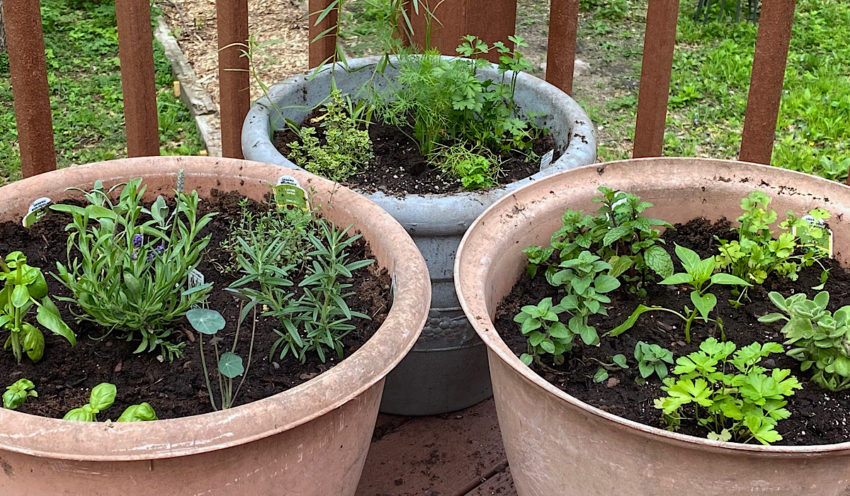 Pick the right combinations for your uses and your growing conditions and you will be a successful gardener your first year!