Dried herbs can't compete with fresh herbs when it comes to cooking with flavor. If you have a garden, a nearby farmers market, or a good grocery store, preserving fresh herbs as herbal compound butters is my favorite way to ensure fresh flavor year-round. It's very easy, you can create wonderful blends, and herb butters last 4-6 months in the freezer.
Jump to:
Recipes
Pro Tips for Making Herbal Compound Butters
Ingredients & Substitutions
Storing & Freezing
Ideas for How to Use Herbed Butter Coins
Method for Making Any Compound Butter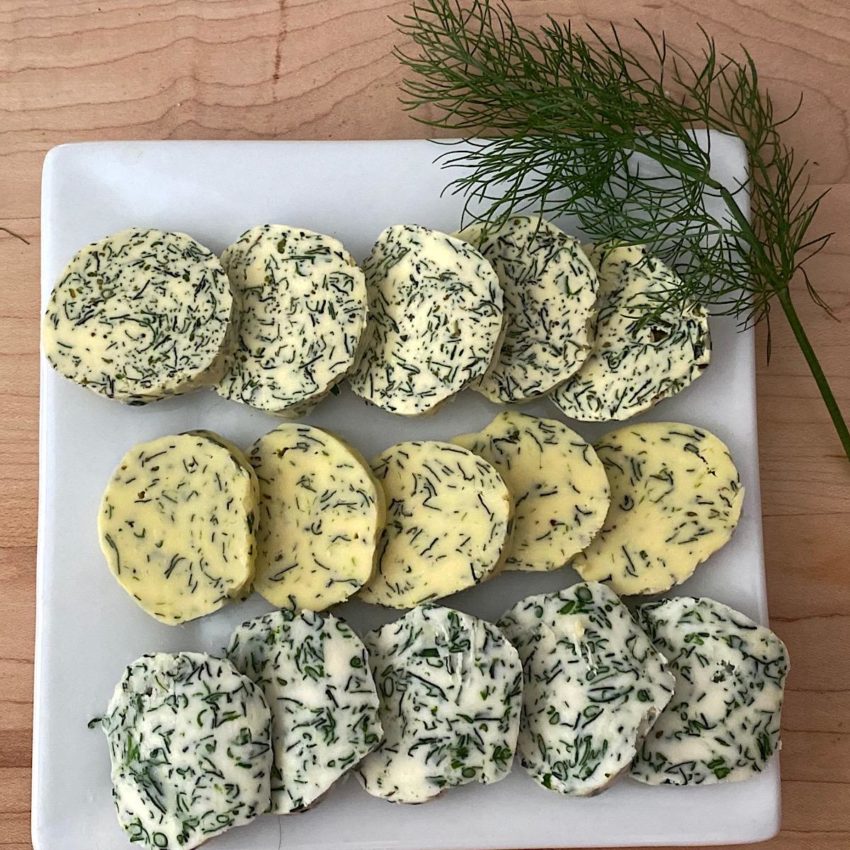 This post may contain affiliate links, and you can read our disclosure information here–
Pro Tips for the Best Herbal Butters
Chopping up some fresh herbs, mixing them with room temperature butter and freezing until needed is one of the easiest ways to preserve fresh herbs.
This method is an especially good preservation technique for those herbs like rosemary that lose some of their texture or flavor when dried. Parsley, cilantro (coriander), chives, tarragon, and sage are also good candidates for herb butters.
For me, I like to think of what I enjoy cooking and make blends that match my cooking preferences.
Here are a few tips for getting the most out of this preservation method:
Don't stress about perfect ratios. I use a couple of tablespoons minced herbs per every stick (1/2 cup) of butter. The ratio is flexible and can be modified to your tastes or what you have on hand.
You can add a lot of other things besides herbs to a butter. You can add chopped shallots or scallions or dried red pepper flakes or you can add citrus peel to any combination. It's difficult to fail, but I've listed some tried and true blends in the recipe card and video below.
Use real butter, not margarine. Use fresh herbs, not dried.
Adding lemon juice or lemon zest enhances the flavors. You could alternatively add minced lemon verbena or lemon balm.
Garlic is often used in herb butter blends. When mincing the garlic mince it with a little sea salt or kosher salt to turn it into more of a "paste" which blends in better with the butter
You can use either salted or unsalted butter to control the amount of salt. Just know that adding a bit of salt to the unsalted butter really does enhances the flavor.
If you are using fresh herbs, rinse them thoroughly and allow them to air dry prior to chopping.
Best Ingredients for Herbal Compound Butters
The world is your oyster here, but I have to admit, I've never tested oysters as an ingredient! Here are some of my favorite additions that pair nicely with most herbs:
Ingredients Other than Herbs to Enhance Compound Butters:
Lemon zest
garlic
scallions
pepper flakes
salt
edible flowers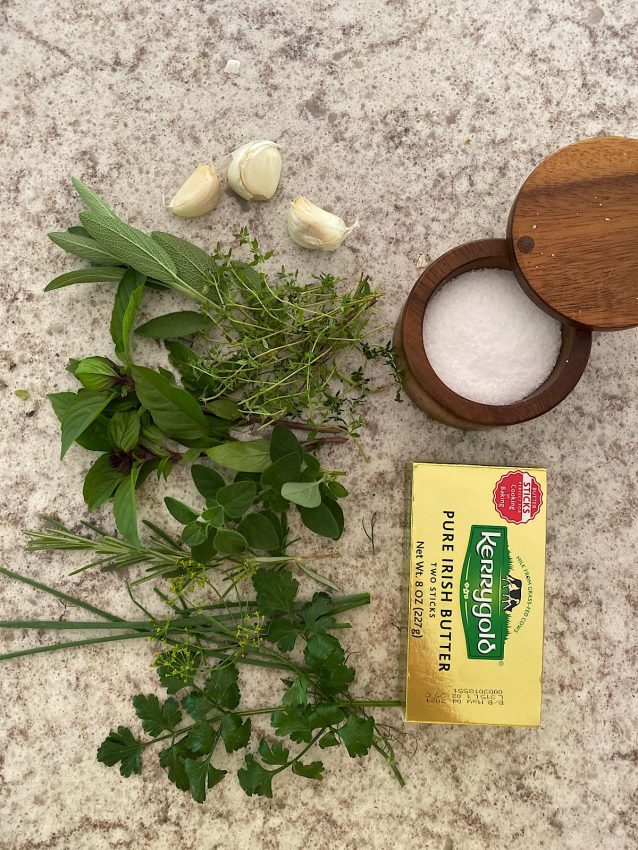 How to Store & Freeze
Herb Butters can be stored in the refrigerator for several days, preferably in a sealed container. My favorite way to store and freeze the herbal butters is to roll them into a log, then wrap in waxed paper, and then seal in a plastic zipper top bag. They come out of the freezer in perfect logs, ready to slice into coins and then re-freeze.
You can roll the butters in plastic wrap, wax paper or parchment paper. If you don't want the plastic wrap to come in contact with the butter, roll it in wax paper, but then add them to freezer bags or a sealed container when freezing.
You also want to be sure to label and date this butter! It's almost impossible to tell one herbal butter from the next when you pull them out for cooking.
Use your butters within 4- 6 months for best flavor. After that, it can start to get some of the flavors of the freezer. Within four months is usually your best bet and you have the most potent flavors of the herbs.
Transfer the frozen herb butter to the refrigerator 24 hours before you intend to use it for easy slicing.
How to Use Herbed Compound Butters
There are so many great ways to use herbal butters! Pull the log of butter out of the freezer and chop off a medallion size (a coin) of the butter.
Now it's ready to use! Here are my favorite ways to use these herbal butters:
Toss it into a sauce,
use it on rustic breads,
melt it on top of a pork chop or a steak,
add it to vegetables,
blend it into scrambled eggs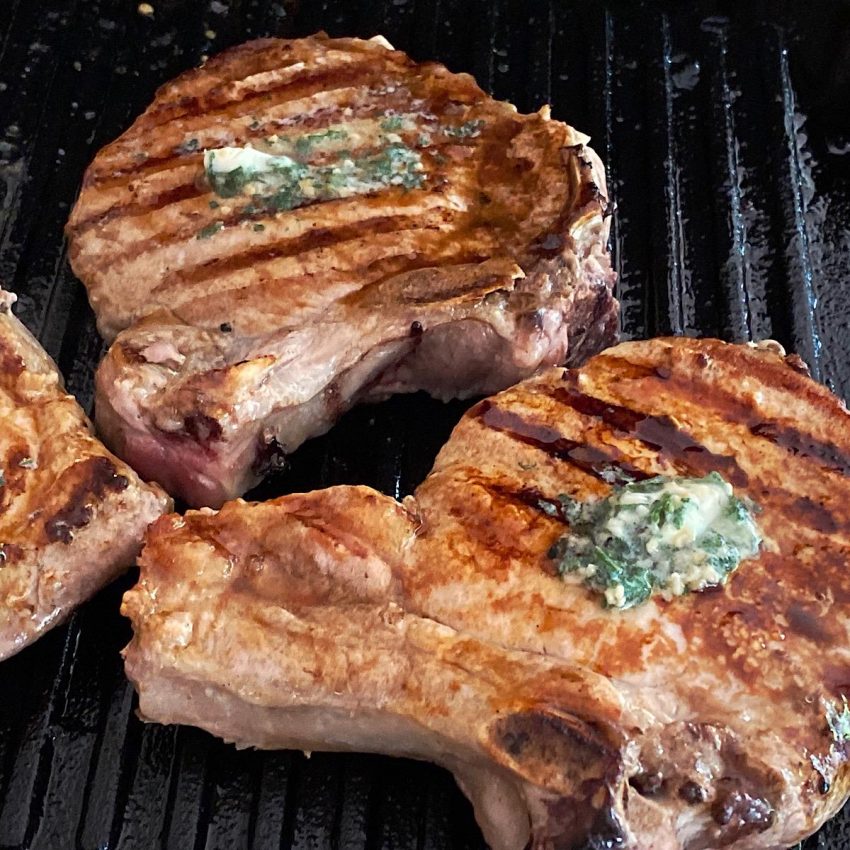 Sage butter or rosemary butter is great at Thanksgiving time for turkey, gravy and many side dishes.
Lemon-thyme herb butter is fantastic on fish or vegetables. That would just be one stick of butter with two tablespoons of freshly chopped thyme and two teaspoons of grated lemon zest.
A few other ways to use these butters could include:
Dollop a "coin" or a tablespoon on your pork chop before serving and let it melt into the chop. Beautiful and tasty at the same time (See photo above);
Simply spread on your bread or biscuits;
Toss a coin with Italian herbs into your pasta sauce;
Use cilantro blends of herb butter for Mexican dishes – grilled corn or elote is a good one;
Drizzle melted herb butter over popcorn;
Use thin coins of herb butter to fancy up dinner parties. Garnish each coin with a fresh sprig of an herb that is in the blend.
Easy Method to Make Compound Butters
It's very easy to make fresh herb butter or compound butter at home. Basically, all you do is you let the butter soften so it's at room temperature, chop the fresh herbs and blend into the butter, roll into a log, wrap in wax paper or parchment paper and freeze.
You can mix the butter and herbs in a bowl with a fork, you can mix them together in a stand mixer with a paddle attachment, or you can use the food processor to chop the herbs and then stir in the butter.
I prefer chopping the herbs with a knife and mixing them together with the butter in a bowl, as there isn't as much to clean up afterwards.
The recipe card below details the directions and includes 4 of my favorite blends.
Growing Herbs in Containers
Herbs are one of the easiest plants to grow in containers or in the garden if you have at least partial sun. If you live in an apartment or want to grow herbs indoors, try one of the indoor growing systems.
Here are some great posts that will help you become successful at growing herbs outdoors in containers
Frequently Asked Questions:
Can you freeze compound butters?
Absolutely. They freeze beautifully and can be used all throughout the Winter.
How long do herb butters last in the freezer?
They will easily last 4 months if wrapped in wax paper and then sealed in a ziplock bag
Which herbs are best for compound butters?
Your favorite ones!! The only herbs that I wouldn't suggest is dried herbs. The recipe card below gives you some ideas for my favorites
If you make and love this recipe, please leave a ★★★★★ review below and any comments others might find helpful. It means a lot to me when you try my recipes, and I'd love to know how it goes.
Herbal Compound Butters
Easy step by step to preserve fresh herbs in the form of herbal butters. The recipes below include four popular herbal blends: a Fines Herbs blend, a Mediterranean blend, a seafood blend, and a Mexican blend
Ingredients
Basic Recipe:
½

cup

real butter

room temperature; I use Kerrygold

2-4

Tbsp

Fresh herbs

rinsed, air-dried, and minced

1

garlic clove

optional

½

tsp

fresh lemon zest

finely grated with microplane

Kosher salt

amount is to taste, depending if you use salted or unsalted butter
Fines Herbs Blend
1

Tbsp

Fresh parsley

minced

1

Tbsp

Fresh tarragon

Minced

1

Tbsp

Chives

Minced

1

Tbsp

Fresh chervil

If not available, leave it out or substitute with dill
Mediterranean Blend:
1

Tbsp

Fresh thyme

Minced

1

Tbsp

Fresh oregano

Minced

1

Tbsp

Fresh rosemary

Minced

1

Tbsp

Fresh sage

Minced
Seafood Blend:
1

Tbsp

Dill

Ground seeds or fronds

1

Tbsp

Parsley

Minced

1

Tbsp

Lemon verbena or lemon balm

Can use 2 tsp lemon zest

1

Tbsp

Fresh tarragon

Can substitute with basil
Mexican Blend:
1

Tbsp

Fresh cilantro

Minced

1

Tbsp

Mexican oregano

Regular oregano is fine

2-3

tsp

lime zest

zested with microplane
Instructions
Let 1/2 cup (1 stick) butter soften to room temperature for several hours or soften in the microwave on 10% power. The butter should be easy to stir but not melted. Rinse the herbs and allow them to air dry before chopping.

Finely chop or mince the herbs and add to a bowl with the softened butter (you can also chop herbs in the food processor if you don't want to use the knife). Zest the lemon or lime peel and add to the bowl. If using unsalted butter, add the amount of salt you want at this point (about 1/4 to 1/2 tsp). Stir all of it together thoroughly. The butter and chopped herbs can be blended in a stand mixer with a paddle attachment if you don't want to blend by hand.

2-4 Tbsp Fresh herbs,

1 garlic clove,

1/2 tsp fresh lemon zest,

Kosher salt

Place a piece of wax paper (about 8 x 11) on the counter and mound the butter/herb mixture on top of the wax paper (or plastic wrap or parchment paper). Using your hands, pat and roll the butter into a log (see video for my method). Roll the butter log inside of the wax paper and twist the ends to close (or secure with rubber bands. Label and place in freezer until ready to use. If making multiple butters, place all logs in a gallon freezer bag for longer and easier storage.

Will last 4-6 months in freezer. Cut off medallions (or coins) of butter when needed and use in sauces, on breads, or atop vegetables or meats.
Nutrition
Calories:
103
kcal
Carbohydrates:
1
g
Protein:
1
g
Fat:
12
g
Saturated Fat:
7
g
Cholesterol:
31
mg
Sodium:
103
mg
Potassium:
6
mg
Fiber:
1
g
Sugar:
1
g
Vitamin A:
439
IU
Vitamin C:
2
mg
Calcium:
5
mg
Iron:
1
mg
Did you make this recipe?
If you tried this recipe, please give it a star rating! To do this, just click on the stars above. Comments are always helpful also and I respond to all of them (except rude ones)
Online Diet/Health Coaching:
Although I am not currently taking clients for diet & health coaching, I have been a coach for many years with the online service called coach.me. It is a great platform for all kinds of coaching – anything from specific diets, writing a blog, getting up early, or getting rid of that pesky procrastination.
There are some wonderful coaches and the testimonials will tell you what you need to know. Contact me at [email protected] to get a referral to some of the tested, experienced online coaches on Coach.me
If you'd like to start with a plan for a low carb or keto lifestyle, check out this detailed guide in ebook form. It may be all you need to lose weight on this lifestyle. Or it may be used as a supplement to one-to-one coaching.