Possibly the best thing about a taco bar, especially a low carb taco bar, is the ability for everyone to enjoy a taco (or two) personalized to their own taste. Because of this, taco bars are the perfect food choice for a weeknight dinner but can be easily adapted to a wedding or other large party. The recipe for a nopales guacamole is included below as one of the unique sides.
Jump to:
RECIPE for Guacamole
Customizing Taco Bars
Ingredients and Substitutions
Using Cactus Paddles
This post may contain affiliate links, and you can read our disclosure information here–
Customizing a Taco Bar
The best thing about taco bars is that there is literally something for everyone, whether you are on a special diet or just have picky eaters in your group. From various tortillas, meats, cheeses, vegetables and sauces the options are endless!
The restaurant world offers some unique ideas for taco bars that you might consider when designing your taco bar. On a recent trip to Denver, we ate at a wonderful little taco bar called Agave Taco Bar.
The homemade tortillas ranged from simple corn tortillas to spinach-poblano tortillas to squid ink tortillas. The fillings were wonderful, including everything from pulled roasted duck to beef tongue, to home braised pork belly.
Of course there were great cheeses of all kinds, Mexican spices and vegetables such as cactus leaves and tomatillos.
If some of the more unique items (such as squid ink tortillas) are unavailable (or undesirable) to you, there are plenty of ways to design more classic taco bars. They can even be adapted to low carb diets! And because you will be familiar with everyone's tastes, you can tailor the bar to individual preferences.
Ingredients and Substitutions
There are many taco bar ingredients that lend themselves to a slow carb or low carb diet. Here are some of my favorite options that would work well in a modified slow carb taco bar:
Meat & Fish:
Pulled pork, cooked until tender in slow cooker
Chicken, roasted and shredded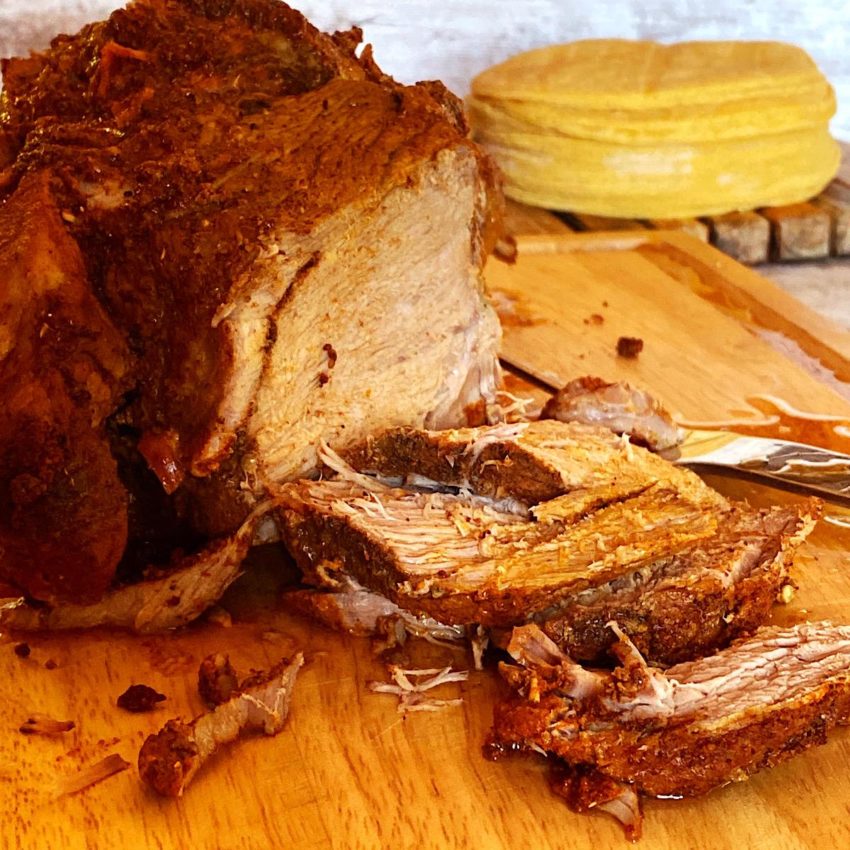 Suggested Cheeses & Sauces:
Oaxaca cheese
Queso fresco cheese
Sharp cheddar
Fruit salsas or chamoy (not low carb)
Chipotle salsa
Aioli (for fish tacos)
Guacamole (see recipe below)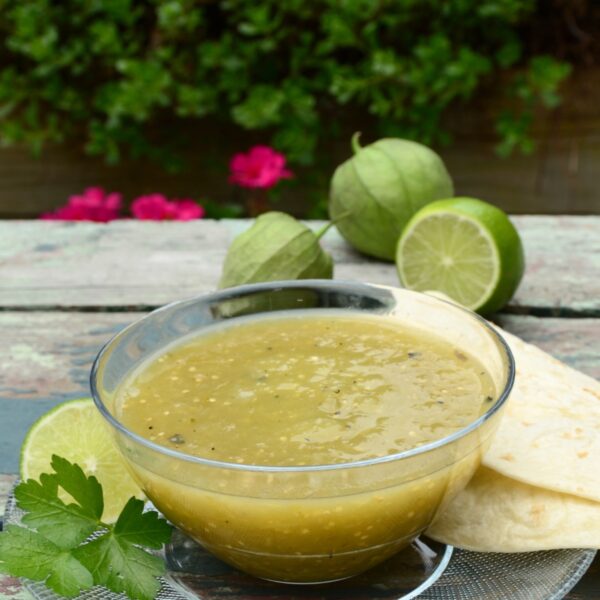 Suggested Low Carb Toppings:
Sliced radishes
Raw onions or pickled onions
Cabbage slaw
Roasted poblano strips
Roasted red peppers
Refried black beans
What About Chips, Shells and Tortillas?
Staying low carb with the fillings for a taco is relatively simple compared to trying to find low carb alternatives for the chips or tortillas in which to place the filling. Fortunately, there are many commercially available low carb tortillas now available. But depending on your time and willingness, you can make some tasty homemade alternatives.
Homemade Low Carb Tortilla Recipes
There were several recipes and videos on the internet for cauliflower tortillas that were all slightly different, so it did take a little messing around with to find the recipe that held together but was flexible enough to hold like a flour tortilla.
My recipe for Cauliflower Tortillas is a very slight adaptation from this one at slimpalate.com.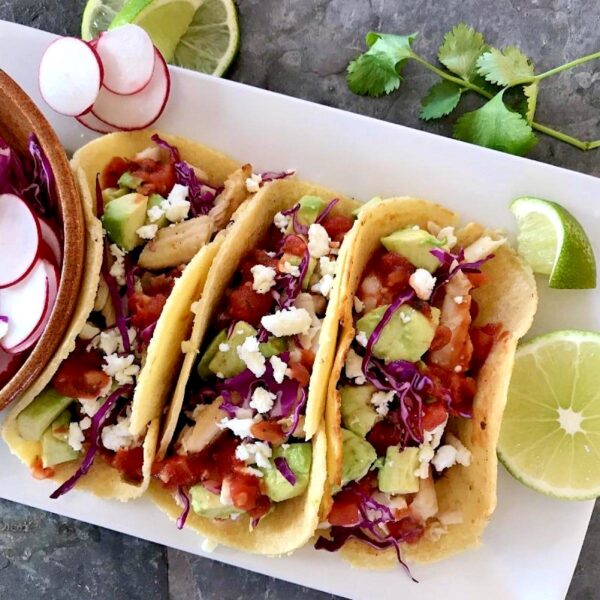 Low Carb Tortillas to Purchase
Siete tortillas- the almond flour tortillas are the lowest carb option I could find available on Amazon. We tried this brand when vacationing in Arizona and it was pretty good.
**TIP: If you don't have the time or inclination to make tortillas from scratch, there are a number of low carb tortillas commercially available. Below is a list, which is by no means comprehensive. With a little searching, I'm sure you can find other brands too. However, here are some brands you can look for:
Mama Lupe Low Carb Tortillas
Mr. Tortilla Low-Carb Multigrain Tortillas
Tia Lupita Low Carb Cactus Corn Tortillas
La Banderita® Carb Counter / Whole Wheat Flour Tortillas
Mission, Flour Tortilla – Low Carb -Soft Taco
Design of a Taco Bar
There is a logical order to setting up a taco bar so that people can make their tacos quickly and easily. The plates should be first in the assembly line, followed by any shells or wraps that people will need to place their fillings on.
Low carb dieters may wish to forgo a wrap and prefer to pile their ingredients in a bowl, ala Chipotle, so make bowls available at the head of the line too.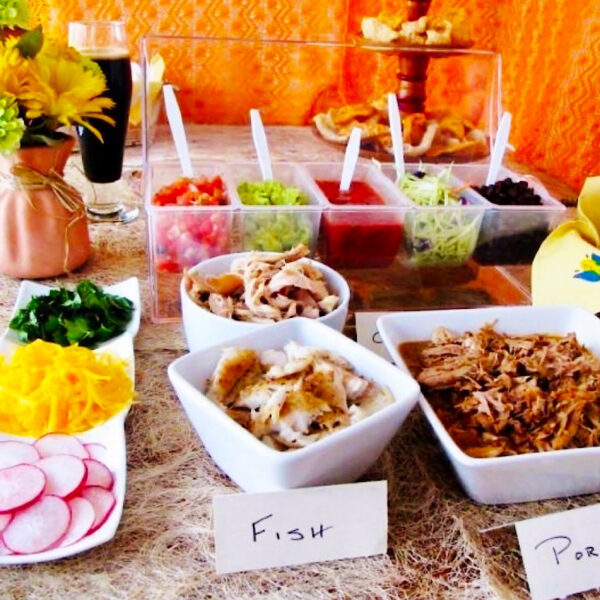 Next lay out the bean, meat, fish, and cheese choices. Make sure that you have serving utensils in each choice so guests don't need to steal from one ingredient to use in a different one, causing flavors to mix.
Adjacent to the meats/cheeses place the salsas. It is always nice to have at least one mild and one hot salsa choice. Finally, put out any additional topping choices such as jalapenos, guacamole, lettuce, pineapple, etc. At the end of the table place the napkins and any utensils so people are not burdened with holding these while trying to assemble their tacos.
Don't Forget the Guacamole!
Guacamole is one of the main sides in Mexican cooking. Traditional guacamole is made using a molcajete (aka mortar and pestle), but it's just as easily made with a fork.
Using Cactus
Nopales (cactus paddles) are also very traditional Mexican fare and are sometimes a separate item on a taco bar – cooked and chopped or diced. Using fresh cactus paddles is easy once you learn how to dethorn them. Of course you can always get them in a jar, already dethorned!
The following recipe is for a great, unique guacamole with the nopales mixed in, which adds a cool, creamy element to the taco bar. Buen provecho!
**Tip: Bear in mind that one ingredient that does not store well for later use is guacamole. You should endeavor to make your guacamole fresh, not too far in advance of the meal.
If you enjoy all types of Mexican food, check out this category of ALL Mexican recipes, where you will find over 40 Mexican recipes, from casual, to low carb, to fancy.
See this post to learn more about the similarities and differences between Low Carb, Slow Carb and Keto diets.
If you make and love this recipe, please leave a ★★★★★ review below and any comments others might find helpful. It means a lot to me when you try my recipes, and I'd love to know how it goes.
Low Carb Guacamole Salsa
A unique low carb Mexican guacamole that includes nopales (cactus) as an optional ingredient.
Ingredients
½

cup

chopped cactus paddle (optional)

fresh paddles will need the spines removed

2-3

teaspoons

olive oil

divided

1

avocado

1

lime

juiced

½

teaspoon

salt

or to taste

1-2

roma tomato

diced

1

jalapeno

diced

4

sprigs of cilantro
Instructions
If you want to add cactus, buy a fresh cactus paddle, remove all the spines by running a spoon or knife along the front and back. Cut off the sides of the paddle and discard. Check the nopal paddle carefully to make sure all spines are removed and rinse thoroughly.

A detailed description on removing thorns from nopales can be found here.

Once thorns are removed, chop or dice to your preference.

Then Heat oil in a large, nonstick skillet and add chopped cactus. Cook for about 10 minutes until cactus is cooked. Set aside to cool.

1/2 cup chopped cactus paddle (optional)

Peel and remove pit from avocado and add to a large bowl. Add the lime juice, olive oil and salt.

2-3 teaspoons olive oil,

1 avocado,

1 lime,

1/2 teaspoon salt

Dice (or chop) the tomato, jalapeno and cilantro. Add to bowl with the avocado and add the cooked cactus If using cactus. Slightly mash and mix all ingredients together. Place in the refrigerator to meld the flavors for about a half an hour before serving.

1-2 roma tomato,

1 jalapeno,

4 sprigs of cilantro
Notes
This recipe uses a raw nopal (cactus) paddle, but you can buy the cactus already cooked and chop it as finely as you prefer.
If you prefer your guacamole less spicy, remove seeds from jalapeno before dicing.
**Want more like this? Subscribe to our Sunday newsletter to get recipes, gardening guides and diet help. Let's go from Inspiration to Done!
If you enjoy all types of Mexican food, check out this category of ALL Mexican recipes, where you will find over 40 Mexican recipes, from casual, to low carb, to fancy.
See this post to learn more about the similarities and differences between Low Carb, Slow Carb and Keto diets.
Nutrition
Calories:
107
kcal
Carbohydrates:
7
g
Protein:
1
g
Fat:
9
g
Saturated Fat:
1
g
Sodium:
296
mg
Potassium:
317
mg
Fiber:
4
g
Sugar:
1
g
Vitamin A:
384
IU
Vitamin C:
17
mg
Calcium:
15
mg
Iron:
1
mg
Did you make this recipe?
If you tried this recipe, please give it a star rating! To do this, just click on the stars above. Comments are always helpful also and I respond to all of them (except rude ones)
Online Diet/Health Coaching:
Although I am not currently taking clients for diet & health coaching, I have been a coach for many years with the online service called coach.me. It is a great platform for all kinds of coaching – anything from specific diets, writing a blog, getting up early, or getting rid of that pesky procrastination.
There are some wonderful coaches and the testimonials will tell you what you need to know. Contact me at [email protected] to get a referral to some of the tested, experienced online coaches on Coach.me
If you'd like to start with a plan for a low carb or keto lifestyle, check out this detailed guide in ebook form. It may be all you need to lose weight on this lifestyle. Or it may be used as a supplement to one-to-one coaching.