This recipe for pork and nopales (cactus) is a traditional Mexican lunch or dinner. No matter the time of day or the season, this is a super easy recipe, and we'll show you how to "de-thorn" the cactus (nopales).
Jump to:
RECIPE
Cactus (Nopales) Flavor
How to De-Thorn
How to Serve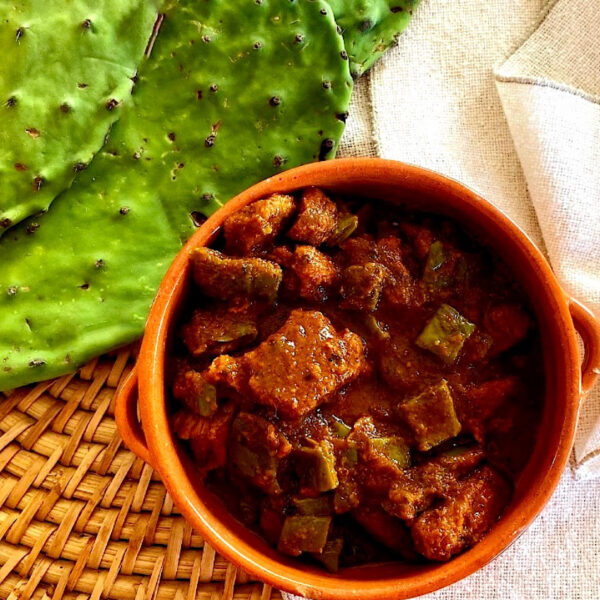 Can You Really Eat Cactus?
Yes, you really CAN eat cactus! And it's actually quite tasty when cooked correctly. Overcooked cactus can get rubbery and slimy, so make sure to remove them from the heat once all cactus has become a paler color.
Depending on where you live, you can buy cactus paddles just about anywhere. Many mainstream grocery stores are now carrying cactus paddles- but sometimes you have to look closely as they can hide behind other items.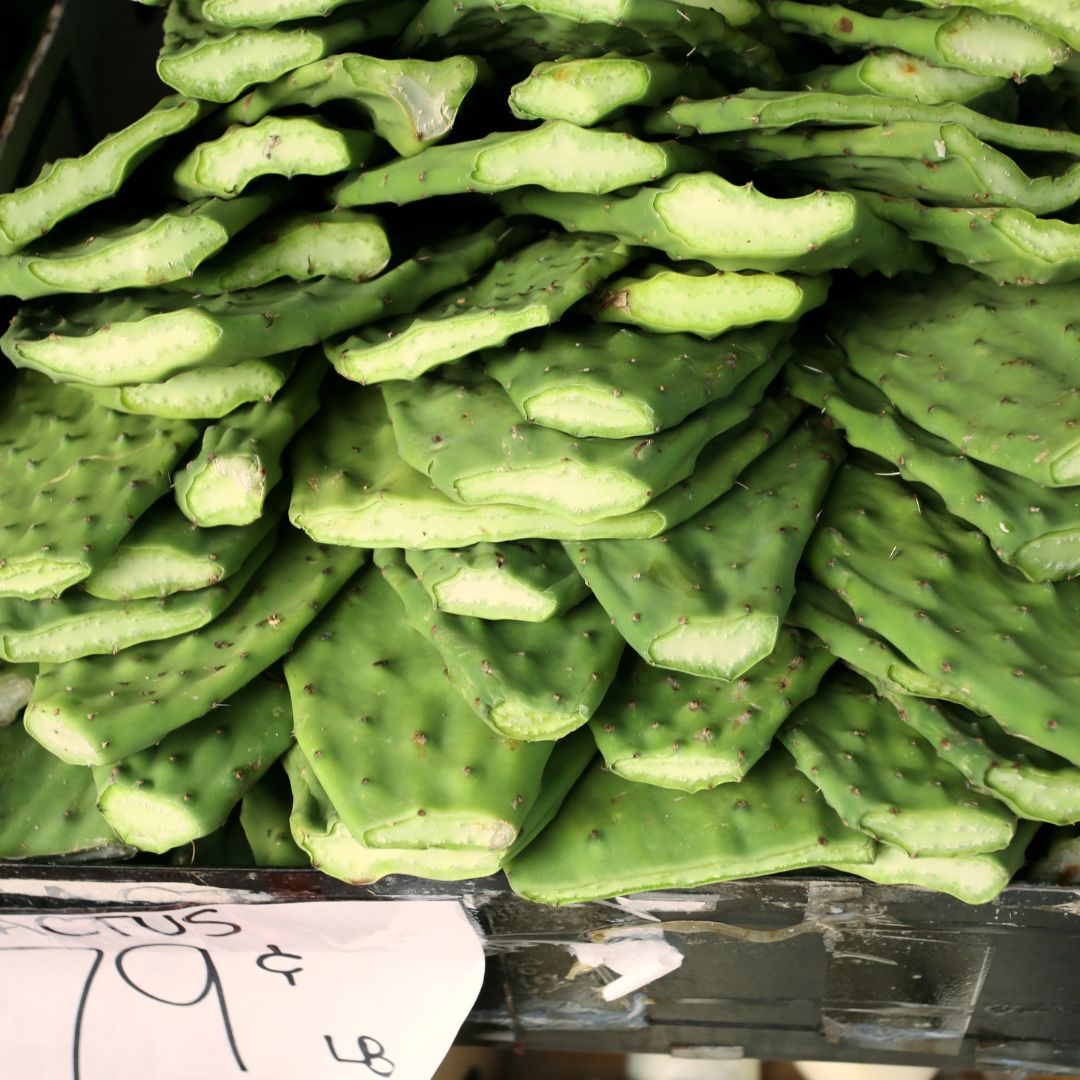 If you can't find them at your normal grocery, specialty Mexican grocery stores will most likely have them for sale. I've even found them at the Asian grocery store near my house!
You can also buy cactus in a jar or can, but you will need to drain the cactus well and, depending on the brand, you may not have to cook them as long.
The most common variety of cactus that is readily available to purchase and eat is called the Nopal cactus. Prickly pear is also a common variety. The recipe below uses the Nopal cactus (you can also use canned cactus if it is available in your store)
How to Remove Thorns from Fresh Cactus
There are many different methods claiming to be "the best method to removing cactus thorns". From burning (basically singeing off the thorns) to softening the paddles in hot water- I tried it all.
Ultimately, I landed on a sort of mix of two methods. Using a small, sharp pairing knife to cut off the edges and get deeper more "stubborn" thorns and pressing a spoon firmly over the whole paddle seems to work best for me. See The video below for my "how-to" tutorial:
This process I used can sometimes be messy (watch out for flying thorns) and I still get the occasional thorn prick, but I'm admittedly a lot less careful than I could be. To ensure I got all the thorns, I run the cactus paddle in water and run my hand along the paddle.
This was definitely a "you live and you learn" moment for me! I was expecting the cactus thorns to easily come out with tweezer or some sort of pincher, but that didn't work so well.
How to Serve Cactus (Nopales)
Although nopales are low carb by nature, there are so many ways to serve it, both low and high carb! Here are a few ways we like to eat this:
In a salad
With a side of refried beans
Over a bed of rice
Over a couple of fried eggs
Easy Enchilada Sauce for Chile Colorado
There are many recipes for homemade enchilada sauce. I am all about making recipes as easy as possible without a loss of flavor. A good enchilada spice blend can save you time in the kitchen without losing that robust flavor that is mandatory to chile colorado.
Using a good Mexican spice blend is key to a good sauce. You can add broth, caramelized onions and tomato paste to achieve the texture and consistency you want.
**Pro Tip: Some people can find chile colorado bitter. Adding a little chicken or vegetable broth can remedy this.
Similar Recipes You'll Love
Check out these other low carb Mexican dishes we love and think you will too!
Recipe for Chile Colorado with Nopales
Chile Colorado with Cactus Paddles
This version of Chile Colorado is made with pork and an enchilada spice blend, rather than using dried, and then rehydrated, peppers. It is much easier to use a good powdered spice blend, and the blend we used included cumin and a few other spices that greatly enhanced the flavor. We used fresh cactus paddles (nopales), which do require removal of the thorns. Fresh nopales and a great spice blend make this dish delicious with a little less time.
Ingredients
2.5

lbs

diced pork

1

cup

water

2

tsp

salt

2

tbsp

olive or vegetable oil

divided

4

tbsp

HeathGlen's enchilada spice mix

or 15 whole guajillo chiles- roasted, stemmed, seeded and pureed

½

onion

divided into quarters

2-4

cloves

garlic

minced

4

tomatoes

roughly chopped, or 1 can (15 oz) diced tomatoes

2

sprigs

epazote

or 2 tsps dried (optional); alternatively use Mexican oregano

2

lbs

cactus paddles

thorns removed (see post) and diced (3 cups diced)
Instructions
Prepare the cactus- remove thorns by cutting off the thick edges of the cactus and then using a spoon to scrape off the thorns (see video for details). When thorns from one paddle are removed place in a bowl of water while removing from rest of paddles. Run your hands along the paddle to make sure all thorns are removed, and then chop or dice into bite size pieces. Set aside.

Put pork in Dutch oven or nonstick stockpot and turn heat to high. Add water and salt. Heat until almost all of the water has evaporated, stirring occasionally. Once the water evaporates, add 2 tbsp of oil and stir occasionally to lightly sear the pork pieces.

2.5 lbs diced pork,

1 cup water,

2 tsp salt,

2 tbsp olive or vegetable oil

While the pork is cooking, in a separate pot, heat 1 tbsp oil over medium-high heat and add cactus and one of the quarters of the onion. Stir to combine and continue cooking until cactus is a pale green- about 10 minutes.

1/2 onion,

2 lbs cactus paddles

If using fresh tomatoes, broil the tomatoes and the remaining half of the onion on high for 5-8 minutes per side. Add garlic and saute for 30 seconds.

Set aside to cool slightly. If using canned tomatoes, broil the onion alone until charred.

1/2 onion,

4 tomatoes,

2-4 cloves garlic

To a food processor or blender, add the tomato mixture and a powdered enchilada spice blend (we used the blend from Heathglen). If using whole chiles, stem and seed them and add to the food processor (Some people will roast them first). Blend everything until smooth. Add a small amount of water (1/2 cup- 1 cup) and blend again if the sauce is too thick for you.

4 tbsp HeathGlen's enchilada spice mix

Combine tomato/chile/enchilada mix, seared pork cubes and cooked cactus in the dutch oven. Bring to a boil and then reduce heat to medium low until the chile colorado is at a simmer. Simmer for 15-20 minutes, adding the epazote about 5 minutes before it is ready.
Notes
Serving Suggestions:
I prefer this with corn tortillas, but flour tortillas are fine
With a side of refried beans
Over a bed of rice or cauliflower rice
Over a couple of fried eggs for a easy low carb breakfast
Nutrition
Calories:
874
kcal
Carbohydrates:
14
g
Protein:
52
g
Fat:
68
g
Saturated Fat:
23
g
Cholesterol:
204
mg
Sodium:
1379
mg
Potassium:
1718
mg
Fiber:
7
g
Sugar:
6
g
Vitamin A:
2082
IU
Vitamin C:
41
mg
Calcium:
434
mg
Iron:
4
mg
Did you make this recipe?
If you tried this recipe, please give it a 5-star rating! To do this, just click on the stars above.
Online Diet/Health Coaching:
Although I am not currently taking clients for diet & health coaching, I have been a coach for many years with the online service called coach.me. It is a great platform for all kinds of coaching – anything from specific diets, writing a blog, getting up early, or getting rid of that pesky procrastination.
There are some wonderful coaches and the testimonials will tell you what you need to know. Contact me at [email protected] to get a referral to some of the tested, experienced online coaches on Coach.me
If you'd like to start with a plan for a low carb or keto lifestyle, check out this detailed guide in ebook form. It may be all you need to lose weight on this lifestyle. Or it may be used as a supplement to one-to-one coaching.