High carb meals can be satisfying but they often leave you bloated and lethargic. Not so with this easy low carb dinner of Chorizo and Eggs. It's easy to whip together and you won't be lacking for compliments on the flavor.
Jump to:
RECIPE
Spanish vs Mexican Chorizo
How to Cook Mexican Chorizo
Step by Step Recipe
More Recipes that use Chorizo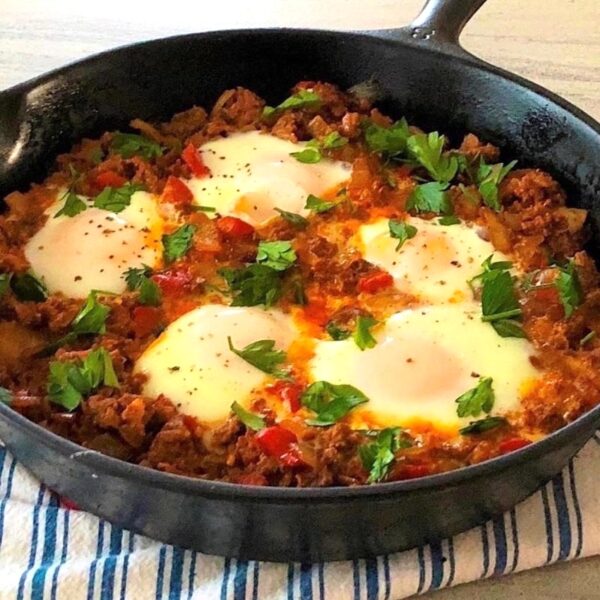 This post may contain affiliate links, and you can read our disclosure information here–
What is Spanish Chorizo vs. Mexican Chorizo?
Spanish chorizo and Mexican corizo are indeed different flavor profiles, and they aren't necessarily interchangeable.
The Spanish version is smoked (cured) and the smoky flavor of the sausage is enhanced with liberal use of smoked paprika. This means it does not need to be cooked like the fresh ground version typical of Mexican chorizo.
The Mexican version is fresh, raw pork which is typically seasoned with vinegar and a variety of chile peppers. Mexican chorizo can be quite complex with the brighter spiciness of chile peppers that are not smoked.
They are both excellent however and if your dish calls for Spanish and all there is in the store is Mexican, use it! You will end up with a different dish but it will still be a robust flavor-filled dish.
Mexican chorizo is usually made with fresh pork (but can also be made from other meats such as beef and chicken) and usually needs cooking before eating. While similar to Spanish chorizo, it contains spices native to Latin America.
How to Cook Chorizo
Fresh Mexican chorizo is often referred to as soft 'cooking' chorizo. Cooking chorizo comes in pieces of sausages and it is common to remove the sausage casing and crumble the chorizo into a skillet.
Mexican chorizo is usually made with pork, although you'll come across beef chorizo as well. It's seasoned with plenty of traditional spices like dried chili, paprika and cumin.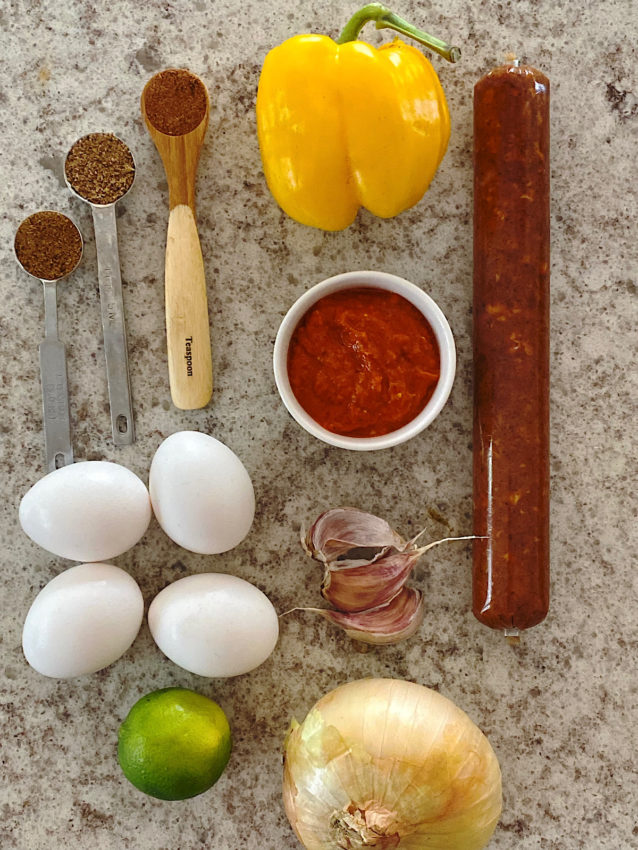 The basic way to cook Mexican fresh chorizo is:
First, remove the membrane from the chorizo. Discard the membrane.
Saute whatever vegetables you might be using with the chorizo (typically it might include onions, garlic and tomatoes)
Crumble the chorizo into the frying pan with the vegetables. Cook for about 5 minutes until most of the fat from the chorizo has cooked off.
Spanish chorizos are made from cured pork that is heavily seasoned with paprika. It can be smoked or unsmoked, spicy or sweet (look for the words picante and dulce on the label to signify spicy or sweet). Because it's cured, you can eat it straight out of the package or saute it along with whatever dish you are making.
Accompaniments to Serve with Chorizo and Eggs
Eggs are typically a breakfast item. However, this hearty protein packed dish can be served any time of day- here are a few serving suggestions:
Make it in Muffin Tins!
This recipe would also be easily adaptable to bake in muffin tins, so that everyone can customize to their own taste preferences and dietary needs.
Instead of making wells in the chorizo mix in the skillet, scoop the mix into muffin tins and crack an egg in each individual muffin cup, filling them about halfway or 3/4 full. Season and bake at 350 for about 15 minutes, or until desired "doneness" of the yolk.
Step by Step Illustration: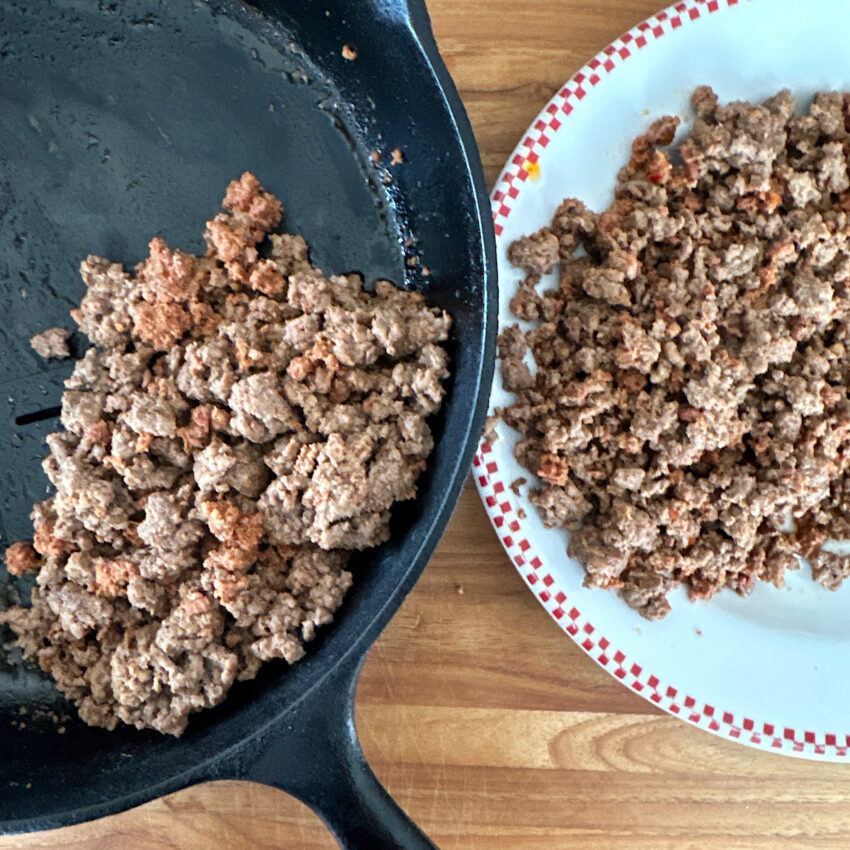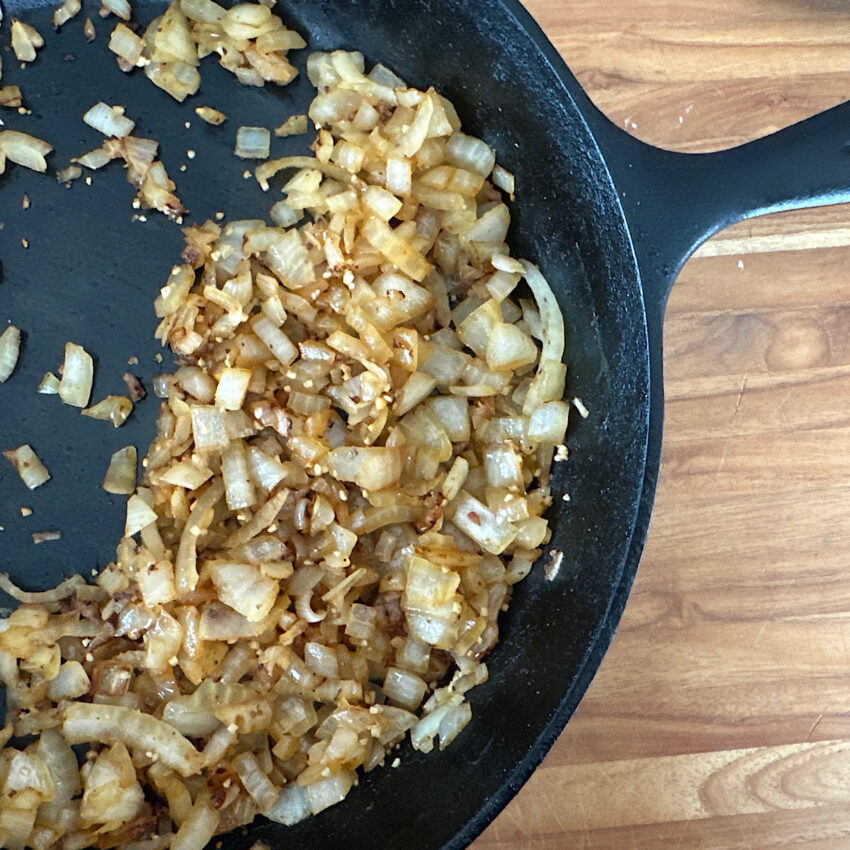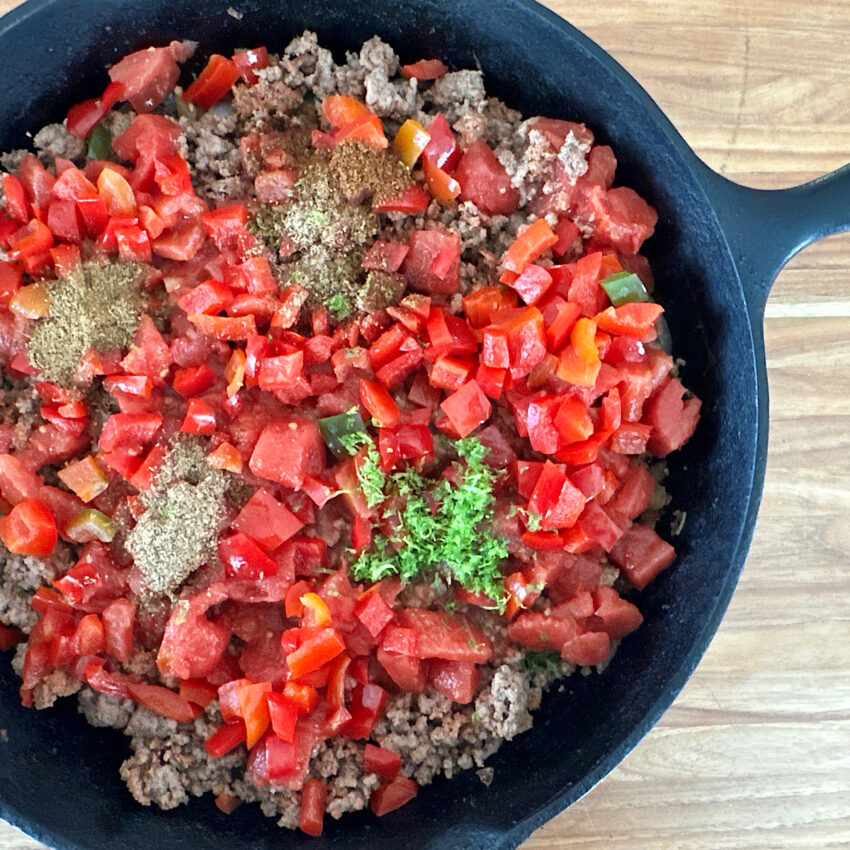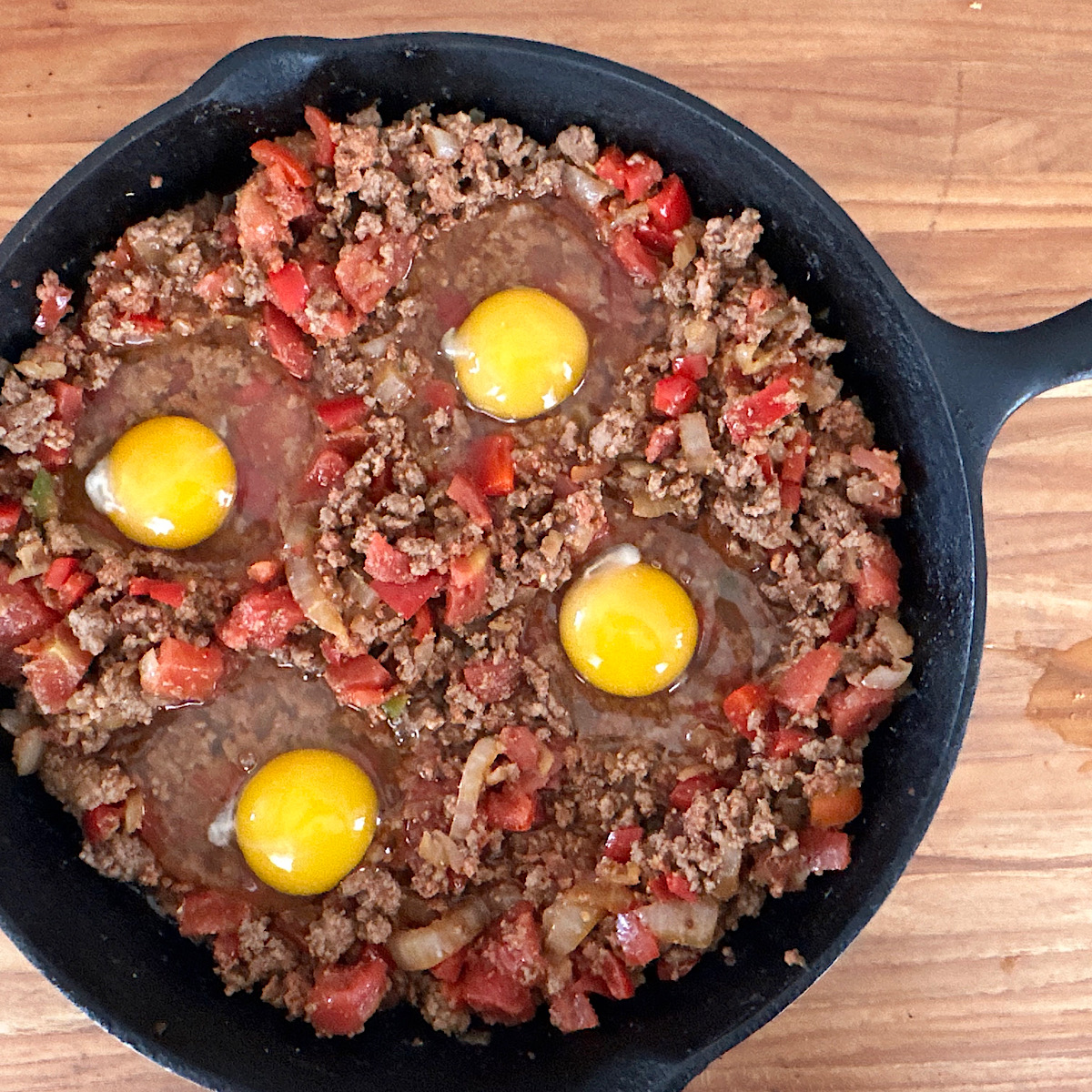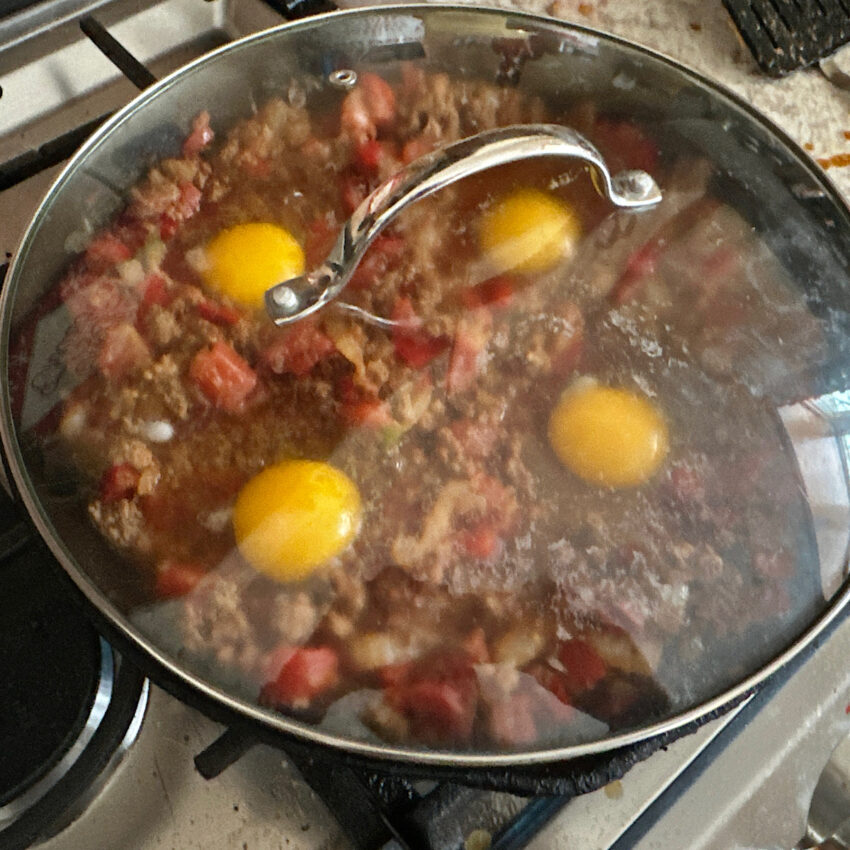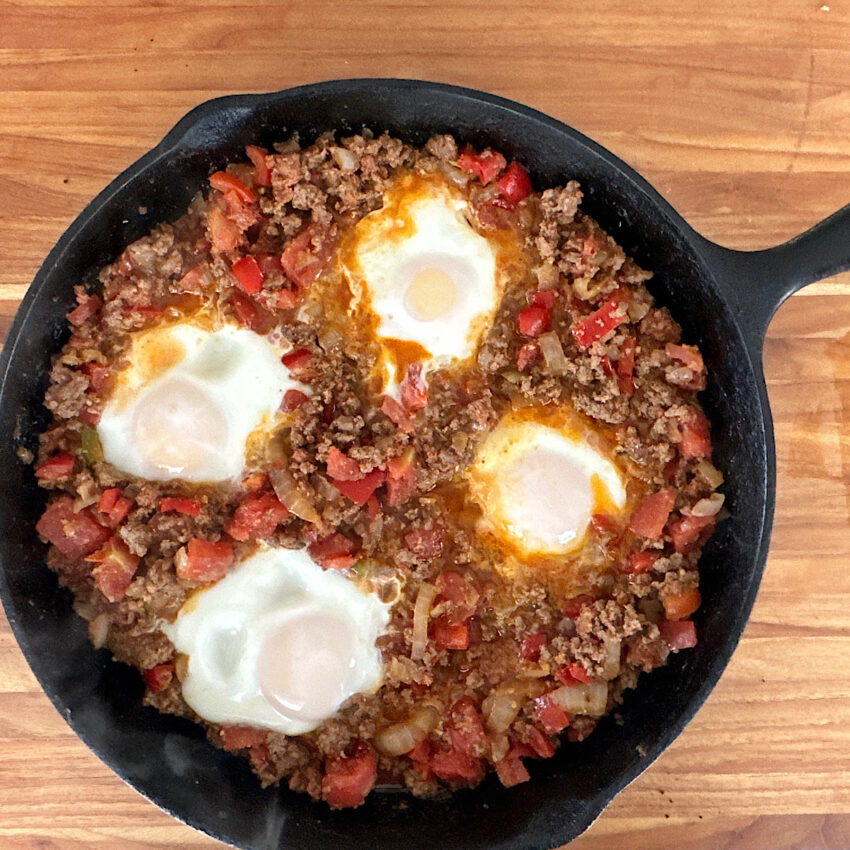 Other Great Recipes Using Chorizo
The chorizo and egg recipe below is typically considered a breakfast dish. There is absolutely no reason it can't stand in for a low carb dinner however. It is certainly filling with plenty of protein!
Chorizo is very versatile, and the dish you use it in can vary dramatically. Here are a few of my favorite recipes using chorizo:
Similar Egg Recipes Without Chorizo
Here are some excellent egg dishes that you might enjoy for breakfast.
Oh, and make sure you use the best fresh organic paprika you can find (smoked or not smoked).
Frequently Asked Questions:
Is cilantro necessary for Mexican chorizo and eggs?

There are two camps on cilantro, the lovers and the haters. If you are a lover, then mince up some of the cilantro stems and add to the recipe when you add the other spices.
If you are a hater…..well, it doesn't hurt the dish one iota to leave it out entirely.
Can you eat Spanish chorizo without cooking it?
Spanish chorizos are made from cured pork that is heavily seasoned with paprika. It can be smoked or unsmoked, spicy or sweet (look for the words picante and dulce on the label to signify spicy or sweet). Because it's cured, you can eat it straight out of the package or saute it along with whatever dish you are making. Do not eat uncured chorizo without first cooking.
If you make and love this recipe, please leave a ★★★★★ review below and any comments others might find helpful. It means a lot to me when you try my recipes, and I'd love to know how it goes.
Low Carb Chorizo and Eggs
An easy low carb Mexican dish that can be served for breakfast or dinner. It is made on the stovetop in a skillet and is very flexible in the ingredient mix.
Ingredients
1-2

Tbsp

olive oil

8-10

oz

chorizo

ground chorizo, not cured

1

med

onion

chopped

1-3

cloves

garlic

minced

1

med

bell pepper

chopped

1

cup

romesco sauce

can substitute 14 oz can diced tomatoes

1

tsp

cumin

1

tsp

smoked paprika

1

tsp

coriander

1

med

lime

zested and juiced

4-5

med – large

eggs

3-6

sprigs

cilantro

for garnish
Instructions
Heat oil in skillet over med-high heat. Add chorizo and cook until no longer pink (4-5 min). Remove chorizo from pan (you may want to use a paper towell to wipe out some of the grease, but leave enough to saute the onion)

1-2 Tbsp olive oil,

8-10 oz chorizo

Add chopped onion and saute in the chorizo oil/grease until caramelized (4-5 minutes). Add garlic and cook about 30 seconds.

1 med onion,

1-3 cloves garlic

Add reserved chorizo back to the skillet and stir in peppers, romesco (or tomatoes), spices, lime zest and lime juice. Add salt and pepper to taste. Stir and cook 2-3 minutes until mixture is heated through.

1 med bell pepper,

1 cup romesco sauce,

1 tsp cumin,

1 tsp smoked paprika,

1 tsp coriander,

1 med lime

Make small wells (holes) in the mixture with a spoon and carefully crack egg and pour into the wells, one by one. Cover the skillet and cook over medium to medium low for 3-4 minutes, or until egg whites solidify.
Nutrition
Calories:
272
kcal
Carbohydrates:
8
g
Protein:
13
g
Fat:
20
g
Cholesterol:
49
mg
Fiber:
2
g
Sugar:
4
g
Did you make this recipe?
If you tried this recipe, please give it a star rating! To do this, just click on the stars above. Comments are always helpful also and I respond to all of them (except rude ones)
Online Diet/Health Coaching:
Although I am not currently taking clients for diet & health coaching, I have been a coach for many years with the online service called coach.me. It is a great platform for all kinds of coaching – anything from specific diets, writing a blog, getting up early, or getting rid of that pesky procrastination.
There are some wonderful coaches and the testimonials will tell you what you need to know. Contact me at [email protected] to get a referral to some of the tested, experienced online coaches on Coach.me
If you'd like to start with a plan for a low carb or keto lifestyle, check out this detailed guide in ebook form. It may be all you need to lose weight on this lifestyle. Or it may be used as a supplement to one-to-one coaching.