This robust dish of chicken, chorizo, peppers, onion and spices borrows from both Spain and France. It is a one-pot recipe made in a cast iron skillet and layers the flavors of each ingredient over each other. And….if you don't include the rice or potatoes that often accompany it in Spain, it is compliant with a Slow Carb Diet.
Jump to:
RECIPE
What is Basque Cooking?
Spanish vs Mexican chorizo
Ingredients and Substitutions
Illustrated Step by Step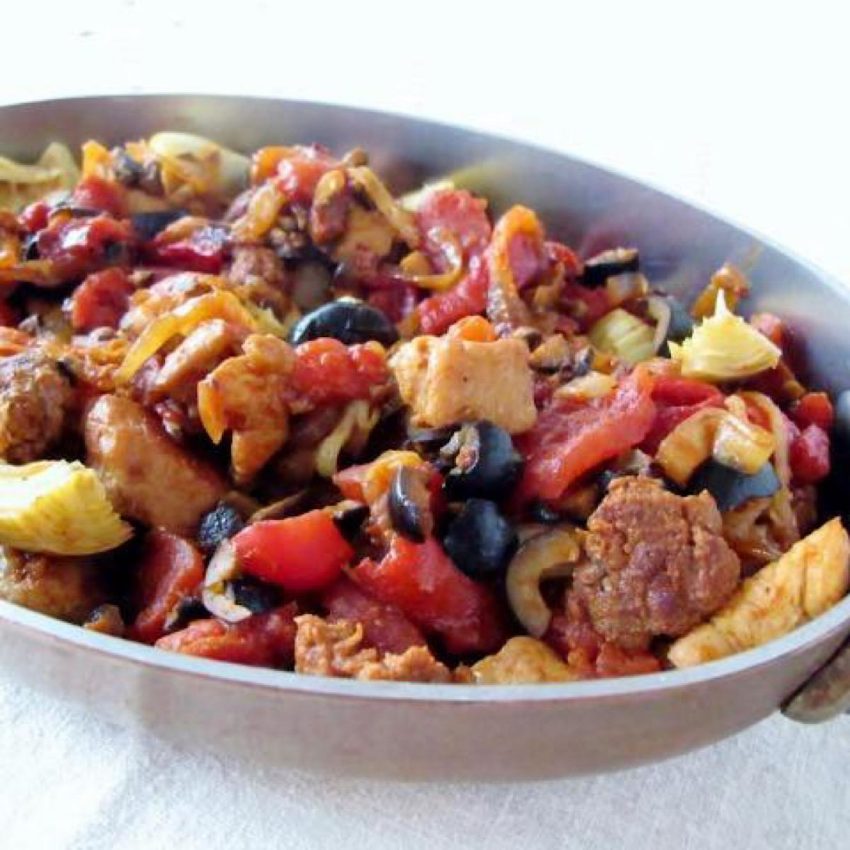 This post may contain affiliate links, and you can read our disclosure information here–
Where is Basque Country?
Basque country is often said to straddle the border between Spain and France. The Basque people actually inhabited the region before those nations existed, but once Spain and France entered the picture, they brought their regional cuisines with them.
My daughter was fortunate enough to do a study abroad program in Spain, and her parents were fortunate enough to visit her and eat the wonderful dishes of the Basque region.
This Basque chicken and chorizo dish was inspired by that study abroad trip to Spain, and it turned out delicious, even though made in Minnesota!
What is Basque Cooking?
The Basque cuisine includes both a coastal influence of fish and seafood as well as a robust inland cuisine dominated by fresh and cured meats, as well as many vegetables and legumes.
Both the French and Spanish influence is strong, but the classic dishes are notably different on each side of the border.
Basques have incorporated ingredients from new settlers over time, like chocolate, potatoes, and various peppers. The Espelette pepper from France for example is strongly associated with Basque cooking and olive oil is the predominant oil used in cooking.
This recipe for Piperade is another classic Basque dish of tomatoes, onions, and peppers that is paired with many different meats or fish.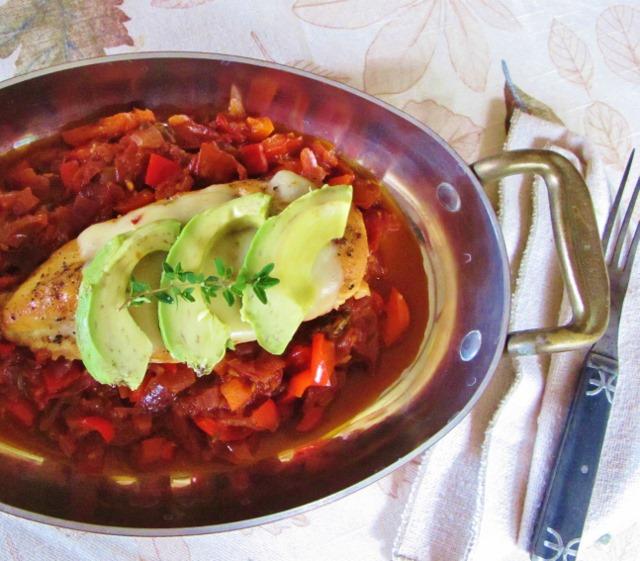 Basically the Basque cuisine is a local cuisine which draws from a rich, fertile inland area and a distinctive coastal area.
Pork, lamb, game meats and lake fish are abundant in the inland countryside and a wide range of seafood makes up the cuisine from the coastal area.
All in all, It is a very old cuisine with many traditional recipes passed down from generation to generation.
Spanish Chorizo vs Mexican Chorizo?
The chorizo that is typically used in the recipe below is Spanish chorizo—small, dense, smoked sausages made from coarsely chopped fatty pork and seasoned with mild Spanish paprika, salt and garlic. When you see the deep red chorizo in the store, that is going to be the smoky Spanish version.
Alternatively, the Mexican version of chorizo is fresh, raw pork which is typically seasoned with vinegar and a variety of chile peppers. Mexican chorizo can be quite complex with the brighter spiciness of chile peppers that are not smoked.
Mexican corizo and Spanish chorizo are indeed different flavor profiles, so they aren't truly interchangeable.
They are both excellent however and if your dish calls for Spanish and all there is in the store is Mexican, use it! You will still end up with a robust flavor-filled dish.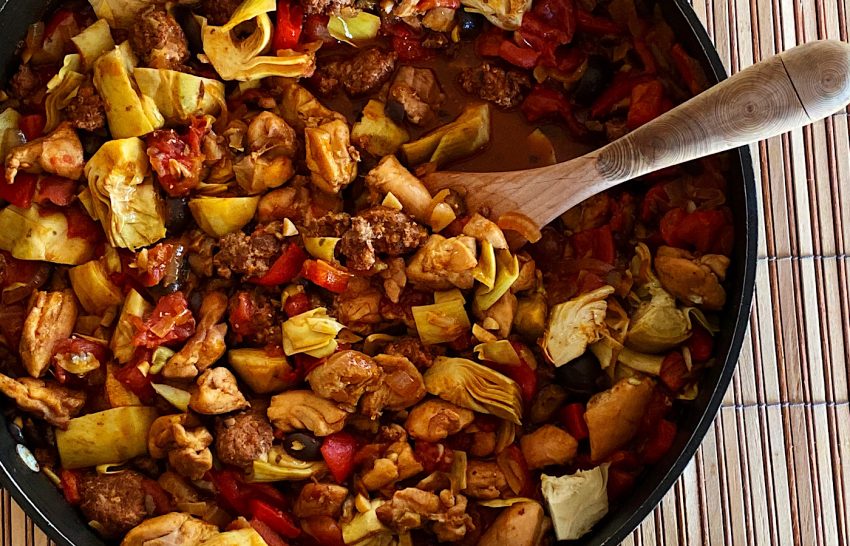 Ingredients and Substitutions
Substitutions for Basque Peppers
Bell peppers native to Mexico and Central America became a classic pepper used in Spanish cuisine. The French added a different kind of pepper to Basque cooking, a pepper called piment d'Espelette, or Espelette pepper.
The Espelette pepper is sweet like the bell pepper, but also has a slightly smoky taste with a bit of heat.
I have grown the Espelette pepper on our farm, but it is not easy to find in an American grocery store. A substitute for this pepper would be to use sweet paprika with a little bit of a hotter pepper like cayenne.
Illustrated Step by Step: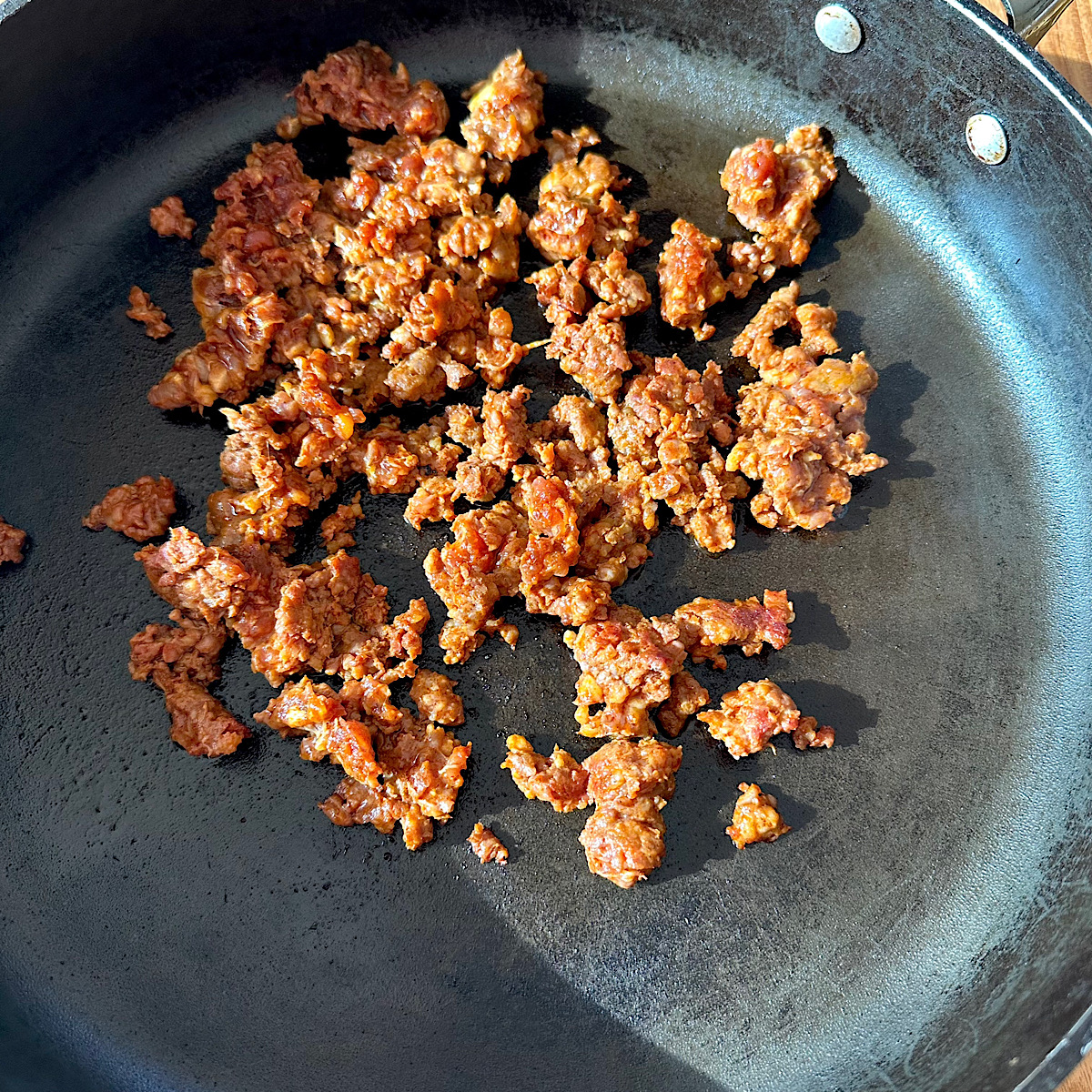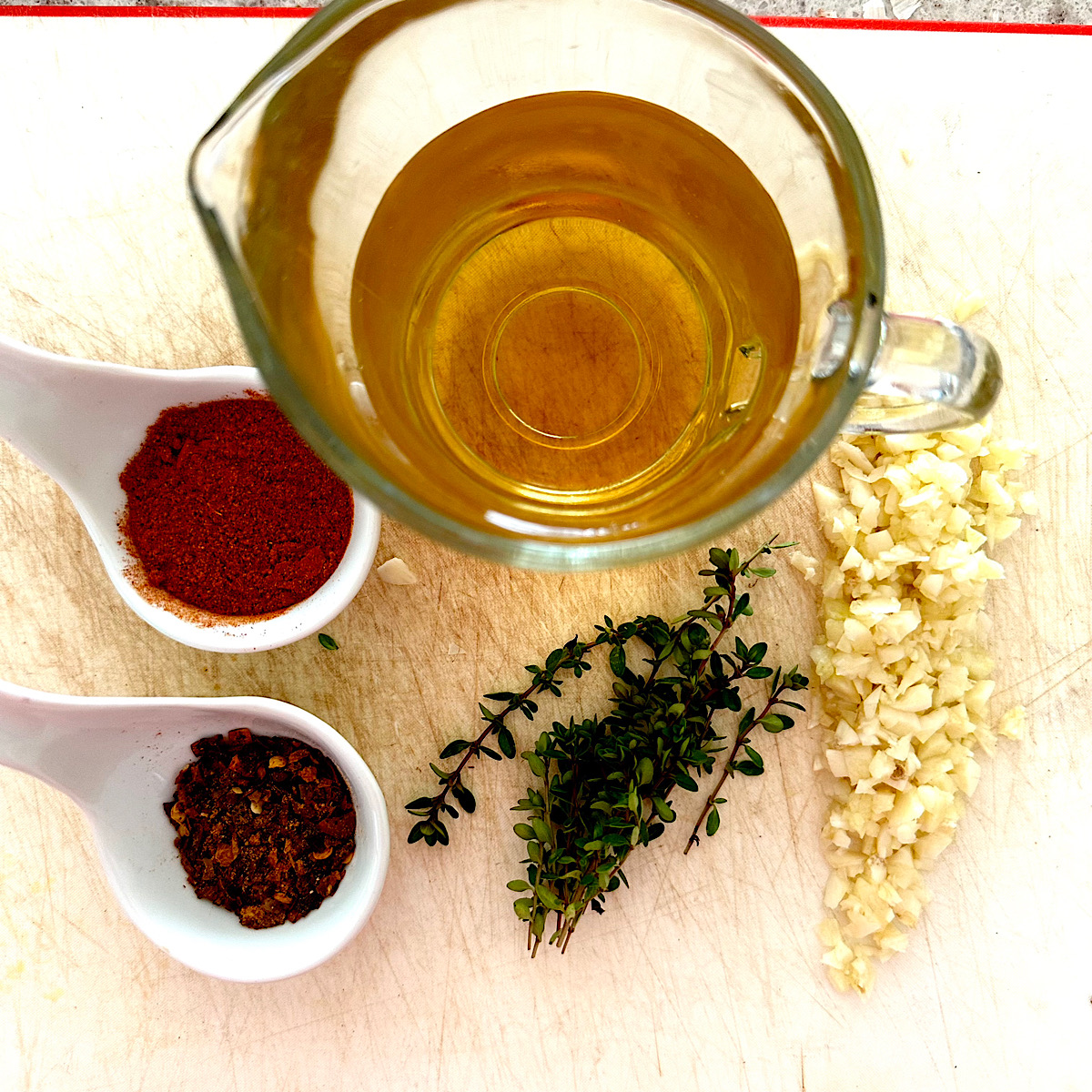 Enjoy, and please comment or leave 5 stars if you like this kind of content.
Basque Chicken and Chorizo Skillet Dinner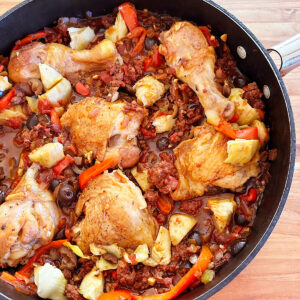 This is a skillet dinner with flavors from the Basque region of Northern Spain. It includes chicken, chorizo, olives, artichokes, sherry and spices. Delicious and slow carb compliant!
Ingredients
6

ounces

chorizo sausage

Ground (you could also slice it into coins if it comes in a sleeve)

2-3

tablespoons

Olive oil

3

lbs.

chicken

I used 3 legs and 3 thighs; you could also use breast meat cut into bite-sized pieces (about 1 inch)

½

tsp

salt

¼

tsp

black pepper

2

large

red sweet peppers

can be from a jar

1

large

onion

sliced thinly or chopped

6

cloves

garlic

minced

14-16

ounce

tomatoes

diced (can use canned or fresh)

14

oz

black olives

drained and coarsely chopped

¾

cup

dry sherry

2

tsp

paprika

¾

tsp

crushed red pepper

9

ounces

artichoke hearts

Frozen or jarred
Instructions
Over medium-high heat, heat up a large skillet with deep sides. Add the chorizo to the skillet and lightly brown for 3-5 minutes, rendering the fat. Transfer chorizo to a plate, leaving the fat in the skillet.

Season the chicken with salt and pepper. Keeping the skillet at medium-high, add the oil and the chicken to the skillet and cook until browned on all sides (about 5-10 minutes). Remove the chicken to the plate with the chorizo.

2-3 tablespoons Olive oil,

3 lbs. chicken

Add the red sweet peppers and chopped onion and cook until softened (about 5 minutes). Add the garlic, tomatoes, olives, dry sherry, paprika and crushed red pepper and cook for 1 minute, scraping up any browned bits from the pan.

Salt and pepper to taste

1/2 tsp salt,

2 large red sweet peppers,

1 large onion,

6 cloves garlic,

14-16 ounce tomatoes,

14 oz black olives,

3/4 cup dry sherry,

2 tsp paprika,

3/4 tsp crushed red pepper,

1/4 tsp black pepper

Return the chicken and chorizo to the skillet, cover, and turn the heat down to low. Simmer, covered, for 20-25 minutes.

Add the quartered artichoke hearts, raise the heat to medium and cook uncovered until the sauce is slightly thickened (5-10 minutes).

9 ounces artichoke hearts

If not on the SCD, serve with crusty French bread.
Notes
**note that cured chorizo is very different from raw chorizo. This recipe uses raw chorizo sausage and not the cured style.
Nutrition
Calories:
642
kcal
Carbohydrates:
18
g
Protein:
51
g
Fat:
39
g
Saturated Fat:
8
g
Polyunsaturated Fat:
5
g
Monounsaturated Fat:
19
g
Trans Fat:
0.2
g
Cholesterol:
234
mg
Sodium:
1844
mg
Potassium:
1890
mg
Fiber:
7
g
Sugar:
8
g
Vitamin A:
4022
IU
Vitamin C:
109
mg
Calcium:
101
mg
Iron:
4
mg
Did you make this recipe?
If you tried this recipe, please give it a star rating! To do this, just click on the stars above. Comments are always helpful also and I respond to all of them (except rude ones)
Online Diet/Health Coaching:
Although I am not currently taking clients for diet & health coaching, I have been a coach for many years with the online service called coach.me. It is a great platform for all kinds of coaching – anything from specific diets, writing a blog, getting up early, or getting rid of that pesky procrastination.
There are some wonderful coaches and the testimonials will tell you what you need to know. Contact me at [email protected] to get a referral to some of the tested, experienced online coaches on Coach.me
If you'd like to start with a plan for a low carb or keto lifestyle, check out this detailed guide in ebook form. It may be all you need to lose weight on this lifestyle. Or it may be used as a supplement to one-to-one coaching.