Piperade is the simple, elegant and quintessential dish of the small Basque region that sits partially in France and partially in Spain. The signature ingredients are those found readily in this region and consist of onion, garlic, peppers and tomatoes (and usually a spicy paprika).
This slow carb recipe was inspired by Hubert Keller's slider recipe using piperade as the bed to a chicken main dish.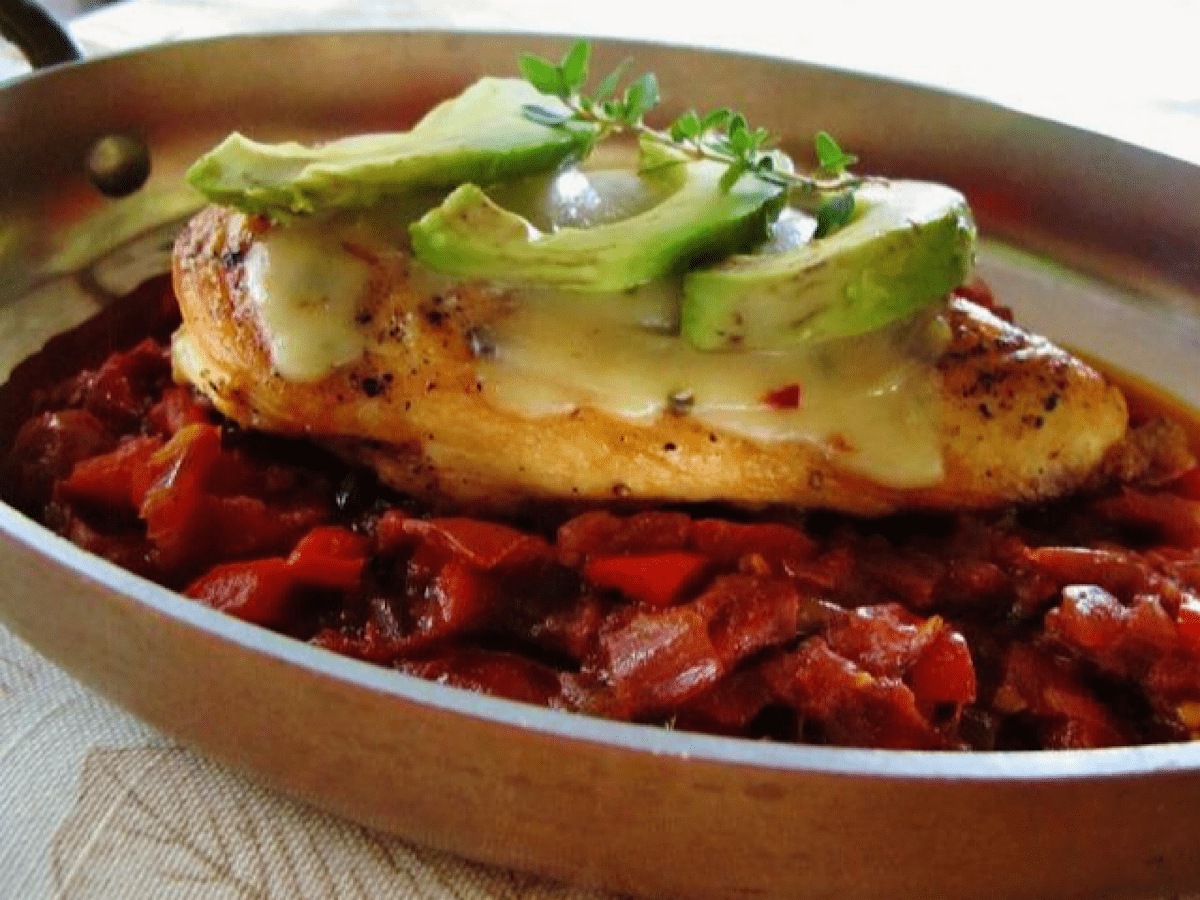 I loved Hubert Keller's chicken piperade sliders as appetizers and the recipe was easily adapted to become this main dish recipe. If you want his specific "slider" recipes, he documents them on his website, hubertkeller.com
What is Piperade?
As with any regionally popular dish, there are slight variations and controversy over which version is truly authentic. Apparently there is controversy over the exact nature of the dish also… is it a sauce to be paired with eggs, a side dish, or a supper dish accompanied by poultry, meat or fish?
Piperade with Seared Chicken
Ingredients:
2-3 Tbsp olive oil
1 large red onion, minced or diced
2-4 cloves garlic, minced
2 tsp smoked paprika
1/4 cup water, (can substitute wine or chicken broth)
2 large red bell peppers, chopped
2 banana peppers, chopped
1 jalapeno or preferred hot pepper, chopped (optional)
3 sprigs fresh thyme
1/4 to 1/2 cup water
2-3 large tomatoes (heirlooms are great if available)
salt & pepper to taste (about 1/2 tsp salt and 1/4 tsp pepper)
2-3 Tbsp olive oil
3 chicken breasts, boneless and skinless
6 slices pepperjack cheese, or other pepper cheese like chipotle cheddar slices
1 avocado
Directions:
Heat olive oil in a large cast iron skillet (or dutch oven) until hot. Add onions and sweat in oil (saute over med-low heat until translucent) for 2-4 minutes.
Add garlic and cook gently for 1 minute (do not scorch). Add paprika and stir into onion mixture to coat (it will be dry). When paprika is thoroughly mixed in add water (or broth) and cook until liquid is evaporated (about 2 minutes).
Add the peppers, thyme and water and cover. Cook over medium heat for about 3 minutes to steam vegetables.
Add the tomatoes, salt & pepper and cover. Cook gently until liquid from tomatoes has cooked down and you are left with a thick sauce.
Season chicken breasts with salt and pepper and brush with oil. Heat 2-3 Tbsp olive oil until quite hot (almost smoking) in separate pan. Place chicken breasts in hot oil and sear until brown, about 3 minutes. Turn chicken over and turn down heat and cook until done (about 5-8 minutes depending on size of chicken). Chicken meat should be white inside, but don't overcook or it will be dry.
When chicken is cooked through, place the cheese slices on top of the chicken breasts and cover the pan to melt the cheese. Slice the avocado while the cheese is melting
Spoon the piperade onto a plate, place the chicken breast on top, and cover with the sliced avocados.
** Note: If you do not like whole chicken breasts on your plate, thinly slice the chicken and arrange on top of the piperade and cover with avocados.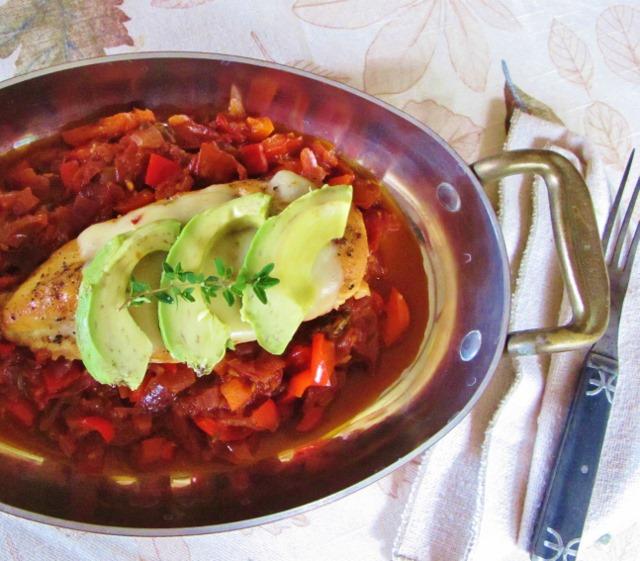 This dish was wonderful, easy and healthy. Spice it up with hot peppers if you like, but don't forego the smoked paprika and avocados. They really add a lot of distinctive flavor!