Lentils are constantly being recommended as a good staple for the Slow Carb Diet, and are also appropriate for a Mediterranean Diet. Besides being a tasty base for all kinds of proteins and vegetables, lentils are cheap, nutritious and easy to work with. This lentil stew is both delicious and easy.
Jump to:
RECIPE
What is "Mulligan" Stew?
A Mexican Version
Illustrated Step by Step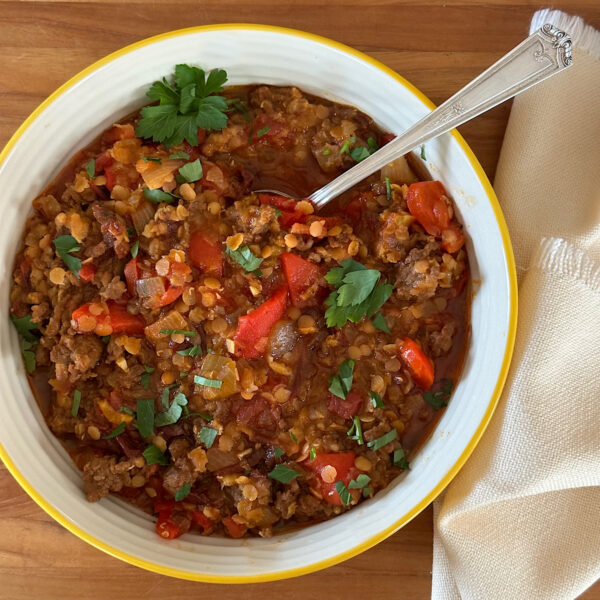 This post may contain affiliate links, and you can read our disclosure information here–
What does Mulligan mean?
So in informal golf games a mulligan is "…..a second chance to perform an action, usually after the first chance went wrong through bad luck or a blunder.
The food dish of mulligan stew shares a few concepts of the golf definition, in that the stew is often made with odds and ends of leftover food scraps (hence "second chance").
Mulligan stew is a sort of catch-all dish of whatever is available, and is said to have originated in hobo camps during the early 1900's. It usually contains meat, potatoes and vegetables in just about any combination.
I'm calling this lentil chorizo dish a "mulligan stew" because it's kind of a stew, kind of a hash and kind of a soup. It's really a mash-up of lentils and chorizo and whatever else is in your fridge or pantry. In my case that was chorizo and red lentils.
I will be making this frequently, and I'm sure it will be slightly different each time – hence the beauty of a "mulligan stew".
The Mexican Version of Lentil Chorizo Stew
In the central region of Mexico, chorizo is used in everything from eggs to tacos. The addition of chipotle chile is also characteristic of this area.
I was inspired to make this stew with a Mexican flavor profile by an article about Mexican cooking focused on lentils which I found it on the website Mexconnect. My recipe below is similar to this one but modified to be more in line with a slow carb diet.
Ingredients for Mexican Lentil Chorizo Stew
Here are the ingredients used in the recipe below, with ideas for substitutions following the photo:
Illustrated Step by Step: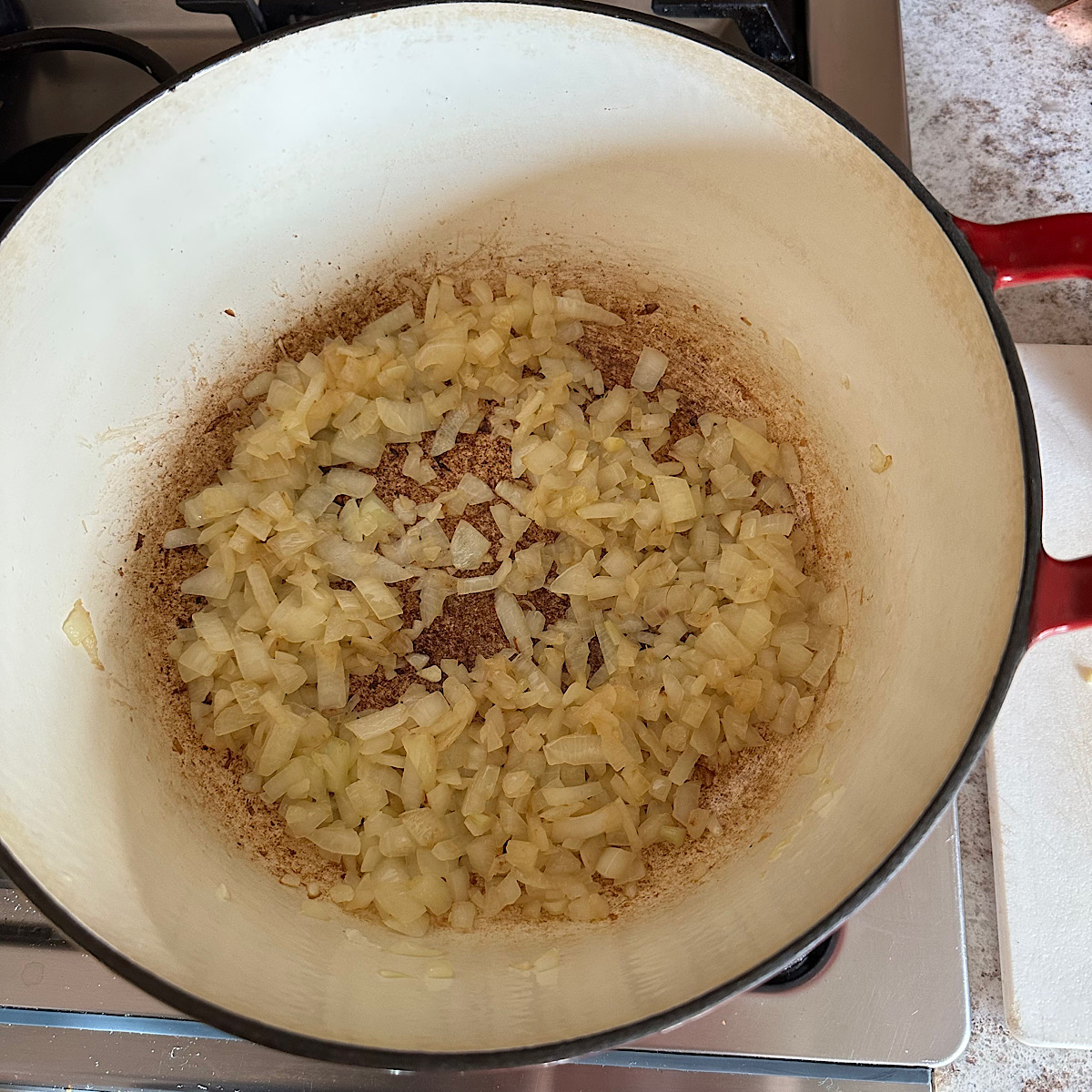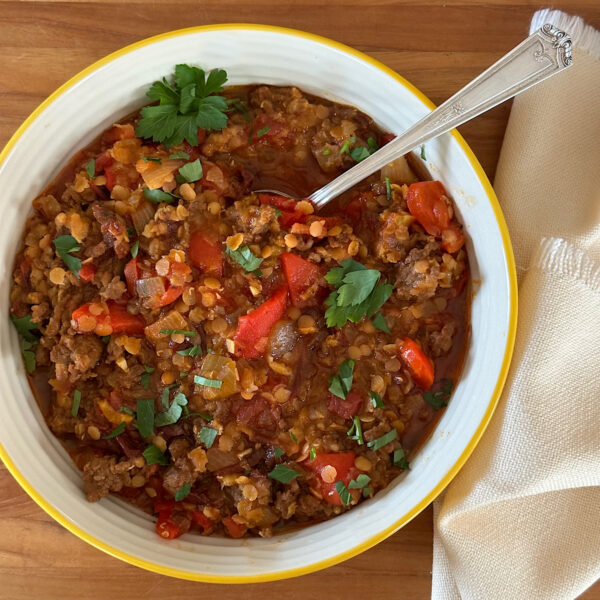 Other Ways to Add Flavor to Lentils
Lentils can often be bland. This smoky lentil soup recipe adds smoked ingredients for a rich, comforting flavor profile.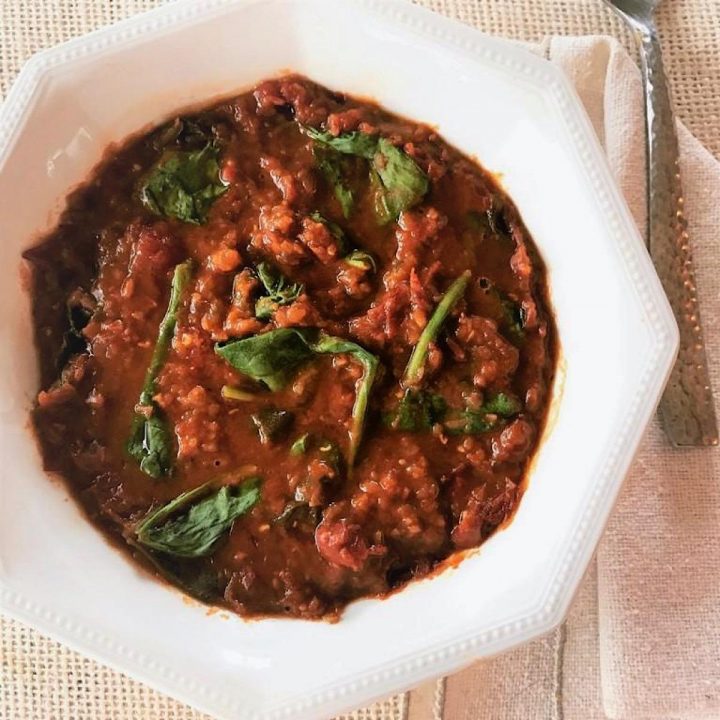 Frequently Asked Questions:
Is lentil chorizo mulligan stew healthy?
Lentils, like beans, are considered "pulses" and they are one of the cornerstones of a Mediterranean diet. The Mediterranean diet with lentils as a base consistently ranks as one of the healthiest diets, and there is a huge body of evidence documenting multiple health benefits. This comprehensive post goes into detail on the benefit and nutritional value of lentils and pulses.

Mulligan stews can easily be made vegetarian. In my recipe, just exclude the chorizo and use vegetable broth instead of chicken broth. Add more vegetables if desired. Remember, a mulligan is a "hobo" stew, made with odds and ends.
Can lentil soups/stews be frozen
Yes! The stew will keep in the refrigerator for 5 days and will actually get better. If you still have some leftover, pack it in an airtight container and freeze for 6 months. You can freeze it in a ziplock freezer bag if you want it to lay flat in the freezer.
Can you use canned lentils?
Not really. Canned lentils need to cook together with the rest of the ingredients for a while and they tend to turn mushy and may disintegrate. Quick-cooking lentils are the best option, as they are quick and easy, but will still meld with the rest of the ingredients while holding on to their texture.
Are red lentils or brown lentils better?
There is a whole range of lentils, but the red and the brown lentils are the ones that are usually available in most grocery stores.

The brown lentil is by far the most common variety of lentil. They generally have a mild, earthy flavor, cook in about 20 to 30 minutes and hold their shape very well.

Red lentils (sometimes gold or orange) are the sweetest and nuttiest of the lentils (IMHO). They usually cook in about 30 minutes, but can get mushy if cooked too long. Mushy is not necessarily negative, and is often what you want when making Indian dals and curries or for thickening soups.
Spicy Mexican Lentil and Chorizo Stew (Mulligan)
Spicy Lentil Chorizo Stew
This is an easy stew (or mulligan) often made with leftovers in the fridge. It is flexible, delicious and very healthy. It is also compliant with slow carb and Pesco Mediterranean diets.
Ingredients
2

Tablespoons

Olive oil

1

onion

chopped

1

lb

chorizo

ground, not cured

3

cloves

garlic

minced or smashed

1

small

chippotle in adobo

coarsely chopped

14.5

ounces

diced tomatoes

Canned (I like Rotel) or fresh

1

cup

lentils

red or brown

12

ounces

roasted red peppers

chopped

2

cups

chicken stock

or water

¼

cup

flat leaf parsley

chopped

sour cream

optional (use if stew is too spicy)
Instructions
Heat 1 Tbsp oil in dutch oven or large skillet over medium heat. Add onion and saute for 3-5 minutes until soft and golden brown.

Add chorizo and break it up in the pot. Cook mixture over medium heat until chorizo is no longer pink (5-7 minutes).

2 Tablespoons Olive oil,

1 onion,

1 lb chorizo

Add garlic and cook 30 seconds. Stir in chipotle in adobo, tomatoes, lentils, peppers and stock and bring mixture to a boil.

Reduce heat to low and simmer, stirring occasionally, for 20 minutes or until the mixture has thickened slightly.

1 small chippotle in adobo,

14.5 ounces diced tomatoes,

1 cup lentils,

12 ounces roasted red peppers,

2 cups chicken stock

Stir in parsley and serve in bowls

1/4 cup flat leaf parsley
Nutrition
Calories:
390
kcal
Carbohydrates:
29
g
Protein:
24
g
Fat:
19
g
Saturated Fat:
7
g
Polyunsaturated Fat:
0.5
g
Monounsaturated Fat:
1
g
Cholesterol:
50
mg
Sodium:
903
mg
Potassium:
648
mg
Fiber:
12
g
Sugar:
4
g
Vitamin A:
871
IU
Vitamin C:
39
mg
Calcium:
75
mg
Iron:
5
mg
Did you make this recipe?
If you tried this recipe, please give it a star rating! To do this, just click on the stars above. Comments are always helpful also and I respond to all of them (except rude ones)