Vegetables seem to be the most challenging food for people to cook in a way that results in robust flavor. This recipe nestles soft boiled eggs into a bed of swiss chard with caramelized onions. Incredible flavor and incredible nutrition!
Jump to: Recipe | What are Leafy Greens? | Using Vinegar with Greens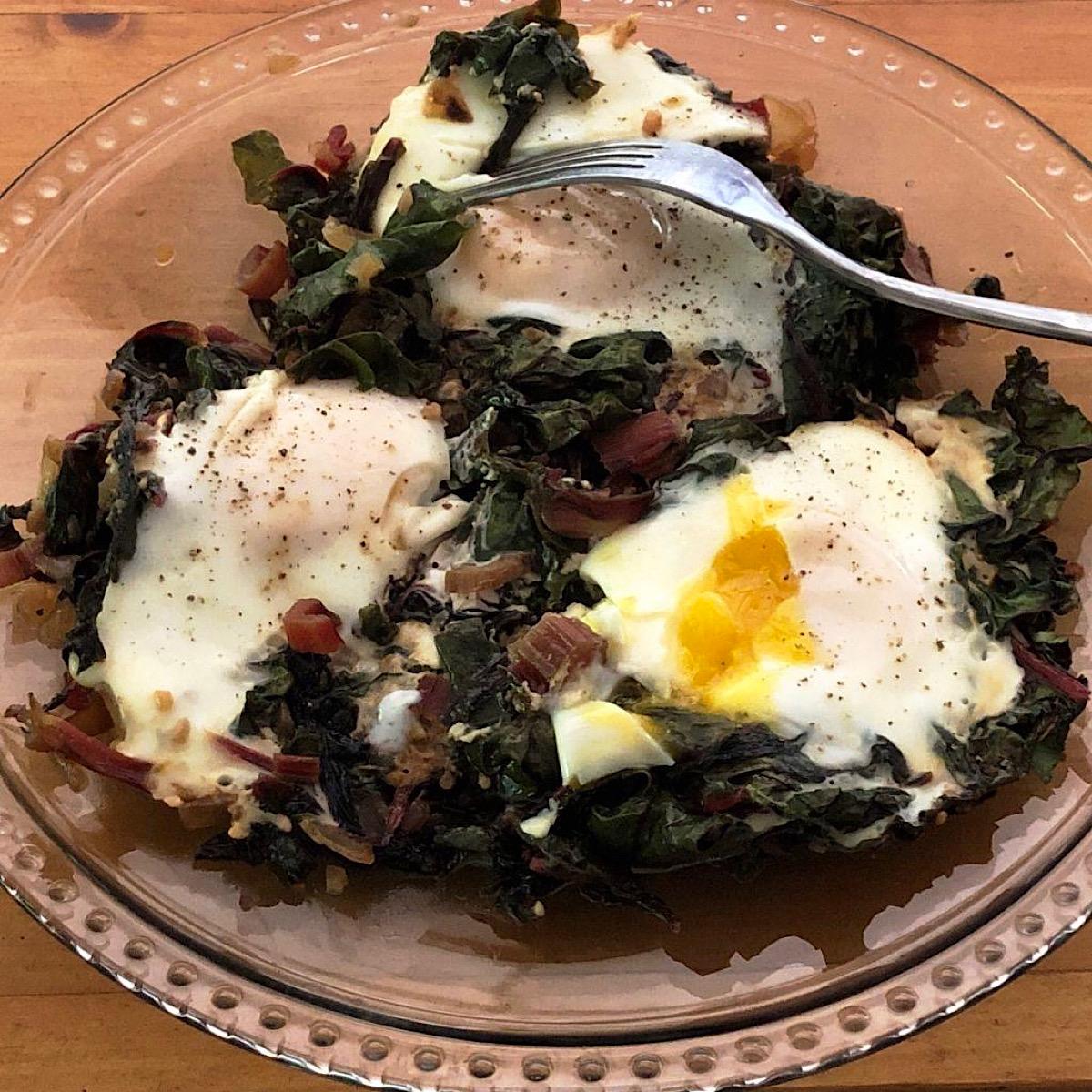 Salad Greens vs. Dark Leafy Greens
When people talk about "leafy greens" they are often referring to "salad" greens. This generally means lettuce, baby spinach, arugula, endive, etc., and these greens are most often used as a base for tossed salads.
While salad greens are low in calories (hence the ubiquitous use of salads for diet food), they are also relatively low in nutrient value.
For example, baby spinach in your smoothie or salad certainly adds some nutrients, but not nearly as much as full grown spinach sautéed as a side dish for dinner.
The "greens" with high nutrient value are usually referred to as "dark leafy greens". The most commonly known dark leafy greens include:
collard greens
kale
spinach
swiss chard
Mustard greens
beet greens
There are more of course, but these are the six leafy greens I am most familiar cooking with. Swiss Chard is by far my favorite. It is the sweetest and mildest and doesn't require the long slow cooking of something like collard greens.
The recipe below enhances the swiss chard with some smoked tomato vinegar and makes it a meal by nesting in some eggs at the end. It's a delight for breakfast, lunch or dinner!
Here is a video of how to cook this savory, flavor-packed recipe….step by step. The recipe in text form follows the video if you want the pared down version.
I used our Smoked Tomato Shrub Syrup for one of the enhancement ingredients, but feel free to use plain ole' apple cider vinegar instead if you want. It's all good, as they say.
Other Easy, Tasty, Nutritious Egg Recipes
For holiday breakfasts where you may want a make-ahead dish that will feed a crowd, this Swiss chard and sausage strata (casserole) is really popular.
Like many of you, I enjoy eggs for dinner almost as often as for breakfast! Here are a few of my favorites for breakfast, lunch or dinner:
Low Carb Baked Eggs with Chile Verde Sauce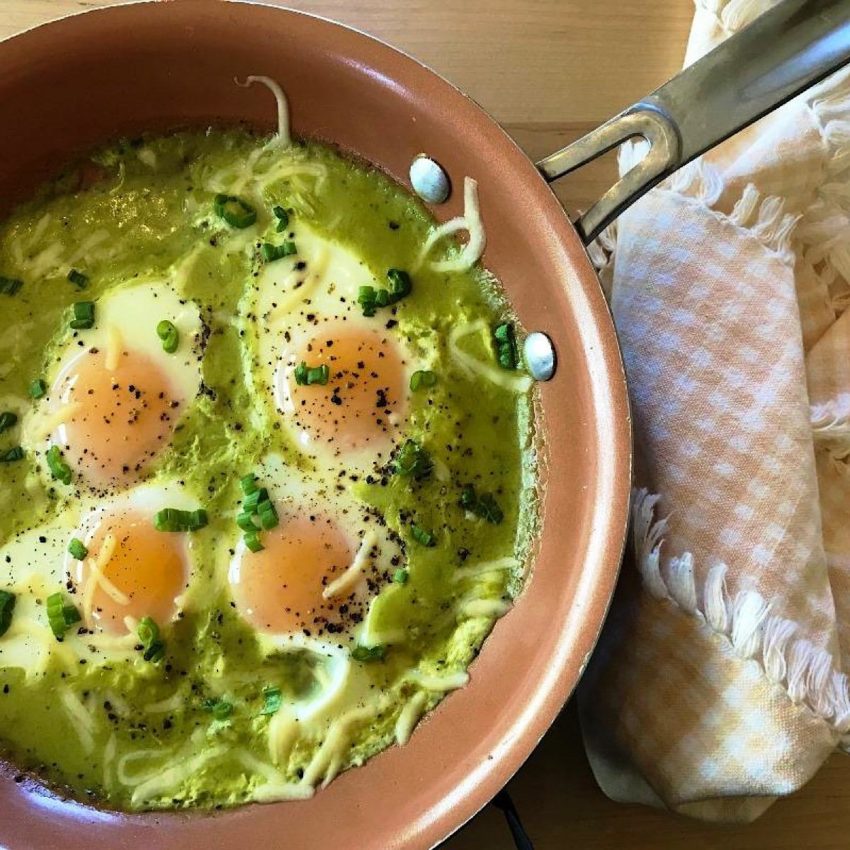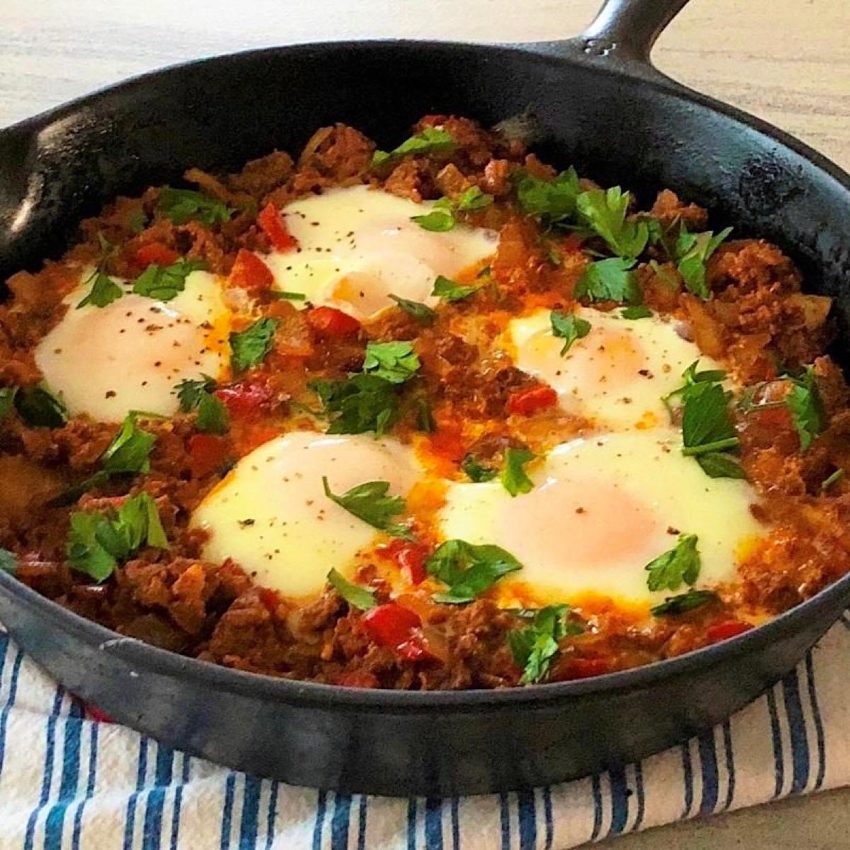 Mediterranean Baked Eggs (Shakshuka)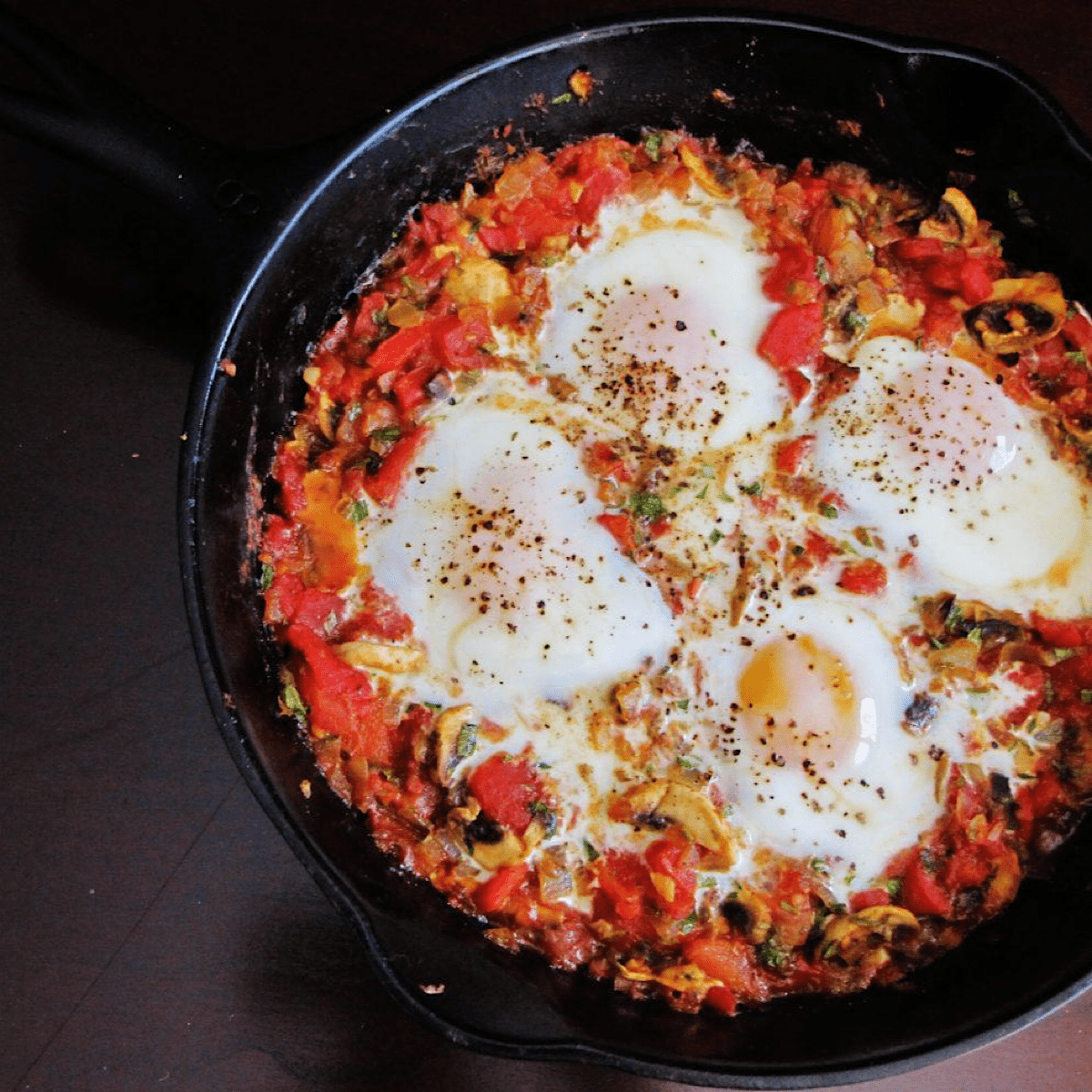 This post may contain affiliate links, and you can read our disclosure information here–
Recipe for Swiss Chard with Nested Eggs
Swiss Chard with Nested Eggs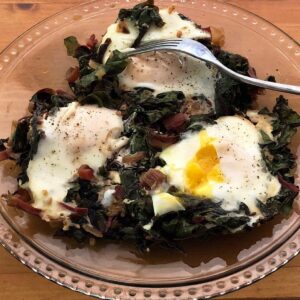 Sauteed swiss chard with baked eggs nested in the greens and enhanced with smoked tomato shrub syrup
Ingredients
2

Tbsp

olive oil

1

med

onion

chopped

2

cloves

garlic

minced

1

bunch

swiss chard

½

tsp

salt

¼

cup

tomato vinegar

or apple cider vinegar

1

tsp

smoked paprika

3-4

eggs
Instructions
Cut the ribs out from the leafy part of the chard. Chop the ribs into fairly fine pieces (like you would chop celery). Set the ribs aside in a bowl and coarsely chop the leafy green portion of the chard.

Heat up olive oil in a skillet over medium high heat (can use cast iron skillet or no-stick)

Add chopped onion to skillet and saute for a few minutes. Add swiss chard chopped rib pieces to the skillet and saute with the onion until soft and caramelized (5-10 minutes)

When onion and stems are soft add the garlic, the salt and the spices and stir together for a minute. Then add a large handful of the chard leaves to fill the skillet.

2 cloves garlic,

1/2 tsp salt,

1 tsp smoked paprika

Cook down the first batch of chard leaves until wilted and then add the rest of the chard leaves and cook them down, stirring to blend everything together. Add the tomato vinegar and stir.

When the greens are thoroughly wilted and blended with the other ingredients, turn the heat to medium or medium low and add the eggs on top of the greens one at a time. You can make small pockets in the greens, crack the egg gently on the counter and then hold it close to the greens when adding the egg to the pocket.

Cover the skillet and cook over med-low heat until the egg whites are cooked and the yolk is to your liking. I cooked for about 5 min. to get a yolk that was still runny, but your stove will be different. Lift the lid occasionally and check to see if eggs are cooked to desired doneness.
Nutrition
Calories:
282
kcal
Carbohydrates:
13
g
Protein:
12
g
Fat:
21
g
Saturated Fat:
4
g
Polyunsaturated Fat:
3
g
Monounsaturated Fat:
13
g
Trans Fat:
1
g
Cholesterol:
246
mg
Sodium:
1000
mg
Potassium:
797
mg
Fiber:
4
g
Sugar:
4
g
Vitamin A:
10024
IU
Vitamin C:
50
mg
Calcium:
136
mg
Iron:
4
mg
Did you make this recipe?
If you tried this recipe, please give it a 5-star rating! To do this, just click on the stars above.
Online Diet/Health Coaching:
Although I am not currently taking clients for diet & health coaching, I have been a coach for many years with the online service called coach.me. It is a great platform for all kinds of coaching – anything from specific diets, writing a blog, getting up early, or getting rid of that pesky procrastination.
There are some wonderful coaches and the testimonials will tell you what you need to know. Contact me at [email protected] to get a referral to some of the tested, experienced online coaches on Coach.me
If you'd like to start with a plan for a low carb or keto lifestyle, check out this detailed guide in ebook form. It may be all you need to lose weight on this lifestyle. Or it may be used as a supplement to one-to-one coaching.