Chicken Enchiladas are a very popular dish, but are often made with tortillas, which are not usually low carb. This casserole with all the enchilada ingredients has enough flavor and texture to ensure you won't miss the tortillas. We made it in 15 minutes using a fresh enchilada spice blend.
Jump to: Recipe | Low Carb Tortillas | Low Carb Sauce | step-by-step | More recipes
This post may contain affiliate links, and you can read our disclosure information here–
Ingredients for Low Carb Version:
Tortillas are the Low Carb Problem
Tortillas are really the only thing that makes enchiladas really heavy in carbs. This version makes the enchiladas as a casserole instead of as the topping for tortillas. Of course you can always serve fresh crispy tortillas with the casserole if you are not on a low carb diet.
If you want to have tortillas with your casserole but want to remain compliant with low carb eating, try these homemade low carb tortillas.
Tomatoes and peppers do include some natural sugars so this is not a carb-free recipe. I personally don't mind the carbs when they are in the form of vegetables and some fruits, as the benefits of all the micronutrients are significant and the fiber in vegetables lowers the net carb amount.
With respect to losing weight with a low carb lifestyle (not keto), it is a matter of looking at the daily totals of carbs and sugar and not just a particular meal. Logging all the daily metrics is a pain, but if you really want to lose weight with low carb eating, it is a necessary pain for a while.
Low Carb Enchilada Sauces
There is a huge array of enchilada sauces, ranging from shelf stable sauces at the grocery store, to scrumptious, home-made sauces.
The enchilada sauces from the grocery store that are typically canned and premade are extremely watery and don't have a lot of flavor.
Homemade enchilada sauces are typically packed with flavor, but can be time consuming to make from scratch, especially if you are roasting and rehydrating dried chile peppers.
Easiest Way to Make a Great Enchilada Sauce
I've tried to find the "goldilocks" solution that gives you a robustly flavored sauce but doesn't require roasting and peeling or reconstituting the peppers. I believe I have found it using a spice blend from smoked peppers.
The sauce for the Low Carb Chicken Enchilada recipe below is made with an enchilada spice blend, which is a combination of freshly harvested anchos and jalapenos that have been smoked, dried, ground and blended with other spices.
You can find chile pepper powders for purchase in many stores, but just beware that freshness counts for a lot. It is difficult to tell in the grocery store how long the spices have been sitting in a warehouse or on the grocery shelf.
Pros and Cons of Sauce-Making Methods:
spice blends are easy but you must find fresh ones,
store-bought sauces are easiest of all but hard to find quality, especially in the low carb versions,
homemade sauces using dried peppers are great (but take some time).
Basic Steps in Making this Recipe: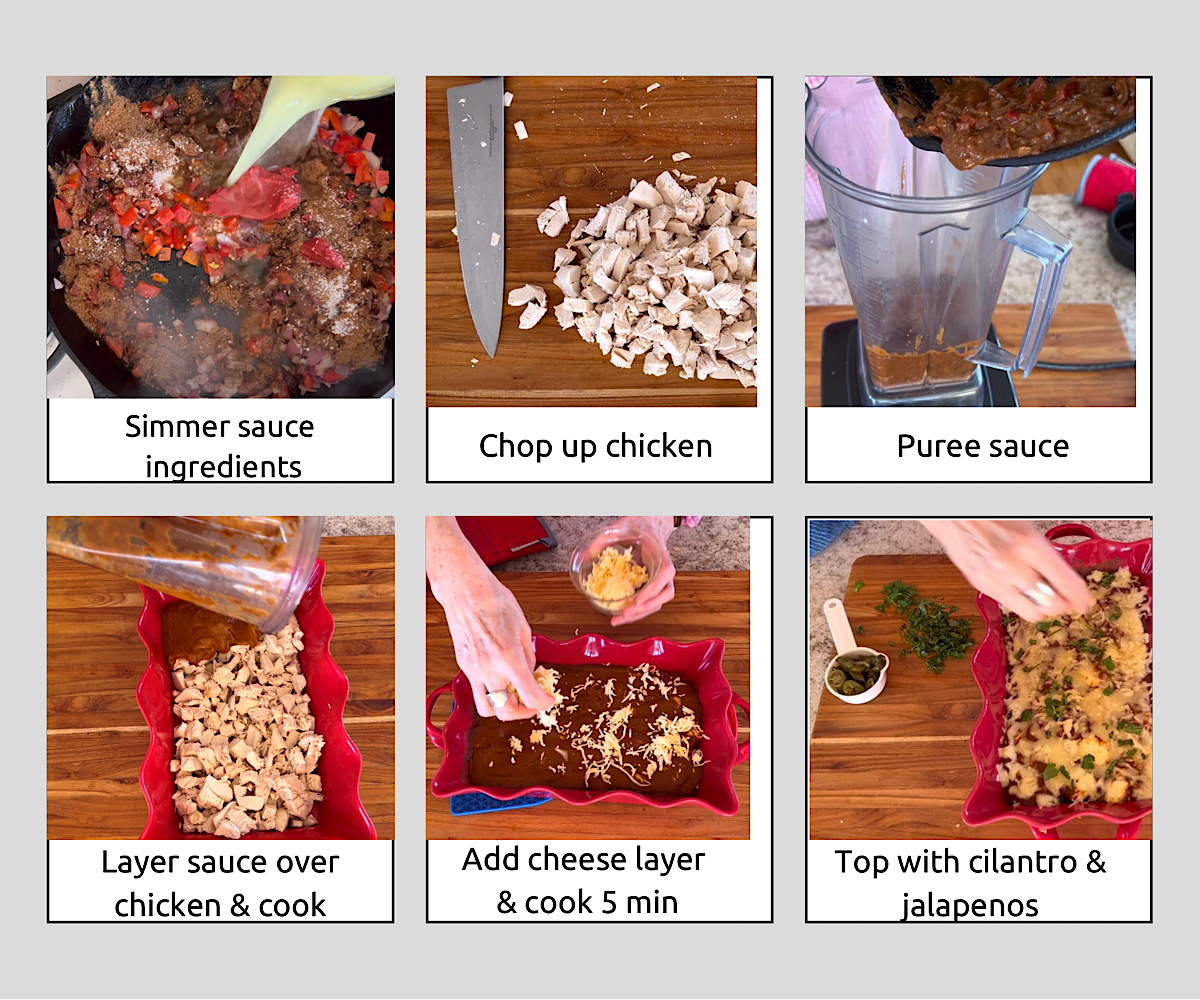 Typical Mexican Garnishes
Our family is always happy with pickled jalapenos and some extra cheese or sour cream. But, if that won't satisfy your family, here are some other great ideas to top off your casserole:
Olives
Cilantro
Sliced avocados
Chopped green chiles
Hot sauce or salsa, or more enchilada sauce
Really, the possibilities are endless! Enjoy!
Popular Recipes Using Enchilada Sauce
Want more Enchilada sauce ideas? Try these recipes:
Recipe for Low Carb Chicken Enchilada Casserole
Low Carb Chicken Enchilada Casserole
A tasty casserole that omits the tortillas and still gives you the Enchilada fixings!
Ingredients
2

Tbsp

olive oil

1

med.

onion, chopped

2-3

cloves

garlic, chopped coarsely or mashed

1

cup

chopped red bell pepper

4

Tbsp

Enchilada spice blend

2

cups

chicken broth

3

Tbsp

tomato paste

1/2-1

tsp

salt

2-3

large

chicken breasts

rotisserie chicken or home-made slow cooked chicken

1

cup

shredded Monterey Jack cheese

2-3

med

pickled jalapenos, chopped

sour cream

optional
Instructions
Preheat the oven to 350 degrees F.

If you are using rotisserie chicken from the store, skip this step. Otherwise, put a pot of water with a little chicken bouillion on the stove and bring to a boil. Add the boneless, skinless chicken breasts, turn down the heat to medium and cook about 15 minutes. Remove and let cool.

2-3 large chicken breasts

Heat olive oil in a large skillet over medium-high heat. Add onions and saute for about 5 minutes (or until translucent). Add garlic for 30-60 seconds

2 Tbsp olive oil,

1 med. onion, chopped,

2-3 cloves garlic, chopped coarsely or mashed

Add the next 5 ingredients (bell pepper through salt) to skillet and simmer gently over med-high until slightly thickened (about 10-15 minutes). Remove from burner and let cool slightly.

1 cup chopped red bell pepper,

4 Tbsp Enchilada spice blend,

2 cups chicken broth,

3 Tbsp tomato paste,

1/2-1 tsp salt

While enchilada sauce is cooling, shred chicken and place in bottom of 9 x 11 baking dish. Your can use store-bought rotisserie chicken or you can cook raw chicken breasts ahead of time.

Pour sauce from skillet into a blender and puree a few minutes until smooth. Pour over shredded chicken and bake until heated through (about 10 minutes).

Pull casserole out of oven and sprinkle the shredded cheese over the top. Place back in oven for 5 minutes or until cheese is melted.

1 cup shredded Monterey Jack cheese

Garnish with chopped pickled jalapenos and sour cream and serve alone or with heated, crisped tortillas

2-3 med pickled jalapenos, chopped,

sour cream
Notes
Pros and Cons of Different Enchilada Sauce Methods:
spice blends are easy but you must find fresh ones,

store-bought sauces are easiest of all but hard to find quality, especially in the low carb versions,

homemade sauces using dried peppers are great (but take some time).
Nutrition
Calories:
318
kcal
Carbohydrates:
5
g
Protein:
32
g
Fat:
19
g
Saturated Fat:
7
g
Polyunsaturated Fat:
2
g
Monounsaturated Fat:
8
g
Trans Fat:
1
g
Cholesterol:
97
mg
Sodium:
702
mg
Potassium:
649
mg
Fiber:
1
g
Sugar:
3
g
Vitamin A:
1609
IU
Vitamin C:
52
mg
Calcium:
230
mg
Iron:
1
mg
Did you make this recipe?
If you tried this recipe, please give it a 5-star rating! To do this, just click on the stars above.
Online Diet/Health Coaching:
Although I am not currently taking clients for diet & health coaching, I have been a coach for many years with the online service called coach.me. It is a great platform for all kinds of coaching – anything from specific diets, writing a blog, getting up early, or getting rid of that pesky procrastination.
There are some wonderful coaches and the testimonials will tell you what you need to know. Contact me at [email protected] to get a referral to some of the tested, experienced online coaches on Coach.me
If you'd like to start with a plan for a low carb or keto lifestyle, check out this detailed guide in ebook form. It may be all you need to lose weight on this lifestyle. Or it may be used as a supplement to one-to-one coaching.