This classic Mexican pumpkin seed and tomatillo sauce, sometimes referred to as green mole or mole verde, is tangy, herbal and a little spicy. The pipián sauce is a rich blend of pumpkin seeds, spices, tomatillos, and roasted poblano peppers. Once the sauce ingredients are pureed in a blender, it is then briefly simmered with pre-cooked chicken or pork for a perfect Mexican dinner entrée .
Jump to:
RECIPE
Ingredients & Substitutions
Illustrated Step by Step
Other Uses for Pipian Sauce
Mexican Side Dishes
Frequently Asked Questions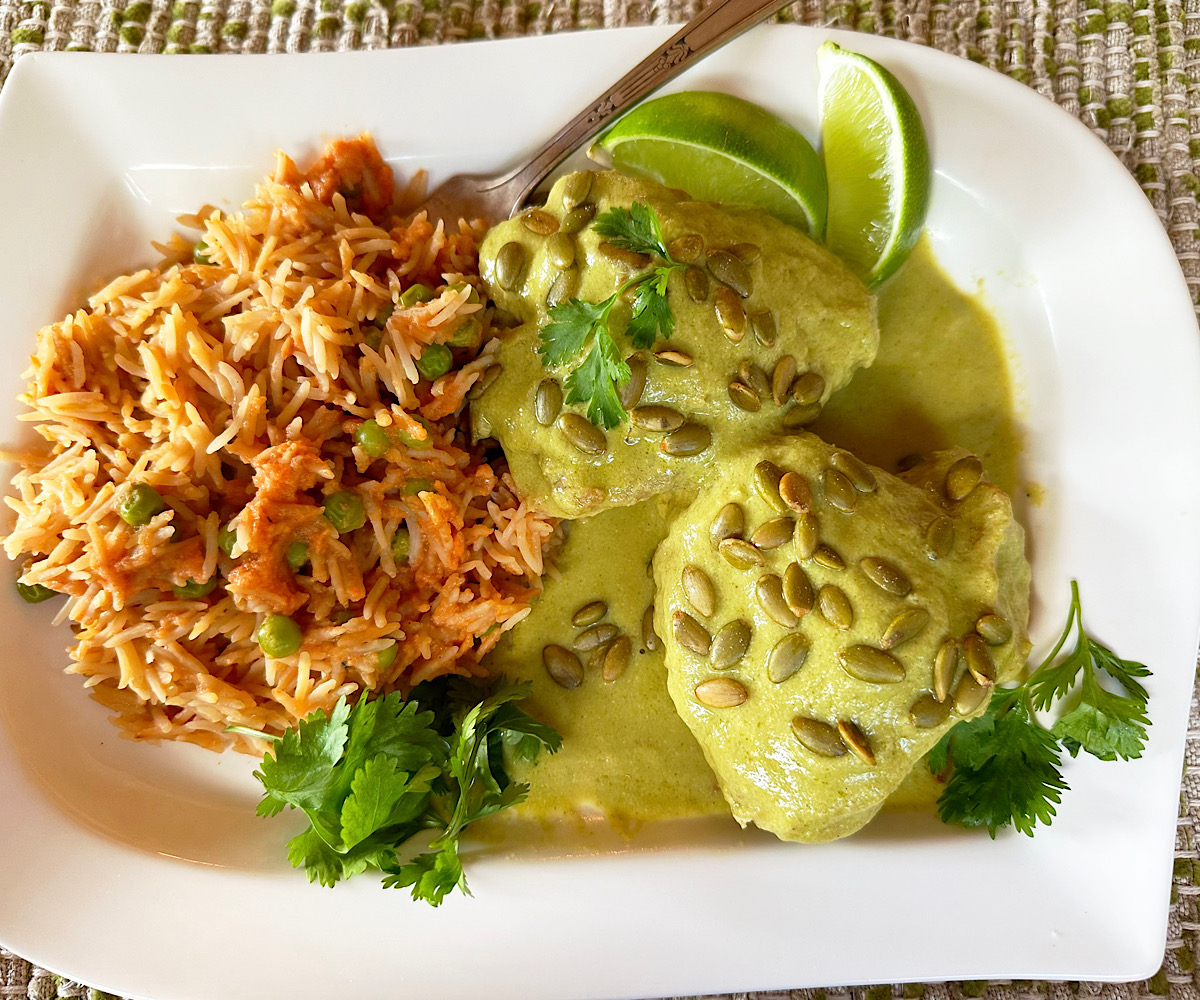 Ingredients and Substitutions
Pipián verde sauce is sometimes referred to as mole verde or green mole. They are indeed similar, but pipián verde sauce always has pumpkin seeds as a main ingredient and mole verde may or may not.
The other reason I don't like to call pipián verde sauce a mole, is because making moles tend to intimidate home cooks. Most traditional moles have a lengthy ingredient list, often with ingredients that are difficult to find in many U.S. grocery stores.
Pipián verde sauce is simple relative to other Mexican moles. Simple does not equate to a loss in flavor however. This "mole" is tangy from the tomatillos, spicy but not too hot, and is enhanced with a range bright herbal flavors.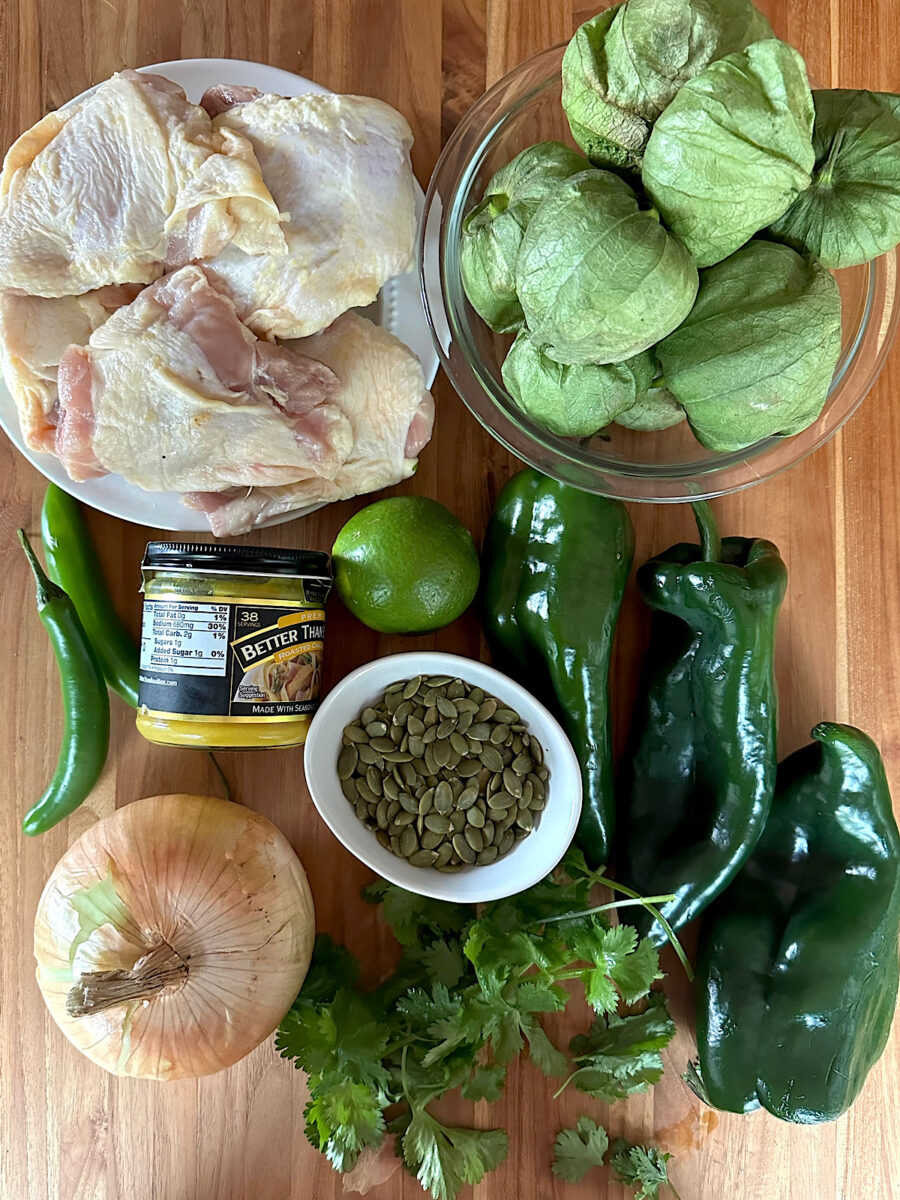 Illustrated Step by Step
Chicken pipián verde is basically two separate recipes that are briefly heated together at the end.
The chicken is precooked and can be cooked according to your favorite method, whether it be grilled, baked or sautéed. The sauce is made in a few different steps, with everything being blended together as a puree before adding to the pre-cooked chicken.
**Tip: If you cook the sauce too long it will lose its bright color and turn to a dull olive green. The chicken is pre-cooked, so the sauce and chicken only need to be simmered together for a few minutes to heat the sauce.
Steps #1 and #2: Char the poblano peppers and simmer the tomatillos and serranos until soft.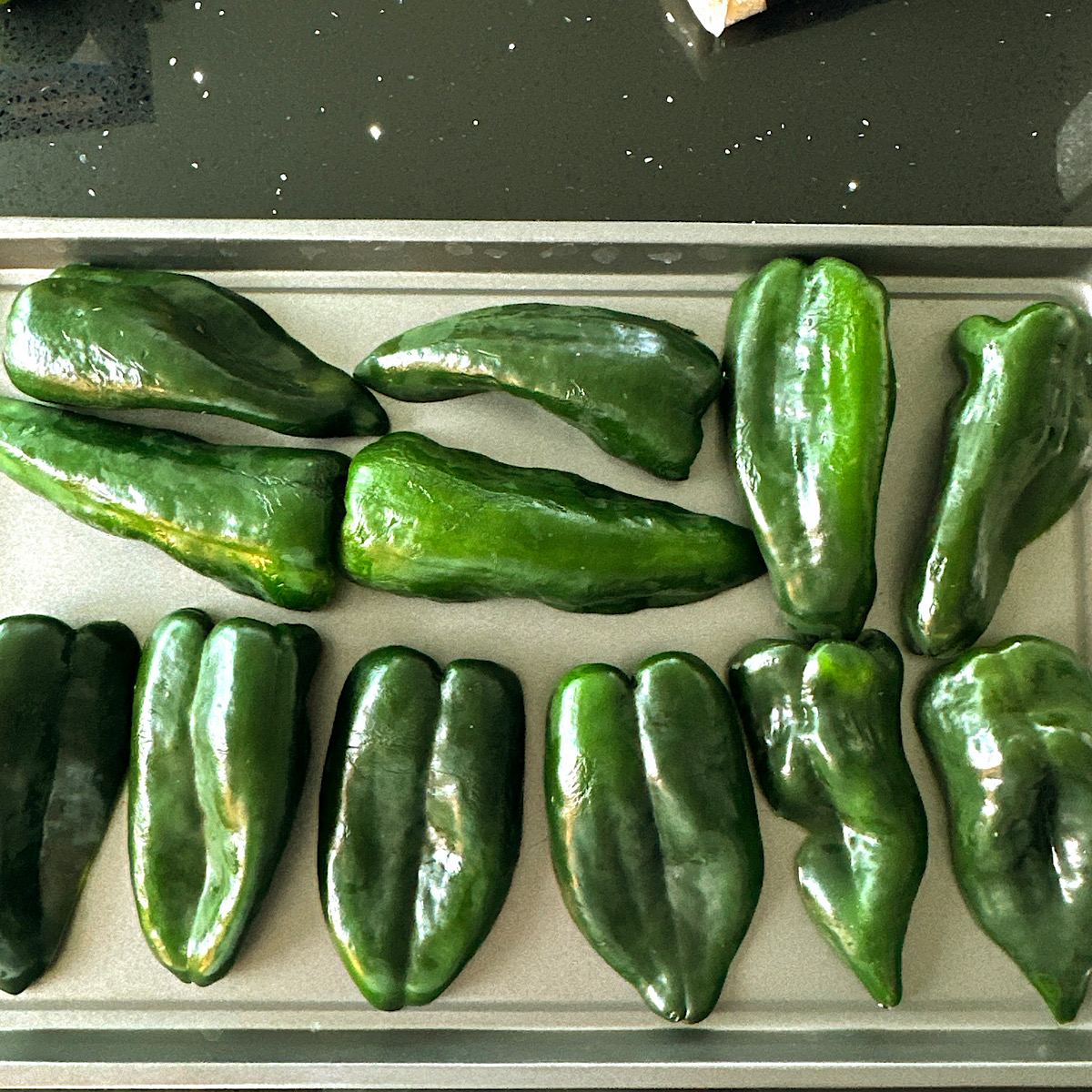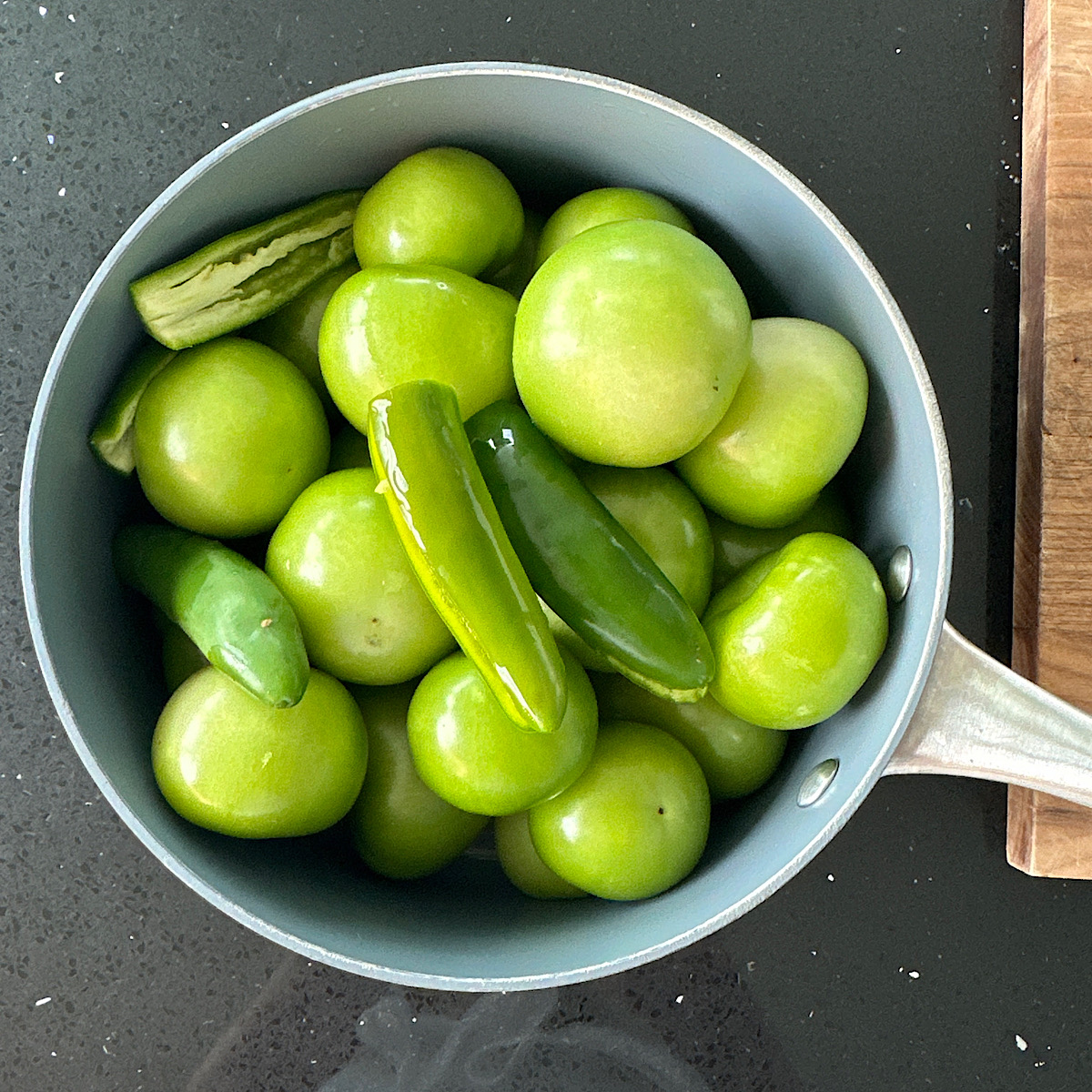 Steps #3 and #4: Cover the charred peppers to steam and then add all sauce ingredients to a blender.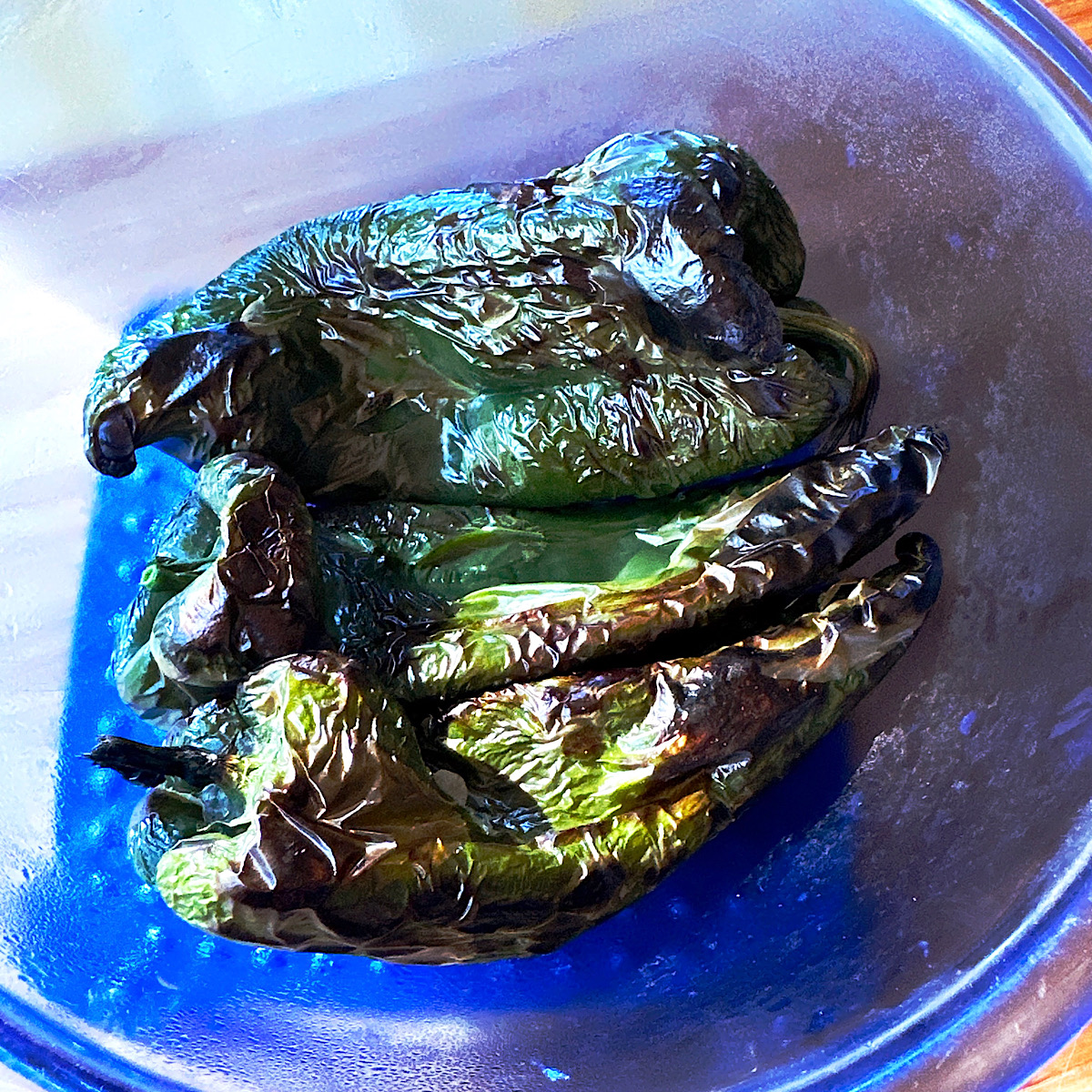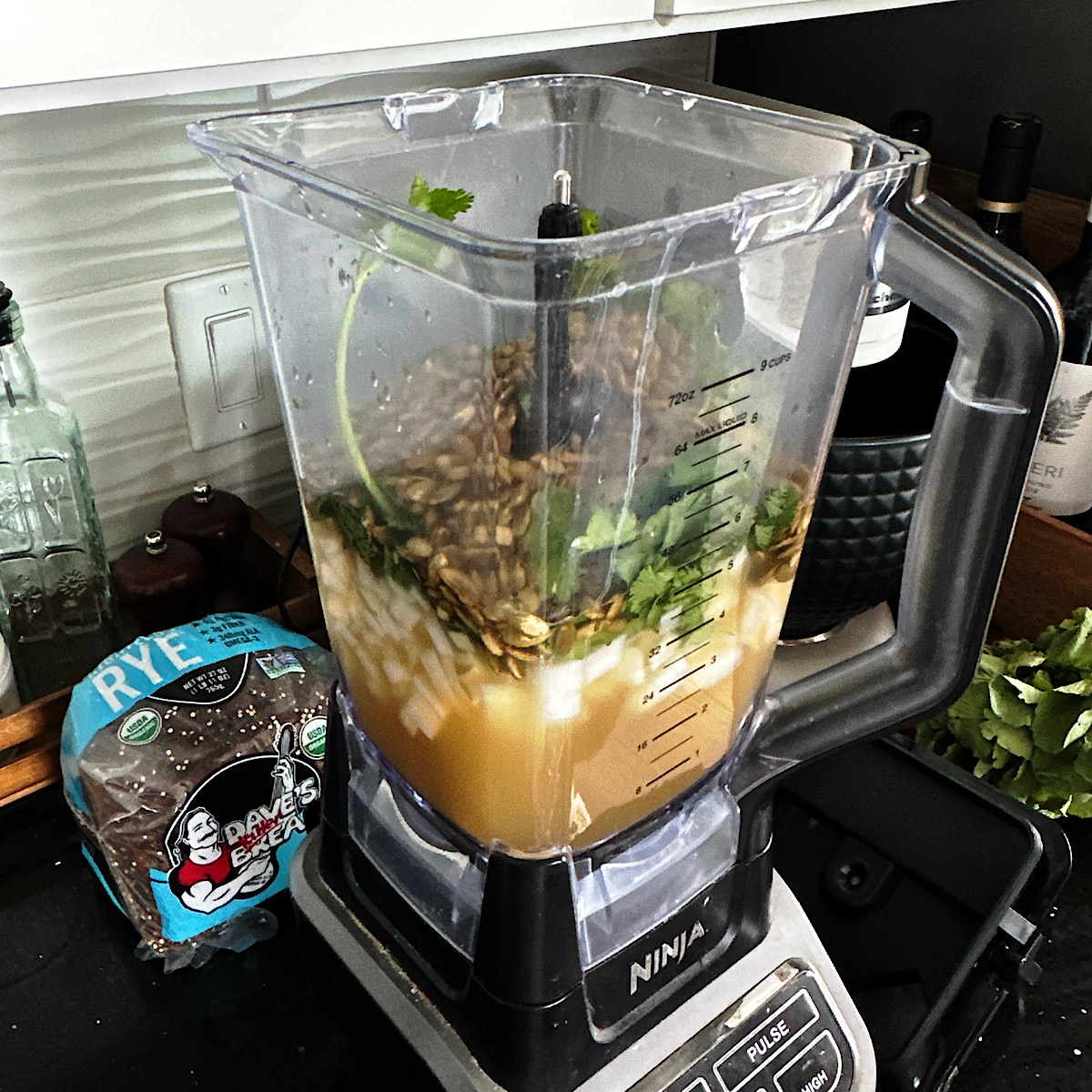 Steps #5 and #6: Cook the chicken and blend the sauce into a smooth puree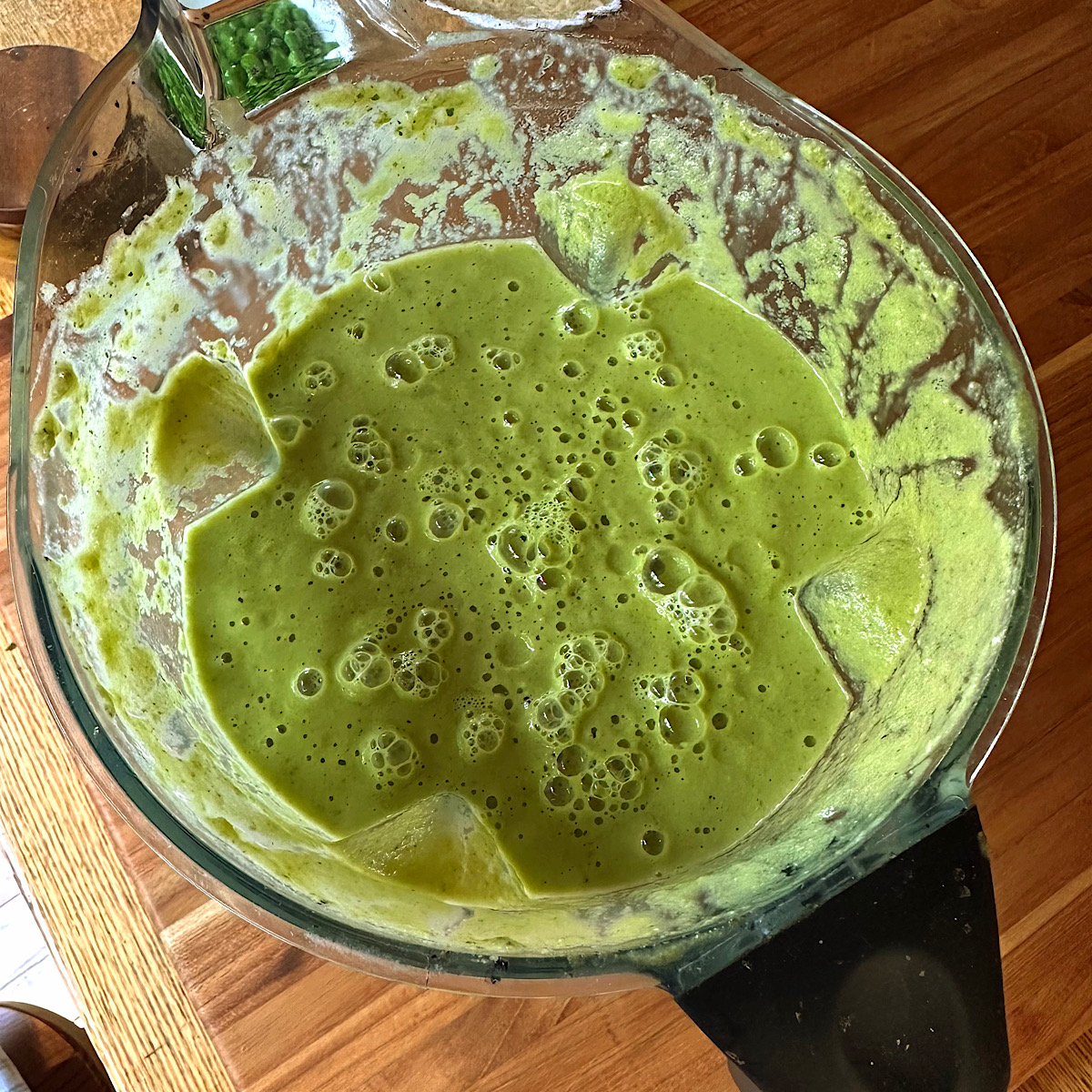 Steps #7 and #8: Add the sauce and chicken together in a skillet and briefly simmer to heat up. Serve with a smile!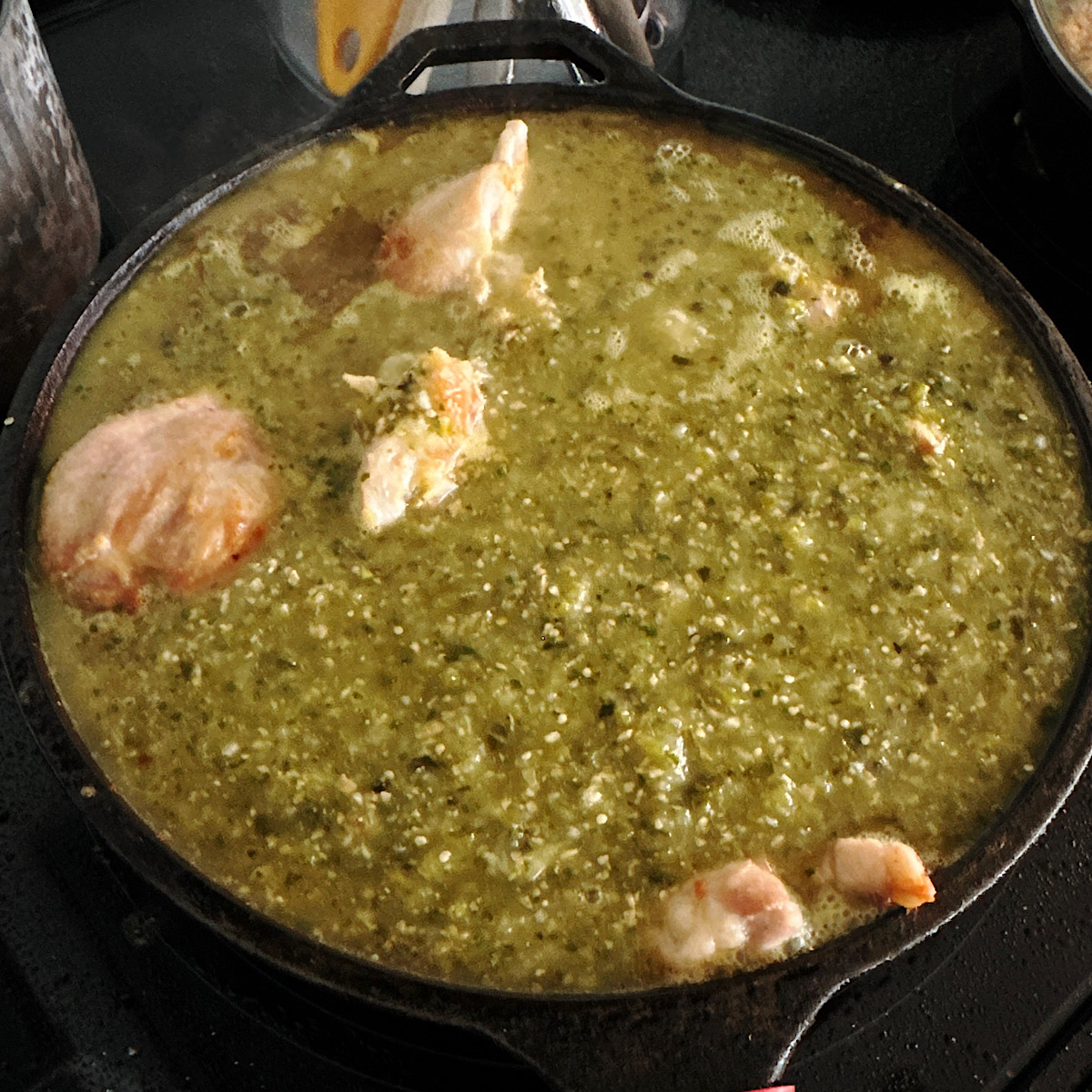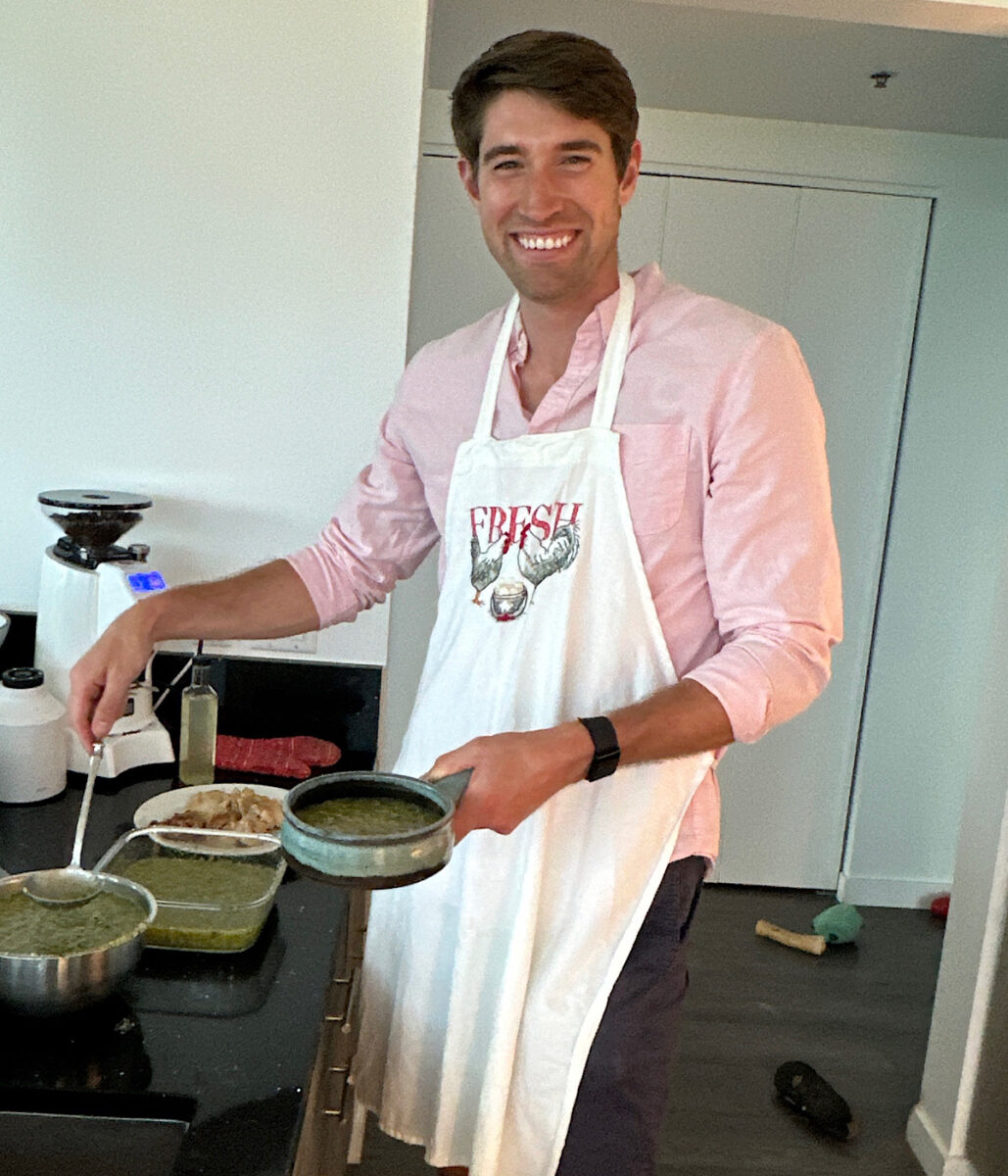 Other Uses of Pipián Verde Sauce
In March, 2023 I took a culinary trip to Oaxaca with a group of women from Les Dames d'Escoffier. I came back inspired to make many of the wonderful Mexican dishes I experienced on that trip.
I had previously heard about pipián sauce and ordered it at one of the local restaurants. Unexpectedly, it arrived as a soup! It was delightful, but at home I decided to try this food memory as a sauce with chicken.
I suspect there are many uses of this green tangy sauce. Here are a few popular ones:
Mexican Side Dishes
The most common side dish served with Chicken Pipián is Mexican rice. Of course Mexican red rice (Arroz Rojo) is the classic side dish in general for many a Mexican meal.
We have a tradition in our family where we can request a family member to make our dinner of choice. This year my son (see photo above) made a Mexican fiesta. In addition to the chicken pipián and Mexican rice he made this Mexican fruit salad.
My daughter and I tried to make an choco flan (Impossible cake), but it was a huge fail. It turned out more like a chocolate malt! I'll try it again this Winter and see what went wrong.
We replaced the impossible cake with some Mexican beer with dinner and it was the best birthday celebration ever!
Frequently Asked Questions
How long will leftover pipián verde sauce keep?
You will likely have some extra sauce, which will keep in the refrigerator for about 5 days. Reheat slowly with a little more water or broth.
Can you freeze pipián verde sauce?
You can freeze the sauce in an airtight container for up to 3 months.
Chicken Pipián Verde
A green mole sauce made with pumpkin seeds, tomatillos and peppers and then combined with chicken for a Mexican dinner.
Ingredients
3

fresh poblano peppers

12

tomatillos

2

serrano peppers

2

Cups

chicken stock

1

onion

about 1 cup roughly chopped

3

cloves

garlic

peeled

½

Cup

cilantro

Including stems

¾

cup

hulled pumpkin seeds

pepitas

1

Teaspoon

salt

2

Tablespoon

oil

2

Pounds

Chicken thighs

Additional pumpkin seeds for garnish

1

lime

optional for garnish, cut into wedges
Instructions
Place poblano peppers on a sheet pan and broil under high heat. Turn them frequently and move tray around until they are charred on all sides. Remove and place in large bowl or pan and cover tightly so they can steam.

While the peppers are steaming, peel the papery skins off the tomatillos, half the serranos and simmer in a pot of water until they are softened (about 15 minutes)

3 fresh poblano peppers,

12 tomatillos,

2 serrano peppers

When the poblano peppers are cool enough to handle, pull out the stems and seeds, and remove the skins (some bits of skin may be left on peppers and that's OK). Place the peppers in a blender container.

Drain the water from the saucepan and place the softened tomatillos and serranos in the blender with the poblanos. Add 2 cups of chicken stock, onion, garlic, cilantro, pumpkin seeds, and salt, and blend on high until everything is smooth.

2 Cups chicken stock,

1 onion,

3 cloves garlic,

1/2 Cup cilantro,

¾ cup hulled pumpkin seeds,

1 Teaspoon salt

Heat oil in a large skillet over medium heat and saute the chicken thighs until no longer pink (about 15 minutes). alternatively grill the chicen thighs or cook in your favorite method.

When chicken is cooked through, pour the verde sauce into the skillet over the chicken pieces and bring the sauce to a simmer. Add more water or stock if the sauce seems too thick. Taste and add more salt if needed.

Do not simmer the chicken and sauce for too long or the bright colors of the sauce will turn a drab olive green.

2 Tablespoon oil,

2 Pounds Chicken thighs

Garnish the plate with pumpkin seeds and lime wedges

Additional pumpkin seeds for garnish,

1 lime
Notes
You will likely have some extra sauce, which will keep in the refrigerator for about 5 days. Reheat slowly with a little more water or broth.
Nutrition
Calories:
490
kcal
Carbohydrates:
13
g
Protein:
30
g
Fat:
35
g
Saturated Fat:
8
g
Polyunsaturated Fat:
9
g
Monounsaturated Fat:
15
g
Trans Fat:
0.1
g
Cholesterol:
151
mg
Sodium:
623
mg
Potassium:
784
mg
Fiber:
3
g
Sugar:
6
g
Vitamin A:
439
IU
Vitamin C:
59
mg
Calcium:
36
mg
Iron:
3
mg
Did you make this recipe?
If you tried this recipe, please give it a star rating! To do this, just click on the stars above. Comments are always helpful also and I respond to all of them (except rude ones)