Tamales are special. While not the easiest thing to make, the recipe below offers a few methods to make it easier by revising the step where you rehydrate, deseed and roast the dried peppers. These tamales have excellent flavor and texture and can be made even easier if you enlist family or friends in the assembly!
Jump to:
Recipe
5 Secrets to Great Tamales
Tradition
Fillings
What to Serve with
Assembly Steps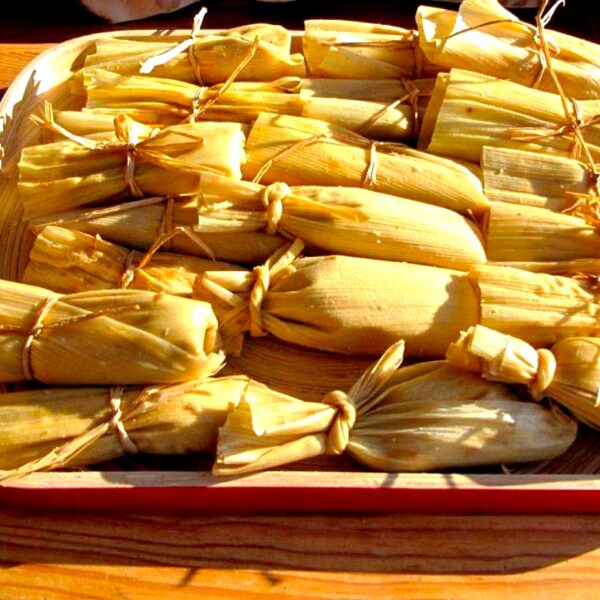 This post may contain affiliate links, and you can read our disclosure information here–
5 Secrets to Great Tamales:
Use leaf lard as your fat. I bought rendered leaf lard from a pork producer at the farmers' market. It makes a huge difference in flavor and texture of the masa dough.
Spread your dough out on the corn husk as thin as possible, about 1/4 inch (see photo below). You want to be able to taste the filling with just a light blanket of tamale dough. You do not want a big doughy rectangular blob which overpowers the filling, even though thicker dough may make it easier to wrap. Check out the pictures at the end of this post for a visual.
Steam them for a long time and use a tall steamer (like a tamale or crab boil steamer). Recipes varied in steaming times from 15 minutes to 2 hours. I went with longer steaming times, allowing them to rest outside of the steamer for 10-15 minutes.
The Chile Sauce is key. There are many variations on good chile sauces. These are the steps to take if you want to roast and rehydrate chiles I used Heathglen's enchilada blend for our tamales as it was much easier and the blend was made with a smoky ancho and chipotle mix of chiles that gave it a deep, dark chile flavor. Make sure and mix some of your chile sauce in with the pork when preparing the filling.
Folding tamales can be the time-consuming part (see the step-by-step below). Get some helpers here, put on some music and enjoy the process. Also…it goes faster the more you do!
When are Tamales Traditionally Served?
In Mexico, tamales are traditionally served at holidays, particularly the Winter holidays. Tamales are often served on Dia de Los Muertos (Day of the Dead) and the days around Christmas.
On January 6th (Dia de los Reyes- Kings' Day), many Mexican families serve a cake with a figurine of the baby Jesus baked into it. Whoever finds the figurine in their slice of cake is in charge of making tamales for the Día de la Candelaria celebration on February 2nd.
Popular Fillings for Tamales
One of the nicest things about making tamales is that they are so versatile. If you don't like pork, the recipe below would work with chicken as well. Once you get the basic tamale assembly down, you can substitute the meat and sauce easily. Here are some of my favorite filling options:
Roasted green chile (poblanos) and cheese
Corn and black beans
Chicken with red or green sauce
Cochinita Pibil (use banana leaves instead of corn husks for the traditional style)
What to Serve as a Side?
My daughter lives in Colorado and always serves her tamales with a pork green chile sauce. Because she was sworn to secrecy before receiving that recipe, she will not share it with me (or you). However, here are a few other side dishes that pair wonderfully with tamales:
Refried black beans
Nopales (cactus paddle) salad
Salsa fresca and chips
And…..don't forget the cocktails! A margarita is classic, or try sipping this awesome tequila flight!
Tamale Assembly
The process of wrapping and steaming the tamales was an effort of trial and error, with a little help from my husband. I've included some pictures below of the process that works for me, but it does take a little bit of practice to get it "perfect". However, these tamales are so flavorful that even if it doesn't turn out exactly how you want, you will still enjoy it!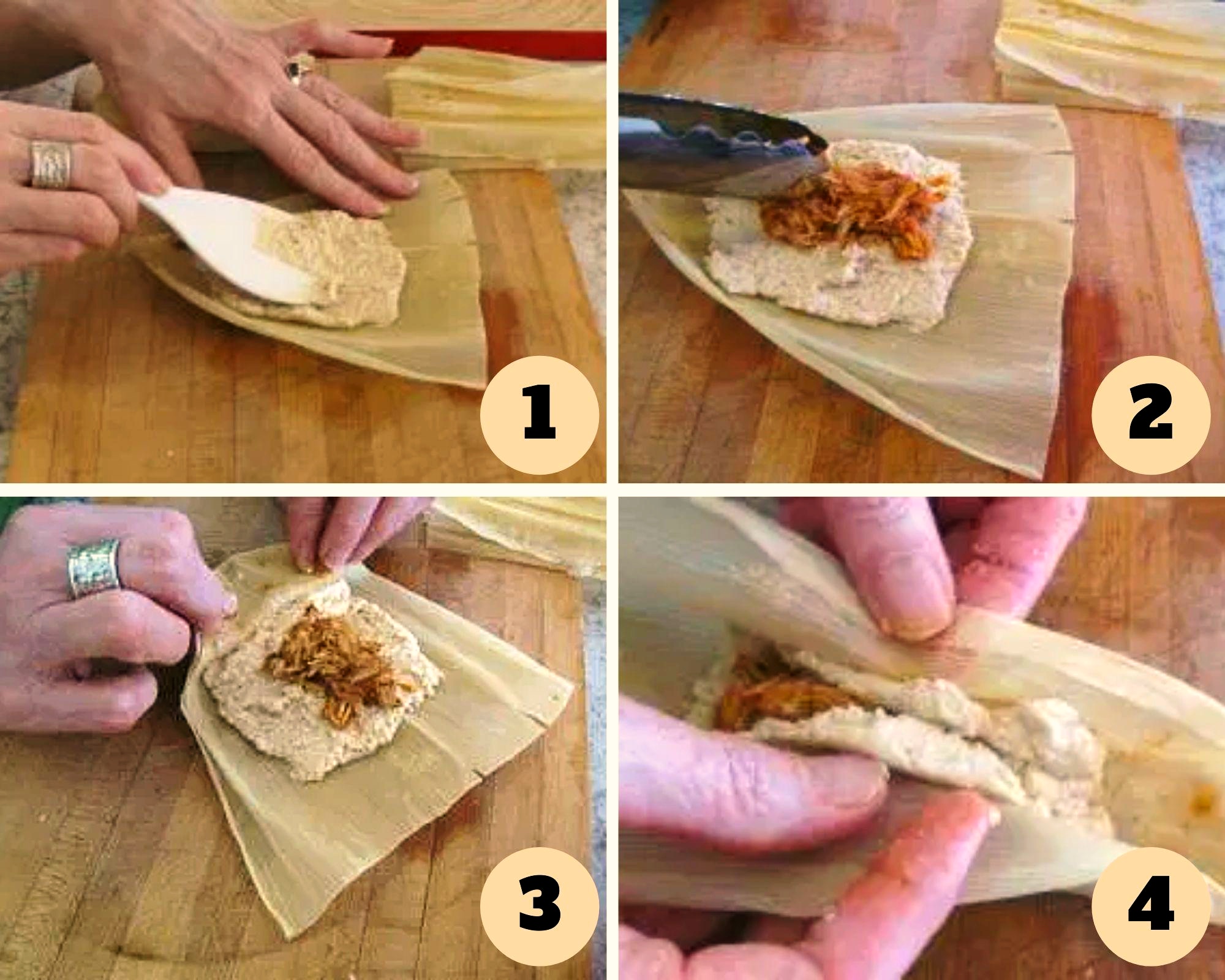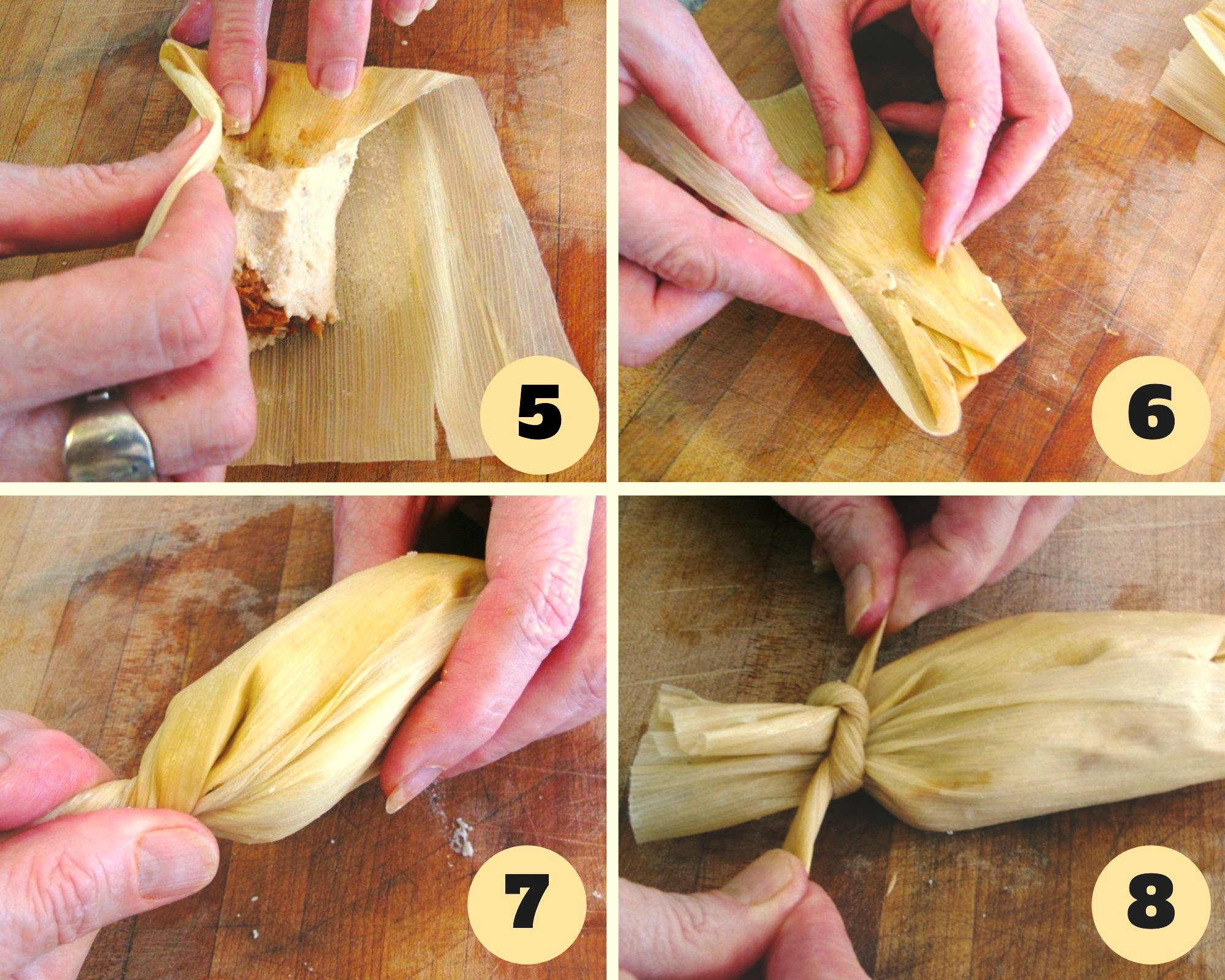 Recipe for Mexican Pork Tamales
Mexican Pork Tamales
A tutorial for the steps in making tamales, including: soaking the husks, shredding the pork, making the red chile sauce, the masa dough, and the assembly. Perfect for Winter holidays!
Ingredients
Ingredients for the shredded pork
4.5

lb

Pork butt

Or pork shoulder

1

onion

quartered

6-8

garlic cloves

1 ½

Teaspoons

kosher salt

1

tsp

whole black peppercorns

4

dried bay leaves

2-3

sprigs thyme

if available

water to cover

about 3 1/2 to 4 cups
Ingredients for the red chile sauce
2

Tablespoons

leaf lard

1

onion

chopped (about 2 cups)

5

Cloves

garlic

minced

3-4

Tablespoons

Enchilada spice blend

Alternatively use dried & rehydrated chiles (see notes below for this)

3

Tablespoons

tomato paste

2

cups

pork broth

reserved broth from cooking pork (alternatively use beef broth or just water)

1

tbsp

masa harina

(optional – for thickening)

kosher salt

to taste
Ingredients for the masa (dough)
4

cups

masa harina

Maseca is the most common brand

2

Teaspoons

baking powder

2

Teaspoons

Salt

2 ⅔

cups

pork broth

reserved from pork filling; if there is not enough broth, add water to get it to 2 2/3 cups

1 ⅓

Cups

Lard

lief lard or storebought lard (or butter)
Instructions
Prep the corn husks:

Place tamale husks in a large bowl. Pour hot or boiling water over the husks. Let sit in the hot water until you are ready to use them (can leave them overnight).
Directions to make the shredded pork:
In a dutch oven (or large pot), cover pork with water and add all remaining ingredients for the pork (onion & spices & water). Cook for 4-8 hours over low heat, 4 hours minimum.

**Alternatively, add all pork ingredients to an instantpot and cook for 2 hours.

4.5 lb Pork butt,

1 onion,

6-8 garlic cloves,

1 1/2 Teaspoons kosher salt,

1 tsp whole black peppercorns,

4 dried bay leaves,

2-3 sprigs thyme,

water to cover

After meat is cooked (long enough that it falls apart and shreds easily), remove from pot, set aside to cool . When cooled, shred meat finely with two forks or bear claws. This can be covered and stored in the refrigerator until ready to assemble the tamales.
Directions for the red chile sauce
Heat 1 1/2 Tbsp lard in large saucepan over medium heat. Add chopped onion and saute until beginning to brown; add minced garlic for last minute and saute.

2 Tablespoons leaf lard,

1 onion,

5 Cloves garlic

Add 3 Tbsp enchilada blend and tomato paste to the onion mixture in the skillet and stir together until combined. Add pork broth and then lower heat to medium low. Simmer over medium-low heat for 15-20 minutes or until reduced to your desired thicknes, stirring occasionally. (Add the optional masa if you want more thickness).

3-4 Tablespoons Enchilada spice blend,

3 Tablespoons tomato paste,

2 cups pork broth,

1 tbsp masa harina,

kosher salt

Cool the sauce a little and puree in the blender. Pour into a bowl and refrigerate if not ready to assemble tamales. The sauce may be made up to 2 days ahead; keep refrigerated until ready to assemble tamales.
Directions to make the masa (dough)
In a deep bowl, combine the masa, baking powder, and salt. Pour the broth into the masa a little at a time, working it all in with your fingers.

4 cups masa harina,

2 Teaspoons baking powder,

2 Teaspoons Salt,

2 2/3 cups pork broth

In a mixer or small bowl (I used a stand mixer with the paddle attachment), whip the leaf lard 1 to 2 minutes on medium-high speed until fluffy.

Add the fluffy, beaten lard to the masa and combine together until the dough has a spongy texture (it will be light and fairly wet – you would not be able to roll it out like pastry dough). I used my hands to mix the lard and masa together.

If you want to get technical, you can test the masa by taking a small piece and dropping it into a cup of cold water. It should float. If it does not float, whip the masa for a few more minutes and test again. Sometimes adding a bit more broth during this second mixing will help.

I added a little sauce (about 1/2 cup) to the tamale dough to flavor the dough and add color. Now remove the sauce and the shredded pork from the refrigerator and combine together. You may want to heat the mixture up a bit to make it easier to combine. This mixture is your tamale filling.
Directions to assemble the tamales
On clean surface, lay out soaked and drained corn husks, the bowl of masa mixture, the bowl of pork filling, a spoon or spatula (I used the spatula that comes with a rice cooker – just the right size). You can also purchase a tamale press like this one, but it's not necessary.

Place husk smooth side up on work surface. Put about 2-3 Tablespoons masa in center of husk and use spatula to spread it over 2/3 of the husk, leaving a 1/2 inch border at each edge.

Put about 2 Tbsp of pork filling down the center of the masa, to about 1/2 inch from wide end.

Fold pointed end of husk over about an inch in over the filling. Bring sides of husks toward center until masa edges meet. Seal masa at center seam, and bring husks back down flat.

Fold pointed end of husk in to cover top of masa. Fold sides of husks in, overlapping each other and flip the tamale seam side down onto the counter or a plate. Repeat with rest of tamales.

Twist open end of tamales and close with a tie if desired (either use pieces of husk torn lengthwise or use raffia), and tie tamale loosely to seal. It does not need to be perfectly folded to get excellent tamales, and it gets faster with practice. Enjoy the process!

Watch the youtube video tutorial for detailed folding process. Sometimes it's easier to watch someone do it rather than read about it.
Instructions for steaming tamales
Add water to bottom of a steamer pot so that it will fill just below the steamer insert. Place a penny in the bottom of the pot and bring to a boil. While steaming, if the penny stops jingling, add more water.

Arrange tamales in the steamer basket so all tamales are standing mostly upright. Place lid on top of basket. Lower heat so that the penny continues to jingle- water will be a soft boil or simmer.

Place steamer insert in pot. Allow to steam for 60 to 90 minutes.

To test if the tamales are done, remove a tamale and replace the lid on the pot. Put the tamale on counter for a few minutes and then unwrap it. If it is ready, the masa will be set and will pull away from the corn husk easily.

Let tamales rest for 5-10 minutes out of the pot, covered with a cloth before serving to allow masa to firm up.

Serve tamales in their wrappers with extra sauce passed around the table.
Video
Step by step Mexican Pork Tamales with red chile sauce
Notes
**Red Chile sauce with dried peppers rather than the spice blend
6 dried ancho peppers
3-5 dried chipotle peppers
Remove stem and seeds from chiles. Add all to a stock pot and cover with water. Bring to a boil and reduce heat to a simmer. Simmer for 15-20 minutes and drain off water.
Add soaked/drained chiles to the onion mixture instead of the spice blend.
Nutrition
Calories:
228
kcal
Carbohydrates:
14
g
Protein:
15
g
Fat:
13
g
Saturated Fat:
7
g
Cholesterol:
63
mg
Sodium:
536
mg
Potassium:
365
mg
Fiber:
1
g
Sugar:
1
g
Vitamin A:
362
IU
Vitamin C:
4
mg
Calcium:
54
mg
Iron:
2
mg
Did you make this recipe?
If you tried this recipe, please give it a 5-star rating! To do this, just click on the stars above.