Beef birria stew (Birria de Res Con Consomé) is a rich stew that is traditionally made with either goat or lamb, but beef is the preferred meat in the U.S. The meat is always slow cooked in a richly-flavored broth until it is melt-in-your-mouth tender.
When served as a stew it is simply ladled into bowls with its broth (the consomé) and served with a range of toppings and corn tortillas. This Mexican stew is also used to make the popular birriatacos (aka quesatacos), but you need to make the birria stew before you can get to the tacos!
Jump to:
Birria "Stew" RECIPE
What is Birria?
Ingredients & Substitutions
Step by Step
Common Questions
Birria "taco" recipe
This post may contain affiliate links, and you can read our disclosure information here–
What is Birria?
The original birria is said to have originated in Jalisco, Mexico, where it is traditionally served as a stew for holidays and special occasions and typically made with either goat or lamb.
There are, of course, many variations in the different regions of Mexico and elsewhere. The meat is often marinated in a rich adobe sauce and then slow cooked until it is melt-in-your-mouth tender.
To serve, the meat is ladled up into bowls along with plenty of its broth, garnished with onions and cilantro, and then served with a side of warm corn tortillas and sliced lime wedges.
The broth, or consommé is rich with flavor and the fresh acidity of the onions and limes complement the flavoring perfectly.
What is the Best Meat to Use for Birria?
My preferred meat for this dish is a combination of beef chuck roast and 3-4 short ribs. The short ribs offers the benefit of adding collagen to the consommé making a deliciously rich and robust broth. The chuck roast is the meat that is consumed as the stew meat (or shredded later for birria tacos)
The classic meat used for birria in the regional areas around Mexico is either goat or lamb (or mutton). As birria has become popular in the U.S., beef is often preferred, from both a flavor perspective as well as expense.
I have also used country style ribs (which are pork) with the chuck roast and it was excellent. They probably don't have as much collagen as the short ribs, but they offer more stew meat that is easily shredded for tacos.
Oxtails are also a great substitute for short ribs if you have them readily available, although they have recently become quite expensive.
Main Ingredients and Substitutions
There are a few ingredients that are key to birria and some that are preferences or variations. Here are some substitutions for you to modify to your own preferences:
Mexican oregano – You can find this at a Latin market and it is more fragrant than the more common Italian oregano. If it is unavailable to you, use the oregano you can find locally but know that it will be different from the traditional way of making birria.
Cinnamon: Mexican cinnamon is quite brittle and can be found in whole sticks, but not usually ground. If you use the stick just add them to the mixture to infuse while cooking and then remove it when done. Otherwise use ground cinnamon.
Cuts of meat – My favorite cuts of meat for this dish is a chuck roast and 3-4 short ribs. Many different kinds of stew meat and meat with bones can be used. See the above section on the best meat to use for a detailed explanation.
Peppers: Typically dried Mexican/Southwestern peppers are deseeded and rehydrated. It can be a mix of Ancho, Guajillo, Pasilla or Arbol, all with different heat profiles. Dried and ground peppers will work in the place of soaking the dried peppers, and can be just as full of flavor without the labor if you can find fresh ground peppers or fresh blends. Since we grow, smoke and blend our own peppers on the farm I always use ground peppers in my Mexican cooking.
Chipotle peppers in adobo. These come in a little can and they can be used in the stew as a complement to the other spices.
Illustrated Steps: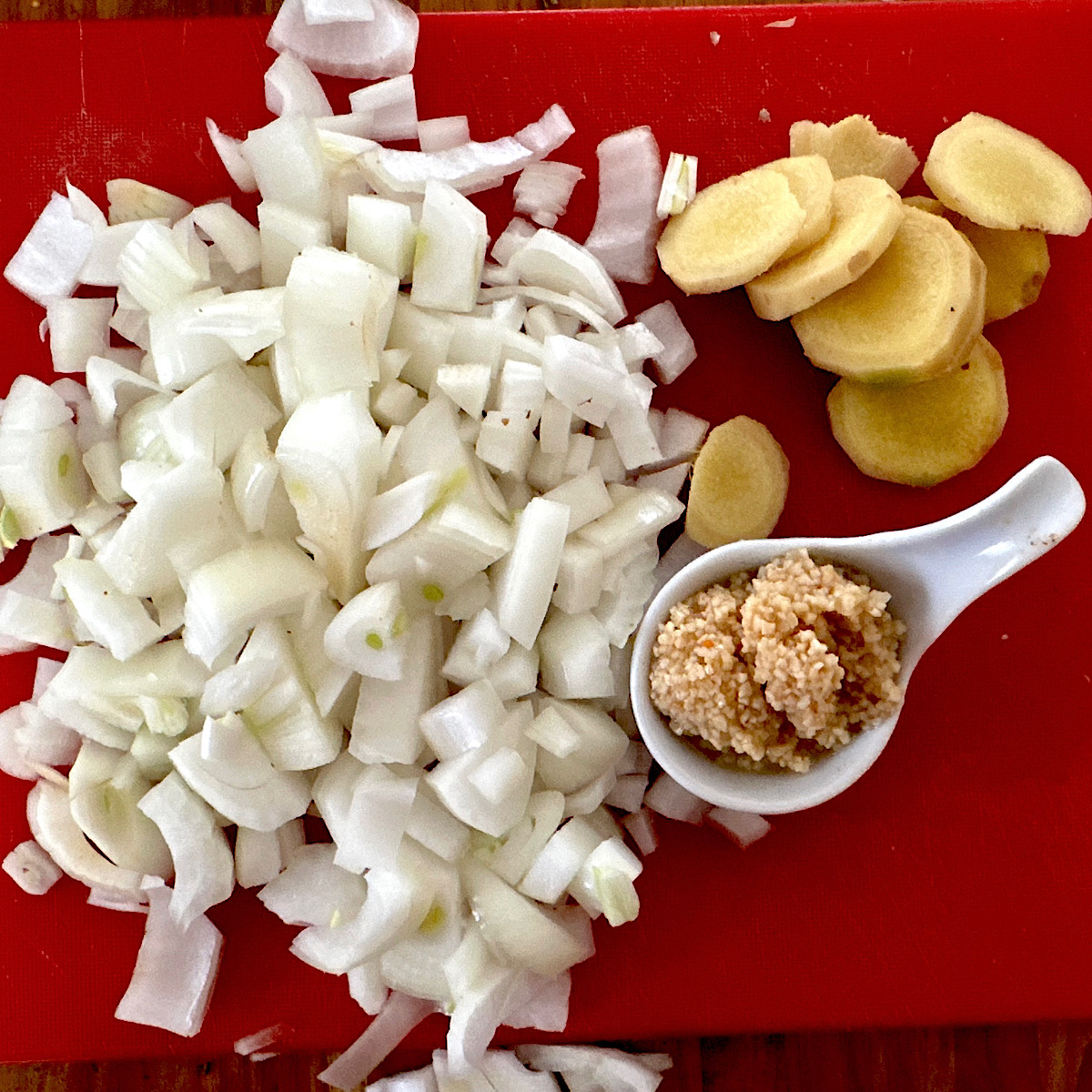 Can Beef Birria be Made in an Instant Pot or Slow Cooker?
You can make the stew any way you like, but I prefer it slow cooked in a dutch oven. The key is to get the meat fork tender and to have all of the spices and ingredients completely infused into the consommé.
In the dutch oven on the stove top I can periodically check it for tenderness and taste it to see if I need to add more spices, salt or vinegar. This can be done with a slow cooker also, but I save crockpot cooking for those times when I won't be around to periodically lift the lid and taste test.
The instant pot definitely takes less time, but the dutch oven is not hands-on time. Just choose a slow Sunday and cook it nice and slow, savoring the smells that permeate the house.
It will be delicious in all three ways so it's really a preference type of thing.
Instant Pot
To make beef birria in the Instant Pot, you would need to sear the meat, and because the instant pot is smaller than a large dutch oven, you would need to sear in batches. Then make the sauce and pour over the meat. Set it to Stew setting or high pressure for about 50 minutes, followed by a natural release.
Slow Cooker
Slow Cooker – you would make the sauce as stated in the recipe. Sear the meat (if your slow cooker has this option – most do). And then pour in the sauce and broth. Set it to "high" and cook for 6 to 7 hours.
Using Birria Meat in Quesatacos or Tamales
After making this stew with the rich broth, you can shred the meat and use in a Quesatacos recipe.
One of my favorite ways to use birria meat is as a filling in these Mexican tamales (tamales post is a step by step guide with video)
Similar Mexican Meat Recipes
There are several Mexican dishes that have a similar flavor profile to birria. Here are a few:
Common Questions:
Why is my beef birria greasy
There is a lot of fat in the cuts of meat used for birria so that may give it the texture that some people think of as greasy. If you want less fat, you could make it ahead, remove (or shred) the meat and store the sauce in the fridge. The fat will solidify on the top, which you can easily skim off. The broth may not be quite as rich this way if you are planning on using it to fry the tortillas in.
Is birria spicy?
The heat profile is dependent on which chile peppers you choose. Most of the chile peppers recommended for birria will give you a medium heat profile. It is more about the complexity of the mix of peppers and spices than it is about heat.
Can I make this in a slow cooker or instant pot?
This can be done in a large slow cooker. The meat will need to cook on LOW for 6-8 minutes hours until it easily shreds.
For the instant pot you would use the "stew" setting or a high pressure setting for 45-50 minutes and a natural release. See above for more details.
Beef Birria Stew Recipe: with Consommé
Beef Birria stew with consomme
A rich and popular stew from Mexico where the meat is slow cooked until fall apart tender made in a robust flavorful broth. The leftover meat and broth can be made into quesa birria tacos!
Equipment
measuring spoons and cups

large bowl
Ingredients
2 ½

Lbs

chuck roast

cut into large chunks

2

Teaspoons

Mexican oregano

¼

Teaspoon

ground Cinnamon

¼

Ground cloves

1

Teaspoon

ground cumin

toasted and then ground if possible

2

Teaspoons

fresh smoked chile powder

I used a smoky mix of ancho/passila/chipotle

2-3

Teaspoons

salt

(adjust to taste)

3-4

short ribs

bone in, or back ribs bone in

2

Tablespoons

oil

1

large white onion

Chopped

6

garlic cloves

Smashed or minced

1

Inch

Root ginger

Peeled and sliced

14

Ounce

Canned chopped tomatoes

I like Rotel for Mexican cooking

3

bay leaves

1

Tablespoon

honey

¼

Cup

white vinegar

4

Cups

chicken broth

2

Cups

water
Instructions
Cut chuck roast into 3- to 4-inch pieces.

Blend spices together in a large bowl.

2 Teaspoons Mexican oregano,

1/4 Teaspoon ground Cinnamon,

1/4 Ground cloves,

1 Teaspoon ground cumin,

2 Teaspoons fresh smoked chile powder,

2-3 Teaspoons salt

Add chuck pieces and short ribs to the bowl and toss and coat thoroughly with the spice mixture.

Heat 1-2 Tbsp oil in dutch oven (or very large skillet) and sear the spice-coated chuck roast pieces and the ribs until browned (do not crowd – may take 2 batches)

Remove and set aside.

Saute chopped onion, garlic, and ginger in the dutch oven (without the meat) for about 5 minutes. Add tomatoes and reduce heat to medium-low and let simmer for 30 minutes.

Turn off heat and use an immersion blender to blend the mixture as smooth as possible, or transfer to a regular blender, working in batches as needed (I found a regular blender easier)

1 large white onion,

1 Inch Root ginger,

14 Ounce Canned chopped tomatoes,

6 garlic cloves

Add the puree back to the dutch oven and add the reserved meat.

Add bay leaves, honey, vinegar, chicken broth and water and bring to a boil over high heat, and then lower to medium-low.

Simmer gently, stirring occasionally, until the meat is falling-apart tender, 3 to 4 hours.

3 bay leaves,

1 Tablespoon honey,

1/4 Cup white vinegar,

4 Cups chicken broth,

2 Cups water

Cool and then skim fat off of the top and reserve some consommé for future birria queso tacos.

Place some chunks of beef into a soup bowl and ladle some of the cooking liquid over top. Top with white onion and chopped cilantro and squeeze lime juice over top.

Serve with warm corn tortillas.
Notes
**NOTE: If you would rather turn this stew into birria tacos which is very popular right now, save out the broth as a consumme, shred the beef and put it together as directed in this birria taco recipe
Nutrition
Calories:
274
kcal
Carbohydrates:
3
g
Protein:
28
g
Fat:
17
g
Saturated Fat:
7
g
Polyunsaturated Fat:
1
g
Monounsaturated Fat:
8
g
Trans Fat:
1
g
Cholesterol:
98
mg
Sodium:
1131
mg
Potassium:
604
mg
Fiber:
1
g
Sugar:
1
g
Vitamin A:
27
IU
Vitamin C:
10
mg
Calcium:
45
mg
Iron:
3
mg
Did you make this recipe?
If you tried this recipe, please give it a 5-star rating! To do this, just click on the stars above.