Traditional birria tacos (tacos de birria) are made with braised goat or lamb meat, but it can also be made with beef. The meat is slow cooked in a richly seasoned broth until it is fall apart tender. At this point the birria can be enjoyed either as a stew or the meat can be removed and shredded for quesa tacos. For the tacos, the fork-tender stew meat is shredded and the leftover birria consommé is used as a dipping sauce.
Jump to:
Birria Tacos RECIPE
What is Birria Consommé?
Ingredient Substitutions
Step by Step
How to Use a Comal
What to Serve with
Birria Stew Recipe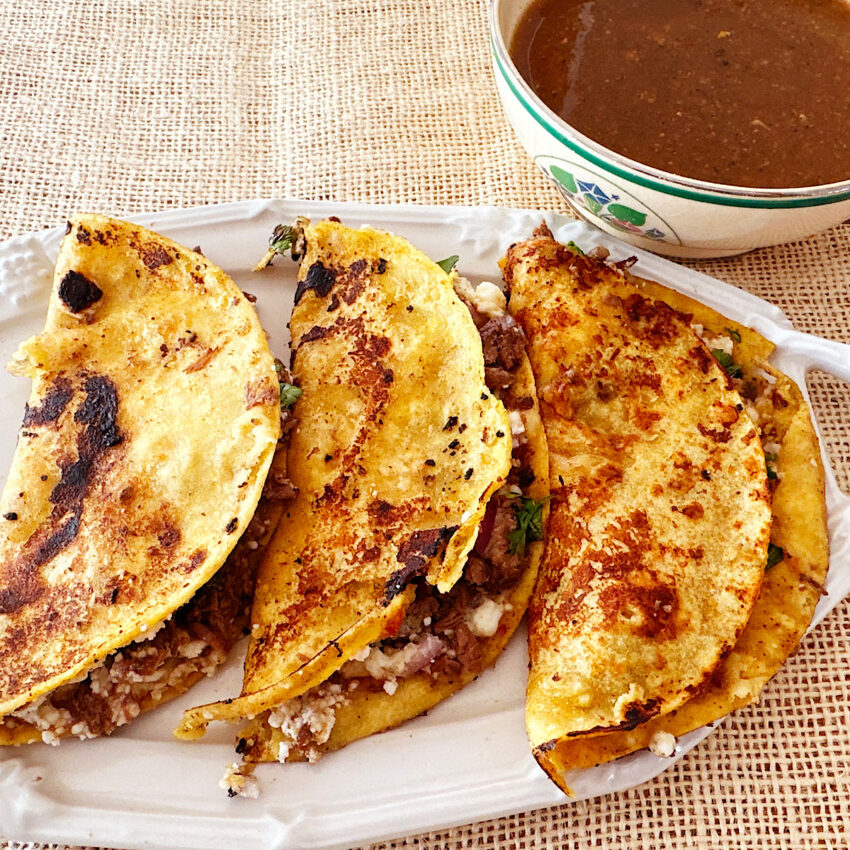 This post may contain affiliate links, and you can read our disclosure information here–
What is Birria Consommé ?
The original birria is said to have originated in Jalisco, Mexico, where it is traditionally served as a stew for holidays and special occasions and typically made with either goat or lamb.
There are, of course, many variations in the different regions of Mexico and elsewhere.
The meat is always slow cooked in a richly-flavored broth until it is melt-in-your-mouth tender. When served as a stew (the original dish), the meat is ladled up into bowls along with plenty of its broth, garnished with fresh toppings, and finally served with a side of warm corn tortillas.
Shredding the birria meat and using some of the birria broth to make quesa tacos is however an increasingly popular way to enjoy birria.
The meat is shredded, the corn tortillas are dipped in the birria broth (referred to as consommé) and fried on a comal or hot skillet.
From there, a melting cheese is added to the tortilla along with the shredded meat and different filling preferences.
I add pickled onions and cilantro to add acidity and bite to the rich meat and consomme. The resulting taco is then served with a small bowl of birria broth as a dipping sauce.
What makes Birria Tacos different from other tacos?
There are three things make these tacos really stand out among all the great tacos:
the tender fall-apart meat (the birria) is slow cooked in a robustly flavored broth flavored with tomatoes and Mexican spices and peppers;
Frying the corn tortilla to crispness after covering it with the birria broth (aka consommé)
Serving the crisp tacos with a side of the broth/consommé as a dipping sauce
There are many, many great Mexican tacos but the consommé is what distinguishes the birria quesatacos from other similar Mexican tacos.
Carnitas, using seared pork, and Tacos al Pastor using slow cooked (and then crisped) pork are a couple other really popular meat fillings for Mexican tacos.
Ingredients & Substitutions
The main ingredients for the tacos are birria consomme, shredded meat from the birria stew, corn tortillas, and cheese. From there you can add any number of your favorite taco fillings. My favorite additions are pickled onions and cilantro.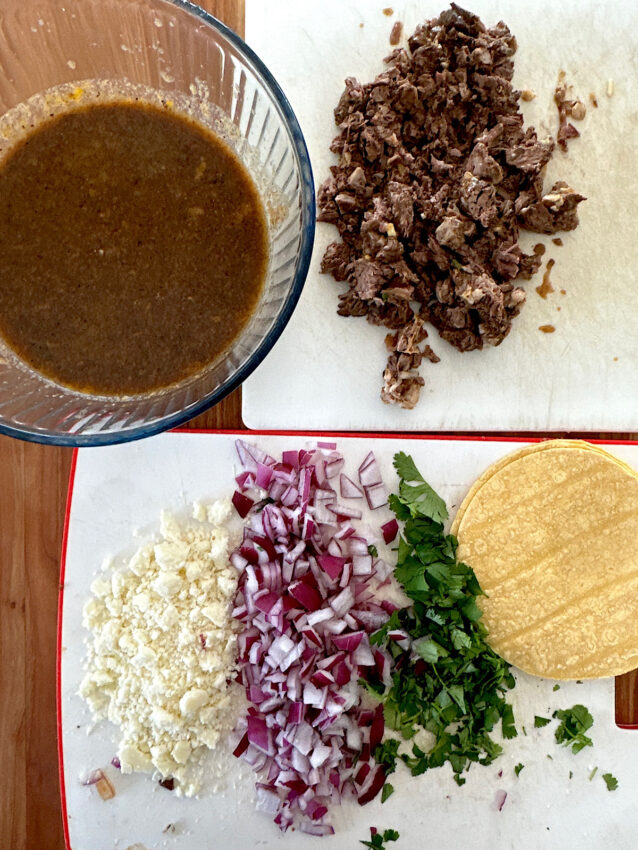 Here are a few other additions and substitutions:
Substitutions:
For the meat: while goat meat or lamb meat is the traditional meat used in birria, beef is more popular in the U.S. The recipe below was made with beef chuck roast and some short ribs. Basically make sure that the meat you use can be slow cooked for a long time (3 hours) and will shred easily when it is done. The short ribs had the bones that helped create a rich and flavorful broth.
For the cheese: the traditional cheese in Mexico would likely be called a Oaxacan melting cheese. If not available, just make sure it is a "melting cheese". Examples might be fontina, havarti or jack cheese. I picked up a package of shredded Queso melting cheese at our local grocery store;
For the Tortillas: corn tortillas are what's needed here. Flour tortillas will just not crisp up in the same way. You can use either white corn or yellow corn tortillas
Cilantro: many people have an aversion to cilantro. That's OK, just leave it out. You could use Italian parsley instead to give it a little more freshness.
Additional Ingredient Ideas:
Pickled onions are my favorite addition as they add the crisp sour bite to the deeply rich birria
Fresh herbs: many herbs will work instead of the cilantro if that is not your thing. Just try and use fresh herbs.
Serve the tacos with lime wedges and sliced jalapenos on the side.
Typically birria is not that spicy. If you like more heat, have a bottle of your favorite hot sauce on the table.
Paper towels! These tacos are great to pick up with your hands and dip into the birria consomme, but they are really messy. Great, but messy. Have some paper towels for napkins nearby and don't wear white.
Comal vs Cast Iron Skillet vs Griddle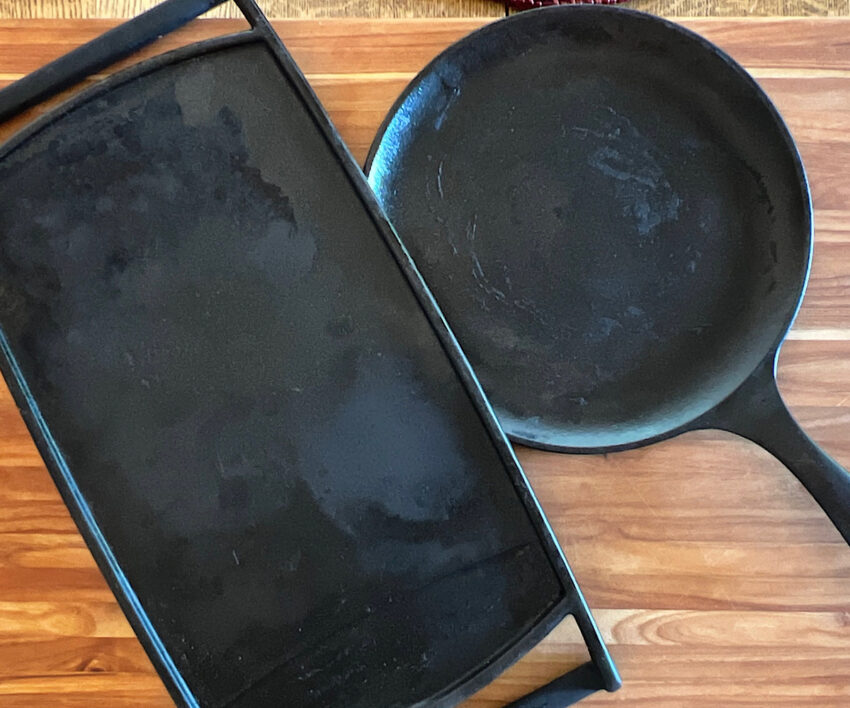 In the video you will see that I used a comal to fry the tacos. A comal is basically a round, flat, cast iron griddle. A cast iron skillet can also be used but it has sides to give it depth which is less efficient for flipping the tortillas.
A griddle is often long and rectangular and works just like a comal if you can direct the heat source appropriately.
The griddle shown above fits over two of our gas burners, but you can get a stand-alone griddle if you don't have a stove that fits the griddle
The benefit of cast iron over other types of frying pans is that cast iron retains the heat once heated up. This makes it easier to fry more than one or two tacos because the skillet will remain hot.
Some of the pros and cons of each:
The smaller comal is easier to handle (cast iron is heavy), and the lack of sides make it easy to slide off the tortillas without breaking them
Cast iron skillets however come in larger sizes, allowing you to fry more tacos at a time
A long cast iron griddle is great as it has no sides and has a lot of surface area, but you need to have a heat source underneath it that will cover the length of it. Many stoves just have the smaller round burners.
Whether comal, skillet or griddle, just aim for cast iron so that you can retain the heat while making a batch of tacos.
These birria tacos are so incredible that you will definitely want to make enough to feed a crowd (even if that crowd is only 2-3 people)!
How to Make the Birria Quesatacos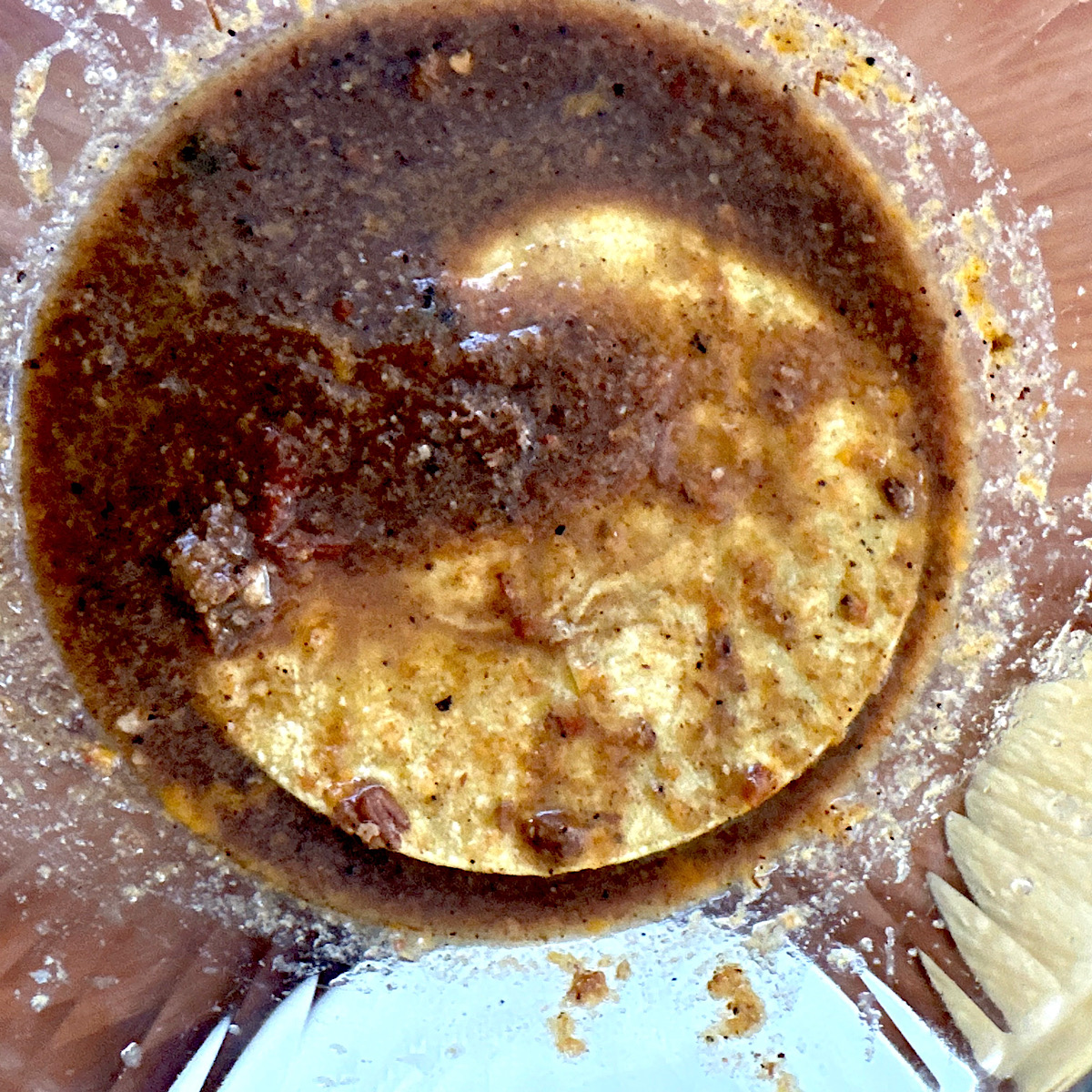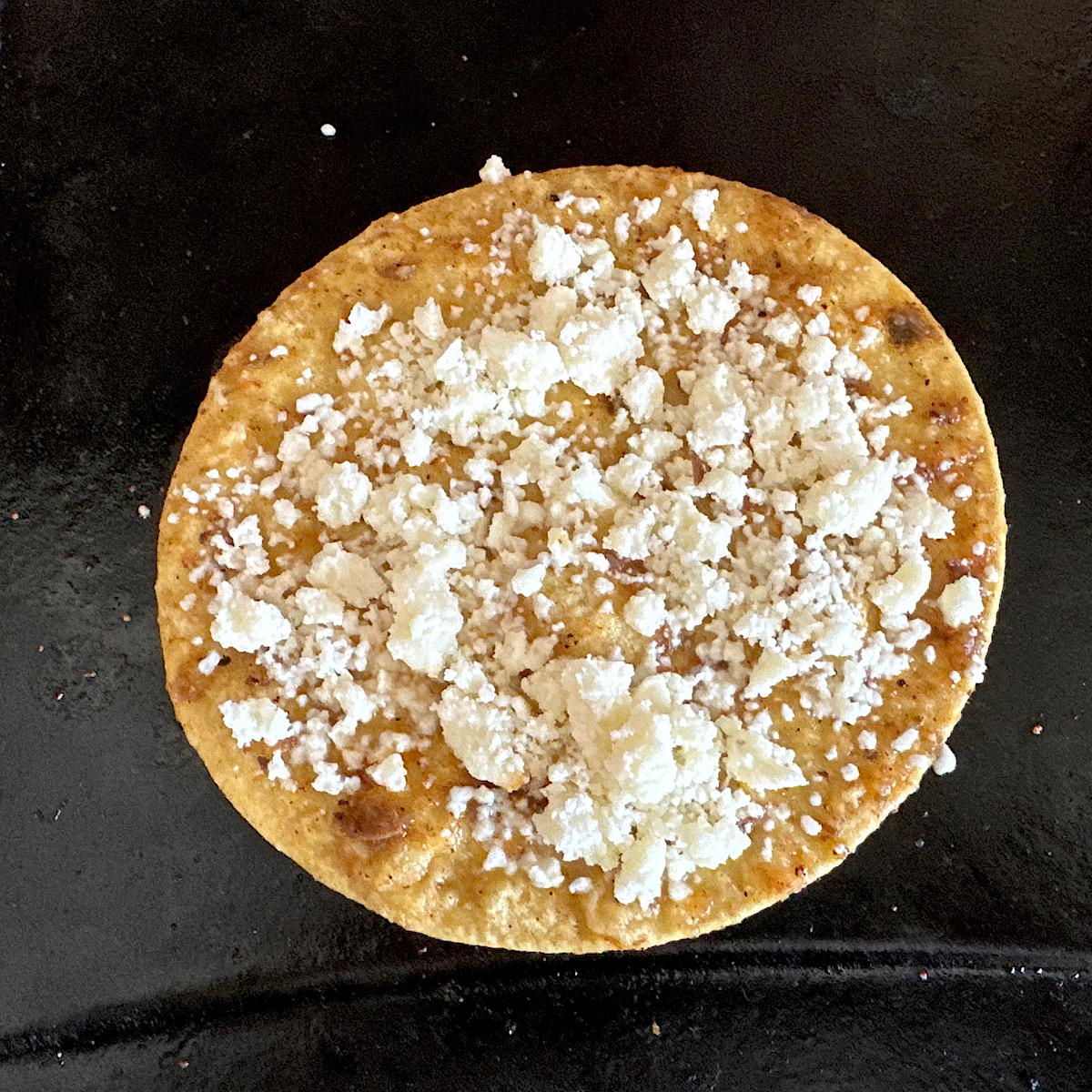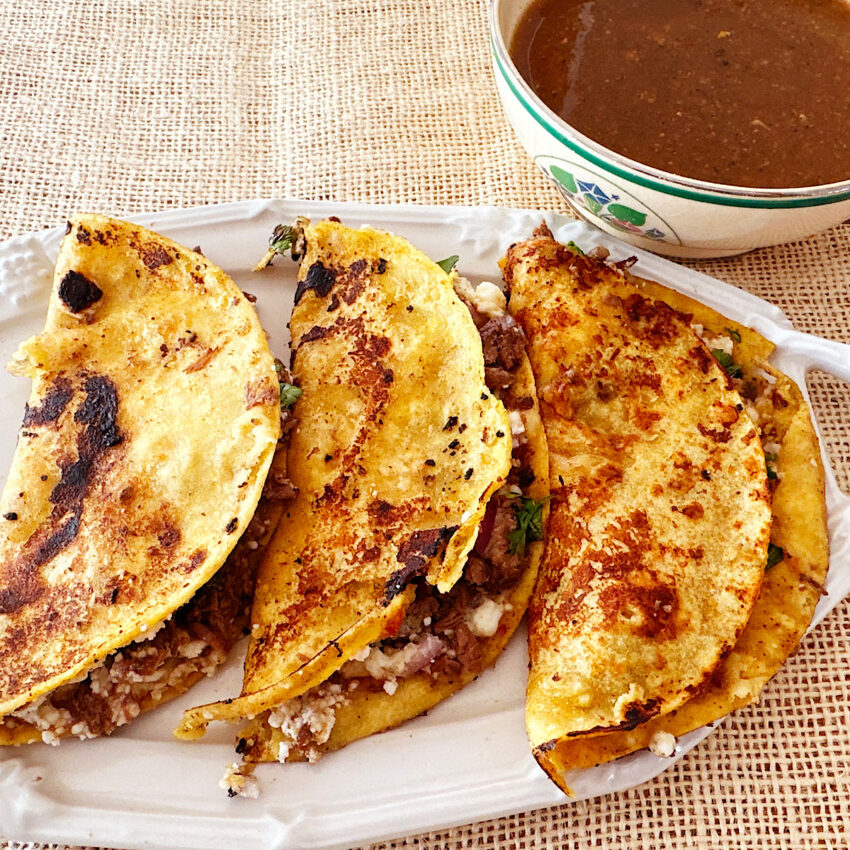 What to Serve with Tacos de Birria
These birria tacos are good enough to eat dozens on their own. If you wanted to add a side however, you could serve them with homemade tortilla chips or Mexican rice.
I typically serve tacos with fresh lime wedges, a bottle of hot sauce for those who want more heat, a side of pickled onions, and a side of chopped cilantro. That typically covers the bases.
More Taco Recipes
There are several Mexican dishes that have a similar flavor profile to birria. Here are a few:
Birria Quesatacos Recipe
Birria Tacos
These popular tacos are made with a shredded meat that has been cooked ahead in Mexican spices and a rich broth. The meat is shredded and the corn tortillas are fried after dipping them in the birria consomme. Cheese and your favorite toppings complete the tacos.
Ingredients
pot of birria meat and consomme this needs to be made earlier (see linked consumme post)

8

corn tortillas

2

Cups

Melting cheese

Oaxacan cheese if available

½ – 1

Cup

pickled onions

optional

½

Cup

chopped cilantro

can substitute another green or herb if you don't like cilantro
Instructions
Remove the meat from the consome sauce made ahead of time and shred it with two forks. Heat the oven to 200°F if you are making a large batch that needs to be kept warm.

pot of birria meat and consomme

Heat your cast iron skillet or comal over fairly high heat (medium high on my burners). When hot but not smoking, use the tongs to dip a corn tortilla into the sauce. This will include a lot of fat so you don't need to add oil to the skillet.

And add it to the skillet/comal.

Cover the tortilla with a handful of cheese. Add shredded meat to one half of the cheese-covered tortilla (only "half" of the tortilla). Add pickled onions and cilantro at this point if using)

Let it fry for a couple of minutes and then fold the half of the tortilla that only has the cheese over to top the meat and cheese half (making a taco).

Fry both sides until the taco is crisp, pressing down with the spatula to help flatten the taco. Let it crisp up a little more if not yet crisp.

Remove taco to plate or baking sheet and keep warm. Repeat above steps with remaining tortillas.

If not serving right away, keep the tacos warm in a 200° F oven.

Serve with a small bowl of the birria consommé to use as a dipping sauce. Complement with some lime wedges and chopped onions if desired.

1/2 – 1 Cup pickled onions,

1/2 Cup chopped cilantro
Nutrition
Calories:
287
kcal
Carbohydrates:
12
g
Protein:
21
g
Fat:
18
g
Saturated Fat:
9
g
Polyunsaturated Fat:
1
g
Monounsaturated Fat:
6
g
Trans Fat:
1
g
Cholesterol:
77
mg
Sodium:
322
mg
Potassium:
263
mg
Fiber:
2
g
Sugar:
1
g
Vitamin A:
377
IU
Vitamin C:
1
mg
Calcium:
213
mg
Iron:
2
mg
Did you make this recipe?
If you tried this recipe, please give it a star rating! To do this, just click on the stars above. Comments are always helpful also and I respond to all of them (except rude ones)