Mexican rice (arroz rojo) is a side dish that accompanies many, many Mexican meals. It is basically a fluffy rice dish made with long-grain rice and cooked in a tomato-based broth with onions, garlic, and spices. It often includes veggies like carrots, onion, peppers or peas. This recipe is from mi amiga who lives in the Bajío region of Mexico (west-central Mexico), and it is now fully incorporated into my meal plans!
Jump to:
RECIPE
Ingredients and Substitutions
What to Serve with it?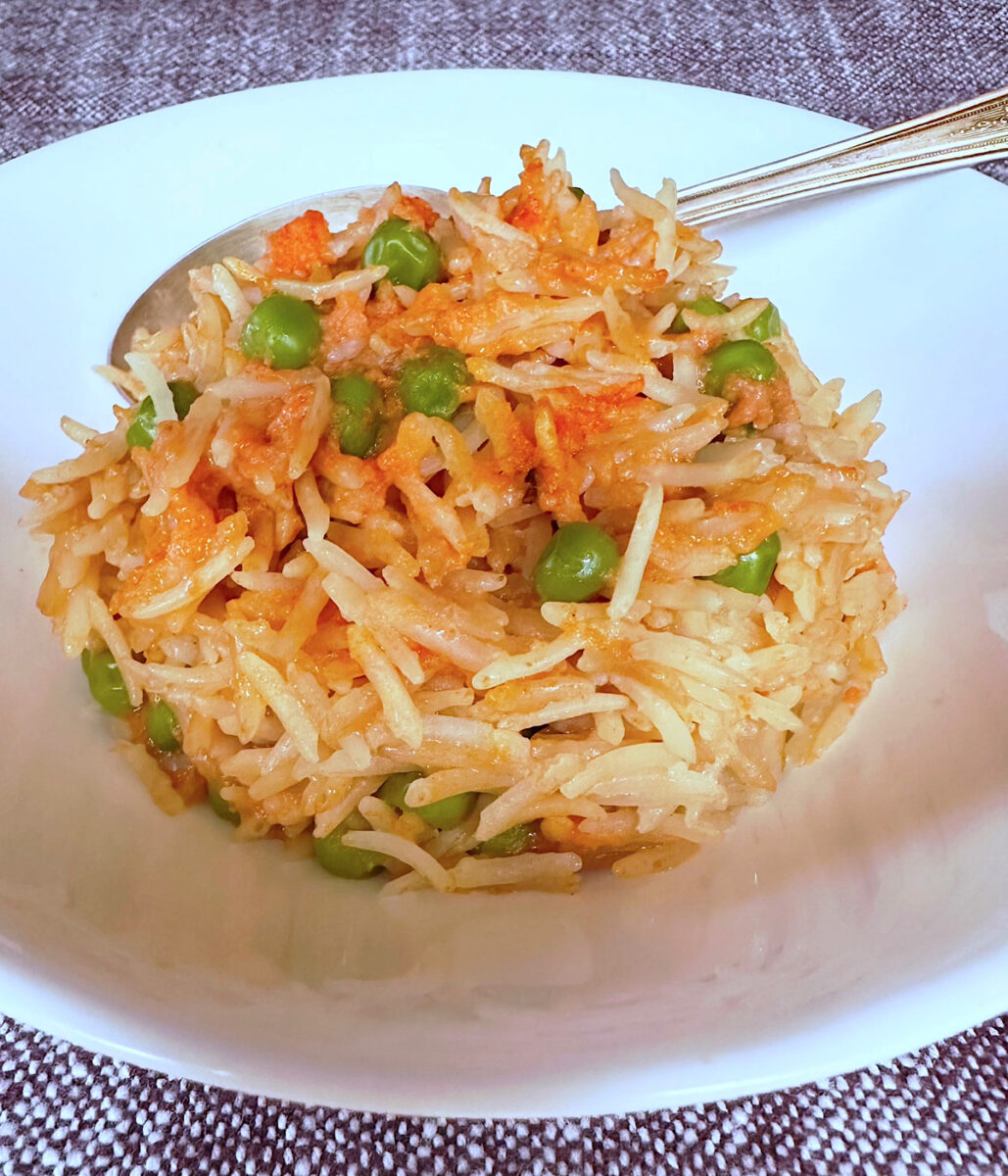 Ingredients and Substitutions
Before we get into the specific ingredients, let's distinguish Mexican rice from Spanish rice. People often use these terms interchangeably but there are some key differences.
Spanish rice uses saffron, giving it a yellowish color, whereas Mexican rice is tomato-based, giving it a red color (hence the name arroz rojo, rojo meaning red).
The two types of rice also have slightly different textures. Spanish rice is a little heartier and firmer, while Mexican rice is fluffy with a softer texture.
When a recipe only has a few ingredients, it is important to select those that reflect the traditional cuisine of origin. Here are the main ingredients that mi amiga considers authentic to her region:
Long grain white rice
oil (she uses canola or vegetable oil,)
Tomatoes: 2 fresh romas if in season, or canned plum tomatoes if not)
Garlic
Tomato bouillon (called Caldo de Tomate from Mexican grocer; sub in chicken bouillon if you can't find tomato bouillon)
Peas and carrots
Peppers: these are optional but she likes deseeded serrano peppers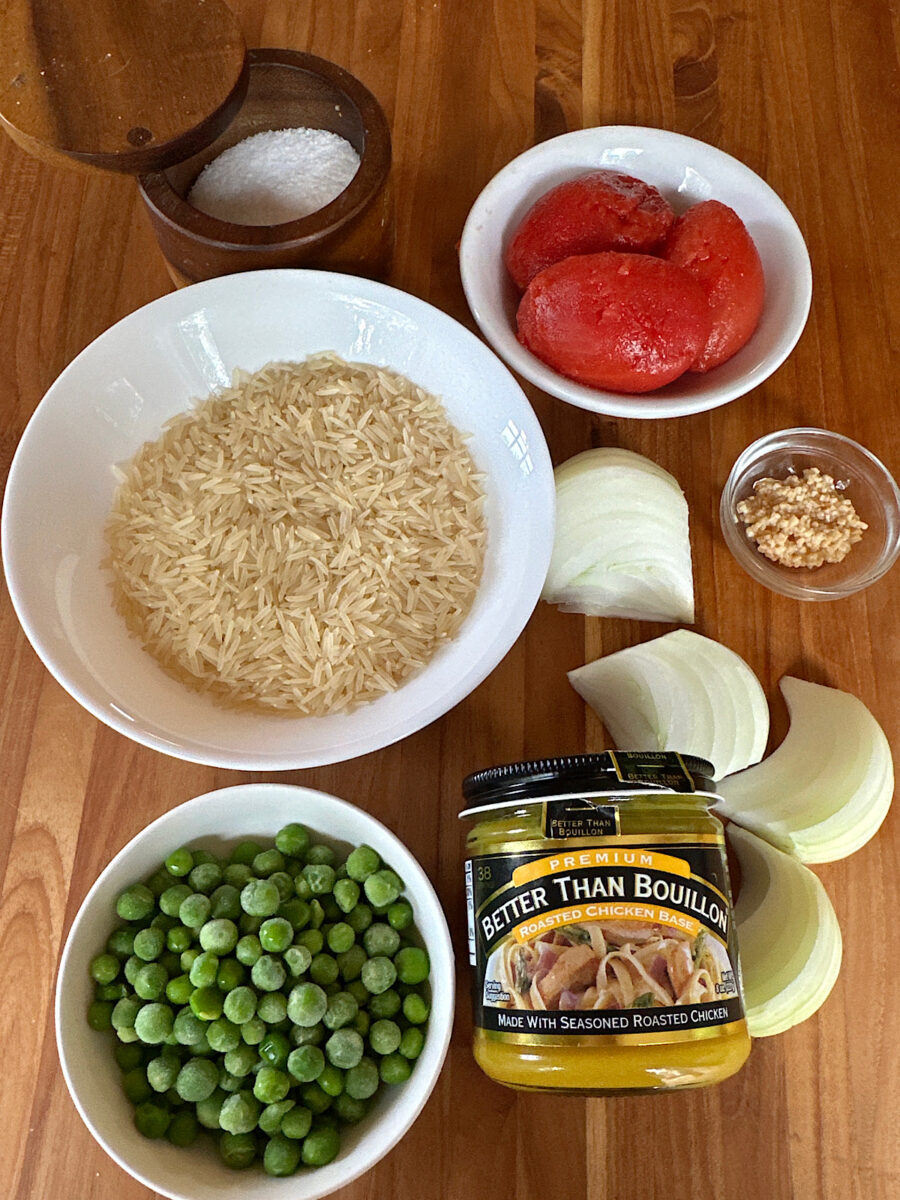 Tips and Method for Making Mexican Rice
Although this side dish is fairly easy to make, there are some tips that will ensure your success, even if it is your first time. Here are the tested tips from mi amiga, who has made Mexican rice at least once a week for many years:
Step #1: Rinse the rice thoroughly (until it runs clear) to remove the starch film on the surface that can cause clumping. After rinsing, lay it out on a paper towel to dry.
Step #2: To a blender, add the tomatoes, onion, garlic and chicken stock and blend until fully pureed.
**Tip: if you use unsalted chicken stock, add 1 1/2 teaspoon salt. Do a taste test; the broth should taste salty as the rice is bland and needs the flavor.
Step #3: Heat oil in a skillet and toast (fry) the rice briefly to enhance flavor. Use a heavy-bottomed non-stick pan so your rice doesn't burn at the bottom. Turn down the heat and simmer rice in oil about 5 minutes, stirring constantly.
Step #4: Pour the liquid tomato mixture from the blender into the skillet and stir in the frozen peas. Do not stir anymore, but continue to simmer for 6-7 minutes.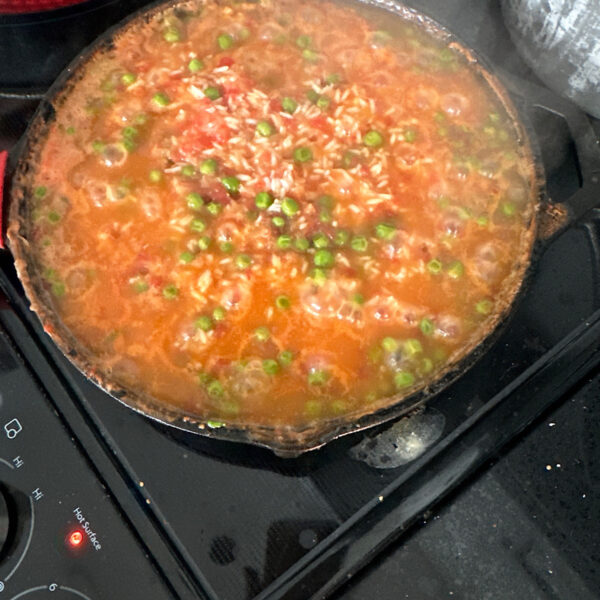 Step #5: When rice thickens along the edges, cover the pan, turn off the heat and let the rice rest for 15 minutes. Resist the urge to lift the lid. The rice needs the steam to finish cooking and become fluffy. After resting (covered), gently fluff the rice with a fork instead of stirring.
**Tip: tomato bouillon gives you the perfect red color, but the rice tastes just as good with roma or plum tomatoes and chicken broth as a substitute.
What to Serve with Mexican Rice
Mexican rice is a staple with most meals on the Mexican table. It is folded into buritos, mixed with beans, and served as a side dish to many, many proteins. We recently had a small fiesta where it was served with the chicken pipian below and it was definitely a match made in heaven.
Frequently Asked Questions:
What kind of rice is best for Mexican rice?
For an authentic Mexican rice recipe you would want to use long grain white rice. Some cooks have used jasmine or basmati rice with good results. If you go the route of using brown rice you will need to add an additional 1/3 cup of water and cook an additional 10-20 minutes.
Can you freeze Mexican rice?
Yes you can. Leftover cooked rice can be kept in an airtight container in the freezer for up to 6 months.
Is there a good substitute for Caldo de Tomate?
Chicken bouillon is a good substitute. If you use chicken bouillon, you may want to add more tomatoes (or really good tomatoes) and be sure and taste for salt. Some of the bouillons have a lot of salt and some have none. You want the salt to help bring out the tomato flavor….rice is fairly bland.
Mexican Rice
Mexican rice is a classic side dish to many Mexican meals. It is easy to make and is a true crowd pleaser.
Ingredients
1

cup

long-grain white rice

2

large

roma or plum tomatoes

can use canned (~8 ounces)

½

medium

onion

cut into large chunks

2

cloves

garlic

minced

2

cups

chicken stock

(2 cups water mixed with 1 tablespoon chicken bouillon

1 ½

teaspoon

salt

adjust if bouillon is salty

2

tablespoons

oil

½ – 1

cup

frozen peas
Instructions
Rinse the rice thoroughly and lay it out on paper towels. Pat dry with paper towels and set aside (rice should be dry when added to the pan).

1 cup long-grain white rice

To a blender, add the tomatoes, onion wedges, garlic and chicken stock. If chicken stock has salt, taste broth before adding remaining salt.

Puree until smooth and taste for salt. The broth should taste salty to bring out the flavor of the tomatoes — rice is fairly bland.

2 large roma or plum tomatoes,

1/2 medium onion,

2 cloves garlic,

2 cups chicken stock,

1 1/2 teaspoon salt

In a large skillet heat the oil until shimmering. When it is shimmering, add the rice, stirring it to coat with oil. Turn the heat to low and continue stirring the rice in the oil to toast and bring out the flavor (about 5 minutes)

Add the tomato mixture from the blender to the skillet and stir in the frozen peas. Bring everything to a low boil (a simmer) and let it cook for 6-7 minutes.

When the rices starts to thicken along the edges and the broth has been reduced by about half, turn the pan off. Cover with a lid and let the rice sit on the burner with the heat off for 15 minutes to continue steaming. Do not lift the lid!

Fluff the rice with a fork (no stirring) and serve.
Nutrition
Calories:
191
kcal
Carbohydrates:
29
g
Protein:
5
g
Fat:
6
g
Saturated Fat:
1
g
Polyunsaturated Fat:
2
g
Monounsaturated Fat:
3
g
Trans Fat:
0.02
g
Cholesterol:
2
mg
Sodium:
699
mg
Potassium:
186
mg
Fiber:
1
g
Sugar:
2
g
Vitamin A:
175
IU
Vitamin C:
4
mg
Calcium:
17
mg
Iron:
1
mg
Did you make this recipe?
If you tried this recipe, please give it a star rating! To do this, just click on the stars above. Comments are always helpful also and I respond to all of them (except rude ones)