Blueberry drink syrups (shrub syrups or simple syrups) offer an awesome way to turn a simple cocktail into a blueberry martini or a blueberry craft signature cocktail. Don't drink alcohol? Blueberry drink syrups added to a little sparkling water makes an incredible Italian soda. Add a bit of cream and you have a French soda!
Jump to:
RECIPE
Homemade Drink Syrups vs Commercial Mixers
Best Infusions for Blueberry Drink Syrups
Non-Alcoholic Drinks with Blueberry Syrup


This post may contain affiliate links. As an Amazon Associate, I also earn from qualifying purchases. You can read our disclosure information here–
Homemade Drink Syrups vs Commercial Simple Syrups
In an effort to put my decade of bartending experience together with my decade(s) of farming experience, I developed a wide range of drink syrups which I sold online up until 2022.
The syrups included a range of fruity-acid shrub syrups, as well as the sweeter fruit and herbal simple syrups.
There is no easier way to turn a standard cocktail (or mocktail) into something special than by using fruit drink syrups made with real, whole fruit.
The difference using a homemade drink syrup with real fruit in a cocktail or Italian soda rather than the commercial flavored syrups is something to behold.
The "shrub" type of syrups are fruit based syrups that have vinegar added, giving them a refreshing acidity balanced out by the sugar and fruit.
The simple syrups do not have added vinegar and therefore tend to be sweeter.
Both types of drink syrups are often infused with herbs or spices.
Best Infusions for Blueberry Drink Syrups
There are all kinds of different infusions that could go with blueberry syrups. My favorite blueberry drink syrups have included the following flavor infusions:
Pomegranate and pink peppercorns
Fresh Tarragon
Culinary lavender
If you want to experiment with homemade blueberry drink syrups, this post on DIY blueberry shrub syrups will help. The recipe below is made with an infusion of fresh tarragon, as that is probably the easiest herb for the home cook to find in the grocery store.
Infusing blueberry drink syrups with lavender is a really nice pairing of fruit and herb, but culinary lavender is a bit more difficult to find. If you happen to grow your own, that is perfect!!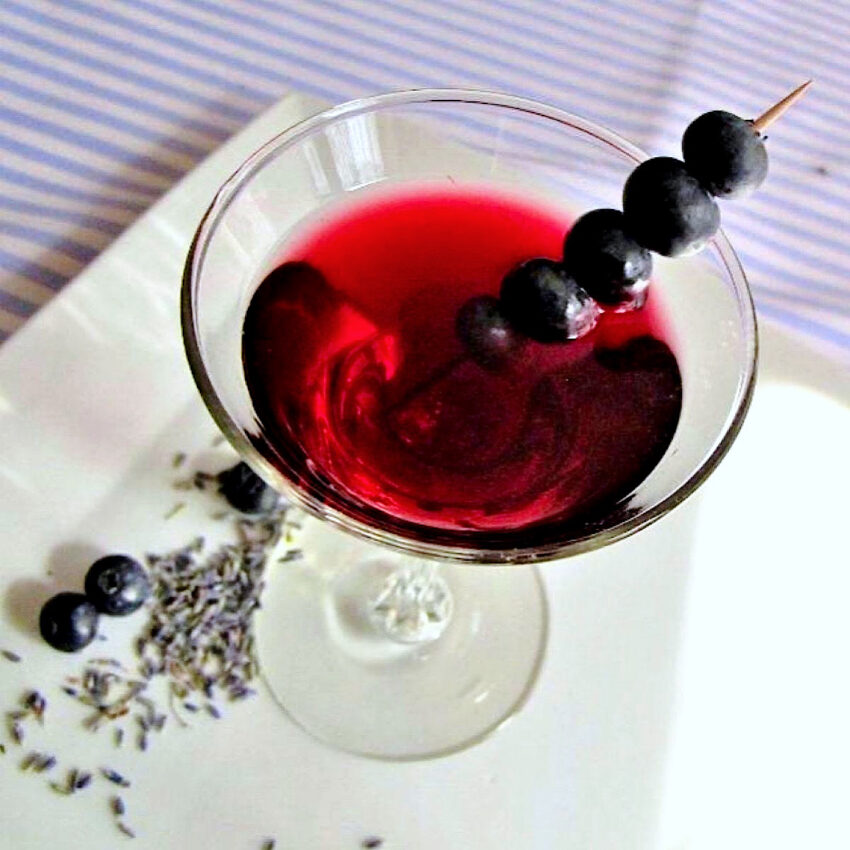 Cocktails and Mocktails are very forgiving, so feel free to experiment with proportions.

Non-Alcoholic Drinks with Blueberry Drink Syrup
Italian Sodas:
For the easiest mocktail or Italian soda ever, just fill a glass with club, sparkling water, or tonic water and stir in 2-3 Tablespoons of blueberry simple syrup.
Blueberry Lemonade
In the Summer try stirring the syrup into a tall glass of lemonade. The ratios for drinks made with simple syrups or shrub syrups are 4:1 (4 parts liquid to 1 part simple syrup).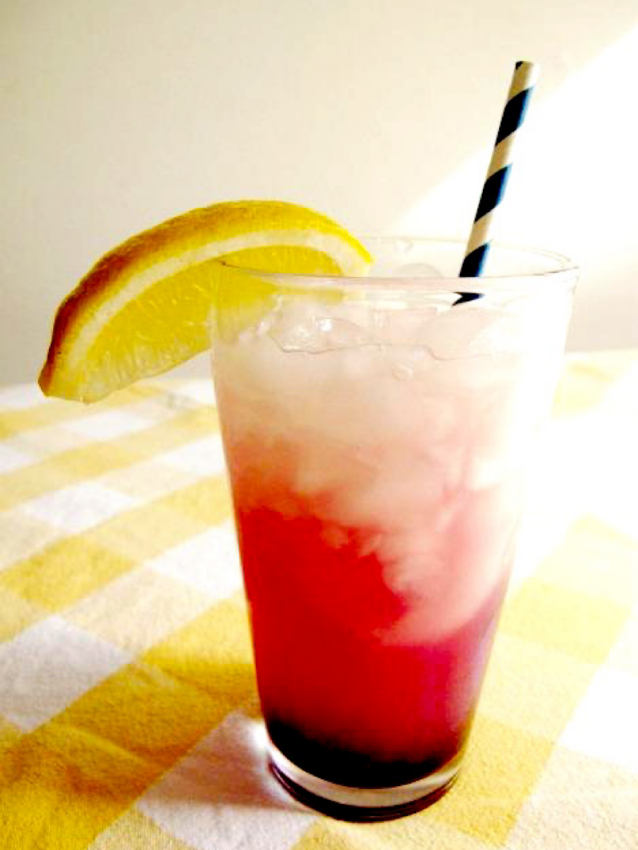 Blueberry Martini
This simple martini is made with a shot of gin or vodka and a touch of blueberry simple syrup infused with tarragon or lavender.
Ingredients
2

oz.

vodka

I like Absolut Pepper

1

oz.

Blueberry Drink Syrup

I like it infused with lavender or tarragon, but other infusions work also (or plain!)

¼

of whole lime

can use lemon instead

fresh blueberries for garnish
Instructions
Fill a shaker with ice cubes.

Add vodka, Blueberry Drink Syrup and squeeze of fresh lime juice to shaker

2 oz. vodka,

1 oz. Blueberry Drink Syrup,

1/4 of whole lime

Shake well and strain into a chilled cocktail glass

Garnish with fresh blueberries.

fresh blueberries for garnish
Nutrition
Calories:
207
kcal
Carbohydrates:
21
g
Sodium:
17
mg
Potassium:
18
mg
Sugar:
21
g
Calcium:
4
mg
Iron:
1
mg
Did you make this recipe?
If you tried this recipe, please give it a star rating! To do this, just click on the stars above. Comments are always helpful also and I respond to all of them (except rude ones)