Our farm is small (23 acres), but it is amazing the amount of small fruit that you can grow on that small of an acreage. Since blueberries are our main crop, we have tried out a LOT of blueberry recipes for both food and drink. Using a blueberry shrub syrup in cocktails (and mocktails) is a delightful way to enjoy this healthy summer fruit, and I'm happy to share 3 of the blueberry cocktail recipes that have been popular with friends and family.
Jump to:
RECIPE
Using Shrub Syrups in Non-Alcoholic Drinks
How to Make a Blueberry Tarragon Shrub Syrup
3 Blueberry Shrub Cocktails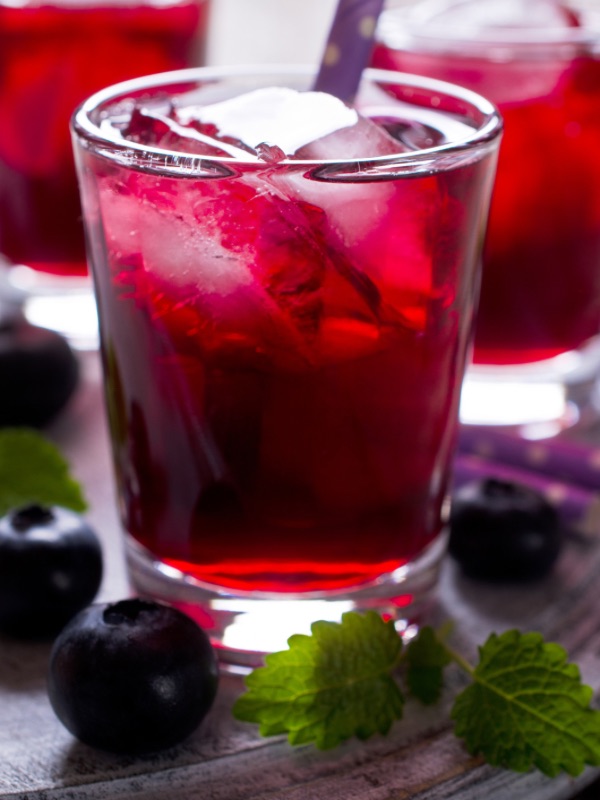 This post may contain affiliate links. As an Amazon Associate, I also earn from qualifying purchases. You can read our disclosure information here–
Berries & Fruit that can be used for Shrub Syrups
We started growing blueberries on our small farm in 1998, and have been adding various new fruits every year. Some have not worked out too well (kiwis, saskatoons, blackberries).
What we have been quite successful with however includes currants, raspberries, strawberries, blueberries, chile peppers and heirloom tomatoes.
I love, love fruit and love working with fruit. There is so much versatility in what you can do with fruit — I sometimes feel as if I'm racing against time to try all of the ideas I run across or dream up. I wondered the other day if the term "creative Juices" originated from someone who was working with fruit?
Shrub Waters and Non-Alcoholic Drinks
Drinking "enough" water is one of those things that is really important on a low carb or high protein diet (also keto). It is also something that many people find difficult to swallow (so to speak). Plain water can be pretty boring after a while, and getting in the recommended 8 glasses can seem impossible.
Here are some very tasty ways to get the water requirments in:
Italian Sodas with Shrub Syrups
One way to meet the water challenge is to add flavor to your water. Adding flavored syrups to "fizzy water" makes a drink known as an Italian Soda. Add a little cream to the Italian Soda and you have a French Soda.
An Italian Soda can be made with a can of sparkling water and a few tablespoons of a fruit drink syrup. A great alternative to buying sparkling water is to purchase a Soda Stream maker that makes carbonated water a liter at a time.
The Soda Stream option saves a lot of money if you use it much, and it is ultimately more environmentally friendly that individual bottles or cans.
Flavored vinegar fruit syrups added to carbonated water makes what is referred to as an old-fashioned "shrub". A shrub syrup (aka drinking vinegar) is essentially a fruit syrup with vinegar added.
Sound weird? It was a very popular drink in the Colonial era when refrigeration wasn't available and vinegar could act as a preservative.
It also provided acidity to a drink when fresh citrus wasn't available and offered the taste of summer in those bleak winters. The fruit, the sugar, and the marinating time mellow out the vinegar taste and it's really quite wonderful.
Here is the "how-to" of making a blueberry shrub syrups, followed by some recipes of how to use it in cocktails.
Method for Making Blueberry Tarragon Shrub Syrup:
Hot Method:
Juice the blueberries by simmering in a large pot over med-low heat with 1/4 cup water until they are soft and the juices run (about 15 min.). You'll get about 1 cup of juice for every 2 cups berries.
Strain the juice through cheesecloth or a jelly bag. A piece of nylon tulle placed in a strainer works as well as cheesecloth and doesn't take as long.In our kitchen we use a large juicer from Sweden called a Mehu-liisa, and it is wonderful if you plan on juicing a lot of berries.
Measure the juice and for every cup of juice measure out equal amounts of cups of pure cane sugar (not corn syrup)
Tie some sprigs of fresh tarragon (mint is also good) in a cheesecloth bag (around a cup of tarragon for every 4-6 cups of juice). Pour the juice into a large pot and add the bag of tarragon. Bring to a boil, then cover the pot, turn off the heat and let the tarragon infuse into the juice for about 20 minutes.
Remove the tarragon, add the sugar to the pot and bring to a boil, slowly, making sure all of the sugar is dissolved. I usually add some fresh squeezed lemon or lime juice at this point, but it is optional.
Ladle into jars or bottles using a funnel; let cool and then refrigerate. Stir in, to taste, to your favorite beverages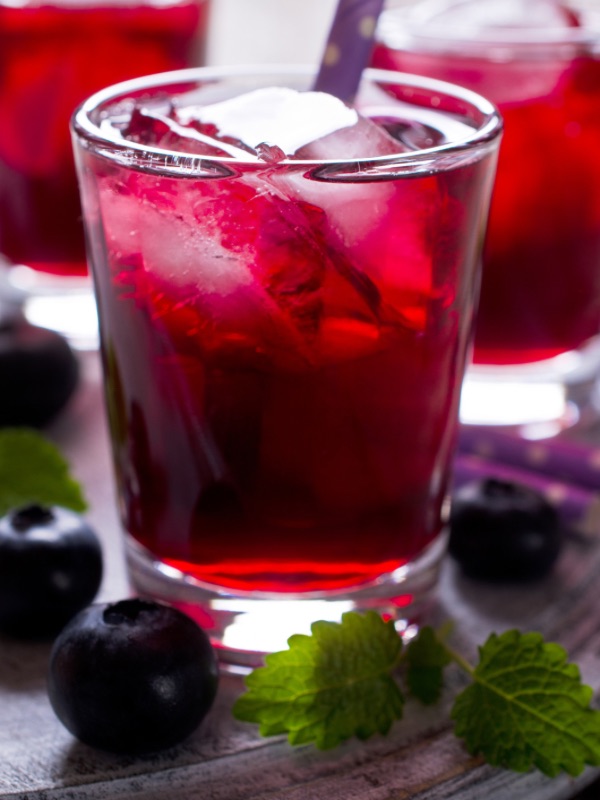 Cold Method
Combine 1 part apple cider vinegar, and 1 part pure cane sugar to 2 parts berries (or any kind of fruit).
Bring ingredients to a slow boil, to dissolve the sugar. Stir. Reduce heat and simmer for 10 minutes.
Strain into a glass bottle and let sit for a couple of weeks.
This is the quick way to make a shrub syrup. When we make them for market we let the berries steep in the sugar in the refrigerator for 3 days, strain, add vinegar and cover. It's a little more complex that way, but the quick way is fine.
How Much Shrub Syrup to Use in a Drink

The question I always get at markets is how much to use, and well……that depends really on how sweet you like your drink, which berry syrup you're using, and what kind of drink you're flavoring.
With an 8-oz glass of sparkling water I would probably add 2-3 Tablespoons of the Blueberry Tarragon Syrup.
Learn More about Shrub Syrups:
For a detailed primer on making shrub syrups:
By the way, these syrups are also great drizzled over fruit salads, pound cake, ice cream, or used with vinegar in a salad dressing. OK, here's the cocktail recipes I promised:
Blueberry Shrub Cocktails
3 cocktails using a blueberry shrub syrup for enhanced flavor: 2 rum cocktails and a gin martini
Ingredients
Blueberry Cabana
1-1/2

oz.

white rum

1

oz.

Blueberry Shrub Syrup

⅛

oz.

lime juice

1

oz.

Ginger Ale
Blueberry Rhumba Cocktail
1

oz

white rum

½

oz

dark rum

¼

oz

Triple Sec

¼

oz

Blue Curacao

¾

oz

Blueberry shrub syrup

2

oz

pineapple juice

2

oz

lemonade
Blueberry Martini
1 ½

oz

gin

¾

oz

blueberry shrub syrup

1

dash

orange bitters
Instructions
FOR BLUEBERRY CABANA: Add rum, shrub syrup and lime juice to a short ice-filled glass. Top with ginger ale and stir. Add garnish.

1-1/2 oz. white rum,

1 oz. Blueberry Shrub Syrup,

1/8 oz. lime juice,

1 oz. Ginger Ale

FOR BLUEBERRY RHUMBA COCKTAIL: In a cocktail shaker with ice, add all ingredients except for the lemonade. Strain over a tall glass of ice and add lemonade. Stir and garnish.

1 oz white rum,

1/2 oz dark rum,

1/4 oz Triple Sec,

1/4 oz Blue Curacao,

3/4 oz Blueberry shrub syrup,

2 oz pineapple juice,

2 oz lemonade

FOR BLUEBERRY MARTINI: In a cocktail shaker of ice add all ingredients and shake up. Strain into a martini glass and garnish

1 1/2 oz gin,

3/4 oz blueberry shrub syrup,

1 dash orange bitters
Notes
**NOTE: Nutrition analysis is for martini and not the other two cocktails.
Nutrition
Calories:
160
kcal
Carbohydrates:
15
g
Sodium:
15
mg
Sugar:
10
g
Did you make this recipe?
If you tried this recipe, please give it a star rating! To do this, just click on the stars above. Comments are always helpful also and I respond to all of them (except rude ones)
Enjoy!