The first time you make chile rellenos can be a bit intimidating from all the roasting, peeling, stuffing and frying. The next ten times you make them, because they were so wonderful, it will come together much easier. The key is to grab a friend or family member and enjoy the process. Just don't rush and you will be rewarded with a thing of wonder. Know that you can roast and peel the peppers ahead of time and stuff when you are ready.
Jump to:
What are Rellenos?
Which Peppers to Use?
How to Roast, Peel & Deseed Peppers
Ingredients & Substitutions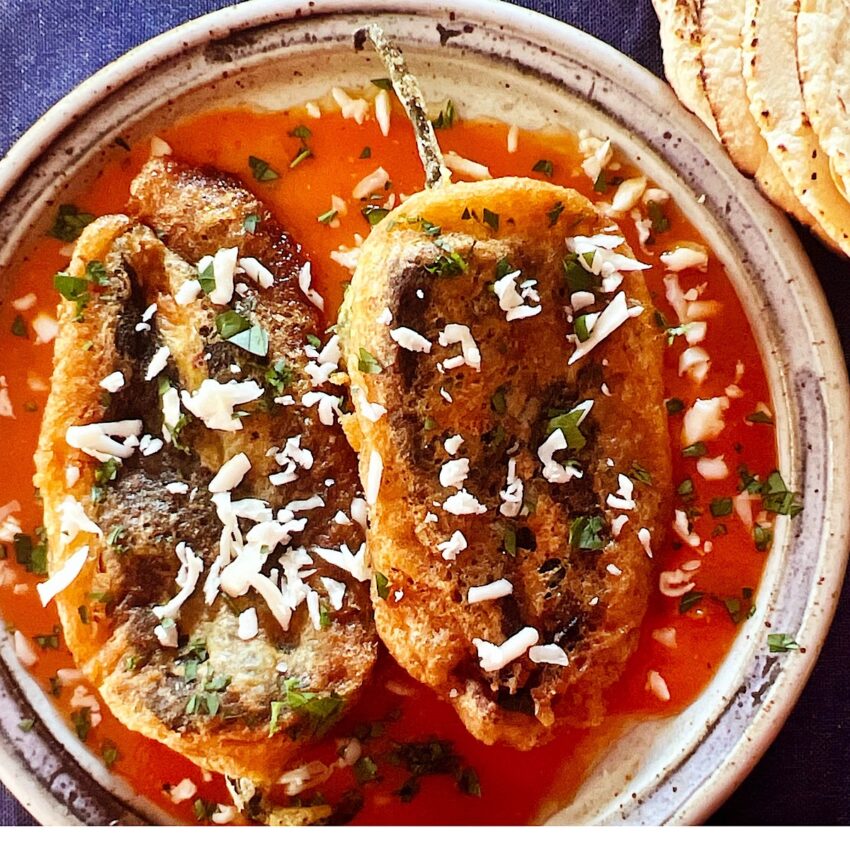 This post may contain affiliate links, and you can read our disclosure information here–
What are Chiles Rellenos?
The classic chile rellenos (chil-eez ruh-yey-nohz) is a roasted poblano filled with cheese (or sometimes ground beef or shredded chicken). The stuffed poblano is then battered in whipped egg, lightly fried, and simmered in a red tomato sauce.
What Chile Peppers are Used for Chiles Rellenos?
The classic pepper for rellenos is the poblano. Its size and sturdiness make it a good option for stuffing. You will see all kinds of chile peppers roasted in Mexican cooking, but the poblano lends itself best to stuffing.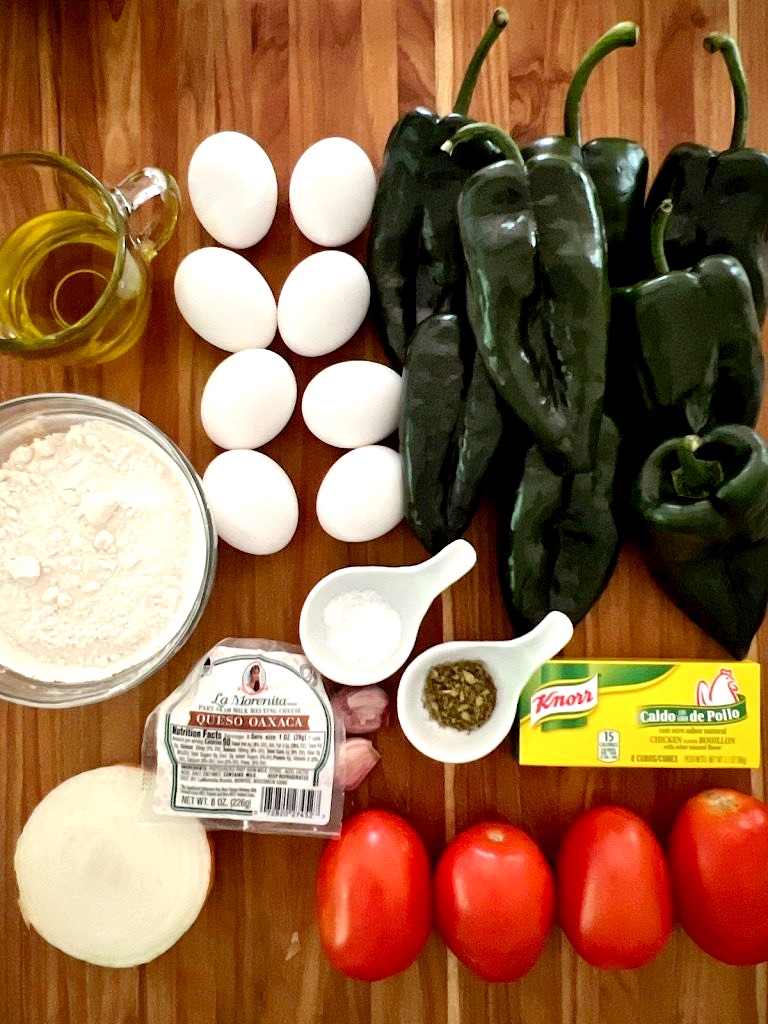 Some cooks that prefer more spice may use very large jalapenos.
How to Roast, Peel and Deseed Chile Peppers
Roasting:
The typical method for roasting the chiles is on an ungreased comal or in a cast-iron skillet over high heat, turning them over every couple of minutes. The goal is uniform blistering, and it will take 10-15 minutes to get there.
Once they are blistered, place them in a bowl covered with a plate or a sealed plastic container for about 10 minutes.
I find it easier to place the peppers on a sheet pan and put it under the broiler on high, turning them when they start to blister.
Some people will just hold them over a gas burner on high with a pair of tongs, but I find this to be way too time-consuming.
Peeling:
When they are cool enough to handle, gently remove the charred skin from the peppers, trying not to tear them as they will be pretty tender.
Use the back of a knife to remove the larger pieces of skin and then pick the smaller pieces off with your fingers. Take some care to get all of the peel off as it can be quite bitter.
Seeding:
After the skin is removed, slit the pepper from the stem to the tip and gently reach in and remove the membranes and the seeds. Don't rinse the chiles as it can remove some of the flavor.
Storing:
The roasted, peeled, deseeded peppers can be stored in the refrigerator (sealed) for a week if you do not plan to stuff them right away.
Are they low carb?
Because the poblanos are large peppers and the filling is often rich with cheese, most people will only have one stuffed pepper which is often accompanied by a side of rice, beans or tortillas.
Typically some flour is dusted on the peppers to help the egg adhere better. It is not much flour however, and you can substitute in almond flour if you want to avoid all purpose flour.
Foregoing the rice or tortillas and having two of the stuffed peppers keeps this dish in the low carb category. Adding beans as a side would be compliant with slow carb, but not strictly low carb.
Are they Spicy?
Generally speaking the poblanos in chiles rellenos give the dish a mild heat.
Like all chile peppers however, the spiciness of poblanos varies from farm to farm and from season to season. As a general rule, the more stressed the peppers are the spicier they will be. This is why peppers grown in hot, arid conditions are often quite a bit hotter than those grown in temperate climates.
The membranes and the seeds carry the most heat, so if you clean them thoroughly they will not be as spicy.
If you want a spicier version of rellenos, you might try using the dried Ancho chile, and reconstituting it before stuffing. Dried Anchos are usually imported from Mexico and they might be more spicy. Using dried and reconstituted anchos for your rellenos won't be as traditional but you would save yourself the roasting and peeling and deseeding.
Chile Rellenos without frying
When poblano chiles are made without frying in the egg batter they are referred to as stuffed poblano peppers. They are very good, but most Mexican cooks do not view them as authentic rellenos.
Another way to enjoy chile rellenos ingredients is as a casserole. Typically a chiles rellenos casserole will mix fresh chopped poblano peppers with ground beef, canned tomatoes, spices and cheese. An egg batter is then poured over the casserole dish and baked in the oven.
Key Ingredients and Substitutions
The pepper: Poblanos are definitely the go-to pepper to use for rellenos. If you want it to be spicier, you could substitute in large jalapenos or you could use the dried ancho pepper and reconstitute it in liquid.
The batter: The traditional batter consists of mostly whipped egg whites with a few of the yolks added in towards the end of the whipping process.
The Sauce: Some rendition of a red tomato-based sauce is a typical accompaniment. If fresh tomatoes are out of season, use canned tomatoes (which are better than bad fresh tomatoes).
The Stuffing:
A melting cheese like whole-milk mozzarella or a good queso is the most common stuffing for rellenos. If you want it to be a more protein-rich dinner entre however, ground beef, shredded chicken or sometimes shrimp is often added.
The added protein would help make the dinner complete if you are following a low carb lifestyle.
Common stuffing ingredients might include:
Rice
ground beef
shredded chicken
beans
shrimp
different cheeses
Other Mexican Rellenos
Chiles Rellenos – Recetas Salvadoreñas
Chiles rellenos quatamala
chiles rellenos mexicanos
Chiles rellenos en caldo
Frequently Asked Questions
Are chile rellenos bad for you?
No, actually they are quite healthy. They are easy to modify to be a vegetarian dish or a low carb dish. They are only lightly fried in the olive oil, not deep fried.
Can you use dried ancho chile peppers?
Yes, soak the anchos in hot water for about 1 hour until soft. They remove their seeds and continue with the recipe directions below. Anchos will give a more smoky flavor to the rellenos
"Italy is known for tomatoes. Thailand for chilies. Germany for sauerkraut.

But tomatoes originated in Peru. Thailand imported chilies from Central America. Sauerkraut started in China.

Everything is a remix—and the world is better for it. Share what you know. Learn from others."

—author unknown
Recipe for Chile Rellenos Lightly Fried with Egg Batter
Traditional Chile Rellenos with Fluffy Batter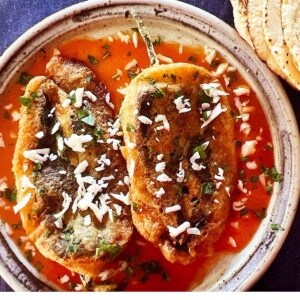 This is a cheese-stuffed rellenos dipped in a light egg batter and lightly fried. Substitutions are included for low carb or meat-filled versions.
Ingredients
8

Large

poblano peppers

1

onion

2

Cloves

garlic

5

Large

meaty tomatoes

use 28 oz canned whole tomatoes if fresh are out of season

2

Teaspoons

salt

1

Cup

mozzarella or queso cheese

4

eggs

Separated into whites and yolks

⅛

Cup

flour

use almond flour if low carb

½

Cup

refined olive oil

or any oil with high smoke point
Instructions
Place poblanos on a sheet pan and broil on high, turning over as they blister. This takes about 5-10 minutes.

When blistered on both sides place in a sealed plastic container or a ziplock bag to "sweat" for about 10 minutes.

While the peppers are sweating, puree the onion, garlic, tomatoes and salt in a blender. Add some water (1/2 to 1 cup) to get a liquid sauce.

Add the sauce to a large pot and bring to a boil, then immediately decrease heat to a low simmer.

1 onion,

2 Cloves garlic,

5 Large meaty tomatoes,

2 Teaspoons salt

When peppers are cool enough to handle, remove the peels from the peppers being careful not to tear them.

Use a knife to slit open lengthwise and use your fingers to gently remove the seeds.

Inside each pepper, place about 2 Tablespoons of the cheese and close the pepper around the cheese. You can use a toothpick to help it stay closed if you want. Do not overstuff your peppers or they will burst and lose their filling in the pot

1 Cup mozzarella or queso cheese

Ina stand mixer with the whisk attachment, whip the egg whites for 3-5 minutes, until they form stiff peaks and then whip in 2 of the yolks. You want them pretty stiff and foamy.

Heat the oil in the skillet over medium high heat.

Set out the egg whites in a bowl, and the flour in another bowl.

Gently dip each stuffed chile into the whipped egg, making sure that both sides get well coated (use a spatula to spread the egg onto the top side). Then dip the chile into the flour.

Lower the battered chile into the hot oil and fry for a couple minutes per side, flipping them carefully. The chile is done when it turns golden and puffs up.

Remove the chiles with a slotted spoon and gently lower into the pot of tomato sauce. They should be able to hold their shape in the pot.

1/2 Cup refined olive oil,

1/8 Cup flour

Raise the heat of the tomato sauce and simmer the chiles in the sauce for 5-10 minutes or until hot. They can simmer on low heat for longer without overcooking them.
Video
Traditional Chile Rellenos (soft not crisp) in Egg Batter
Notes
** Dried ancho peppers can be used in place of the fresh poblanos for a more smoky flavor. Just reconstitute the peppers in hot water for about and hour and proceed with the directions above.
Nutrition
Calories:
251
kcal
Carbohydrates:
13
g
Protein:
8
g
Fat:
19
g
Saturated Fat:
5
g
Polyunsaturated Fat:
2
g
Monounsaturated Fat:
12
g
Trans Fat:
0.01
g
Cholesterol:
93
mg
Sodium:
735
mg
Potassium:
448
mg
Fiber:
4
g
Sugar:
6
g
Vitamin A:
1143
IU
Vitamin C:
138
mg
Calcium:
114
mg
Iron:
1
mg
Did you make this recipe?
If you tried this recipe, please give it a star rating! To do this, just click on the stars above. Comments are always helpful also and I respond to all of them (except rude ones)